Nestled in the middle of downtown Lexington, once a week on Wednesday nights Red Barn Radio broadcasts and live- streams original music to the world. Sending Kentucky's rich treasure of music to the masses, Ed Commons and the folks at Red Barn Radio represent and support a different local and regional artist each week they broadcast. On January 10, folks gathered inside ArtsPlace in downtown Lexington to see Chelsea Nolan take her turn at the mic.
A native of Stanton, Ky, Nolan is a recent voice that has skyrocketed out of Eastern Kentucky over the last year, and she is taking her place among the group of massively talented singer/songwriters from the region. "I feel like I got on a rocketship, and then I got in a slingshot and they flung me into outer space." Starting with her first solo gig back in October 2016, Chelsea soon was making a name for herself.
"I was drumming for people and being in the background, and being the support. I am a drummer before I am a singer or a songwriter, and I feel that I'm good at supporting people too. It just hit me one day that I had my own songs to sing."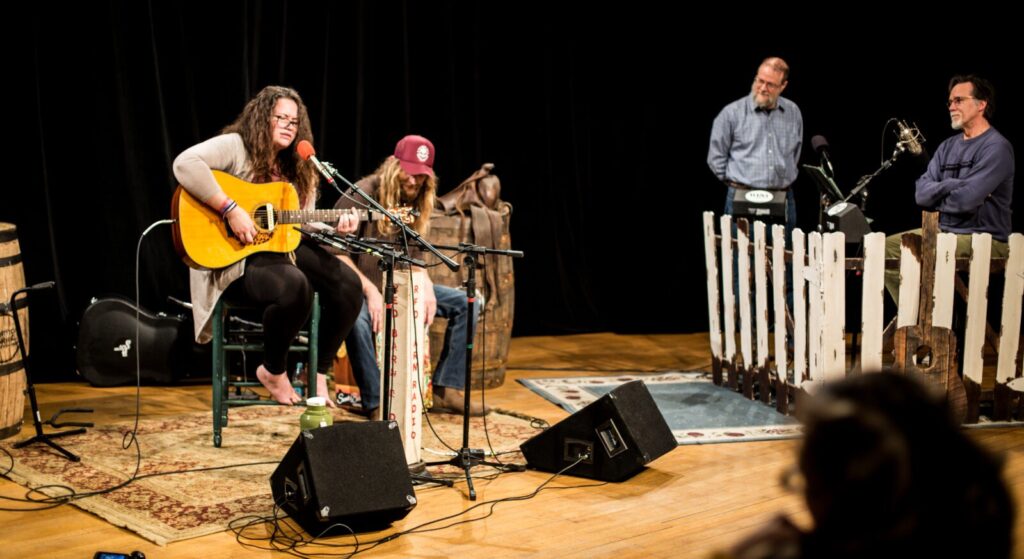 Songwriting is very personal for Chelsea. Her songs come from personal experience, and phrases and ridiculous things that folks say around her. She is always listening and gathering lines here and there from the people in her orbit. Her songs become an emblem, a story being sung of the hills and the people who live in them and make music with her. She says songwriting for her is like doing a puzzle. "Once I've got all the corners together it just falls in, and I've got no control over it. Thirty minutes max is probably what I have in a song, start to finish once I've got everything I need. If I have to force it it doesn't' have to be written. It has to be natural and real. I put myself into strange situations, just so I can get some ammo. It's bigger than me."
Music has always been a huge part of her life, and the life of her family, a Stanton staple. Brother Josh Nolan is a strong singer and songwriter, as well, and played Red Barn Radio previously.
"A couple years ago watching my brother do this, I was teary eyed the whole time. It's such a good opportunity, so many people listen to Red Barn. That anyone thought of me to do that is crazy. I am excited and humbled."
[aesop_video width="100%" align="center" src="vimeo" id="250979942″ disable_for_mobile="off" loop="off" autoplay="off" controls="on" viewstart="off" viewend="on" revealfx="off" overlay_revealfx="off"]
As soon as Chelsea begins to sing, you can hear why her music career has gained such momentum. Her songs are real, and true, and well-crafted. And she is hilarious. Not just in lyric, but between songs she has the crowd laughing until our faces hurt. She takes us along on an easy ride with her. Sometimes it gets real, just a little heavy, such as "That Old Town", when she sings of the pills and the depression all-to-present in many small towns in the hills. But more often you find yourself bouncing along with her as your foot can't stop tapping and you can't stop laughing. Her southern accent bites with a sarcasm that is brilliant, and her verses often end with a twist of wit.
She tells stories between her songs, of hollers and ponds glowing with sunset; of friends singing together; and of love. She sings of driving backroads and watching the lightning over the hills. Her songs are for healing and for laughing, and they tell of real lives that anyone, Kentuckian or not, can relate to.
[aesop_quote type="block" background="#f9fff3″ text="#393eff" width="content" height="400px" align="center" size="2″ quote=""I don't care if people know my name, I just want to be able to do this. I want to share what's on my heart with other people, because it's on my heart for a reason. I want to be able to help other people with their stuff, because this has helped me with mine. I want to sing as much as I can, as loud as I can, to as many people as I can."" cite="Chelsea Nolan" parallax="off" direction="left" revealfx="off"]
For the first half of her set, Chelsea was accompanied by Kristofer Bentley providing a homegrown percussion beat on the cajon while Chelsea played the guitar and sang.
She was resolute that night, playing in spite of coming down with the flu that has afflicted so many this winter. She refused to miss the chance to play Red Barn Radio. Barefoot, with a thermos of tea close by, she sat astride a stool and poured her soul into her songs.
Performing thirteen originals and two covers that she made her own, Chelsea kept the crowd enraptured. With her bluesy, soulful voice and thick country twang that tells her stories with a realness that is refreshing. Her guitar picking is perfect and she can't help but bop along to her own beat and you can't help but join her. Between the songs, host Brad Becker asked questions that gave Chelsea an opportunity to charm the crowd and listeners around the world with her tales.
She's fun. Real fun and real good.
That night was an apex for Nolan. Red Barn Radio, in it's 16th season of sending original music around the world on various radio stations, also live-streams their shows and is compiling video for a thirteen-episode season on local television. To play Red Barn and sit between those bourbon barrels and get to tell your story to the world is a great opportunity. Having accelerated their viewership with their You Tube videos of Tyler Childers, Red Barn Radio is a big part of the national and global conversation being had about Kentucky's excellent treasure of music and musicians.
Chelsea Nolan has earned her rank among that group of musicians we are proud to call ours. Standing her ground among a pack of mostly guys, she keeps everyone laughing with her unique and well sung songs that provide a refreshing take on the stories the hills have to share with the world. As she says herself, "I am in a beautiful situation."
Listen to Cara's conversation with Chelsea Nolan:
Listen to Cara's chat with Red Barn Radio's Ed Commons:
Watch Chelsea's Shaker Steps video:
[aesop_video width="100%" align="center" src="youtube" id="VBUPNJ4aCQo" disable_for_mobile="off" loop="off" autoplay="off" controls="on" viewstart="off" viewend="on" revealfx="off" overlay_revealfx="off"]