It's a cold night in early December, but the Green Lantern is packed. The trio of musicians assembles on stage, and the weight of expectation hangs heavy. For the uninitiated to the Johnny Conqueroo universe, this is the moment when blistering rock'n'roll might be expected. This is the band you've heard about for years. This is the band you're supposed to accept as the Next. Big. Thing. So it's just a tad confusing when the downbeat produces…slow and heavy 12-bar blues?
Okay, so you adjust your expectation – after all, they aren't making some rote recital of a familiar form – they're really digging into it, extracting every last ounce of grit.  It's now a blues band you're witnessing. And before the cymbals die out from the first tune, gritty guitar kicks in and the blistering rock'n'roll of their new single "Brick" begins, rejiggering those blues chops with meaty layers of deep bass and rock solid drums. Singer/guitarist Grant Curless stalks the stage like a man possessed, clinging to his guitar almost like a weapon to ward off the crowd, while Shawn Reynolds on bass and Wils Quinn on drums to lay in the pocket and anchor the action. Welcome to the real deal.
[aesop_video width="content" align="center" src="youtube" id="wYd0d8NmqM8″ disable_for_mobile="off" loop="off" autoplay="on" controls="on" viewstart="on" viewend="on" revealfx="off" overlay_revealfx="off"]
Johnny Conqueroo is not here to play to your expectations. Starting off with a heavy blues number in a rock show? Unheard of. Finding a home in the blues when much of the modern musical catalog seems to have abandoned it? Bold. Coming off as slightly reserved, intensely polite and complete pros during an interview? Isn't this supposed to be a bunch of young punks?
It's easy to overlook the fact that the members of Johnny Conqueroo are, in fact, well-worn veterans in the Lexington music scene and beyond because they started as a band relatively young (side note: so did Radiohead). It's their complete professionalism that allowed Quinn to quickly suppress a strained grimace when asked a somewhat condescending question about whether the band's relative youth provided them with a sliding scale of expectations.
"There's a lot of bands that will kind of ride on that – 'Look, we're amazing and we're kids.' And that becomes their identity," said Quinn, "and then all of a sudden they're not kids, and it's just, 'Oh, they're just a band.' It definitely helped early on, because people were like, 'Yeah, they're in high school and they play the blues – isn't that funny?'"
"It feels almost kind of gimmicky," said Reynolds.
"It was a glaring fact," said Quinn.
If the band (rightly) chafes under the mention of their youth during their band's rise, it's because it's at this point where a hacky writer should discuss how the transition from "high schooler band" to "adult band" has had a marked difference on their music and given them a more mature sound as they have shed their teenage band persona. But that would be stupid.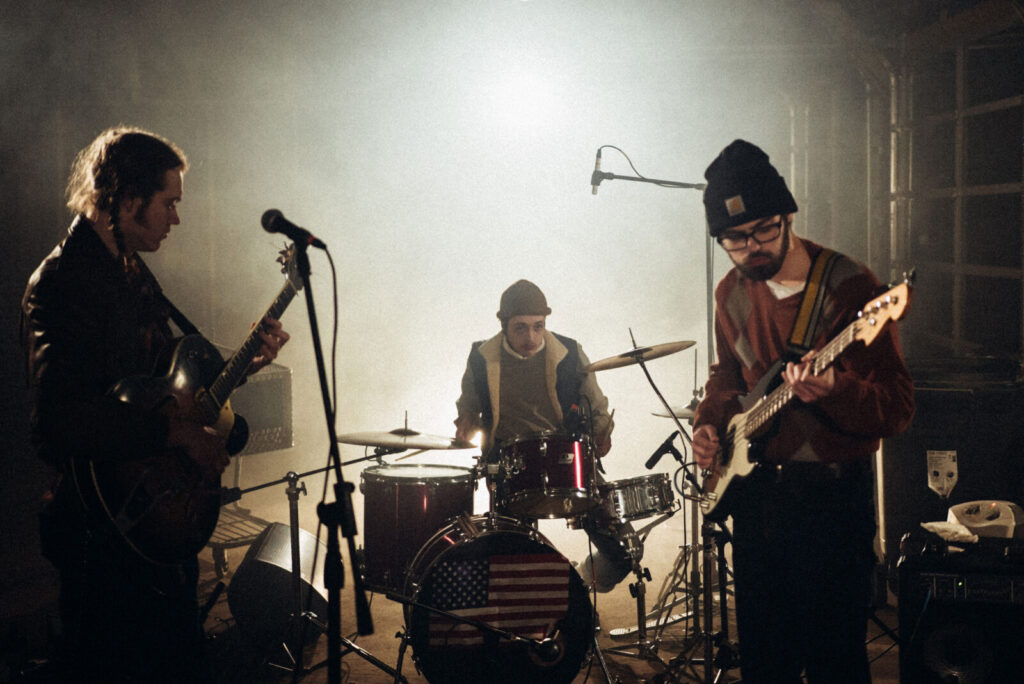 Has their songwriting progressed? Absolutely, just like any band with years of experience. Is their sound more focused and tighter? Listening through from their 2015 EP to 2016's "Washed Up" and on to their newly-released EP, "Haint Blue," the answer is indeed "yes." It's the central tenet that there is a mandated maturation process to which the band has been exposed that breaks down – Johnny Conqueroo didn't age into their musical craft – they've been at the top of their game since the beginning, and they've been doing this a long time.
"I started going to Nashville maybe fourth or fifth grade – started going down there a whole lot," said Curless. "Started listening to the bands in the honky-tonks, which were cover bands, but would cover old country songs and old rockabilly songs."
Curless's interest in music formed there, shifting from old country like Hank Williams to rockabilly, and then…
"Slowly, that morphed into the blues," said Curless.
Although the band has moved a bit away from its roots as a blues three-piece, it's the genre that still informs their music to a high degree.
"I can't really help it, to some extent," said Curless. "You like what you like."
"Listening to the blues – you kind of start to get an appreciation for the storytelling aspect," said Quinn. "You can get an appreciation for that without going through anything other than just listening to those stories. They're just fun stories, and if it's good blues, it's always told with conviction, too. It seems like it's told by someone who really needs to tell it." 
It also helps the group mine fodder for their material from stories around them.
"We have a whole multitude of weird friends and weird people and weird stories you hear in Lexington," said Curless.
"You'll start to pick up these inspirations from people you meet and friends and characters for weird ideas to jump off of," said Quinn.
In addition to mining the local landscape for stories, the band has a reverence for the music that came before, sniffing out pieces and parts to add to their repertoire.
"Any time we hear a record or a 45 that just has an element to it that we really like, we try and incorporate that same element into a song or in the band in general," said Curless. "The groove of funk music…"
"Like those little drum breaks from sixties garage band songs," Quinn said. "Actively listening to that stuff and seeing what you could pull from it. The internet is basically the secret."
On "Haint Blue," their third release in four years, Johnny Conqueroo throws the throwback dance party they've been building to since their first EP in 2015. Jangly guitars, slapback vocal reverb and a trademark drum sound by knob-twirling local mastermind Duane Lundy all add to a potent mix of equal parts modern blues and Dick Dale. The title track takes these fundamentals sans vocals and turns them on their head in a raucous musical exorcism over a repeated riff that demonstrates the power in this power trio.
That power overtakes Curless on stage, turning him from a soft-spoken and circumspect individual in an interview into a howling banshee, ready to take no prisoners. His bandmates referred to Curless's enormous stage charisma and excellent guitar face as a possession, relaying a story of one memorable gig where Curless was so overtaken with the energy of the show that he smashed his guitar at the climax of the song and ran off stage.
[aesop_video width="content" align="center" src="youtube" id="3mzOhbo1LCo" disable_for_mobile="off" loop="off" autoplay="on" controls="on" viewstart="on" viewend="on" revealfx="off" overlay_revealfx="off"]
Curless shrugs off any idea that there's some demon to exorcise. There's no deep trauma underlying the complete transformation, no need to prove something to the world. It's just a natural extension of Curless, guitar in hand, absorbing every electron of light in the spotlight night after night. 
"It just feels right up on stage."
Johnny Conqueroo's third release, "Haint Blue," is out now on label The Fir Trade.