Best Friend Bar is the quintessential classic college bar, nestled on the corner of Euclid and Woodland Ave. The geometric insides boast jutting ceilings covered with colored Christmas lights and shiny stars that hang year round. Posters and stickers from shows and bands past adorn the painted black ceilings and bathroom stalls. A small merch table is stuck back against a slanted wall, and band equipment is bundled up on the other side. Patrons clad in lots of black leather mill around the bar, getting ready for the three-act set as they order local drafts and burritos from Girls, Girls, Girls Burritos. The Jettisons are set to play second in a fully stocked night of promised punk music headlined by Sarasota's Rational Anthem.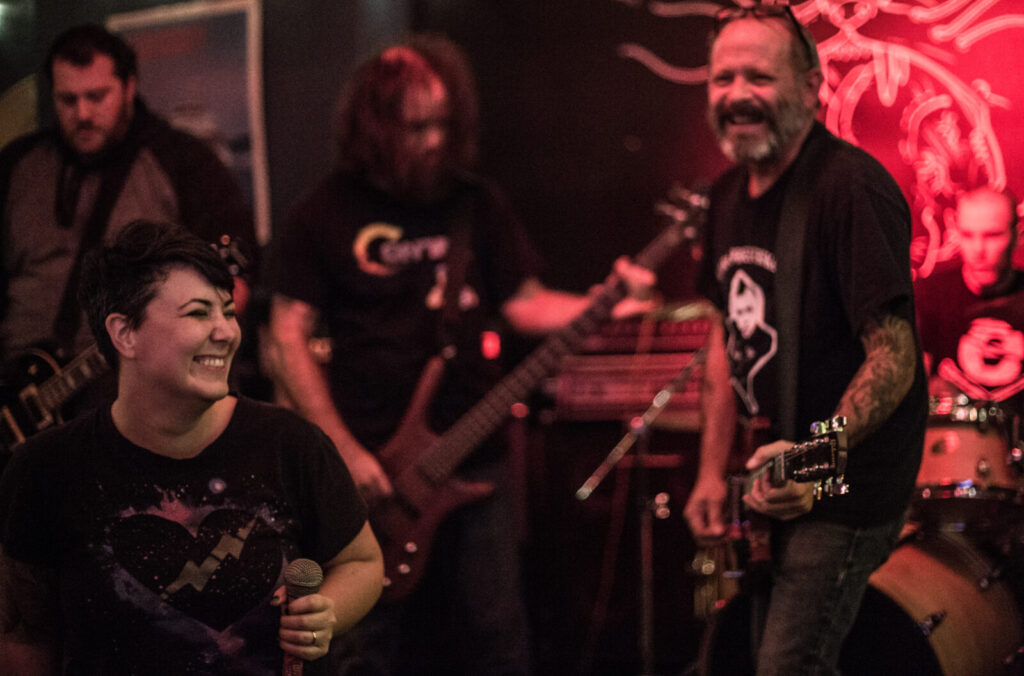 The Jettisons is an amalgamation of four other previous bands from the Lexington area, a sort of supergroup of punk musicians. Brad Hagedorn, the drummer, and Travis Rosenbalm, the guitarist, were from Middle Class Mischief. They joined with Tom Blankenship, someone Travis had been wanting to do music with since Tom's time in The Loaded Nuns and Slagsmiths. They all wanted Beth Jenkins on vocals. Her previous work in the ska band The Rough Customers boasted her vocals, a sound they all wanted for their new band. Cory Hanks, from Those Crosstown Rivals, was brought in for bass, and The Jettisons was born.
Musicians who have been part of the scene, each brings their own personality to the band, which they call truly democratic. "Definitely the most collaborative band I've ever been in," says Tom, "…there is no established leader of the band, it's a collective." The musicians get together with a riff and a beat and record it. They hand it off to Beth, and soon she comes back with lyrics and they then pull it all together. When they had some songs compiled, they went into the studio with Jason Groves at Sneak Attack Studios and recorded an EP.
They all laughed about the experience and the astonishment when Groves put Beth in the drum booth to record her vocals. Once they heard the result, however, they were collectively in awe of both Grove's recording skills and Jenkin's vocal talent. "He's worked with me before," Beth jokes.
When they take the stage after local opening band Test Passenger and hit that first note, you can understand why. Beth's voice is incredibly powerful and so direct. She wails up into high notes with flawless accuracy, then in the next breath screams out her gut-punching lyrics, only to go back to singing like she's in a musical. Impressive. The band backs her with exact synchronization, their heads slamming in classic punk style, instruments slung low as they fill the small stage, their lead woman out front, in amongst the loyal crowd, the sound filling the small room and making the windows rattle.
[aesop_video width="content" align="center" src="vimeo" id="242397180″ disable_for_mobile="off" loop="off" autoplay="off" controls="on" viewstart="off" viewend="off" revealfx="off" overlay_revealfx="off"]
Beth's lyrics chanted and screamed, sung out like an aria, Tom and Travis adding perfectly timed responses to Beth's calls, the chanting like prayers, and the crowd joins in. Small but fervent, the crowd slams and bounces and dances and pushes each other guidingly back into the middle where one dancer bounces and slams into Tom…while he's playing guitar. A true audience participation show, a true punk show, the crowd and the band become one with the beat, and Beth's voice guides them all.
The shambled room and the DIY sound gear is part of the charm of Best Friend Bar, in walking distance from most of the UK dorms. The air smells of the amazing burritos from Girls, Girls, Girls Burritos, a co-business with BFB, operated out of a door next to the bar. Amazing grilled burritos and quesadillas, chips and dip are served out of the door – your ideal edge-of-campus business. The punk vibes fit perfect that night, and the camaraderie and joy the crowd clearly felt were good for everyone.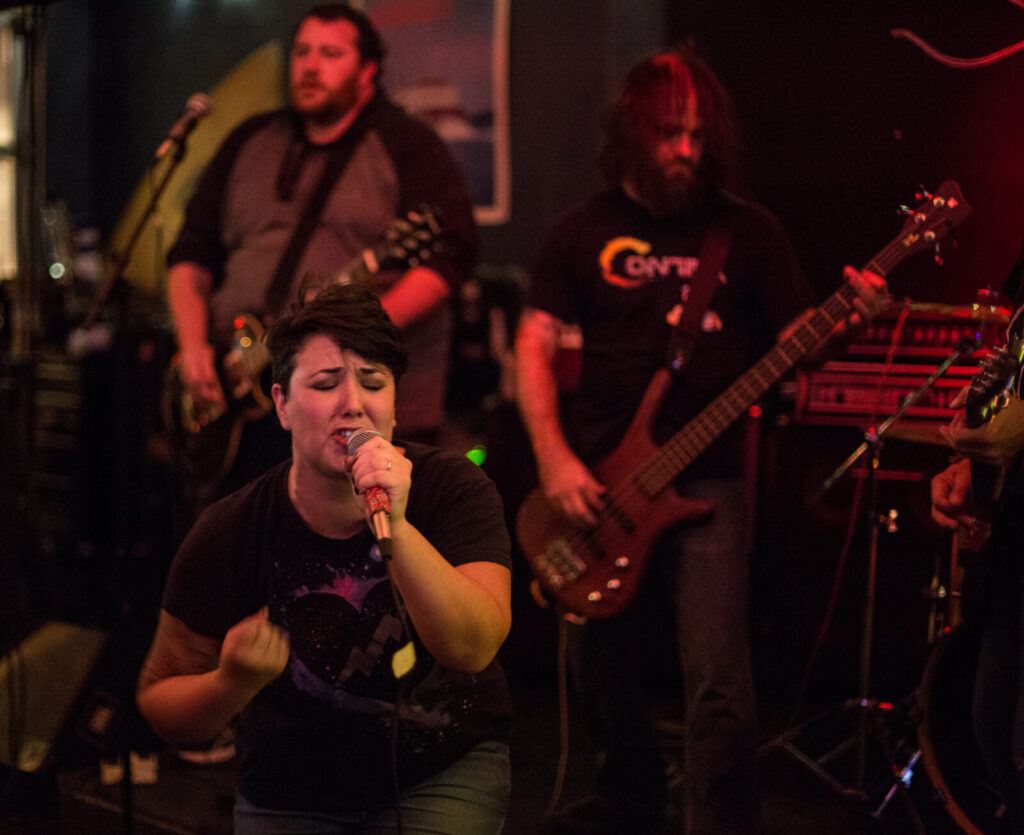 "You don't necessarily have to have a really big crowd at a punk show. Enthusiastic really matters…I'd rather see two people moving than fifty people not," the band agreed. Dancing with their audience, Beth and Tom draw the crowd in on the floor while the band diligently keeps the beat behind, Brad's drums the sidewalk they dance upon, Hank's bass the beat of their steps. Travis and Tom support Beth out front, and the joy and experience and tight musicianship of the collective are quite clear.
Tom and Beth joke between songs, with the band, and with the crowd. The feel of the set is fun. Just damn fun, and they're out there to have fun. This isn't the punk I remember from the early days. These aren't young kids who hate the establishment. Beth says, "Old punk is about trashing something, destroying something. Fuck this, fuck that. There is something to rebuilding. There is something to bringing something back." And that is what The Jettisons clearly get across to their audience.
The term "posi-punk", or Positive Punk, is the subgenre they have chosen,
"Posipunk…is maybe an overlooked subgenre, it's something that a lot of us who grew up listening to this kind of music maybe should start leaning towards…in times like these" Beth comments, "let's talk about rebuilding. Let's talk about the rebuild."
Travis agrees, "There's never been a more important time to be positive, at least in my lifetime, as far as society goes."
Their songs try to touch on this idea, to come together. To stay positive. A new song that will be on their second CD, a full-length album they hope to get out soon, Beth wrote for Travis when he was struggling with anxiety. "Watch the Sky" is a positive song that she wrote for Travis to understand that he was not alone. That is what The Jettisons want to convey in their lyrics.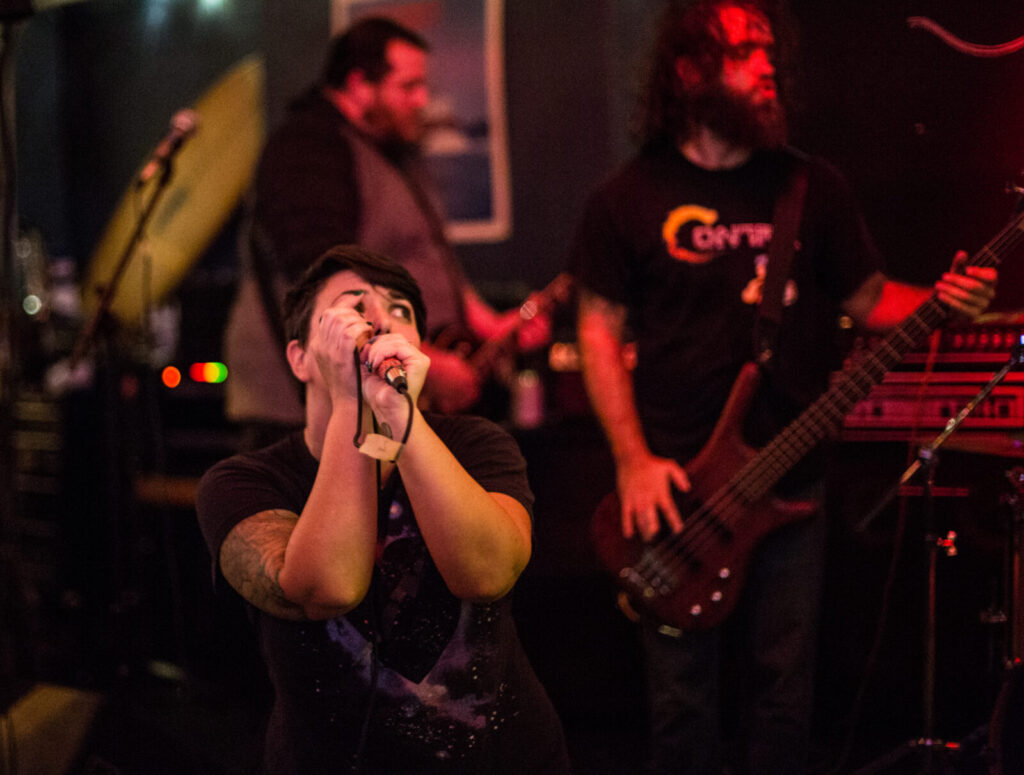 With that powerful message, along with Beth's astounding voice, and the collective talent of the guys backing her, The Jettisons are creating a new wave in Lexington's punk scene.
Meanwhile, out in the parking lot…