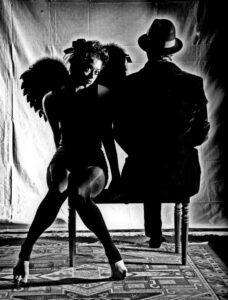 This is not to suggest that it hasn't always been there, but networking or "cross-pollination" among various arts disciplines seems to be happening with more frequency lately in Lexington.
As some wise person once said: "more 'o that!"
Writing in ACE Magazine several years ago, Candace Chaney noted Lexington's rich literary history and the presence of a serious, if struggling, theatre community and suggested that cooperation and collaboration between the two might give rise to homegrown playwrights. This inspired idea remains a long way from yielding onstage results – although we have seen growth and development in local theatre production. But the concept has taken hold in other areas and we think it's worth noting.
Recent examples include the mid-June production at the Downtown Arts Center of The Broken Queen, a multi-disciplinary collaboration between Blackbird Dance Theatre and a reunion of the Lexington band Chico Fellini.
And Story Magazine has launched its "Story Sessions" series – intimate concerts that engage a variety of talents and skills ranging from music and sound production to communication and publishing.
Coming up later this month, on June 27, is the Lexington Art League's CSA LIVE: An evening of story and song, billed as a convergence of Lexington's literary, music and visual arts scenes.
These productions and events join The Carnegie Center's Carnegie Classics, and Balagula Theatre in inviting varieties of artists to share talents and skills in collaborative settings.
This departure from limiting our arts scene to the pitting of one discipline against another to grovel for scarce financial lifeblood is healthy and promising.
The question is, what does it take to establish a "go to" network to enable vital communication between, perhaps, a videographer and a sound-designer, or a performance artist and a sound and lighting talent? Is this a function of some independent non-profit? Or should our municipal government establish such a role?
Wouldn't it be great if we figured out how to sustain arts production in Lexington?
Please offer your thoughts on our Facebook page.
Thanks!