Color, craftsmanship, crispness, and a sense of mysticism greet you as you enter the exhibition. High saturation, smooth edges, and optical illusions pervade the space. This exhibition by Quappi Projects is a feast for the eyes and a true lure for any fans of color theory. The boldness of the pieces and their display in this space, the conversation between the pieces, and the closeness in their relation – both with content and color (in some cases, color being the content) – pull you in and guide you through the space.
Four different artists are represented in this space – Letitia Quesenberry, Gibbs Rounsavall, and Skylar Smith, all Louisville-based, and Martin Benson, Louisville-born but based in New Orleans. Even with one artist creating at such a distance away from their Louisville co-exhibitors, all of the pieces featured fit together perfectly. There are differences between the artists, and at a closer distance one can see these, but on a quick glance at the space, the cohesion is so astounding that one could mistake it for a solo exhibition. Upon further investigation, the true differences between the artists and their works start to come out, which holds the key to the amazing quality of this exhibition. The artists' work is different both visually and conceptually, but the way it is presented here is seamless – a brilliant example of careful curation and artist conversation.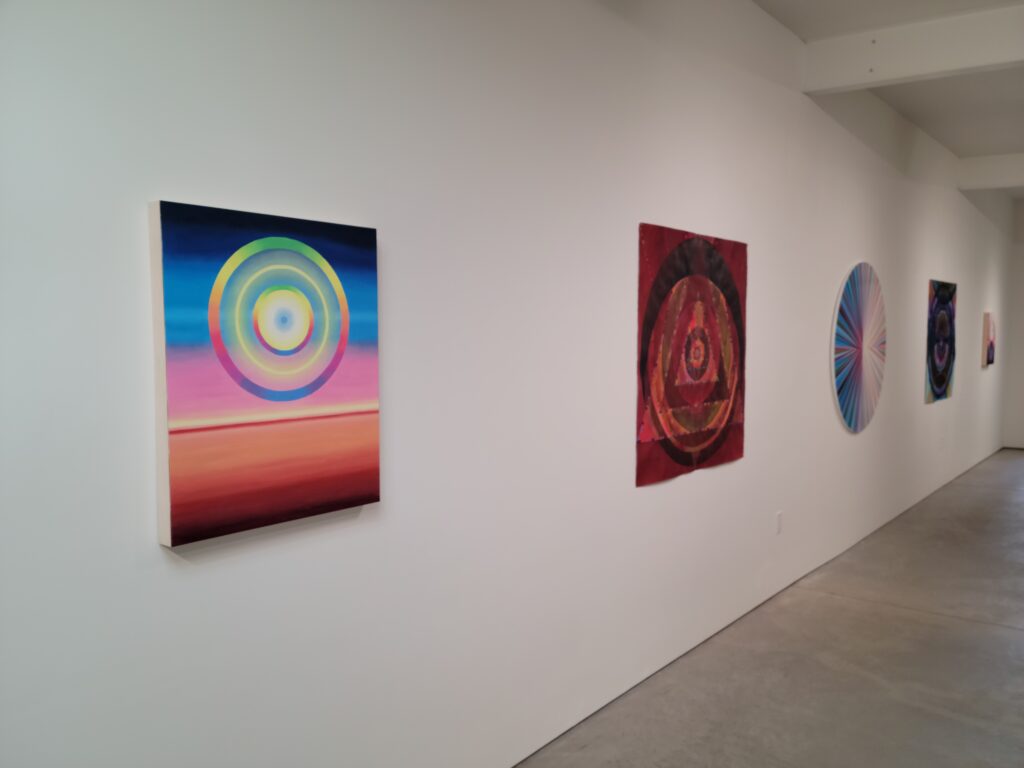 The way color is used – and the imagery created by the artists – is what gives this exhibition its air of mysticism. Reminiscent of Hilma af Klint and her conversations with sacred secrets, the color and compositions feel like a peek at something magical and divine – a secret language of color that we as the viewer get to bear witness to. Pyramids, concentric circles, horizon lines, and smooth gradients add to this feeling and draw to mind ideas of sacred geometry. As you walk through the space, you feel as though you're accessing a secret codex both familiar and strange. We understand color, and we understand shape, so those utilized together bring this understanding – but the way they are put together, the way in which they are composed, brings to mind language, symbolism, and code. Like a temple of color, this exhibition pulls you in for a ritual connection to the light rays reflecting in our eyes. A sense of serenity of calm, with an undertone of vibrant energy, connects the viewer to these pieces in conversation.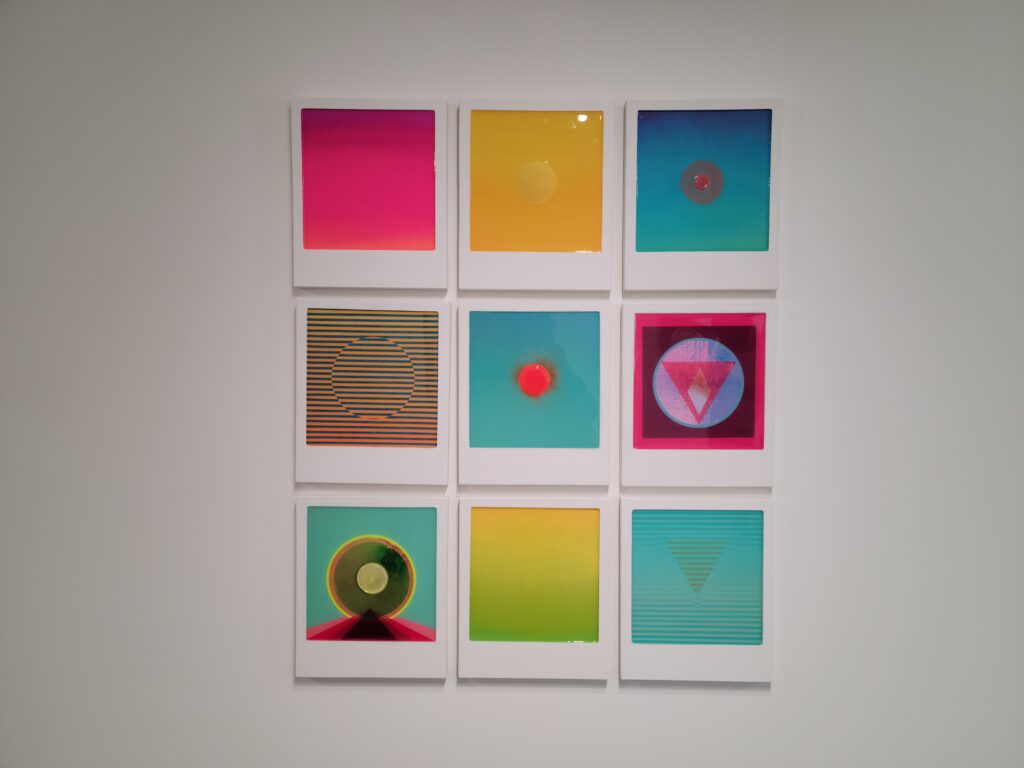 From a distance, Letitia Quesenberry's work seems like a bright painting or a framed piece, but as it is approached, one sees the artist's craft and realizes the construction of these seamless pieces. Sculptural in nature, these neon panels exemplify craftsmanship – smooth, crisp, precise, and polished. A shine to them like glass, they engage you with their transparency and layering.
Gibbs Rounsavall's paintings are bright but also charmingly deceptive. The use of colors and bright rays fit in perfectly with this exhibition. The optical illusions created by these paintings make the viewer question their interaction with each of his pieces in the space. Some are flat, but some exist as dimensional pyramids protruding off the wall – however, the nature of Rounsavall's color-use and composition flatten these pieces visually when forward-facing, making them seem like his other two-dimensional works. When viewed from the side, though, they extend a foot or more into the room. Even more alluring is the camera's inability to capture the depth of these pieces; at whatever angle you photograph them, they appear as flat images on the wall. The only hint of their true nature within a photograph is a gentle shadow cast here or there.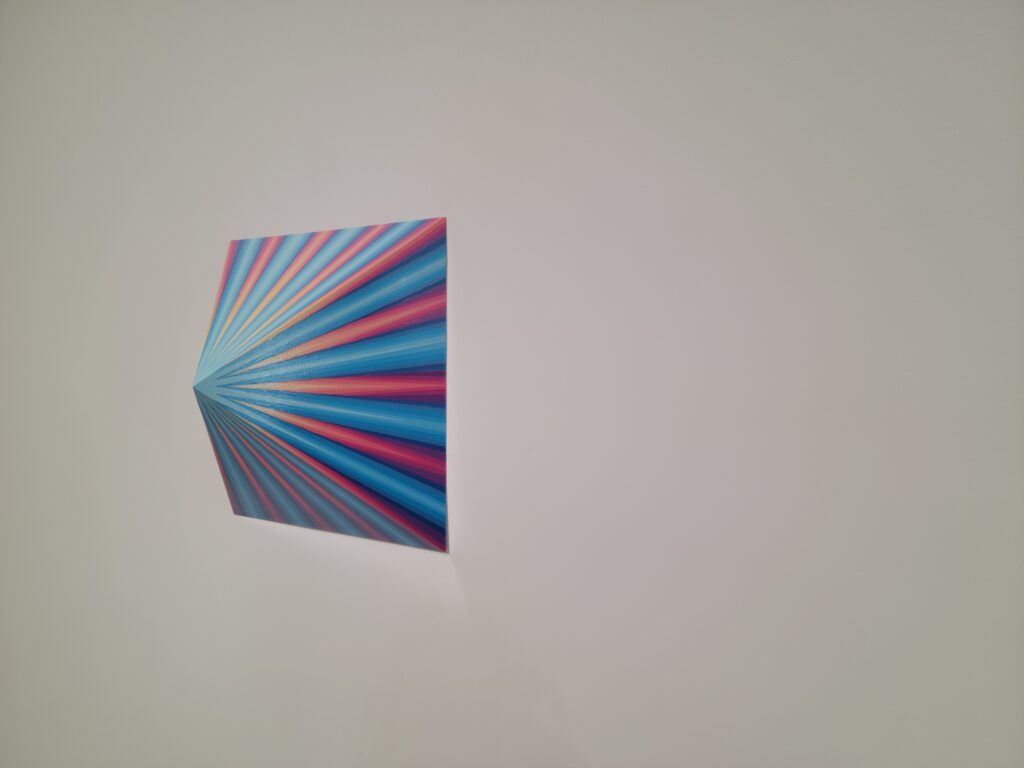 Skylar Smith's work is what draws this exhibition toward a perception of divinity. It is no wonder, as when reading the artist's statement on her website (skylarsmith.com), she talks of the meditative nature of art-making, and of her practice as a meditative state to explore "active and passive states of consciousness and transcendence". Her pieces give a view into another plane, astral or divine. These abstractions are like a study of our connection to the Universe, or like beautiful cosmic maps, astrological in design.
In a similar vein, Martin Benson's work brings to mind mandalas, fractals, and, again, sacred geometry. In curator and Project Quappi founding director John Brooks' write-up accompanying the exhibition, he mentions that Smith and Benson are "both inspired by sacred geometry, contemplativeness, and the lure of the metaphysical", and this is definitely seen in Benson's work – with concentric circles rising above bright horizon-lines, seamless gradients, and a dance between pastel and neon space. Like Smith's work, it's a peek into something more, something from a higher plane.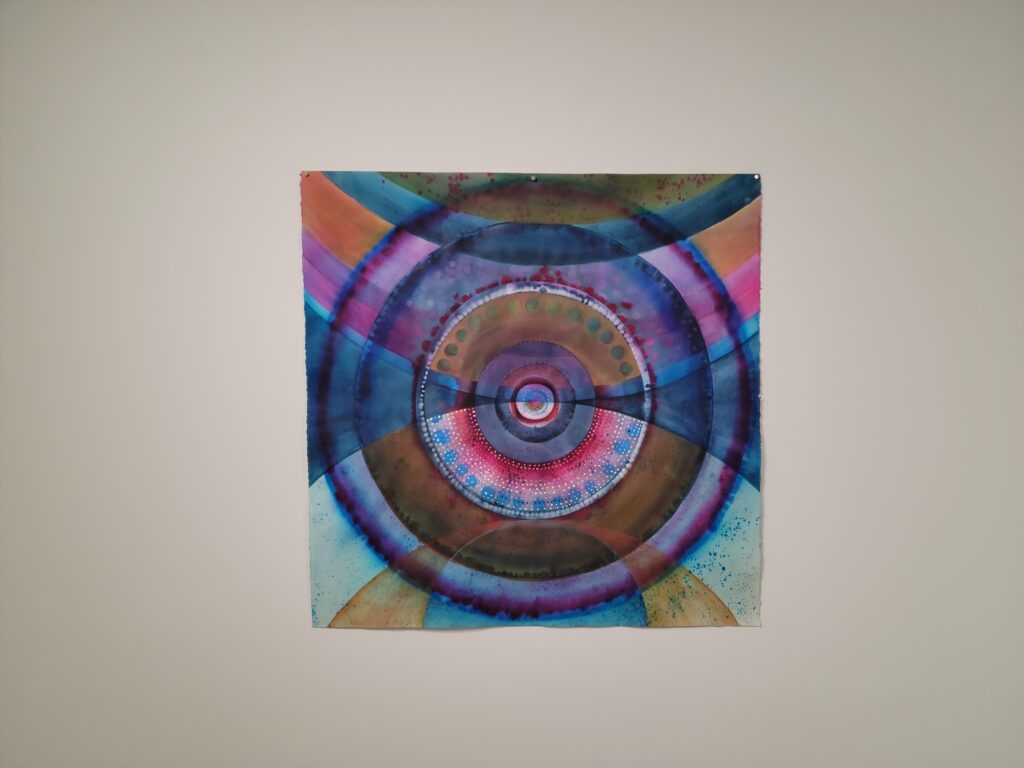 What's fascinating is how precisely Benson's work fits in with the other pieces, based as he is in New Orleans. This group exhibition offers a visual feast, activating multiple senses. Everything about it felt purposeful and precise, owing to the curatorial skills of Quappi Projects' director John Brooks. Brooks did an exceptional job with the accompanying brochure and exhibition map giving a good overview of the exhibition and its content. Even the title of the exhibition, Not a Certainty but a Circumstance, a quote from Carlos Cruz-Diez about color, was perfectly woven in with the work presented. Also, in relation to the space and its founder, John was gracious enough to meet us on a day the exhibition was closed, admit us to the gallery space, give us a tour of the exhibition, and share details about the Project and his personal artistic and curatorial practice. This is the charm and allure of artist-run spaces – a space made with creators in mind, and accessible. This exhibition was truly wonderful, and I am definitely excited to see what the future has in store for Quappi Projects. As a traveler passing through Louisville to see this exhibition and as an artist myself, it brings me great joy to see spaces like this existing, sharing and highlighting work that needs to be seen. Please check out the work of these artists and the work being shown at Quappi Projects online.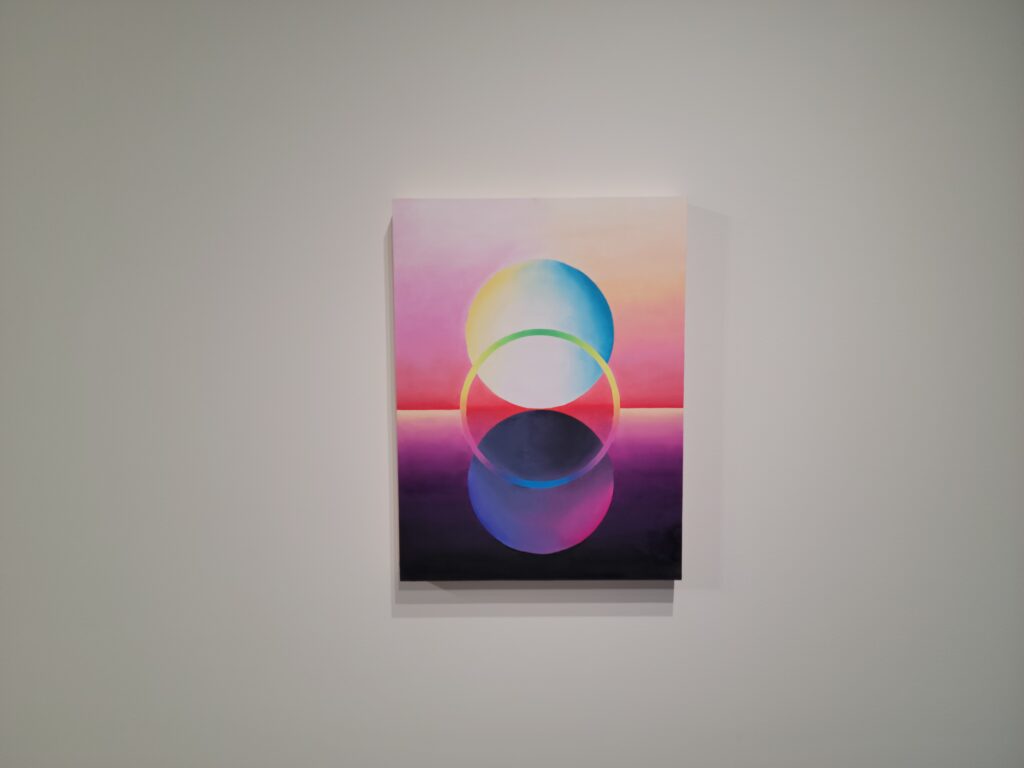 Top image: Installation view of "Not a Certainty But a Circumstance" at Quappi Projects in Louisville, KY. Several brightly colored abstract pieces hang on the wall and sit on the floor of the gallery.
UnderMain: On the Road sends writers out of Kentucky to explore the visual arts in cities of the Midwest and near South. This program is generously supported by the Great Meadows Foundation.