I watched a White-Throated Sparrow follow his cohorts into a bush this morning.  He flitted in fast, grabbed a branch with too much speed.  He couldn't stick the landing and so launched himself off to the next bush without hesitation.  It was an innocuous event, something that happens without comment all the time.  In fact, had it occurred otherwise I would have been surprised.  Birds routinely launch themselves from this branch to that wire, land or don't, stay or don't, with apparent disregard for any consequence.  And this cavalier attitude they have regarding gravity I find intriguing. I have long wondered about the mindset of birds, what it must be like to have no fear of falling.
As a young man, I had the good fortune to work at a self-empowerment program which had an outdoor ropes course element to it.  One of my duties there was to work at the rappel site, sending people of all ages over an 80 foot cliff.  Many of these people had never done anything like this before; some were terrified of heights.  Yet all had taken this program as a way of conquering their fears.  And the rappel was just the exercise to help them with that.
Everything about rappelling challenges core beliefs.  I would take 50 year old people, out of shape and out of their elements, gear them up in harness and rope, then walk them to the edge of the world.  Frequently we would creep the last few feet together, arm clutched hard to arm.  I would them tell them to turn, put their back to the cliff, their feet on the edge, and lean back.  There is something so fundamentally wrong with that that the mind can't help but rebel.  It goes against everything your momma ever told you to do.  To properly rappel, you basically walk backwards down the cliff, your back parallel with the ground far below.  The rope keeps you from falling and the interplay between rope, feet and rock keep you from face planting, but only if you lean back nearly horizontal.
All your upbringing and instincts scream that this is the wrong thing to do, that you should hug the rope and nestle up to the rock face.  I'm sure there is even some biological imperative shouting from deep within your DNA that stepping backwards off a cliff is a very bad way to further the species.  Yet over the cliff they went, young and old, scared and bold, to safely arrive, jubilant and accomplished, at the bottom 80 feet away.
I had the cherished job of talking them through the technique, through their fears, allowing them to discover a greater sense of capability and freedom.  Initially what was present was fear.  As I worked with them, slowly my voice would penetrate and what would occur was listening followed by trust followed by relationship finishing with love.  There is something embedded in the act of surrendering to another that opens us up.  Its no surprise that we talk about falling in love.  It is scary.  To trust another with your vulnerable heart is like leaning backwards over a cliff.  What comes from that is a release, a joy, a feeling of floating, making you want to bounce down the cliff, gamboling like a mountain goat.  
We celebrate this with our traditions on St. Valentine's Day.  Bright and shiny, heart shaped and poetic, we express ourselves with candy and flowers.  There is a sweetness to it, rich and enrobing.  True love, like good chocolate, melts in your mouth.
Bete Noire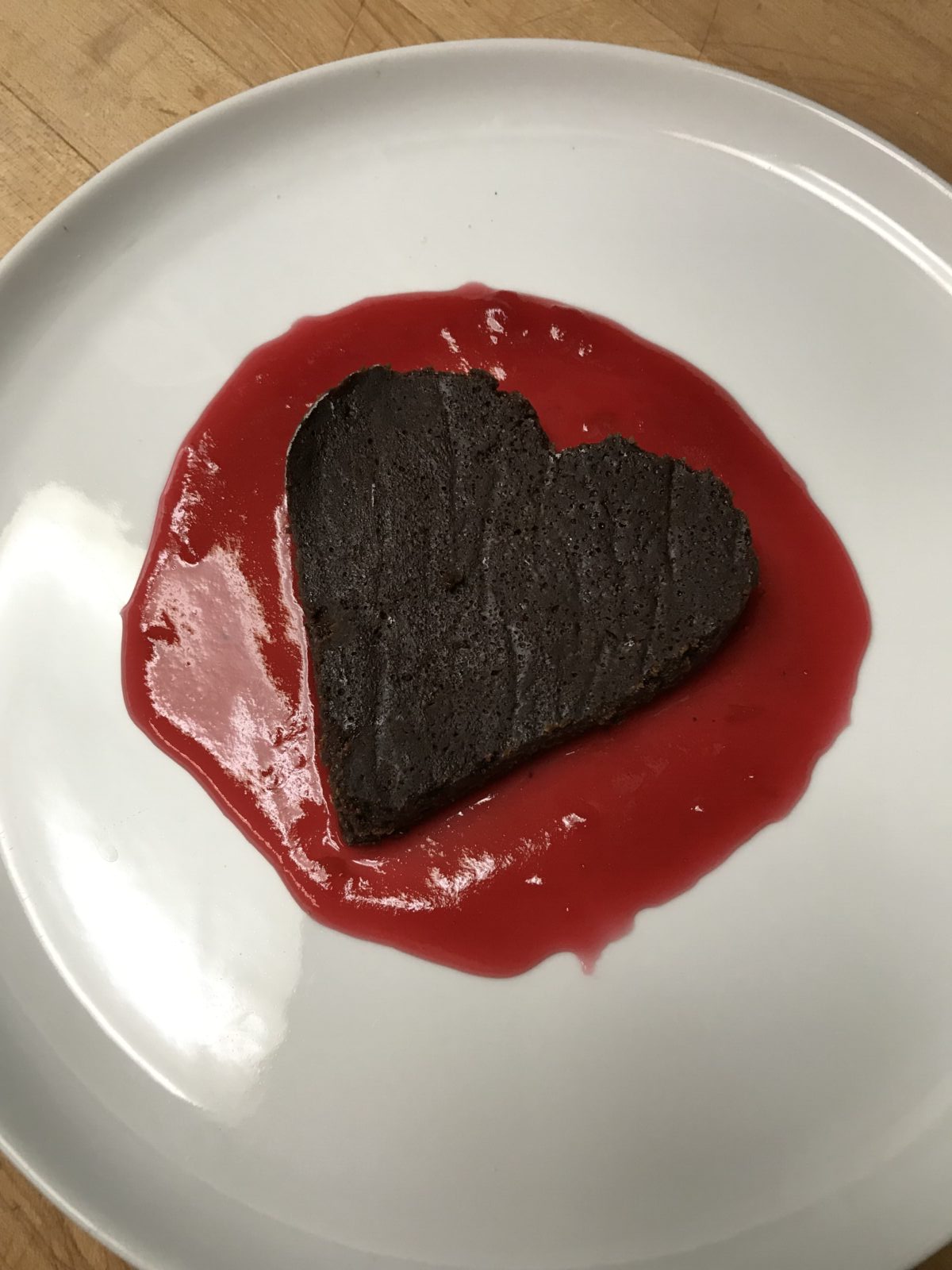 This flourless chocolate cake, whose name means Black Beast in French, is sinfully rich, tasting like chocolate butter.  It is baked in a water bath ensuring its creaminess.  Simply assembled, it will score you big points with the love of your life!
!/2 cup water
1 cup sugar
12 oz. dark, semisweet chocolate
8 oz. unsalted butter
5 eggs
3 Tbls sugar
In a saucepan, bring water and sugar to a boil. Reduce heat.
Add chocolate and butter and gently warm to melt.
In a bowl, whisk eggs and remaining sugar to combine.  
Stir into chocolate/butter mixture.
Pour into greased 8 inch cake pan.
Place onto a baking sheet pan and put into preheated 350 degree oven.
Pour water onto sheet pan to come halfway up the cake pan.
Bake for about 40-45 minutes, until cake is firmly set and a paring knife inserted comes out clean.
Remove from heat. Take off pan of water, being extremely careful not to burn yourself.
Let cool 30-60 minutes, until just room temperature.
Run a knife around the edge, invert a dish over the pan, flip it upside down and gently tap to release.
Wrap with plastic and chill. May be done a day ahead.  In fact, it works better.
This cake is super rich.  Serve stingy slices floating on raspberry sauce or serve with whipped cream and fresh raspberries.
Enjoy!