What is that thing?  The thing that people have when people say they have "that thing?"
Who knows? Charisma maybe? Self-confidence? Perhaps.  An amalgamation of  more illusive things?
Whatever it is, Reva and Andrew English have it.  In spades.  They are both local musicians. Andrew is the front man for Englishman, and Reva is a singer, songwriter and mean string picker in a few different groups.
Englishman takes you to a place that reveals a glimpse of yourself in an unexpected and honest way … the way really beautiful music does.  And then, just before you get scared of what you'll find, a melody … a guitar riff, a surprise; something gets your toe a tapping again … pulling you back and reminding you that it's all ok.  His music pushes you, through detailed and brilliant images to ask the big questions.  It invites you to confront the more uncomfortable parts of humanity.  To stand in front of the mirror – naked.
We accept the invitation because of the way it is presented; honestly, with character and dripping in grace.  Andrew's music is a perfect reflection of who he is as a man.  It's no wonder that long before they met, mutual friends were trying to push him and Reva together.
That would've never worked though.  Reva can't be pushed to do anything.  Not anymore at least.  Nope, it was going to have to be a natural process, something that would unfold as naturally as a flower in spring, and equally remarkable.
Even on stage, perhaps especially on stage, Reva's organic sound is intoxicating.  There is absolutely nothing forced about this woman.  Once her faucet was turned on and she felt free to be herself, the talent just poured out.  And it keeps pouring.  Reva has her hands in several musical endeavors in this town and is associated by proxy to more.
Lately, she's focused primarily on two of those projects.  Whether Reva is picking and singing in Small Batch or Italian Beaches, her perfect blend of moxy and humility is enough to make you crave more.  Her stage presence is both intimidating and comforting and her musical choices reflect that.  I have felt giddy at the possibilities of this life and moved to tears by its injustice many times during her songs.
She is, above all else, a professional.  The passion for her craft is reflected in the intricacies of each nuanced lyric and chord.  When you listen to Reva's music, it is remarkably well executed and thought-out while maintaining an easy and effortless sound.  I imagine her muse to be a reflection of a hybrid between the Buddha and Patti Smith – simply complicated.  During a song, it is not uncommon to watch her wail into the rafters in one verse, only to sooth the crowd over with a gentle melody in the next.  Her talent is abundant and her endless projects are proof that her light can never be snuffed out again.
And certainly, not on Andrew's watch.
The two of them have recently embarked on a joint project – parenthood.  Their son, Friend (a family name), is the perfect mixture of them both.
He's not the tickle-tickle kind of baby.  He's serious about this life already.  At the ripe old age of seven months, Friend is right at home on the couch with the grown-ups and can often be seen at one of his parent's shows be-bopping around in his tiny headphones, almost certainly concocting kind and constructive thoughts about it all.  At the family table, you might be tempted to wait for him to ask someone to pass the biscuits and gravy.
That's how I found them on a Saturday morning when I went for the interview. They, with a close family friend, were sitting around the table in the kitchen of the cozy and bright home they gutted and are renovating together.  After they were done eating, we moved into the living room that is comfortable, eclectic, and littered with musical instruments and toys.
There were a thousand questions I had, but more than anything, I wanted to know about what exists in the space between them.
They described it as safety.  This was one of my favorite interactions:
Reva: "I get scared a lot, I freak out, I think everything is going to come crashing down."
Andrew: "I'm there to say that it will."
Reva: "Yeah, it's like when Andrew says it, I'm like okay, that's okay.  He puts it in perspective."
They were both laughing. That's how they are: realistic and supportive.  Andrew said that the backbone of their relationship is about understanding that the work they both do is important, respecting that and cultivating a safe space for it to flourish.
They also described their connection as easy.  The ease comes from a thread that has been woven in and throughout their lives.
Andrew: "We have a common goal, or mission or whatever.  It's not about success or money … it's about being a useful human in a community."
When I asked them what it was like when they knew this was it, that they were inextricably in love, Andrew shrugged and said: "It's nice when the character traits you have always had become character traits that are useful for someone else.  It's just like, wow, okay … that works.  We fit."
Of course I was curious about the product of this love, little Friend, and how his arrival had impacted their lives.  At one point, Reva's brown eyes welled up with tears and she recollected being pregnant.
"You know, it was never hard being pregnant … it wasn't the most comfortable thing in the world, but I didn't need to complain about it.  It just wasn't hard.  My life used to be either hard or painful.  When it wasn't painful, it was hard.  It hasn't been like that since I found Andrew."
Andrew reached his arm around her and she nestled on his shoulder.  Then they told me about what it was like when they found out they were pregnant.
"Well, I was going to a friend's house for something and was on my way to pick up some beer," Reva said, "something in me said, 'ummm, you don't need beer,' so I got a pregnancy test instead. It was positive … wow, I haven't thought about this since it happened."
"Me either," Andrew grinned.
"And I think I had just come in from a run, remember that Andrew? … I was all sweaty and drinking a glass of water when you walked in the door …"
"Yeah … I remember."
"I put the glass down and said, I'm pregnant. And Andrew was just like 'okay, so this is happening.'"
"Well yeah," Andrew jumped in "but I think if you'd gotten me early in the morning or something I wouldn't have been as cool about it … I'm just not like that in the morning …"
"That's not true," Reva said, "you're fine in the morning."
"Yeah well, I may have been a little more confused about the whole thing … at that point though, it was just like, 'well, okay … this is happening."
And so it happened, their lives led them to each other, their togetherness led to love, the love made a human and that human made them a family.   A brief moment in time, a blink really, a glimpse into all of the beauty that exists in this world on one sofa in downtown Lexington.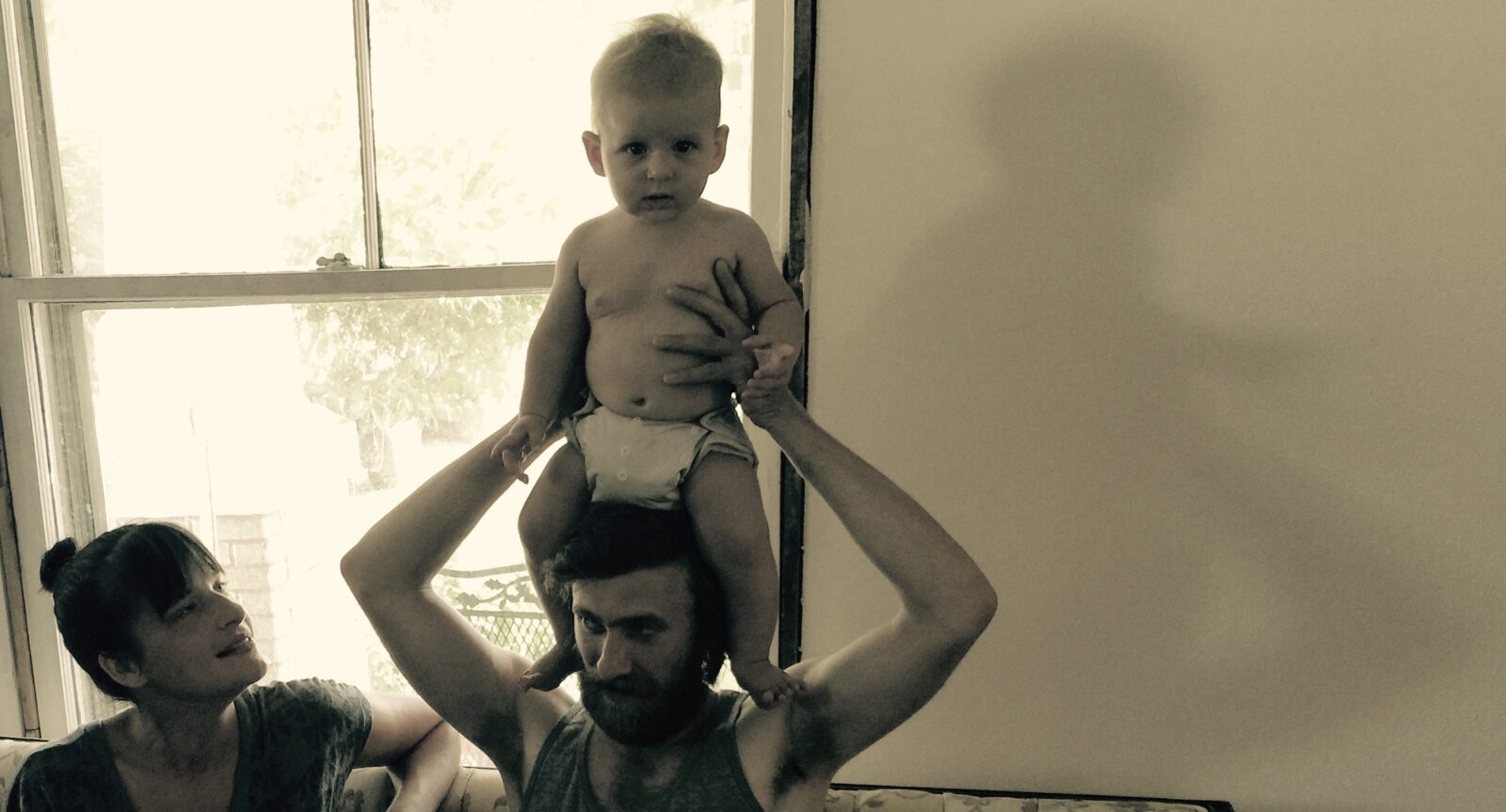 As I sat in the 70s style armchair, across from that sofa while Andrew balanced Friend on his head and Reva was snuggled up close, it occurred to me that I was in the presence of greatness.  Even though we don't get to know if people are legends while they're living, it's clear that what these two have together is worthy of the term.
It's a legendary love.
If you want to catch them both together, they are playing Soulful Space on August 27, at Good Shepherd Church.  Englishman will open for Small Batch starting at 7:00pm.  Click here for tickets.
[aesop_video width="100%" align="center" src="youtube" id="FgdnpZwCzvo" loop="on" autoplay="on" controls="on" viewstart="on" viewend="on"]
[aesop_video width="100%" align="center" src="youtube" id="hF2DRlvoBIQ" loop="on" autoplay="on" controls="on" viewstart="on" viewend="on"]