It's not a bad thing when an interview with an indie rock four-piece devolves into a discussion of favorite Replacements albums. It also gets more interesting when talk settles around not a seminal work, but a later and, according to some, lesser work. The fact that this narrative derailment ends with mutual agreement on the merits of said album showcases how Letters of Acceptance, a relatively recent addition to the pantheon of local musical life, works as a band; they exist as a loose collective of musicians spread out across more than a couple cities and some impressively harried work schedules who come together in what seems to be a nearly perfect fit on random occasions. It's the amiable convergence on mutual agreement that operates to their advantage, whether in playing music together or in conversation about The 'Mats albums.
There's also more than a hint of serendipity, as the members all find themselves in a relatively same geographic location for the first time. John Harlan Norris and Clinton Harlin Newman (who either really missed an opportunity to name the group "Harlan and Harlin" – or were too wise to do so), the driving force behind the group, knew each other in Kentucky but both wound up in New York for a brief period of overlap. Collaboration grew out of that and spanned years and miles before they finally found themselves both in the same state again, and an intermittent collaboration blossomed into a full project.
"I think we had this idea that we wanted to keep it loose and try and have a little bit of spontaneity," said Norris. "In some ways, for practical purposes, because that's all time would allow for."
The time constraints came not just because of busy schedules but because of the necessity for favorable weather for comfortable recording sessions in Newman's uninsulated attic in Louisville.
"We could only record during winter, because the attic gets literally a hundred degrees in the summer," said Newman.
The looseness gives the music a lived-in, organic feel, but not a sense of sloppiness. That loose approach doesn't bleed over into the production value, however, despite the guerilla recording effort.
"I try to imagine it like we're doing this twenty years ago and we're using a little four-track cassette tape recorder to record a whole album," said Newman. "I still think like that. That's the most fun thing to do."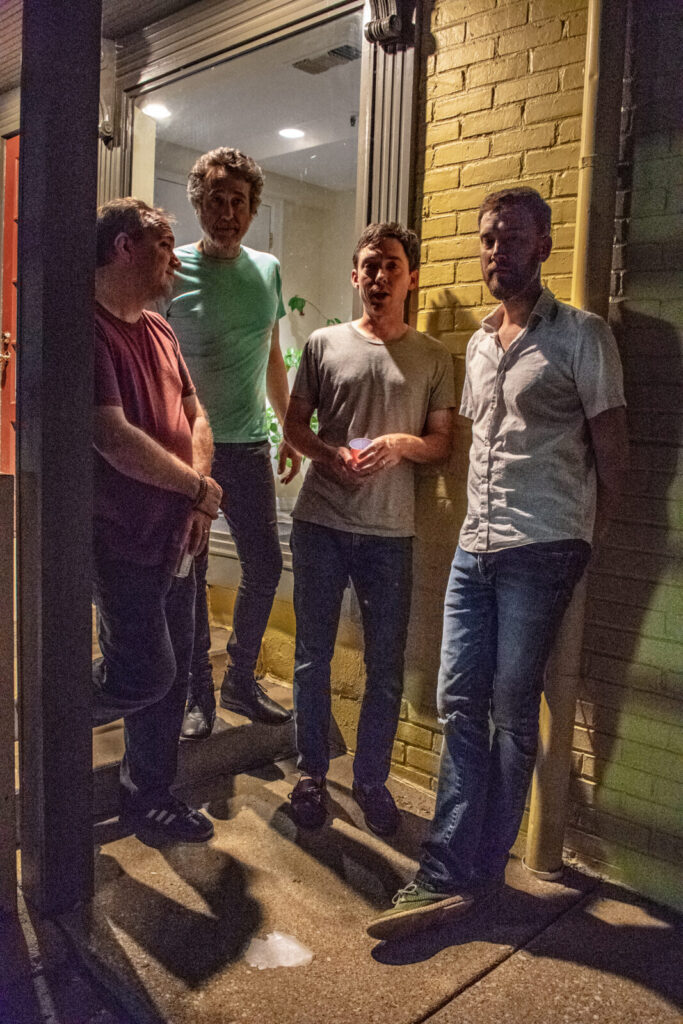 After writing and recording together for some time, the duo began taking their music out in public, giving it the local version of a road test before eventually enlisting bassist Scott Whiddon and drummer Tim Welch in mid-2018. Whiddon, a staple of the Lexington music scene the last several years, had been in a band that crossed paths and joined bills with another project of Norris while Whiddon was a grad student at LSU. He helped recruit Welch.
"They hooked me in immediately, when I heard it. I thought, 'I've gotta get in on this.' Then, 'My wife's going to kill me,'" said Welch.
Only after Welch was brought in as drummer, completing the foursome, did he realize his own proximity to the fated group:
"John and I live like five houses away and didn't even know each other," said Welch.
The relatively short distance between bandmates now belies a larger distance in the mix, namely, Norris's seven-hour weekly commute to teach in Jonesboro, Arkansas, at Arkansas State University, where he is Associate Professor of Art. 
The artistry is evident in the composition – the lyrics often convey textures as much as themes, evoking actual poetry rather than a series of built-out rhymes. There is an undercurrent of bemused alienation throughout, disassociation viewed through a winking lens, even if it isn't a conscious effort at a throughline.
"It's just what comes out," said Newman.
Lines fit because they work, not because they serve some heavy-handed theme:
"I'm interested in narratives that aren't straightforward," said Norris, but there is a bit of soul-searching emptiness that the songwriters attribute to being back in Kentucky.
"I think there are some lyrical things in an oblique way that do address that," said Norris.
"The idea of coming back to a place and having it be different from what you anticipated," said Newman. "We're still trying to figure out where we are."
Norris and Lewis work up the songs together, but it's not a stretch to see echoes of Norris's visual art in the lyrics from the duo.
"I'm here, but I'm ill-defined," a line from "Cons and Pros," the leading track on their new EP, could describe any number of Norris's works, portraits where the human subject has been replaced instead with objects that reconstruct the outline of a human figure or build a silhouette that obscures identity. If this description is getting away from me or the point isn't quite getting across, know that this is all meant to be a breathless compliment on the artistic complement.
Art as motivation is what drives back the forces of chaos that would render a less-organized band asunder. 
"Everyone in this band has a job and a house and responsibilities. When we see each other, it's really happy. We have to plan ahead, and that's okay," said Whiddon. "It's going to be fun."
"If it's a thing you want to do, you just figure out a way to do it," said Norris.
Letters of Acceptance will be debuting their full-band lineup and releasing their EP at The Green Lantern on Friday, August 31st at 10 p.m. with Robby Cosenza and Otto. Tickets are $5.