Prior to the COVID-19 pandemic, I spent the last two years contemplating stillness as a primary focus of my graduate research. As a dancer, my lived experience is visceral, sensuous, kinetic and embodied. However, through my research I have grown accustomed to stillness and have found how it exists in harmony with motion. Stillness and the solitude it provides have afforded me the occasion to develop a deep understanding of the body on an anatomical, sensory, and cellular level. These findings completely altered my internal landscape, which has evolved into a sacred space of knowing.
Now I have awakened to find myself in a world that has become still because the one that we inhabit is no longer safe for us to move about freely. I have spent several weeks in quarantine and while it is a disciplined practice, I have acclimated to isolation and being present within my body.
"The body is a precious habit. There is a way of being towards the body.
One that is a felt body; how one experiences energy running through the body.
The body is asking to be listened to, to be heard."
– Celeste Snowber
As a lecturer in Dance at the University of Kentucky I focus on embodied inquiry, sensory awareness, and the impact that physics has on the movement practices of dancers. In recent years I have begun to embed these concepts into my curriculum where I encourage my students to look deeply within themselves to understand their anatomy and to work in harmony with the glorious structure it provides. I have come to believe that the body is all knowing; it holds precious intelligence that is waiting for us just beneath the surface of our consciousness. The challenge that we all face is to remain present and to nurture that awareness so that we might discover the exquisite enlightenment that the body holds.
Weeks before our community began sheltering in place, I premiered a new concert dance work at UK entitled Points of Origin. The entire work was an improvised performance score that I was inspired to create while studying dance in Berlin last summer. While there, I had the incredible opportunity to study with Michael Schumacher who has been performing improvised dance works for decades both nationally and internationally. In his class, he proposed that space is an endless field of possibility that our bodies can navigate intuitively and spontaneously to unlock the movement that resides within us. I found myself sinking deeply into that idea and I became acutely aware of how the senses can become tools of navigation that allow us to unearth authentic movement through improvisation. My research has led to the realization that those same senses can alter how we navigate the world not just as movers, but also within our daily lives.
Through the presentation of Points of Origin, I was able to share these concepts with my students, and through our rehearsal process they began the work of connecting to themselves and to their fellow dancers. We began with the senses, which aided in the development of an intuitive movement practice as we slowly created a performance environment that was constantly in flux and full of potential. Through a series of movement prompts I encouraged the cast to sense movement instead of seeking it and to understand the weight of their bodies and how their bodies can become alert to the shifts that might occur within the performance environment. I also utilized contact improvisation to further assist the dancers to become familiar with the weight of their bodies as well as the bodies that they were sharing space with.
Working in this manner provided a unique chance to connect to one another on a human level, as we shared our histories, our vulnerabilities as well as any trauma that we had experienced so that we could properly care for one another within the intimate space we were creating. It was a breathtaking experience to witness these young artists as they discovered the potential that they have within themselves beyond the technicality of their movements as a new field of possibility expanded before them. Together we found truth in the knowing that the body is connected to a world beyond where new vistas can open up before us through sensory awareness and embodied practice.
A week later, I felt as through I was ripped from reality as I went from teaching several hours a week to staring at my computer screen, adapting my syllabi to complete the semester through distance learning. Full disclosure, I am not a huge fan of technology, but like many of us I have evolved along with the rest of the world, and have slowly and with some resistance integrated it into my life so that I can function professionally. After twenty years of teaching students of all ages to dance, I was faced with what seemed to be an insurmountable challenge as I pondered how I might be effective and supportive to my students while fulfilling the outcome for my courses. I have long viewed technology as something that separates and distracts us as it constantly bombards the senses. I have seen countless examples of how technology has left many of us disembodied and detached from our friends, our families, and our colleagues.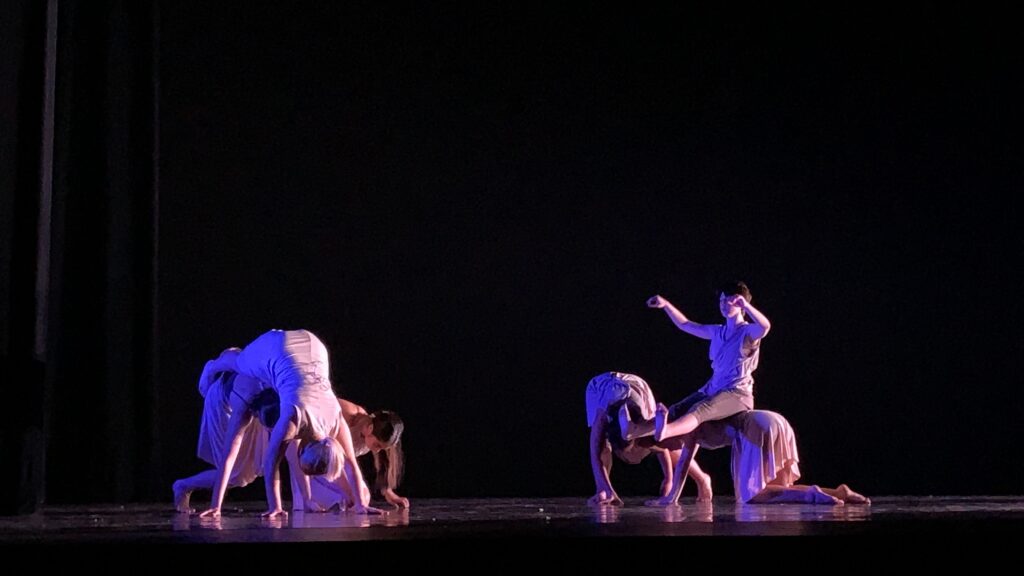 For me the joy of teaching is found through personal interaction, a sharing of information from one moving body to another in real time. There, I can intuitively respond to the needs of my students and adjust my curriculum to fit those needs; in this situation, established methodologies were not possible. Thankfully, I quite literally came to my senses, as I returned to the foundational concepts of my research. One such concept states that our bodies hold precious knowledge and I began the work of empowering my students to be present within the stillness and to locate themselves within their senses as a means to adapt to this new way of being. To become aware of what their bodies were feeling, and to make intentional space to give themselves what they need.
Within the past five weeks a beautiful paradox has emerged through my interactions with my students. Through our online communication, this digital environment that I once thought kept us from engaging in personal interaction has provided a valuable platform to share the details of our daily lives with one another through quarantine.
While recording my final movement video of the semester last evening, I spoke to my students about how enlightening this experience has been for me. Through their weekly writing reflections, I have learned where my students live and how they have found solace in the natural landscapes that surround them. They have invited their siblings and parents to join them as they participate in the class videos that I prepare for them weekly, and they have shared stories with me about those experiences. They have also expressed how this has impacted them emotionally and the challenges they are facing, and how many of them feel forced into isolation which has cause issues with depression and anxiety for them. This mode of connection has given me the opportunity to continue to educate, nurture and inspire my students from the confinement of our disparate locations. Together, we have journeyed inward so that we might maintain a connection to movement. We have examined the concept of impermanence and the value of solitude. Finally, we have come to believe that one day we will re-emerge wiser and more embodied because of this experience.
For me, this time has been a gift. I feel as though it is a calling from some great unknown that is inviting us to spend time contemplating stillness and to re-discover the value of solitude in our lives. Maybe it is a calling for us to be present, to be generously compassionate with others, and a reminder to live our lives joyfully once this time of isolation is over. Perhaps it is teaching us how to care for the suffering of others as we are reminded of all that we have to be grateful for. Through this experience I have been blessed with a tremendous opportunity to establish new ways of connecting to my students as we worked together to remain in motion during this time of stillness.
Photo credits: Theresa Bautista