I'm fascinated by space.  Not NASA space necessarily, although the cosmic unknown is certainly worth thinking about.  No, I'm talking about a more general space – our space.  The space around us and my favorite – the space between us.  The spaces we create say a lot about who we are, our values, our philosophies, and our experiences.  Some people like big, industrial, empty spaces and some like small, cozy and cluttered. Some cover the walls with a story while others prefer a blank canvas. Some choose color, some choose white. There are spaces filled with light and there are dark spaces. We each create our space and when we're lucky enough, we get to share it with each other.
Some people prefer to keep their space to themselves, and that's okay. Not me. I like the messy, unpredictable, often disappointing yet more often exhilarating experience of the other.  It's the greatest mystery: your experience.  I'll never be able to have it and therefor it makes me insatiably curious.  I want to know your story. I want to be there when you're doing the thing you love, no matter what it is and I want to hear why you love it.  This is my favorite space to be in; watching someone do what they love and having the honor of getting to know the hows and whys behind the process.  It is endlessly exciting.
A space that is dripping in history, where sound echoes between the walls, where silence has a weight and clarity of thought is effortless – we can call that a soulful space.  This type of space re-minds the occupant. It brings the physical brain and body in contact with the celestial mind. It connects the self to the collective.  These spaces exist all around us of course, but they are often overlooked and under-appreciated.   Lexington is lucky for many reasons, one of which is that we have a man among us who has set out to cultivate and promote this kind of space.  Shawn Gannon has worked hard over the years to create the Soulful Space experience and his efforts have not been wasted. 
Set to the backdrop of the charming and peaceful Good Shepherd church on Main Street, the Soulful Space experience brings the community together in a unique way. Part spiritual, part rock and roll (if you can separate the two), and wholly soulful, Gannon's creation has a feel all it's own.
On October 26, 2017 Gannon and his crew created a space that was both spellbinding and sobering.  The show featured Justin Wells, with an opening by some of Lexington's most talented literary thinkers, Erik Reece among them. The evening was a benefit for the Kentucky Writers and Artists for Reforestation group.    
In pews we sat as the poets and then Wells filled the church with melody and contemplation. It was a sweet evening for me as my mother was in town, visiting from New Orleans.  So I sat next to my mom in a church – there's a first for everything after all, and we shared a beautiful evening.  It was a beautiful evening for the obvious reasons, some of which I've come to expect from Soulful Space – the music, the company, the space – but the unexpected beauty came as I sat in a pew and cried, my feet tap-tap-tapping the whole time. The night, for whatever the reason, dissolved my defenses and made space for a profound sense of loss.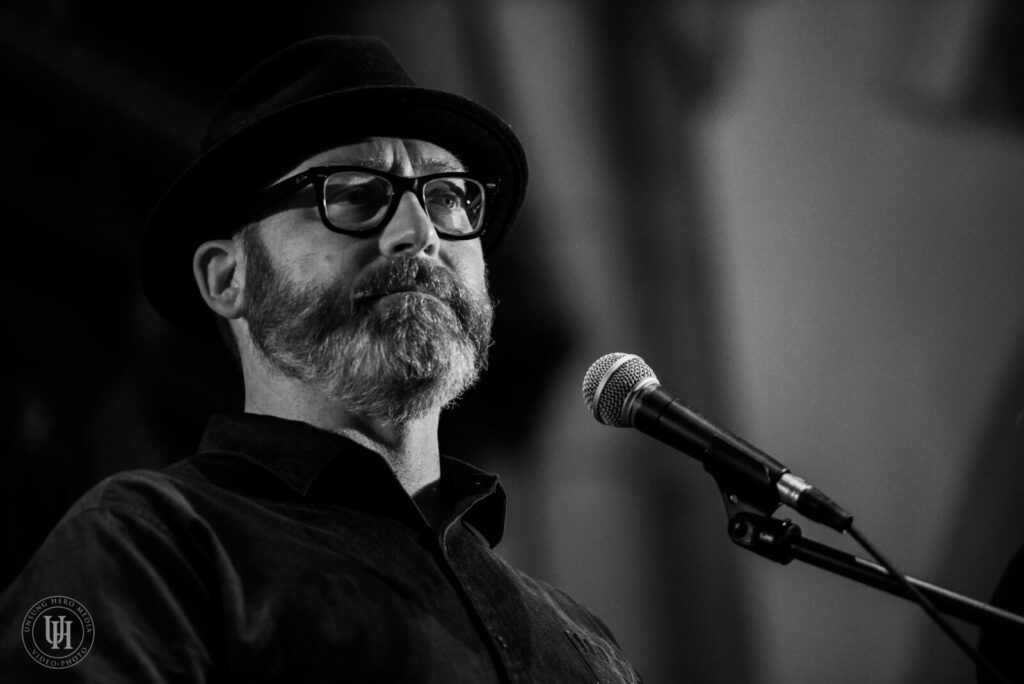 When Gannon stepped on to the stage and read the opening Wendell Berry poem, a tradition that has historically been carried out by Brian Cole, the beloved Good Shepherd rector who recently left his post for another calling, you could hear the quiver in his voice.  An entire community has had to grieve, accept and deal with Cole's departure and, according to several accounts, it has not been easy.
The now Bishop Cole (Diocese of East Tennessee) is one of those rare people who allows you to be just as you are in his company.  No judgement, no pretense. He is cool and serious … mostly he's cool. And he will be missed.  I recently heard a definition for compassion that I love: suffering together. The Good Shepherd community has suffered a loss. But they have done it together and they continue on together.
When the poets got up to read their selections, each one carried with it a knowledge and a loss.  A loss of physical space, a loss of the sacred. As good poetry does, some of the prose left me with more questions than answers.  Mainly, the questions lingered, what can I do? How can I help? Poetry – has a reduction effect on me.  It takes all my ingredients and boils out the unnecessary water and air, leaving me with a flavor only achieved by loss.  Not all losses are bad.  The loss of the unnecessary, for example. The loss of ego, of greed, of selfishness, in some moments – of self all together, loss of mine, loss of judgement and defiance – all positive losses.  The words spoken that night begged for a loss of apathy. The poets invited a resistance to my comfort and the space provided an assurance that it was a worth accepting. 
As Wells got up and began to tune his guitar, I was brought back to a few weeks ago at The Burl when he and a handful of some of Kentucky's most treasured local talent performed a tribute to the late Tom Petty. It was a special night with tears and sing alongs and shouting and dancing.  At one point I was head banging to a Petty cover performed by Mojothunder, a fairly new, albeit unfairly talented group of young and handsome musicians. Losing our heroes can be a difficult undertaking.  We take them for granted, don't you think? And although their talents or wisdom or words will always live in our hearts and through our speakers, it is a small comfort. 
When the world is busy sanding us down, the distraction of music, especially music that reminds us of simpler times, is sometimes the only thing that reminds us who we are. The only thing that can bring us right back to the space we live in. It takes us out of our minds with the right mixture of sound and feeling just long enough to remind us that we are here. Right here. In this space.  Tom Petty was one of my heroes and Justin Wells and the other musicians did an amazing job honoring his life that night at The Burl.
If you've ever heard Justin sing, you can imagine that hearing him in church is quite a powerful experience.  He is, himself a powerful experience.  His presence is equal parts intimidating and soothing. Standing at well over 6 feet and some considerable amount of inches, he is a giant man with a giant talent. Wells wails. He does so with a power that summons both the angels and the demons on to the dance floor. And on this night, he did it in a church.  His a cappella song brought tears to my eyes as I thought about how much he must have been enjoying the experience.  During his finale, the women in his life – his two daughters and his wife, made their way up to the stage and were dancing and holding hands.
On a night when Wells provided what he does every time he performs – a talent born from truth, a passion pulled from pain and an honesty honed by loss, it was clear where his heart lives. With twirly dresses and ribbons, the loss of a fast and furious rock star lifestyle gave birth to a gentle and beautiful family.  A family filled with laughter, love and lyrics.  All eyes, including his, turned to these three women and he smiled as he sang the last notes of the evening.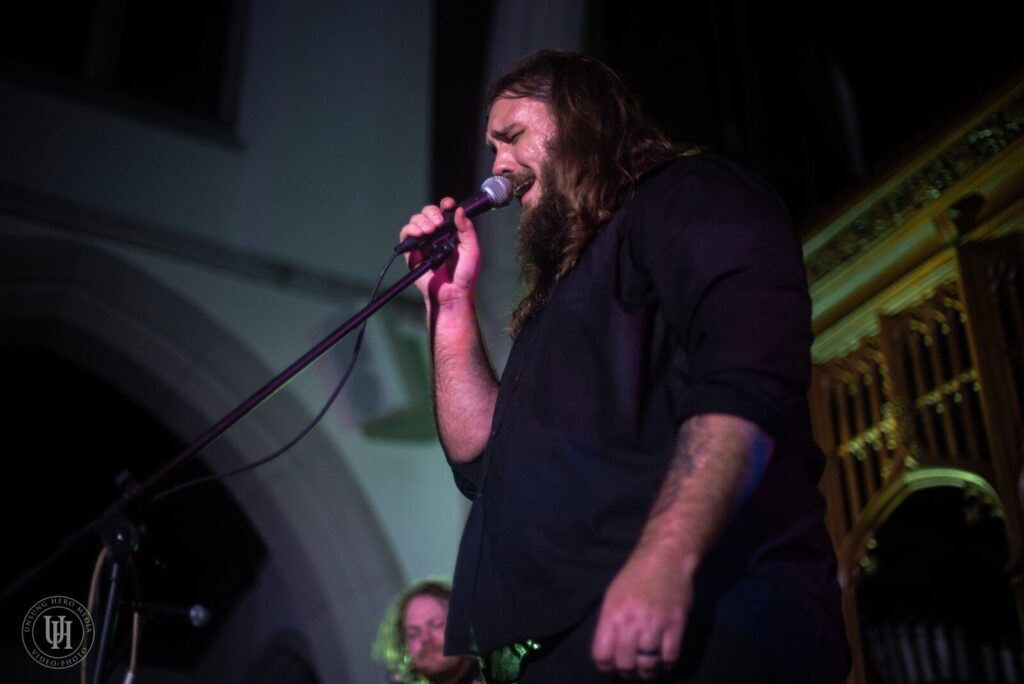 During every loss in my life, music has been there to help and heal me. It has put words to things my experience prevents me from saying.  It has literally saved my life.  It is the best and the bravest thing. My mom taught me how to appreciate music.  Listening to The Bee Gees or Fats Domino on her record player in New Orleans, she used to scoop me up, twirl me around and belt the lyrics into the night.  Music has always been the way my soul communicates.  An on this night, sitting next to the woman who taught me how to do that, in a soulful space, I cried.  I cried over all that I have lost and I cried over all that I have gained as a result. Sometimes life is so damn confusing and beautiful, tears and music are the only responses I have.  And for them, I am grateful.
I go to many shows and I love them all, but there is only one Soulful Space experience in Lexington.  I encourage you to check it out as soon and as often as you can.  On November 11th, the Soulful Space community enjoyed the much anticipated Leonard Cohen tribute. Veteran's day was a fitting date to celebrate the freedom that Cohen's songs have brought to so many.
Follow the Soulful Space Facebook page for upcoming performances. This is not an event. It's an experience. It's the best kind of experience: an organic one that allows you to feel deeply, listen without distraction and be still in knowing that you are right where you need to be.
After all, what feels better than the loss of wanting things to be different?