Tim Daisy doesn't want to use the word "telepathic." But in describing the two decade-plus musical partnership between himself and Dave Rempis, few other tags seem to fit as securely.
Both are longstanding members of a prolific indie jazz scene in Chicago. Both are prolific composers, bandleaders and, above all, improvisers. Both have run their own record labels for several years as a means of releasing their own decidedly non-commercial music in a timely and uncompromising manner. And despite a juggling act where each performs in numerous ensemble settings, many of which have played Lexington over the last 16 years as part of the Outside the Spotlight Series of free jazz and improvisational music concerts, both have regularly shared the same stage in the same band.
That won't be the case in April. Percussionist Daisy and saxophonist Rempis will be here for separate OTS concerts a mere four days part. Yet the music they play apart from each other has most certainly been informed by the work they have done together.
"I've been working with Dave since '97," Daisy said. "We've been playing together for so long and working in so many contexts together that when we sit down to work… I don't know. I really don't want to use the word telepathic, but I don't know of any other musicians that I play with here or anywhere where the work is as comfortable, focused and engaging as it is with Dave. With Dave, I really do feel like he is my musical brother."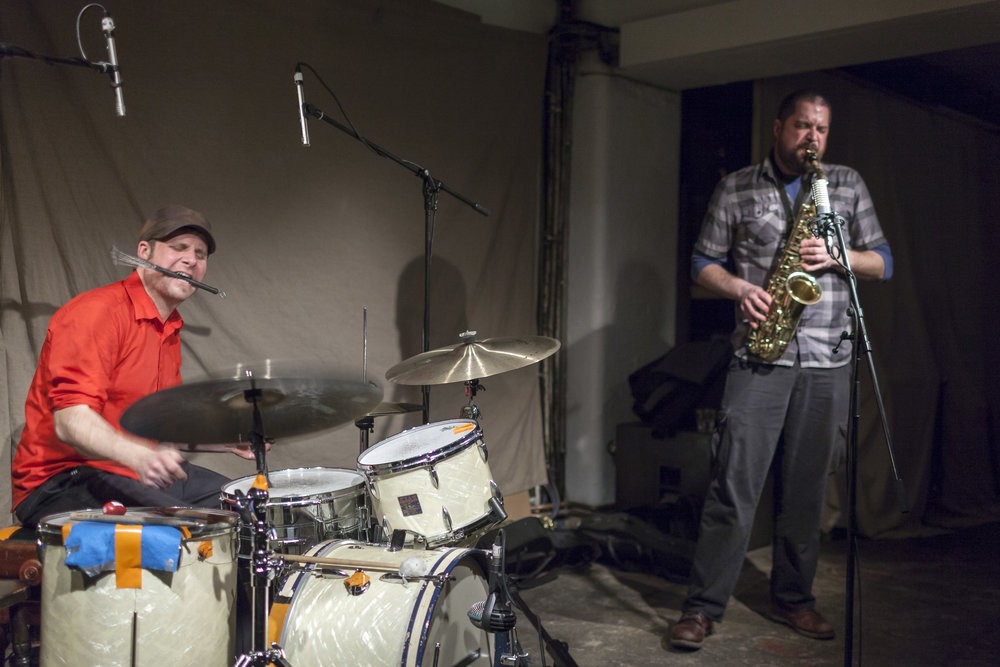 "With us, it's almost like a married couple," said Rempis with a laugh. "There are so many subtle things I'm aware of in his playing and, I'm sure, vice versa. He always knows exactly where I'm going to land. It's something that changes over the years as people go through different phases of life, like having kids. Our lives are so different now than they were 10 or 20 years ago, but what's so great about that is how those life changes inform the music and how the music transforms everything."
"Creating by Yourself"
Watching Tim Daisy play a solo is like viewing a vintage film of a building collapsing that is quickly rewound so you can view the demolition in reverse. He forges sound on a percussion arsenal by adding and discarding instruments at a dizzying pace. It could be a cymbal or a gong placed on a drum head. It could be a dash upon the drum kit using every available surface – a snare, a rim or even a stand. A rhythm might emerge, but if it does, it most certainly recedes into a new idea that has already loaded itself into his playing awaiting dispatch.
If he is playing alongside another artist, the outside element might serve as a foil, as in his duet exchanges with Rempis during their collaborative music in the Rempis Percussion Quartet, the Daisy-led Celebration Sextet or the times they record or tour simply as a drum/saxophone duo.
For his solo performances, Daisy's singular vocabulary becomes remarkably expansive, incorporating everything from percussive accents on marimba and bass xylophone to more happenstance sounds emitted from a transistor radio.
"I just love the solo format," he said. "I'm huge fan of visual arts and paintings and admire the fact these artists can work by themselves on a canvas. Don't get me wrong. I love collaborating with other people, but I love that solitary moment of just creating by yourself, whether it's composing or improvising. I think that a solo format for a musician comes closest to what the format would be for a painter working in a studio on their own. That's one of the reasons I'm attracted to it, especially in the compositional aspect of the music. Secondly, playing solo is the most challenging format to me, especially in performing. There is no one to fall back on but yourself. It's quite easy to fall on your face. I've done it a number of times, but I've become a better musician by putting myself in these uncomfortable solo settings. I find when I go back into a situation where I do collaborate with other musicians, I've learned something and I'm able to apply that into my collaborations."
Daisy's return to Lexington on April 12 at the University of Kentucky Niles Gallery reteams him with pianist, composer and UK Associate Professor of Jazz Studies Raleigh Dailey. The two cut a trio album with bass clarinetist Jason Stein, "Opening Lines," in 2015.
"When we played together, I felt this amazing curiosity in sound exploration. It felt to me like Raleigh was going, 'Wow. This is stuff I can use that I'm really excited about.'
"It's easy to fall back on old habits when you've been improvising with people over a long period of time. But when you throw someone new in the mix like Raleigh, suddenly all the music gets kicked around in new directions. That's what I felt happened. Jason and I had been playing together a lot, then we did this thing with Raleigh and it felt great. The music felt fresh and new. Ever since that happened, I've been meaning to get back down to Lexington to work with Raleigh some more."
While "Opening Lines" is an exception, the majority of Daisy's recorded music has been released through his own Relay label.
"I'm sure you've seen in the last 15 years how much the music industry has changed and how many musicians are starting their own labels, especially in our world where we don't sell thousands and thousands of records. We sell three, four, maybe five hundred. I'm happy to sell that many, so I couldn't be happier having my own label."
"When I release something, I don't want to wait a year to put it out. With the other labels I was working with – Okka Disk, Clean Feed, all great labels – you're going to be waiting about a year between when an album is made and when it comes out. I'm more interested in trying to document my creative process in a shorter time scale. And who can release my records faster than me? No one."
"Happily Developed"
In performance, Dave Rempis is something of a volcano. It doesn't matter if his weapon of choice is alto, tenor or baritone sax, the sounds he conjures are, shall we say, combustible.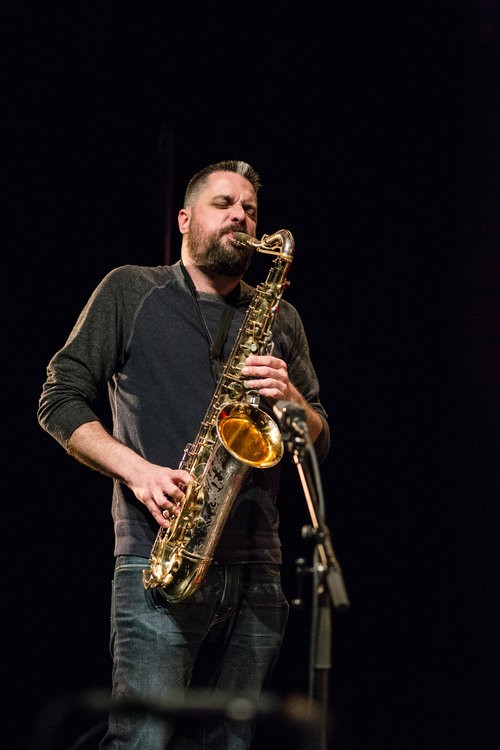 Some of that comes from playing alongside such veteran Chicago sax stylists, improvisers and bandleaders as Ken Vandermark (Rempis and Daisy were members of his acclaimed Vandermark 5 band until its dispersal in 2010). But the mix of immediacy and intensity in Rempis' musicianship has also been evident in the many ensembles he has either led or collaborated with for OTS shows in Lexington, a roster that includes The Engines, Triage, Gunwale and perhaps most frequently, Ballister.
During shows with the latter, the muscular tone and free-inspired phrasing of his playing becomes almost punkish, yet the sense of sharing and collaboration with bandmates is unmistakably jazz-like.
"I have happily developed as an artist, if that makes sense," Rempis said. "I'm not a kid anymore. I've been doing this awhile, so I know my way around the block. I feel confident in my ability as a saxophone player and an improviser. There are so many fantastic musicians out there who I've gotten a chance to work with, and that's incredibly rewarding to get all that great energy from them and to share some of their stories and knowledge."
"It's also special for me to be part of this generation and to see things from a different perspective, from a perhaps longer perspective. Once you're around this music and start thinking about things that way, it makes sense to say, 'Well, where are we going to be in 10 or 20 years and how can we help shape things?'"
The bio material from Rempis' Aerophonic label describes "The Early Bird Gets," the debut recording by a new trio with bassist Brandon Lopez and drummer Ryan Packard (the group the saxophonist brings to Lexington on April 16 for an OTS performance at the Kentucky for Kentucky Fun Mall) as one of his "jazziest" endeavors.
"It's funny," Rempis said. "Many or most of the projects I do are completely improvised where we are not bringing in any material. This band is the same way. Generally, what makes a band stick out to me is if it has a sound to it. This band, at the beginning, felt like it had a distinct territory that it was carving out. It really had a group sound that was unique from any of the other projects that I was doing. I think part of that came from exploring rhythm in a very kind of fluid way. We'll really be in a groove but then we'll figure out ways where we can slowly stretch it out. It's almost like what a classical pianist does when they're playing rubato, but we're in a group context where we're really stretching the grooves out, speeding them up, slowing them down in very fun and creative ways. That's probably what makes the music feel so jazzy. We are working so much with rhythm, but not in this type of fixed way that a lot of jazz bands might play in."
Like Daisy, Rempis enjoys the ability to get his music out to public ears in a timely manner with his own label. But Aerophonic offers another equally important attribute – artistic control.
"I can put out whatever recordings I want on whatever schedule I want. To have that freedom is great. I also have the chance to communicate. I do all the shipping and everything for the label, so I can be in touch with the people who are actually buying the music directly, which is really fantastic. In trying to build an audience base with this kind of music, I get to find the people who are honestly interested in it. It's very encouraging for me as an artist to get that kind of feedback. It's heartening to know there are people out there who actually care about what we're doing."
Re-Exploring the Relationship
Curiously, just after our conversations, Daisy and Rempis headed overseas together for a seven-date concert tour of Europe with the Rempis Percussion Quartet, an ensemble the two have collaborated in for 15 years of their two-decade long friendship and musical alliance.
"Dave and I try to challenge each other," Daisy said. "We push each other, but there is real respect there, so it's not antagonistic. It's real. I feel like we have really similar goals in trying to grow as improvisers. It's been a wonderful relationship, one where I feel like, after we take these breaks from each other and get back to playing again, there is a very fresh quality to our work. He has grown as a musician since I've last played with him. I have, hopefully, grown and changed, as well."
"Tim is somebody I just have so much respect for," added Rempis "In the over 20 years I've known him, he continues to really push himself. He has an incredible amount of artistic integrity, so it's always great every few years to go back and re-explore that relationship."
+ Tim Daisy and Raleigh Dailey perform at the University of Kentucky Niles Gallery in the UK Fine Arts Library at 7 p.m. April 12, for the Outside the Spotlight Series. Admission is free.
+ Dave Rempis/Brandon Lopez/Ryan Packard perform at the Kentucky for Kentucky Fun Mall, 720 Bryan Ave. at 7 p.m. April 16, for the Outside the Spotlight Series. Admission is free.