In her new show Modern Fruit, artist Holli Schulz has created an alternate reality of art through the lens of human food consumption. The audience is asked to recall the multitude of still lifes throughout the history of art that feature lavish images of fruit piled together in vibrantly raw forms, seemingly untouched by anything other than nature. It is a stark contrast to the modern reality of packaged, stickered, and processed foods regularly consumed today. There is an absurdity to our consumption of food when compared to a simpler era of hunting, gathering, and even early farming. Schulz essentially asks us to "take a look at the new fruit bowl" and look further into the relationship between humanity and the edible materials that nourish us in our everyday lives.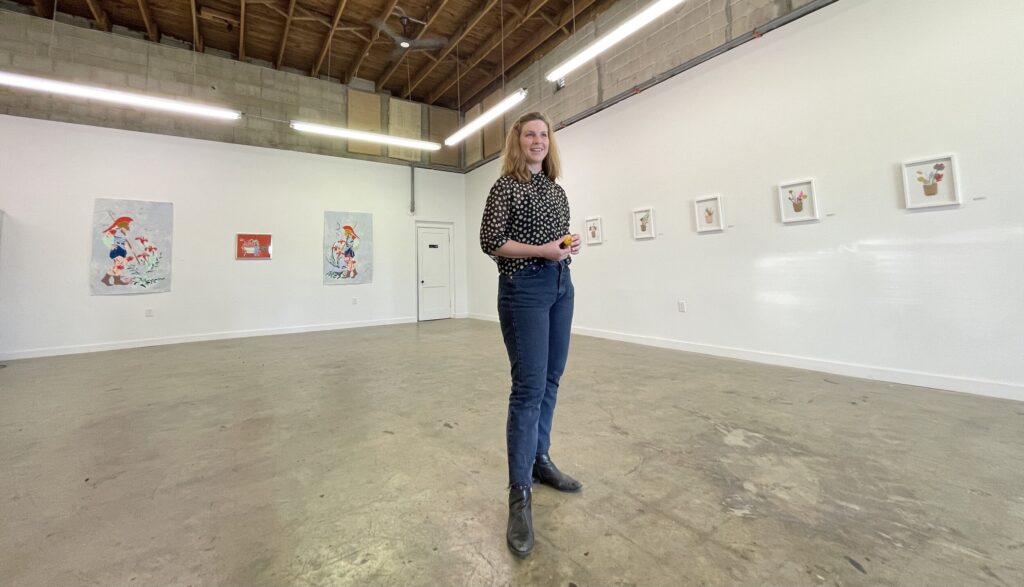 Perhaps one of the most interestingly nuanced portions of the show was the set of Small Fry pieces lining a single wide wall. Each work featured a similar composition and components: dried flowers, maps, strips of paper with various government messages to the public, and wonderfully painted paper scraps, all arranged to resemble French fries in flattened containers. Each arrangement was unique; the designs of the paper scraps are diversified from piece to piece, as are the strips of text (timely statements from the past two years regarding the COVID-19 pandemic). There is a hint of Americana within the imagery of this classic fast-food item, not to mention the paper leaves of sprawling maps that conjure up an image of the open road. This rose-colored reminiscence soon fades as we spot words like "unprecedented" and "conquer" that remind us of unending nationwide limbo and hollow promises. Dried, sickly brown flowers accompany these pieces as the boldest element in the composition, denoting a nation becoming so unsustainably corrupt that it is slowly withering in the midst of its supposed "glory". Schulz tackles both themes of governmental negligence and consumed nostalgia in this series of collages; it is an evocative look at the state of our lives as consumers and citizens.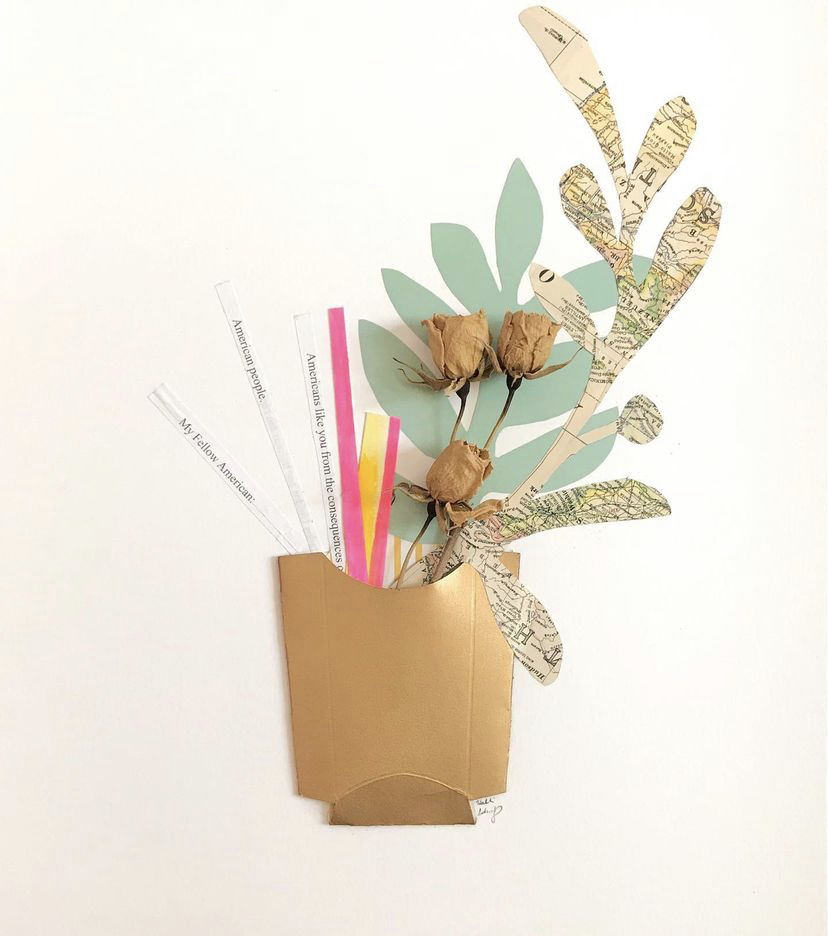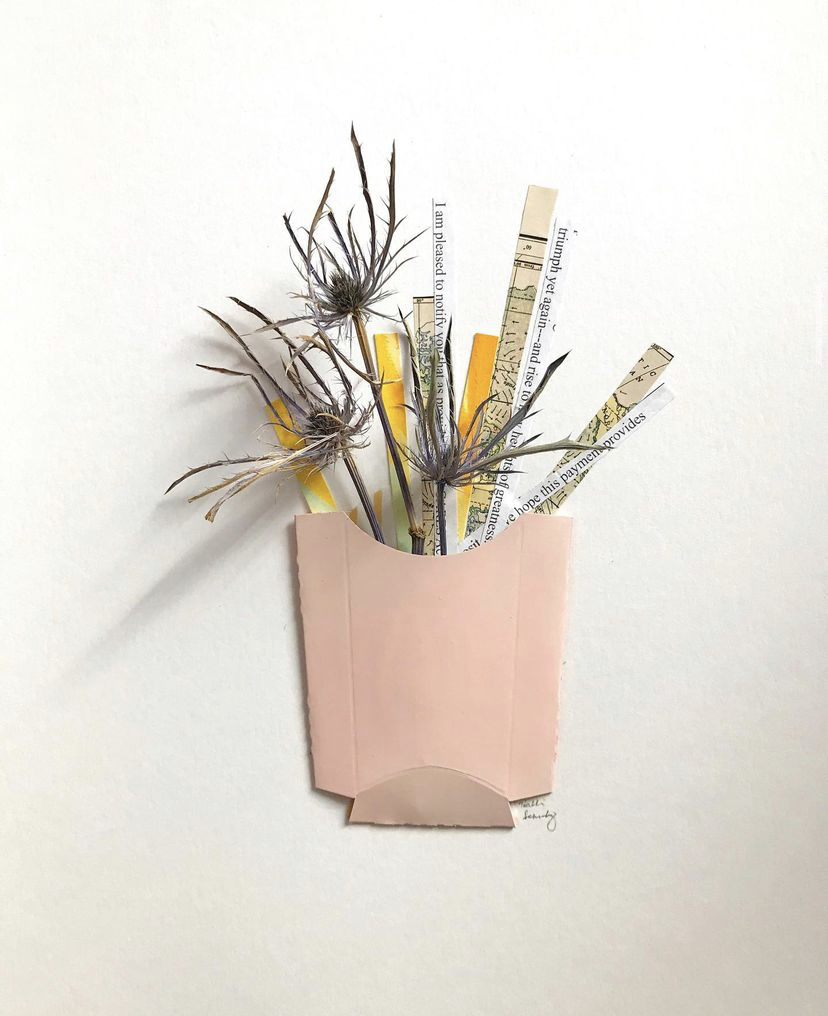 In addition to the Small Fry series, the rest of the gallery showcases various gouache paintings accompanied by discarded pieces of food packaging. Bright orange Jell-O labels complement a royal blue-haired woman. Gold foil from a Hershey's chocolate bar envelopes the head of another woman, becoming a flowing blonde mane; it also functions as shiny gold teeth. The appropriation of snack packaging of candy and gelatin treats is a wonderfully intentional and engaging element of these pieces in particular, assisting the show in becoming an immersive culinary and cultural experience. It shows that, in some ways, food defines our lives; it is our human way of surviving, thriving, relishing, and loving. It becomes a part of our identity, no matter how our consumption of food develops and fluctuates throughout human history.
Other captivating works in the show make overt callbacks to food in art we are subconsciously asked to recall. The title piece, Modern Fruit, is a lively gouache still life depicting a bag of netted apples resting in opulent dishes, bruising bananas wrapped by a plastic band, and other scattered fruits. All are adorned with stickers one would find on grocery store produce, sharply juxtaposing the paintings of untouched fruit in the historical past. Flanking both sides of the work are tall, daunting images resembling Roman guards, each guard looking upon the presence of the arrangement. They share the same combination of lively pastels and royal hues found in the fruit, possibly to appear less domineering or threatening, more gentle and graceful.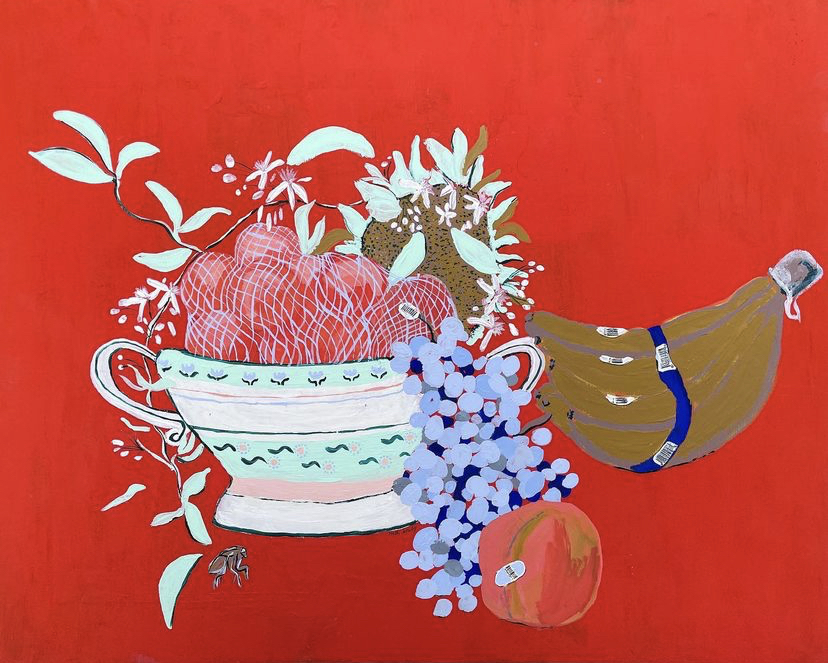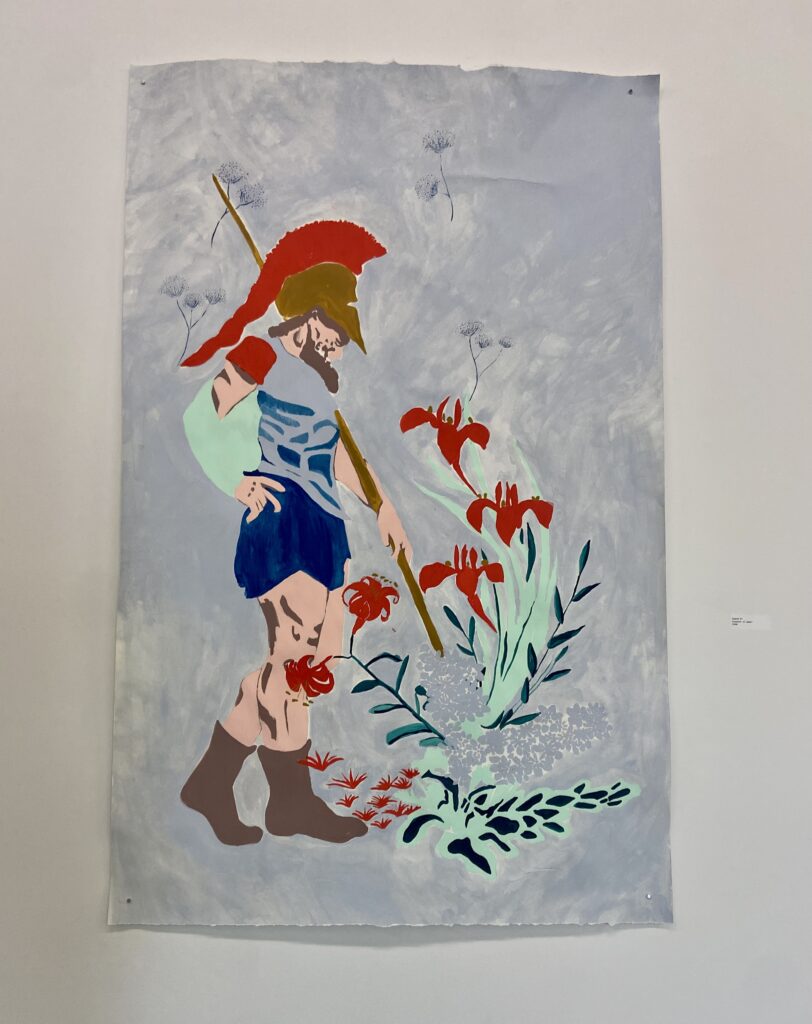 Once again, we are reminded of the unequivocal beauty of simple fruits, and our relationship to food in general. Modern humans consume fruit of the earth, oftentimes chemically tainted in the name of profit, yet we still require this nourishment. Our world of grocery stores and fast-food restaurants are a beautiful idiosyncrasy of human culture. Holli Schulz has delightfully encapsulated the growing unnaturalness of our food consumption as well as the strange pleasures we are able to find through the modern culture of food. Schulz's Modern Fruit, a bizarre cuisine wonderland, is on exhibit at The Parachute Factory from September 9 through October 10, 2021.
Top image retrieved from @hollischulz.friley on Instagram.