Lori Larusso has a habit of providing what is appetizing. For over a decade, she has regularly tempted viewers in the region with pristine depictions of birthday cakes, cocktails and coffee, and captivating domestic settings. Still, despite the delectable nature of her painted panels and large-scale installations, there has always been that tiny rupture in her work that demystifies her graphic renderings. Larusso is clearly invested in the lexicon and paradigms of American food culture, especially when they involve notions of class and labor, status, and waste.
Larusso, formerly stationed in Lexington but now permanently living and working in Louisville, offers a remarkably subversive and consuming survey in Rogue Intensities, her first solo exhibition in her new home. At Quappi Projects, Larusso's shaped panels arrive unassumingly inviting as serving trays, an empty pizza box, natural predators, a refrigerator, and more. Each construction, though, unpacks food rituals and practices of modern America with clever and at times hilarious juxtapositions.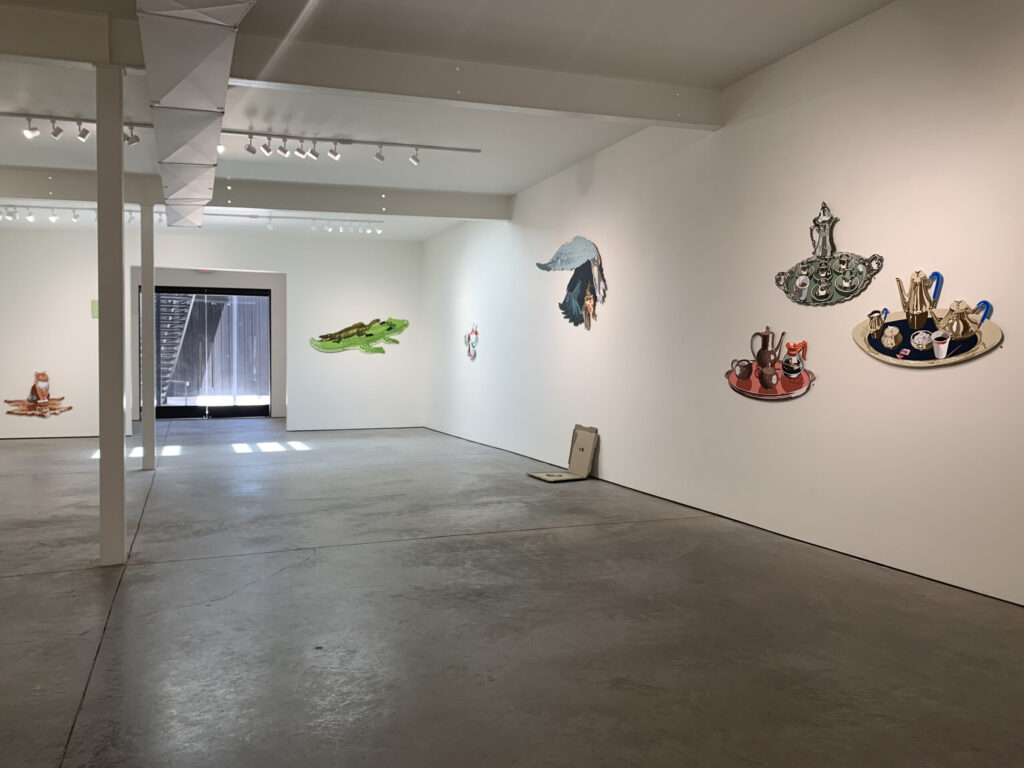 Cakes have been a favorite motif for Larusso, and they appear here both in the spotlight and concealed. Of the two cakes in the exhibit, Mutton (2021) is prominently set, ordained with coconut flakes and vanilla wafers to disguise precisely as an Easter lamb, already sliced. A single wedge is served on a paper plate of its own, revealing an interior sponge radiating a deep crimson tonal. It would seem dessert is perfectly prepared.
As Larusso would have it, however, Mutton concurrently throbs of absurdity. The scene inquires why, in order to increase the appeal of food, we dress all sorts of dishes and serveware to come across as animals and other objects, especially those we kill to use in separate meals. In Mutton, this curiosity is stressed by the cake's red coloring suggestive of the animal's blood – in Larusso's version, the chef has taken the extra step to make the lamb lifelike. Why would we intentionally disguise a sharable treat as something that is normally not devoured in that state? Throughout Rogue Intensities, Larusso uses familiar imagery to grapple with some of our strangest tendencies around food and what motivates them.
The cake slice in the foreground of Mutton, equipped with bright red plastic utensils, likewise elicits notions of labor and consumption. By simply being there, the single piece, having to have been placed by someone in Larusso's scenario, calls into question who baked, decorated, and served the cake as well as who is allowed to eat it. It cannot be guaranteed that these are the same people.
Deceivingly complex, Larusso's traditional lamb cake, tied to both religion and skilled baking, pulses with the attendance of those who do not appear in view, fixating on actions performed and to be performed. As common as a holiday cake may seem for many, Larusso appropriates its familiarity – as well as that of all her subjects – to stress the pervasiveness of assuming and assigning roles based on identity and occasion.
Larusso has a skillful grip on aesthetic balance, as even the seemingly casual placement of objects carries conceptual weight within the environments of Rogue Intensities. On a presupposed surface, the artist triangulates a wine decanter, a punch bowl, and a vintage Kool-Aid serving jug, each filled with their distinctive potables ready for distribution. In the foreground, a pair of tongs made to look like talons pry at the viewer, discarded takeout food has been left on the floor, and an iPhone heart icon used for "loving" received messages blips at a distance. More noticeably, rubber household gloves are stuffed under the punch bowl; from one finger, a line of red paint streams down the wall and onto the takeout bags.
Though there are no figures in A Menagerie of the Inedible (2019-21), icons of labor abound. The gloves, whether dripping drink or blood, indicate the steps taken to concoct the refreshments we see: the opening of bottles and jars, executing various recipes, and transferring liquids between containers. Further, the used takeout boxes – unsightly and interrupting an otherwise refined display – call to mind chefs, delivery people, and others responsible for bringing this meal to fruition.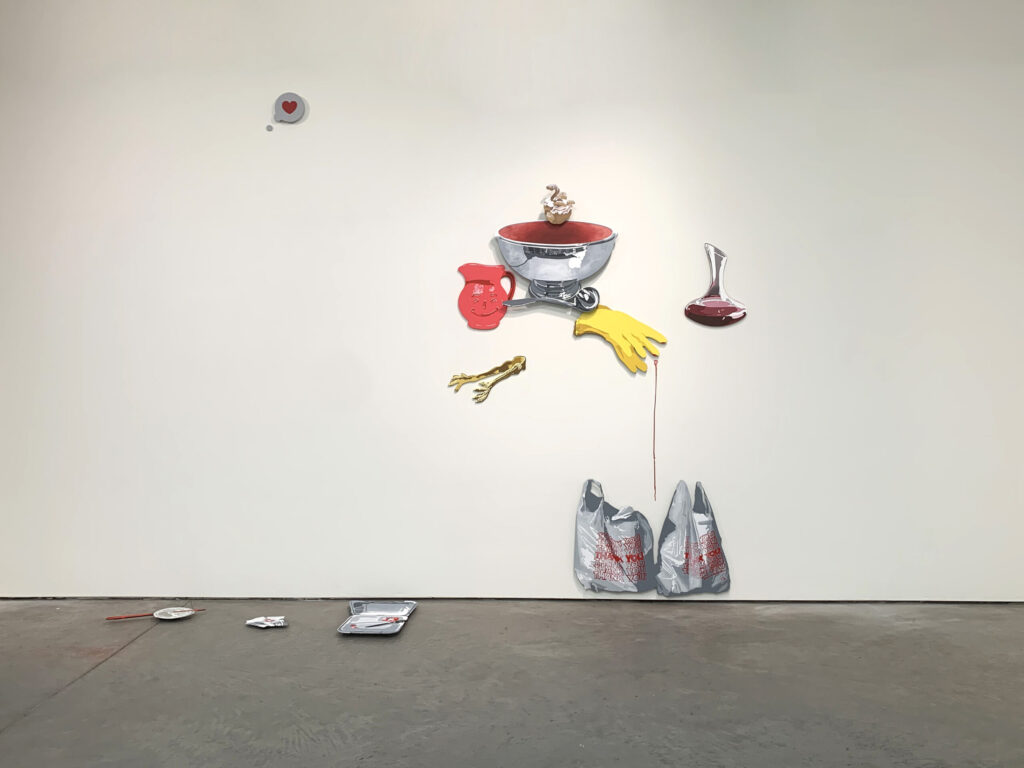 The omnipresence of labor at Quappi Projets is almost always linked to women. Larusso specifically addresses the intersection of gender, domestic roles, and work, although with discrete methods. A used napkin on the gallery ground in A Menagerie of the Inedible has been stained with a rich ruby lipstick, presumably worn by a woman, who has since left it lying on the floor. Similarly, makeup residue is stuck to the coffee cup in Coffee Service I (2020) and additionally evokes allusions of social status via the striking difference between the styrofoam from which it is made and the glossy metal of the serving set it finds itself amongst.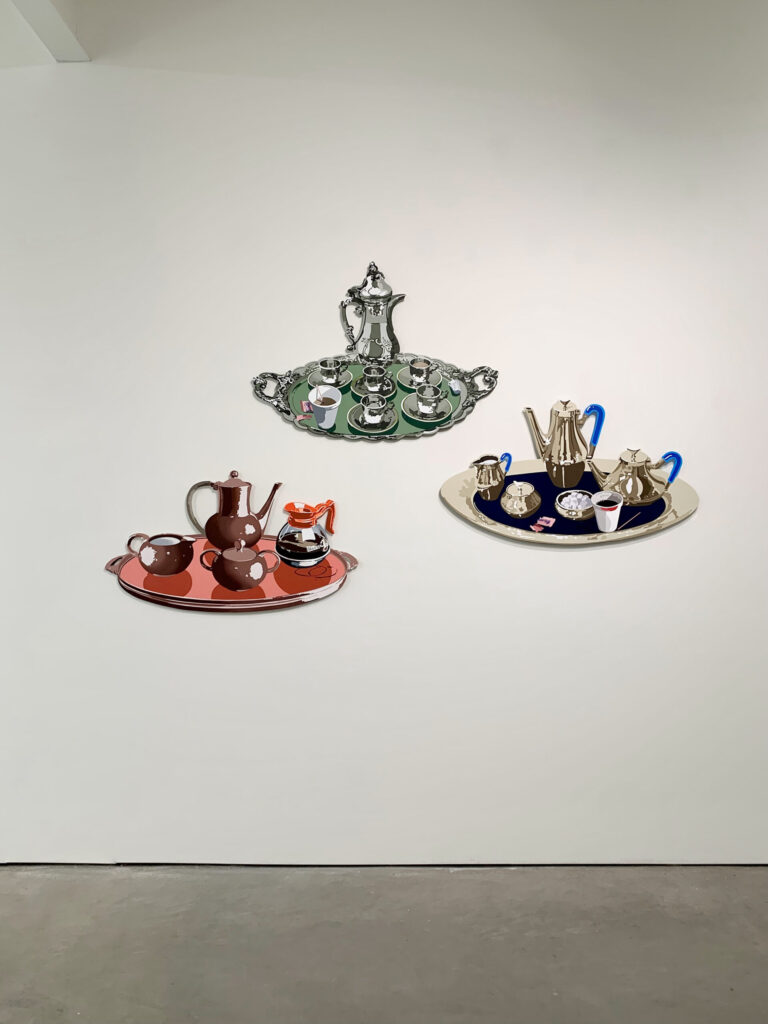 Larusso's work is dynamic in this way, wherein a single gesture can broadcast a multitude of signals, disrupting everything we think we know about a given situation. This is her punctum as Barthes submits, and it takes the form of trash, an out-of-place morning blend, or an inflatable reptile.
Despite containing no depiction of (cooked) food, Alligator Alligator (2020) expands upon Larusso's investigations into the ways in which we invite the animal kingdom into our lives through controlled likeness. In the lifesize piece, an ostensibly alive alligator seems content resting on a phosphorescent green pool float version of itself, fending off any nearby swimmers seeking time in the water. The irony here rests in the fact that, while we are perfectly comfortable with harmless objects taking the form of dangerous creatures, a circumstance becomes unlaughably troubling when the actual creature is introduced. Once again, Larusso is perplexed as to why an object such as a raft is molded, marketed, and enjoyed as something so unsafe.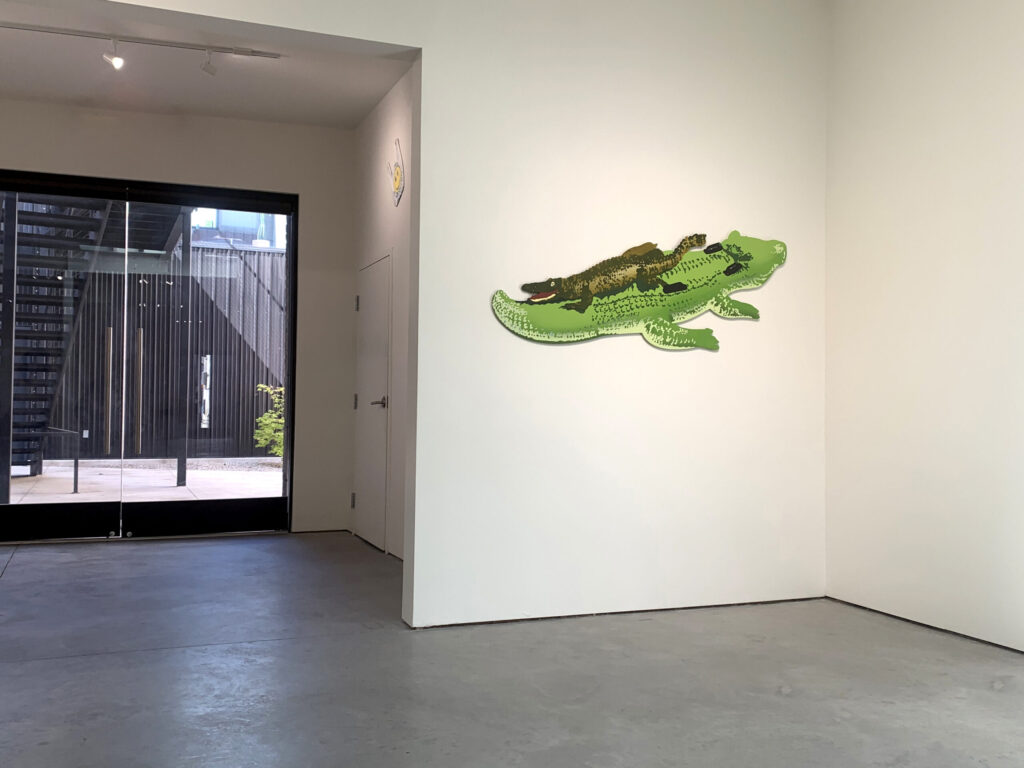 Beyond this interrogation, Alligator Alligator, like all the works in Rogue Intensities, invokes class and consumption. Larusso is surely aware of the history of artists – notably, David Hockney – employing pools as a means to explore social status. Whereas Hockney often painted private pools belonging to the apparently wealthy, Larusso's alligator float could be found at a public pool just as easily, wherein Alligator Alligator could then become commentary on the safety conditions of community spaces versus those of more exclusive sites. In this reading, Larusso begins to unpack the various discrepancies within a capitalist society. Of course, Alligator Alligator is about leisure as well and those who are in a position to enjoy pool time. Not everyone has the schedule or resources to use their time in this way.
Ultimately, this is what Larusso strives to bring forth for viewers: these food items and household objects we take for granted are in actuality loaded signifiers, indicative of larger systems we each play a role in, either by choice or by design. It is only when we take a moment to reflect on the things we surround ourselves with (as well as things we cannot) that we realize our personal and collective identities are performed and consumed through the lens of the otherwise inanimate.
Top image: Coffee Service I (2020). Courtesy of Quappi Projects and the artist.
"Rogue Intensities" runs through June 12th at Quappi Projects in Louisville.