Now in its 40th year, Louisville's KMAC Museum – founded in 1981 as the Kentucky Art and Craft Foundation and later known by various other names before settling on its current moniker in 2016 – has finally hit its stride after decades of refining its mission. Once best known primarily as a sales gallery for Kentucky-based artists and traditional craft artisans, KMAC has matured into one of the region's most innovative contemporary art museums with an emphasis on the craft of art-making. 
It's also showing an increasing determination to look beyond the borders of the commonwealth (and even the region) at the national and international contemporary art scenes, showcasing state and regional artists alongside some of the art world's biggest names. That effort received a boost when the Great Meadows Foundation, founded by the late art collector and philanthropist Al Shands, announced after Shands' death last month that it would give parts of his large and important collection to the Speed Art Museum and KMAC.
To track KMAC's evolution, UnderMain recently sat down for a conversation with Joey Yates (JY), the museum's longtime curatorial director, and Michelle Staggs (MS), its recently installed executive director, at the museum, 715 W. Main Street on Louisville's Museum Row. Here's a transcript of our chat, edited for length and clarity.
Kevin Nance: What was the thinking behind the name change from the Kentucky Art and Crafts Foundation to the KMAC Museum?
Joey Yates: First of all, it was always Craft, not Crafts. Without the S. One of the first things I did here was a symposium called "Taking the S Out of Crafts." The whole idea was that we were talking about process. We weren't talking about objects. We had art historians and artists talk about all the things that go into process-oriented art-making. It might be semantics to some, but it's an important distinction in the history of the institution.
Michelle Staggs: The name has been a little bit of a loaded thing. When we opened in 1981, we were the Kentucky Art and Craft Foundation, and then at some juncture, the group decided it should be a museum. We've always been involved in education, but in the early years, it was educating artists. And then it got into educating schoolchildren, and that's when it became the Kentucky Museum of Art and Craft. And for maybe a six- to nine-month period, we were the Kentucky Museum of Art and Design, because a particular board member felt strongly that we were walking away from a lot of money on the table from national funders with the name Craft in our title. Then some board members who had been involved since the beginning of time said "No no no no, we are Craft," so we put Craft back in and took Design out.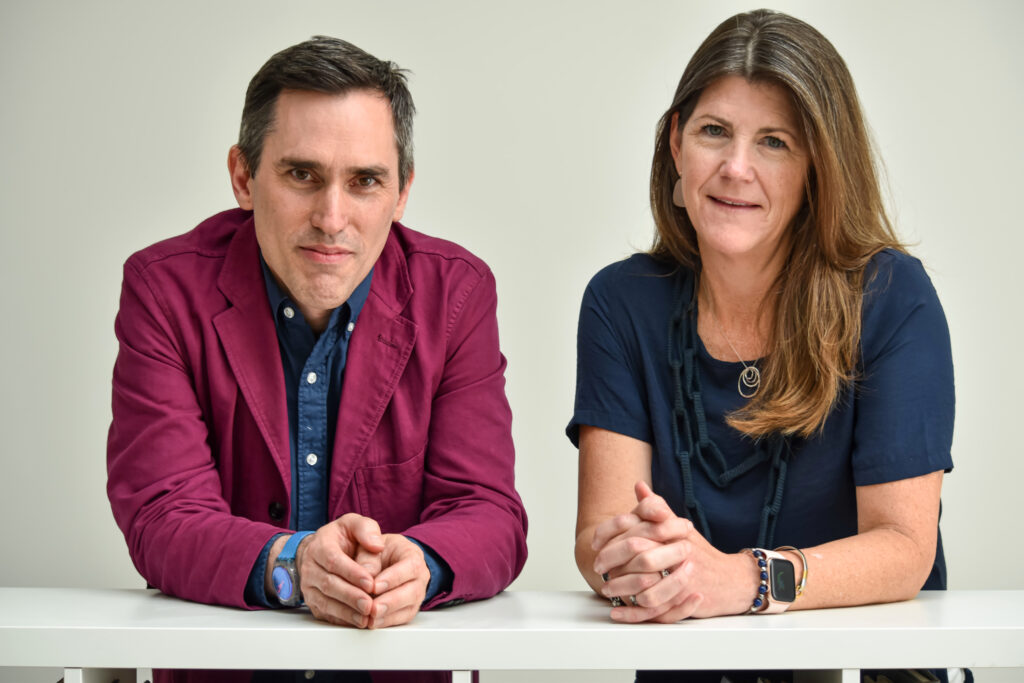 JY: When we had our first exhibitions in this building in 2003, we were the Kentucky Museum of Art and Craft.
MS: And we did the name change from the Kentucky Museum of Art and Craft to the KMAC Museum in 2016 when we moved back into this building after a major renovation.
KN: And the thinking in that case was –
MS: To reflect how we've evolved, from an organization that was focusing on Kentucky artists and craftspeople to a contemporary art museum with an emphasis on craft as a process. The name change was reflecting the fact that no longer were you going to walk into our store and see a Churchill Weavers blanket. I mean, you might, but the whole store wasn't going to be that, in part because we weren't just going to be focused on Kentucky artists. We wanted to have an opportunity to have artists from all over the world and have a Louisville-based artist right beside them, and have the conversation between the two of them be relevant and part of a broader picture.
JY: Yeah, to give context to artists around here that's more than just other regional artists. And that had begun before we came. The first show the museum did in 2003 was a big glass exhibition with Dale Chihuly and other glass artists from around the world, trying to profile Stephen Rolfe Powell and the local glass scene in the context of the glass art scene internationally. So what we're doing now is taking that idea and moving it ahead. All of our shows combine regional artists with artists from around the country. And our former director [Aldy Milliken] thought "KMAC Museum" was a good way to announce that we're a contemporary art space.
MS: We still have disagreements about these things, even between Joey and myself.
KN: Do tell.
MS: Well, I don't personally believe that everything has to stand for something. I'm perfectly comfortable calling this the KMAC Museum and when someone says, "Oh, what?," I say we're a contemporary art museum on Main Street. If they're still looking at me quizzically, I'll say, "We were formerly known as the Kentucky Museum of Art and Craft." But Joey still feels that it is an acronym.
KN: I do think that when a lot of people hear the word craft, they're still thinking about handmade artisanal objects in traditional forms like textiles and pottery – or "quilts and whirligigs," as the late Al Shands once put it.
JY: It's a loaded term with a lot of meanings. Academically, in terms of the studio craft movement, you're basically talking about five or six materials: wood, glass, steel, fiber, ceramics. That's what it meant in 1981 to the foundation when it started. Now we use it as a way to define an artistic process.
KN: So if we were discussing, say, James Benjamin Franklin's work [in one of four solo shows on view at KMAC through November 7], which combines found textiles and painting, you'd be talking about –
JY: His process for collaging, hand-making his frames, and then applying his paint, yes. That's his craft, which he has refined for several years and now has an internationally known art practice.
MS: When Joey is curating a show, the intention is always to think about craft. And that has an effect on the types of shows that we have here, versus what you'd see in Chicago at a contemporary art museum, for example.
JY: Actually we've shown some of the same artists, but we like to think that our approach, our way of talking about them, is a little more unique. We might talk about how a particular artist's work fits into a tradition, or how it subverts or radicalizes that tradition. They might focus more on the political or social issues that the art is addressing, without necessarily focusing on how it's made.
MS: Looking between what we were, as the Kentucky Museum of Art and Craft, and where we are now, as the KMAC Museum, for me the distinction is that when you walk into our exhibitions now, it looks like a museum exhibition. You have no idea whether you can buy that piece or not. You're coming to learn something. What we had really been was a sales gallery. I have many beautiful objects in my home that I purchased here over the years, but we became something very different. The Kentucky Museum of Art and Craft was this wonderful instigator of things happening throughout the state that had never been. Artists weren't being focused on. The fact that you can go everywhere in this state and find Kentucky-made objects – that is something that really got this institution on the map. But we were really a store that happened to have an educational component. Now we're a museum that has a wonderful store.
JY: Actually I think we had a similar trajectory to that of Al Shands, moving from folk arts and American ceramics into very contemporary work. It becomes about all sculpture, not just ceramic sculpture, for example. And because of that exhibition program, we attracted funders like Al, who became hugely supportive, and the Andy Warhol Foundation, also hugely supportive. Now we have a lot of national funders who are interested in our museum program. And the fact that we have fewer sales is important. You can't sell art and get funding through those models.
MS: That's also part of our trajectory toward being accredited by the American Alliance of Museums: embracing what it means to be a museum and not a sales gallery.
KN: Joey, you've been here as a curator for almost a decade now. Do you do it any differently today than you did when you started? Do you rely more or less on studio visits, for example?
JY: I think the biggest thing that's changed is just my focus on this idea of how craft informs contemporary art practice. Before I came here, I was doing exhibitions and studio visits, and I don't think I was doing them a whole lot differently, although I've learned a lot.
MS: I think you're doing them with more confidence. People are responding positively.
JY: I think the difference is that we have a legacy and a mission that's very specific. I've maybe stretched it, and created a bigger context for it, and that's informed my work.
KN: So the biggest change is the casting of a wider net?
JY: In terms of craft, yes.
KN: And in terms of geography.
JY: Yes. I rarely do a show with an artist whose studio I haven't visited, or talked with.
MS: You've done group shows with people like that.
JY: Certainly. And we get a lot of loans from people like Al and other galleries around town. But if I'm going to do a deep dive with an artist in a solo context, those are a year in advance where I'm visiting the studio, getting to know the work, and hopefully giving them some sort of impetus to create new work, not just taking existing work from a studio. I'm hoping that our institution encourages new thought, new ideas. I invite artists here all the time who maybe haven't thought of themselves in the context of a craft institution, but now I'm encouraging them to make new work, or think about their work in a different way, because it's here.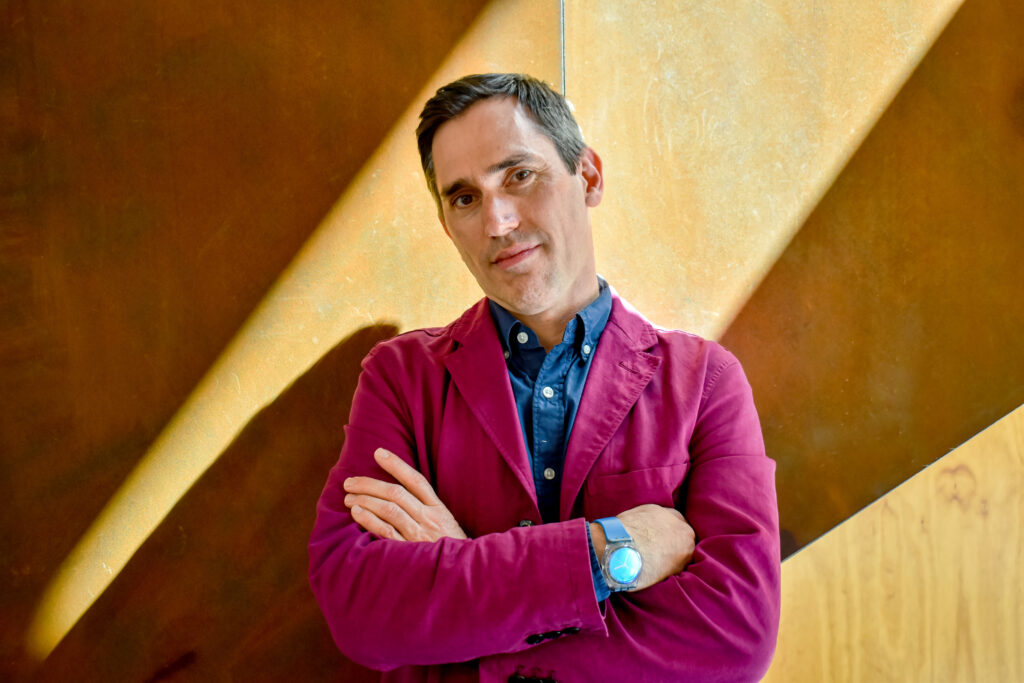 KN: You have this same conversation with those artists about what the word craft means?
JY: Constantly, yes.
KN: They're keen to know what your definition of the word is?
JY: Well, I force it on them. [Laughter.] We talk about what they think it means and what I think it means, and then we try to have a nuanced exhibition where all of these things come into play. I certainly don't mind when an artist comes in with a very traditional view of what it means. If they leave not being convinced, that's OK too. But maybe they leave with a new, nuanced idea about what it means. You know, the Whitney Museum has a show up for two years about craft in contemporary art. Of course, the word craft has already been co-opted by craft beer. So everybody's stealing the term and using it as liberally as they want, culturally. So we as an institution are just trying to grow and become more liberal in terms of how we use it.
KN: I talked recently to Julien Robson [director of the Great Meadows Foundation and curator of the Shands art collection] about its bequests of artworks to the Speed Art Museum and to KMAC, with y'all getting a smaller group –
JY: We're getting 30 or 40 pieces, yeah. We had a great relationship with Al Shands over the years and developed a context for some of the objects that we agreed were a good foundational collection for us. We are a collecting museum, although I did not necessarily inherit a collection for the kind of museum that we are today. So gathering a collection that does inform the kind of museum we are now is important, and Al had some of those works. So there are artists within his collection, like Ken Price and Betty Woodman and Edgar Tolson, who we had had discussions about as being part of that gift.
KN: Julien said the bequest will help KMAC "frame the discussion it hosts about the interface of art and craft." How big of a deal, so to speak, will the Shands bequest be for KMAC?
JY: I think it's the most important thing we'll have acquired. The artists in it are key artists to me, especially in terms of ceramics and pushing ceramic into a contemporary art context. Al was very adamant about artists like that, including John Mason, Robert Arneson, and Peter Voulkos, who were among the ones who helped break ceramics out of its relegated status as secondary to fine art, like painting, into this conversation about contemporary art. He collected those artists specifically so that he could give the work to the museum, so that we could talk about that and reflect that. He saw them as important historical figures, although he allows the museum to tell that story in whatever way we choose. It's a narrative that's probably going to become challenged, as all art narratives get challenged and reassessed given changing times. But there's a history there that managed to get articulated for decades that we'll be able to talk about now, because the work will be here.
KN: There's a sense, because of the Shands gift and the scope and quality of your recent and current exhibitions, that KMAC is in a really good place right now. Do you share that sense, compared to five years ago, ten years ago?
JY: I'd say ten years ago, yeah – our exhibitions are night and day. Not that there weren't good things happening back then. But Michelle and I have been going through the files in our basement, looking back at some of this history, and there were so many great artists that came through here and had great exhibitions. But again, the context was different because they were sales-driven. I'd say we really hit our stride in 2016 with some really great exhibitions in the renovated building, and we're continuing that stride now.
MS: I think the name is a big part of it. Whether or not you think it's an acronym is irrelevant, because if you just hear "KMAC" and you're coming through the door, you don't have a preconceived notion of what you're going to see. When we were still the Kentucky Museum of Art and Craft and you walked in the door as a tourist, very frequently you were very disappointed because you thought you were going into a very different space.
KN: The word museum is another factor in that, I'm thinking.
MS: Right. It signifies that we're an educational institution. You're not here to buy a work of art from us. You're here to learn about it and appreciate it and understand it. And so to me, it feels like we've evolved into, for lack of a better word, a more professional organization.
JY: I'd say that in our days as a Kentucky art and craft gallery, there was a lot of professionalism in terms of how that was handled. Now we're professional in a way that's more in line with American professional museums.
KN: What type of impact has the COVID pandemic had on the museum?
MS: At first it was huge. In 2019 we hosted a show with Picasso works on loan from a French museum along with two American artists. We were in the midst of that exhibition – and because everyone knows the name Picasso, the numbers were huge – and we closed in March 2020, a month shy of when the show was to go. That had huge implications for us because we also couldn't get the art shipped back to France, because the director of that museum wasn't able to get into the country. So there were major financial implications insurance-wise, for an extended period of time, and also in terms of events that had been scheduled for our space. And we count on admission fees, which are a much bigger part of our budget than that of a larger institution like the Speed.
KN: When did you reopen?
MS: Our first exhibition opened in June, and a couple of months ago we started having some pretty good numbers of visitors during the summer, but now we've taken a deep dive again. That has impact on sales in our gift shop and how many tickets we sell to in-person events. But we're in a pretty solid situation right now, thanks to some federal bailout funds and a major stabilization grant from the James Graham Brown Foundation.
KN: So what does KMAC's future look like? And how would you like it to look?
MS: One big thing is that we really want a major piece of art outside on Main Street.
JY: There's the big gold David [by conceptual artist Serkan Özkaya at the 21c Museum Hotel], the [Louisville Slugger Museum's] baseball bat.
MS: We're not going to do something on that scale, in part because we don't have the sidewalk space they have. But we feel that's an important thing for us to have, as a marker that shouts proudly, "Hey, KMAC's right here!" Right now it's kind of hard to find us.
KN: How will you proceed with that? Are you looking for a donor? An artist? Both?
MS: We're kind of in a hush-hush conversation with a major artist that would be fantastic if that pans out. It's way too early to say much about it, but it would be a big, big deal.
KN: A lot of the arts institutions in Los Angeles seem to have a Frank Stella near their entrances. That's the kind of thing you're talking about.
MS: Yeah. We want something really significant that really speaks to who we are.
KN: By a Kentucky artist, presumably?
MS: Well …
JY: Maybe. There are some artists that if we had a work by them out front, every Kentucky artist would want to show here. Making this something that people really, really, really see as an elevated institution –
KN: So this person you're talking to is not a Kentucky artist.
JY: Not at all. They went to college in Kentucky.
KN: Hmmm … [Laughter.]
MS: I'm not from Kentucky, but I've been here for 23 years, and I think it doesn't really do us any good if all we do is show ourselves. Good example: We did a show many years ago, "Victory Over the Sun." Letitia Quesenberry – good friend, artist working here in Louisville – is in a show that [the Scandinavian installation artist] Olafur Eliasson is in. Think about what that does for Tisha's resume. If she were just in a show with some other Louisville artists, it doesn't have nearly the significance of pushing her forward professionally, which is what we hope to be doing with everyone.
Current exhibitions by Kiah Celeste, James Benjamin Franklin, Cynthia Norton, and Myra Greene are on display through Sunday, November 7. Visit KMAC/current exhibitions for details.