In June 2022, the Speed Art Museum appointed educator and curator Dr. fari nzinga as its new Curator of Academic Engagement and Special Projects. Prior to joining the Speed, Dr. nzinga taught courses on African American art history, museums and social justice, Black feminist thought, and contemporary African artists, among others. She holds B.A.s in Hispanic Studies and African American Studies from Oberlin College, and an M.A. and Ph.D. in Cultural Anthropology from Duke University. Outside of academia, Dr. nzinga has been involved with public policy and social organizations advocating for more diverse and inclusive arts institutions and communities.
I met with Dr. nzinga at her office one morning in early August. She was warm and friendly, and her passion for broadening engagement with the visual arts was palpable. This is an edited and condensed version of our conversation.
Natalie Weis: You're the Speed's new Curator of Academic Engagement and Special Projects. What does that role entail?
Dr. fari nzinga: Before I arrived at the Speed, there was no one in the curatorial department specifically tasked with building relationships, partnerships, and collaborations with faculty and students at the many campuses here in Louisville. One of the museum's first initiatives is to serve as an official venue for UofL's Student Welcome Week. We'll have an open house as a way for students to recognize this is a place where they can stop in and socialize or participate in the programs or just make use of the space. A lot of UofL students don't even realize their student ID gives them free admission to the museum.
We're also going to have a Faculty Happy Hour, where we tell professors we're available to give tours, serve as guest speakers for their courses, or even help with syllabus and curriculum planning. We'll also be reaching out to faculty from other schools such as Spalding University, Simmons College, and Jefferson Community & Technical College. We want to make ourselves available.
NW: What about the Special Projects aspect of your title?
DFN: Special Projects gives me a wide latitude to work within our permanent collections. Before I arrived, there was no curator specifically in charge of stewarding and curating the collections of Native American and African Art. I said that I would like to be that person. Special projects can look like reinstalling certain collections or bringing in contemporary artists to respond to what we have in our collection.
With the Native American collection in particular, there's a lot of work we can be doing to reinterpret the collection, repatriate some objects, and create lasting relationships with descendant communities and families, as well as with contemporary Native artists, scholars, writers, and thinkers. When a museum has an exhibition of work, it's customary to have artist talks and lectures and screenings. We've had these objects on view for so long, but until now we haven't had the programming to go along with it.
NW: Museums have faced increased criticism in recent years for their relative lack of diversity, equity, and accessibility. Why do you maintain your belief in the power of arts institutions and your passion for working within them?
DFN: I really believe in the power of the museum as a public convener, especially because we have so few public spaces in this country at this time. Every time you leave your house, you're going to spend money. I love that at a museum there's usually at least one day that's free to the public. You don't have to spend any money to have an excellent experience and learn something and indulge your curiosity. If you're like me, you might stop in front of a painting and turn to the stranger next to you and say, what do you think about this?
It can be hard to interact with other people outside of scripted interactions. I'm not interested in small talk. But I do want to get inside your mind. And art is the perfect way to do that. It poses questions: What do you think about this? Why do you think that? What does it remind you of? You can start at Point A and get all the way to the end of the alphabet just by looking at one object. I think that's awesome. When I finally got into object-based teaching as a pedagogical tool, I thought, why would I ever do it another way? I love that it requires a different level of engagement and observation.
NW: How do you see the museum's role in the broader Louisville community?
DFN: One of the things that put this museum on the map for me was when a friend told me about coming to see Promise, Witness, Remembrance. I thought, this is something that museums could have been doing for quite some time. They're notoriously slow-moving institutions. But as public conveners, they have the opportunity to be more community-facing and speak to the concerns of the moment. It made me happy to see that the Speed was trying to do that. I see changes being made in the leadership of the institution, as well as the promotion of staff, such as Toya Northington, to strategically address issues of belonging, equity, and inclusion.
The role I hope the museum will play is one that makes it clear that this is a resource we hold in common. The whole point of having a museum is to hold items: to say, we think these items are valuable and we want to make sure that as many people can see them for as long into the future as possible. The museum says that they're the stewards of these objects, not necessarily the owners of these objects. And I'm really excited about being in an institution that feels that way.
NW: You received an ACLS/Mellon Public Fellowship for your work at the New Orleans Museum of Art, where you helped in facilitating institutional transformation around issues of diversity, equity, and inclusion. Are there some key findings other institutions could learn from your experience?
DFN: Definitely. And luckily for me, there are people here at the Speed who have already been doing that work. I don't have to come in and do focus groups and all the ground level research to say, This is what the communities we hope to serve want out of our museum. People have already been working with different groups of folks on the grassroots level. I can just come in and say, That's what they want? Awesome, let's give it to them! How are we gonna do that? Let's figure it out!
NW: Your research at Duke centered on Black-led arts organizations and community rebuilding in the post-Katrina historical movement. What are some of the discoveries of that research and do you see them as having applications in a city like Louisville that is grieving and rebuilding in the aftermath of the police killing of Breonna Taylor?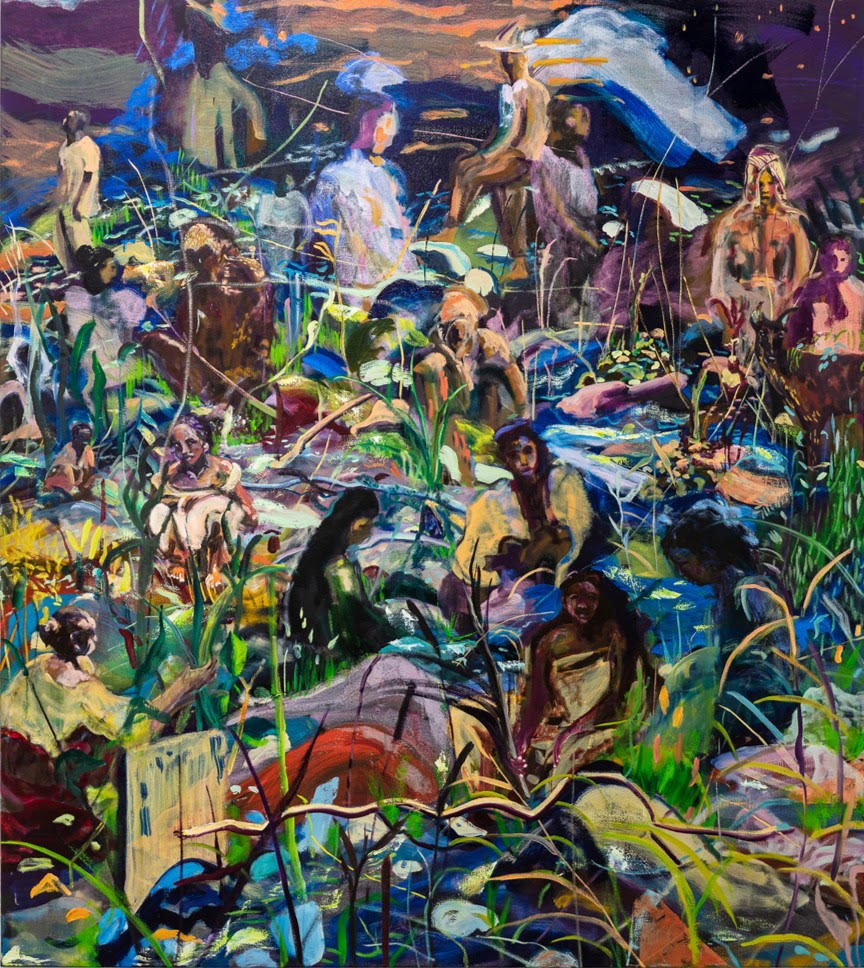 DFN: One of the findings, unfortunately, was that Black artists and Black-led institutions do not get the same capital funding. And to make up for that, you have to figure out how to pull your resources together. You have to figure out how to do things on a really tight budget, get some people to volunteer or kick in some in-kind donations and things of that nature. And that's something I also see here in Louisville. The lion's share of the funding goes to places like the Speed, which goes back to your question about the role of the museum. If you have the most capital, your role should be to share and make sure that everybody has a piece of that.
What folks are doing here in terms of grieving, loving, living and organizing, is really important. I am heartened to see the spirit of protest is not gone. The places I've been to have been rocked with, excuse my French, fucked up shit. But what attracts me to those places is the question, What are people doing about it? Are they taking it lying down? Or are they saying, No, we have to protect ourselves, our families, and our communities, because there's nobody out here who is going to do that work for us. That gives me hope and gives me strength.
And artists are always a part of that because they're nonconformists. I got into curatorial work because I love artists. I love people who are not trying to follow the rules. They have a sense of creativity and curiosity and wonder, and they're critical. They're trying to solve problems. It could be, I have this problem I'm trying to solve through the practice of making art. Or it could be, We have this problem that we don't have enough venues to come together, so as artists let's make that venue together. To me, that's what's exciting and important.
NW: You were a Teacher Scholar in Residence at the bell hooks center at Berea College, named for the renowned feminist writer, scholar, and activist who died late last year. Tell me about the influence bell hooks had on your career.
DFN: I'm a graduate of Oberlin College, where bell hooks once taught. My mother and godmother are both professors there and were friends with bell hooks. I had the honor of meeting her and sitting under her feet and listening to her talk about her experiences. My mother and godmother are both avid Black feminists. So, of course, they read to me from her work as I was growing up. I always had access to my mom's books, and bell hooks was very much a part of her collection.
When I found out about the position at Berea, it was a natural fit because I had already been using bell hooks' work to teach courses in different departments: museum studies, African American art, humanities, a Black feminist history course. I would find a way to bring at least one bell hooks writing into each and every one of those courses. When I arrived on campus last fall, she was already in decline. Her death is a real loss.
NW: bell hooks once wrote, "the function of art is to do more than tell it like it is — it's to imagine what is possible." What do you imagine is possible for our world over the next few years?
DFN: I am someone who has spent quite a bit of time thinking about the society that I live in, finding it unfair, finding it unjust, finding it inhospitable. And not just to me, but to the thriving of human life. It is tough because people are suffering, and it doesn't feel like the great institutions and the folks who have the means to make that suffering end really care. But I would like to see it be possible that we could find ways to support one another, that we could find ways to share in the resources of this earth.
My greatest desire is to support artists and help more people exercise their own creativity. I want to support critical thinking and observation, and to reach people who feel stuck. I want to create the mindset that there is so much more we can aspire to have and be. I think art is a great way to prompt people to take their own path and ask, How can I be better? How can this be better? We could deal with this more creatively. We could solve this problem if we wanted to, if we used these materials or these resources in a different way.
I taught a class on African contemporary art, and my students loved when we got to questions of environmental art, because there are so many contemporary African artists who are working with these materials that are essentially first-world junk getting dumped in their backyards. And they say, Okay, I'm an artist, so I'm going to make something out of this. Those are the folks we want to really follow. They're reminding us that what we have to deal with doesn't have to be the be-all and end-all. We can make something different out of the materials we've been handed.
Top image: A poster for the Speed Museum's open house event for first-year students at the University of Louisville, part of nzinga's efforts to deepen engagement with the academic community. The image shows the museum building against a red background with white text.