Tornado Alley is shifting eastward to the Midwest, the Ohio River Valley, and the Southeast. Storms like the devastating twister that struck western Kentucky in April 2022 are believed to be the result of our warming atmosphere, with more turbulent energy and straight-line winds in thunderstorms. Climate change is also blamed for the cataclysmic rains that struck eastern Kentucky a few months later in July. The floods were caused by extreme rainfall, a phenomenon scientists believe will become more common; the after-effects of mountaintop removal also contribute to the disaster. As more fossil fuels are used, the atmosphere gets hotter and the air holds more moisture, so when it rains, it rains harder.
On another front, on August 26 (coincidentally the same day Ying Kit Chan's show opened in Louisville), the EPA issued a proposal to designate PFAs – dubbed "forever chemicals" – as hazardous. Evidence indicates that two PFAs, polyfluoroalkyl and perfluoroalkyl, pose substantial risk to human health, welfare, and the environment. These chemicals do not break down in nature. These chemicals are found in non-stick pans, fire-fighting foam, waterproof coatings, and fast-food wrappers. They have been linked to birth defects, kidney and testicular cancer, and damage to the liver, immune system, and thyroid. Recent testing found unsafe levels of PFA chemicals in every single fish sampled in lakes and streams across Kentucky.
Ying Kit Chan's exhibition at the Susan Moremen Gallery (through September 24) is entitled Not In My Backyard; Kentuckians have had a front-row, front-yard viewpoint to witness the misery caused by climate change and regulatory neglect. For this artist, the phrase "alludes to environmental injustices and identifies environmental concerns as social justice issues. Unfortunately, many people, such as those living in the cancer alleys in many parts of the world, don't have the means or the freedom to choose their surrounding environments."
Ying Kit Chan's art is about sounding the alarm. It arises from a deeply considered critique of the destruction of the natural environment and the near-universal failure to significantly address global warming. Chan is a follower of the Deep Ecology of philosophers like Arne Naess, who called for a new ethic embracing plants and animals as well as humans. Sustainability, in the view of Naess and other ethicists like him, must be applied to all species and must uphold all natural systems. In his personal philosophy, Chan finds concordance between Taoist beliefs (for example, that contemplation of nature is a religious exercise) and the tenets of geoethical, post-modernist, and feminist visionary thinkers. In over 200 exhibitions throughout the United States, Latin America, Europe, and Asia, Chan has broadened his experimental range to decry the willful ignorance with which commercial, governmental and societal entities have met the current environmental crisis.
The NIMBY (Not In My Backyard) series of collages illustrate Chan's allegorical practice. NIMBY #7, 2022 balances refinement of means with a forceful, energized metaphor for environmental degradation. Two papers of comparable size are aligned edge-to-edge, while a third much smaller piece surmounts the other two at the right side of their juncture. On the upper sheet, a roiling turbid wash obliterates what appears to be Chinese calligraphy on cream-colored paper. Below, precise drawings of tree branches on a comparable sheet are blanked out by a splash of carmine red acrylic, which in turn is partially obliterated by a mottled black acrylic arching shape. The blotched red surges over the upper paper in a molten expanse that continues in drips and dots. On the smaller, whiter sheet to the right, diagonal sweeps of black ink are framed in by blocks of the same ink at the top and right sides. As charged as the other imagery, the smaller piece has a commanding presence because it overlaps the other two sheets, and its inverse "L" conveys modulation and control. The mind-eye-matter motion of Chinese calligraphy is evoked. A portion of the paper to the right is blank, a moment of surcease.
How is this work to be read? A recurring theme in this show is the clash of destructive forces as evidenced by some titles for work in this show – Disruption, Turmoil, Vortex, Turbulence, and Disintegration. Other titles address the atmosphere: Billow, Jet Streams, and Smog. In the NIMBY collages, Chan pits his imagery of the destructive forces of untrammeled climate change against the civilized mark-making of landscape studies and Chinese calligraphy. According to the artist, orange and red are associated with "historical photographs of nuclear explosions…as well as oil field accidents or forest fires." The small fragment of a Sumi ink drawing may be the artist's sign that civilization temporarily holds wider destruction at bay.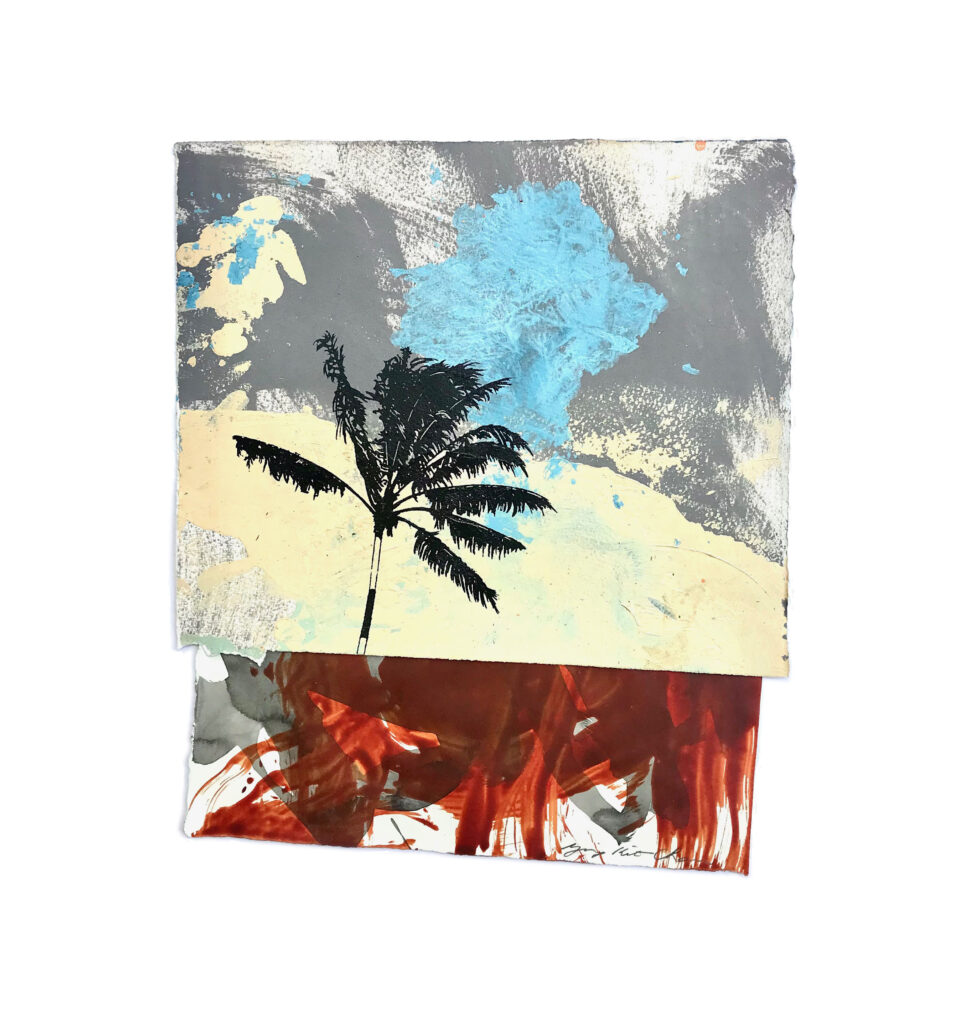 NIMBY #8 is iconographically important in Chan's work. Consisting of two sheets of paper, a blackened palm tree is depicted on the overlapping upper one. It emerges from a swirl on the lower sheet of the recurring red that Chan employs to denote environmental destruction. The ironically lyrical drawing of the blackened tree derives from a photograph of a 1946 American nuclear weapon test. The proposed name for the current geological era is "Anthropocene", in other words, the age in which human activity dominates the climate and environment. The date of the Trinity test (July 16, 1945), the world's first nuclear explosion, is commonly used by international scientific bodies to designate the start of the Anthropocene era. Tourists in Western countries may see palm trees as a symbol of leisure and the good life, but for tropical island dwellers internationally, the palm tree is more likely to evoke histories of slavery, colonization, harsh plantation conditions, or nuclear testing.
In the NIMBY series, one work uses four pieces of paper, five works use three pieces of paper, and two use two pieces of paper. Assembly and layering recur as Chan's compositional methods: they allow interruptions, juxtapositions, and disparate materials to find a telling place in his art. A minority of his compositions are traditional rectangles: irregular edges, insertions, jagged tears, and surface additions help to portray a realm in which intrusions are ordinary and consistent order non-existent. A rubber tile is plonked into Disruption; a plastic waste by-product is added to the surface of Turbulence; Trap has an overlay of wire fencing; Not In My Back Yard gets a tree branch painted black; and Country Living has a notched corner with a floral chintz textile lodged within.
Disruption is dominated by a centrally placed bubblegum pink cloud, anchored to the left side of the picture, weighed against the black rubber tile protruding on the right. These elements lie atop a mottled orange ochre and cantaloupe background, in turn overlapping a murky gray field, all surmounting a field of sky blue. Earth's atmospheric vault is obscured by the distinctly unnatural chemical colors, especially the thickly painted pink orb. Again, the warm colors reference color photographs of atomic bomb explosions on Bikini Island in 1946 and their bright mushroom plumes. The commonplace manufactured industrial product with its standard textured surface is a foil to the viscous pooled paint. Chan is adept at contrasting surfaces, heightening implications of mutability in his low-relief color passages.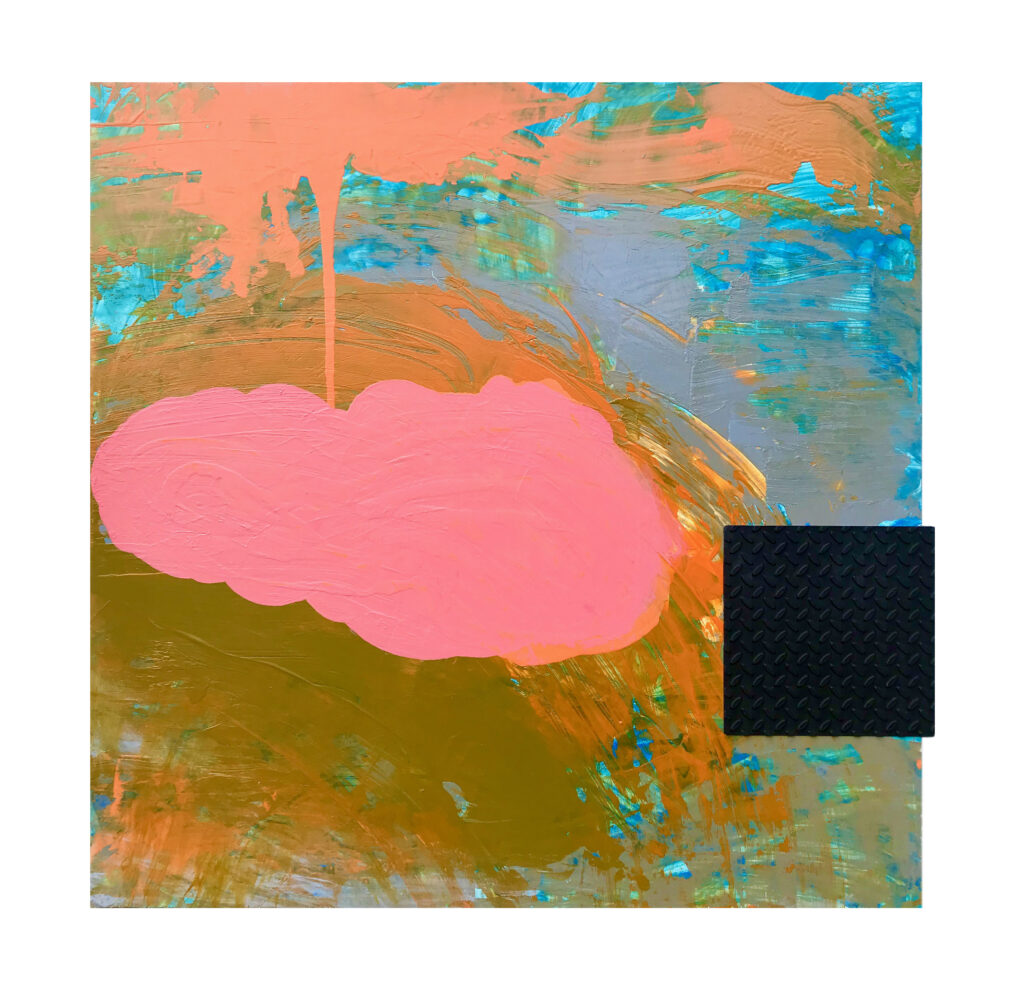 There is an interesting parallel in Chan's work to the recent paintings of Vian Sora, also on view at the Moremen Gallery. Sora grew up in autocratic and war-torn Baghdad, while Chan's youth was spent in British Hong Kong, a borderland between a command dictatorship to its north, and a commercial outland formed by linkages to overseas business empires. Both artists do layered multi-level allegories with deeply embedded content. Their backgrounds may have influenced the tendency to portray liminal transitions, works that evoke dynamic passage through evolving states. Unlike Chan, Sora enriches the surface of her poured paint with impressed patterns. For Chan, the urgency of his message manifests itself in thickened pigment and clashing directional forces. In only one work in the current show, Beast, a shape like a Chinese ideogram or elephantine creature appears in the toxic red familiar from other works in the show. Its sinister character is enhanced by muscular bulging shoulders or thighs, a suggested mouth on the left, and a tail on the right. It is nothing like the humanoid djinns and hidden ghouls in Sora's work. Enlivening the substance of the pigment itself and its mobility, in its coursing, poured flows, drives many of Chan's abstractions. His works are performative rituals. These ritualized works of art do not offer the artist or the viewer absolution, but signal a suspended state in which we await, the next, perhaps yet worse, environmental disaster.
The largest work in the show in a formal painted format is Country Living, a variegated expanse of acrylic juxtaposed with an attached chintz textile with stylized flowers. Seemingly a monochromatic gray-black at first, the dominating field is a mixture of the complementary colors, orange and blue, with yellow added. Other, half-hidden hues appear as light notes. As in other works in the show, hints of a blue sky are evident in the background. The field has been repeatedly overpainted, scrapped, and repainted. Up and down strokes are relieved with looping strokes echoing the floral motifs in the trapezoidal fabric sample. Suburban, garden club versions of the natural world are suggested by the interior designer's sample. What is natural and what is artificial? The artist does not give us a scenic landscape, but rather a subtle, variegated elevation that invites minute analysis and prolonged contemplation.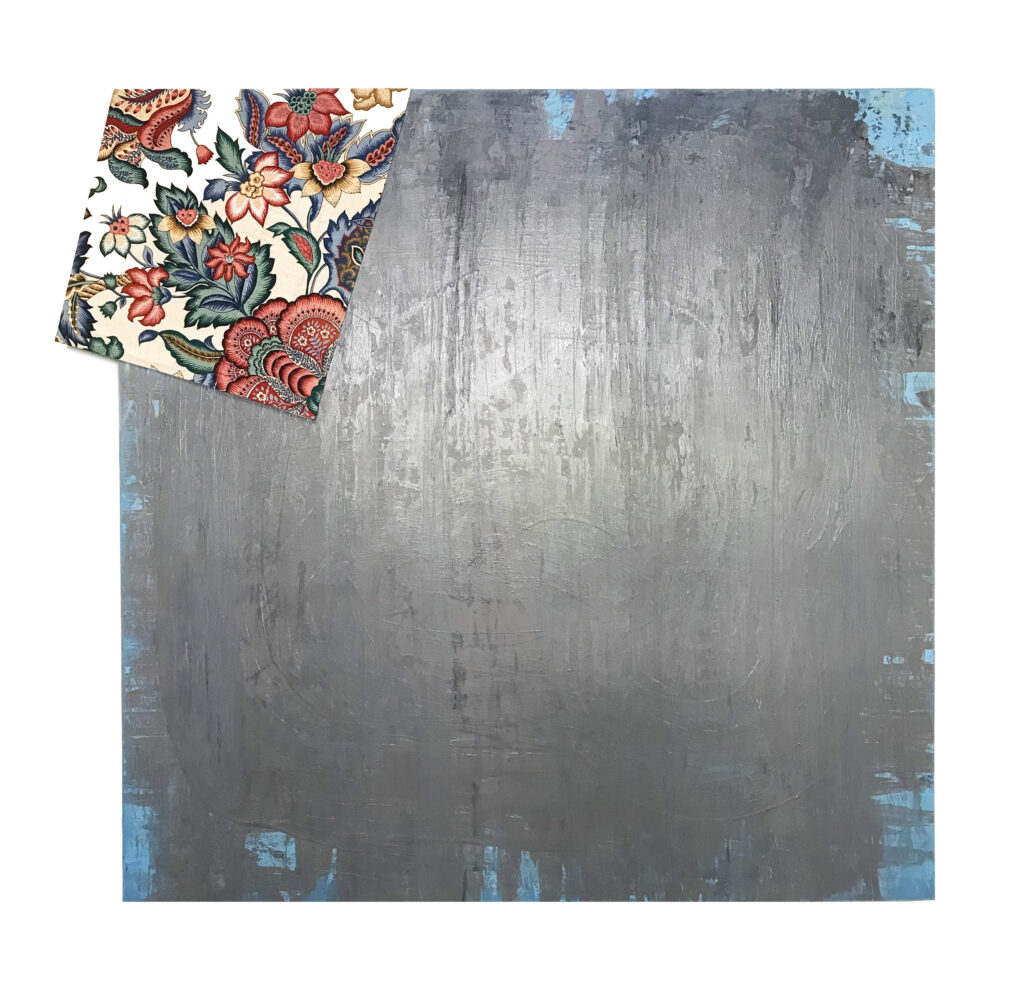 Geoethics demands respect for the environment and reflection on all human interaction with the Earth and its systems. Ying Kit Chan provides the viewer with forceful analogies for the continuous disfigurement of the natural world. But in the give and take of the opposing forces in his art, the vectors are often blunted. Is there hope in this truncation of motion? The work in Not in My Backyard doesn't answer the question of what our way of being in the world ought to be going forward, but Chan raises the issues pointedly: how do we co-exist on an equal basis with plants and animals, in the context of our imperiled land and oceans, and amid the massive accumulations of waste?
Ying-Kit Chan's "Not In My Backyard" will be on exhibit at Moremen Gallery, 710 Main Street, 2nd Floor, Louisville, KY 40202, through October 1, 2022.
Top image: Ying-Kit Chan, Beast, 2022, acrylic on paper, 31" x 48" (irregular). Image courtesy of Moremen Gallery.