The exhibition Pangaea — now on view at City Gallery at the Downtown Arts Center in Lexington — brings together the disparate practices of Patrick Smith and Robert Morgan in a way that illuminates how the same ideas and impulses can permeate in different ways across both generations and media. Juxtaposed closely in this exhibition, the similarities ring out, making clear elements of both artists' work that would likely be overlooked in the context of a solo show. As a show, Pangaea, therefore, functions in opposition to the supercontinent from which it gets its name; while the landmass dissipated creating cultural and ecological divisions that have marked humanity since our emergence as a species, the exhibition ultimately unites distinct individuals and shows the shared nature of their art and lives in so doing.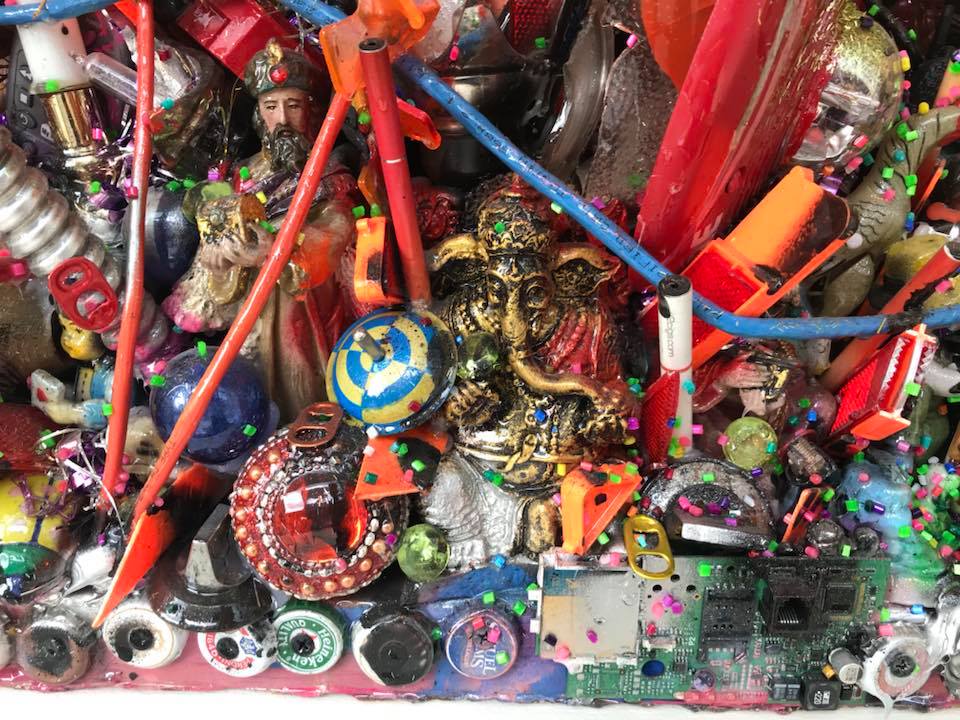 One of the starkest distinctions between Morgan and Smith is how each man approaches art making. Morgan, a sculptor now in his 60s, has always identified as an artist. He has been making art out of found objects for as long as he can remember. Morgan's practice has been consistent for decades, making assemblages that are complicated and congested amalgams of various items, ranging from goat horns and religious figurines to rubber snakes and car parts, all of which he covers with bright colored paint and patches of glitter. 
Smith, on the other hand, is a painter who came to art making relatively later in life, around the time he was an undergraduate at Transylvania University. Now in his 30s, his practice is still evolving, and he conceives of his practice as a direct reaction to his surroundings. For instance, his recent works — which consist of  small, intimate and hyperrealist portraits —simultaneously reflect the regional tradition of intimate craft practices with regard to their scale, while also working against the abstract tendencies that dominate both the painting practices taught in art schools in the area and the looser styles that characterize folk and outsider art in Appalachia more generally. As such, Smith's practice is more informed by the particulars of time and space than Morgan's, a notion that is further underscored by the generational differences between them.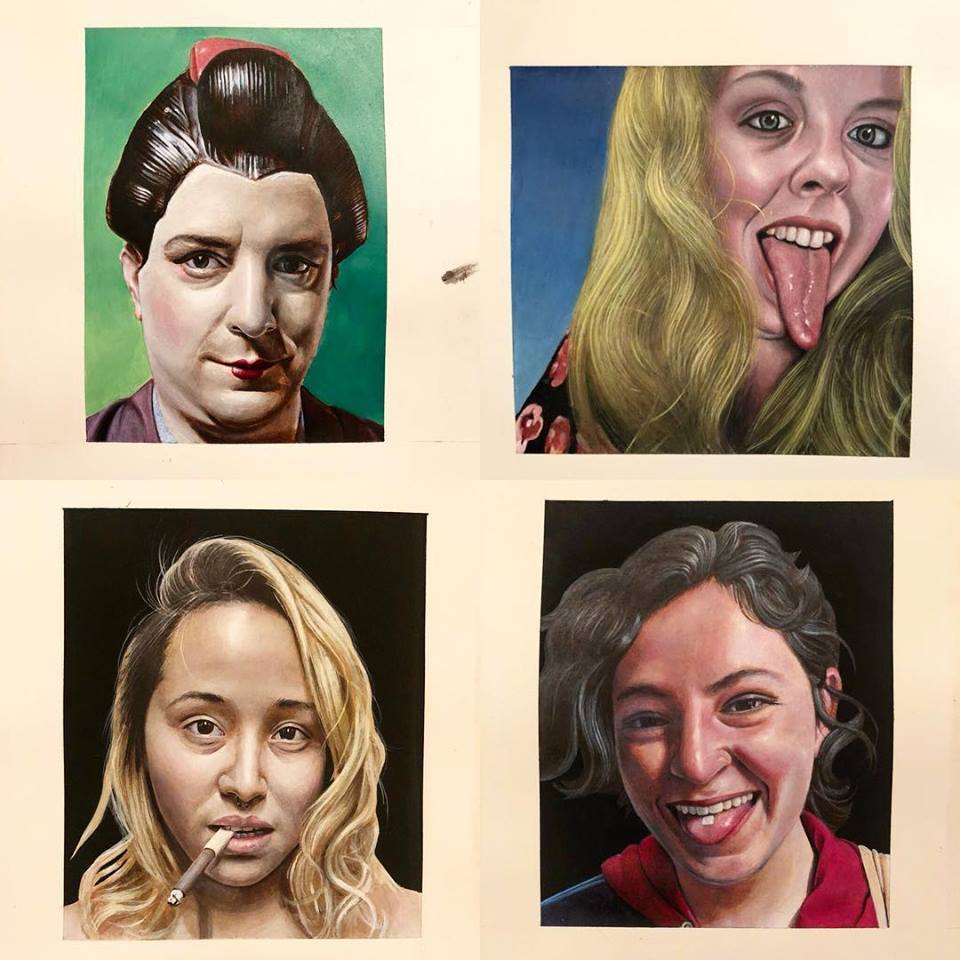 Yet despite these differences, Morgan and Smith's works share a considerable amount in common. For example, both artists explore issues of queerness and sexual difference in their works. Patrick Smith's work deals with elements of visible queerness and difference through his engagement with gender and sexuality as performance. His self-portraits, for instance, often play with elements of drag, with Smith appearing heavily made up and, at times, dressed in women's clothing from various (sub) cultures.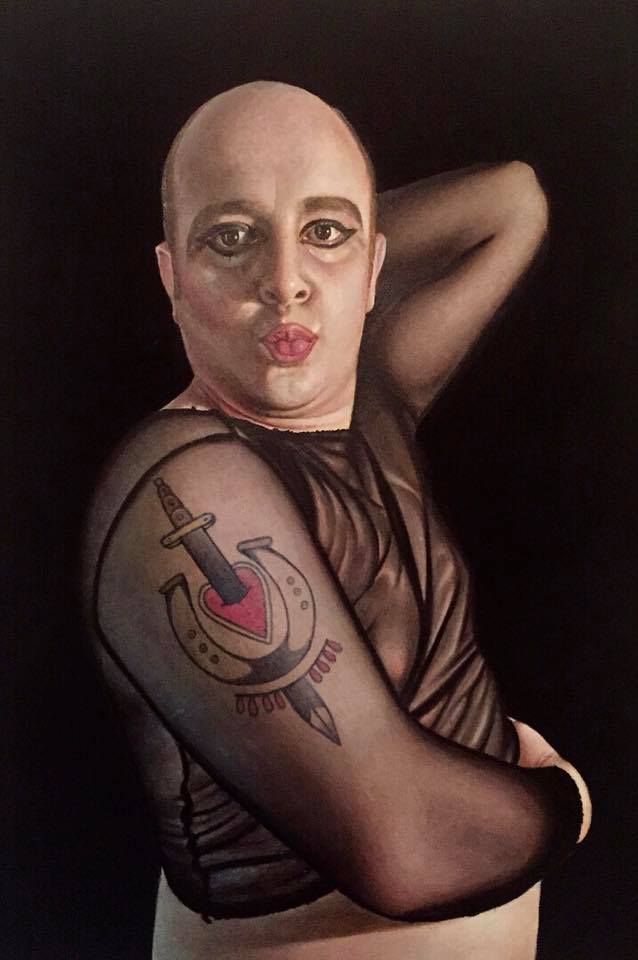 In these images, Smith never appears to be passing as a woman, per se, but rather complicates elements of masculinity by adopting women's dress. For instance in one Self-Portrait, he appears in a sheet black top, with heavy black eyeliner, and pink lipstick, with his mouth pursed to a kiss. His face gazes directly out but his torso is slightly turned with one arm bent at the elbow and raised behind him and the other wrapping around his belly, adopting a pose often used by women models in fashion magazines. Though Smith has adopted feminine elements of dress and gesture, his gender performance is somewhat incomplete. His shaved head, muscular arms, and hint of a five o'clock shadow remind us that Smith is a man. As such, he is queering the conventions of gender performance, embracing elements of both masculinity and femininity in a way that celebrates deviation from heteronormative and patriarchal conventions of sex and gender.    
Moreover, for Smith, all of his portraits are performances. He often describes his sitters as "getting into character" and for his self-portraits Smith allows his appearance to be styled by various friends who collaborate with him. As such, these works are not emblematic of the subject's lived experience, but rather illustrate how conventions of gender and sexuality are performed moment by moment. 
The performative nature of Smith's work stand in contrast to Morgan's practice, which is largely derived from his personal history. Morgan, a gay man himself, has been a prominent figure within the LBGTQ community in Lexington for decades. He is widely known for his role as a caretaker having tended the sick and dying here during the A.I.D.S. epidemic in the 1980s and 90s and caring for the legacy of queer folk through his role as the founder of the Faulkner-Morgan Pagan Babies Archive. His art practice has been, as such, largely informed by both his lived experience in and his research of LGBTQ history; he notes that most of his works examine themes of "A.I.D.S., Insanity, Alcoholism, and Drug Addiction," afflictions that have commonly plagued the queer community and further marginalized LGBTQ folk. 
Morgan's affinity for the marginalized manifests in the work he creates. His assemblages are made from piles of junk, objects whose intrinsic value has been lost or was never fully appreciated. Morgan collects these items and transforms them into something new, something with an aesthetic quality that is elevated and is meant to be seen, rather than to hide. That many of these assemblages of people whose experiences were similarly marginalized — like the teenaged drug addict that Morgan cared for and whose nightmare forms the basis of The Island of Lost Souls — and that Morgan himself has felt marginalized in similar ways imbues the sculptures with a particular kind of powerful resonance.
Religion, like queerness, is a theme that is explored in both Morgan's and Smith's work. As with his explorations of LGBTQ struggles, Morgan draws from his own religious upbringing in Catholic school as the basis of his work. Each of the seven works on display in this exhibition features an oversized vintage doll, which Morgan has posed and covered with various objects — often including devotional items like figurines of Jesus or religiously symbolic items like swords and snakes. To Morgan, decorating these figures  is reminiscent of the way that The Infant of Prague is dressed and put on display in the chapels of countless Catholic churches and schools, like the one Morgan attended as a child. Yet these sculptures aren't simply Catholic in character. Some appear to have a more clearly Hindu iconography, like the allusion to Shiva in The Horned Toad, and others involve the hybridization of multiple religious traditions like in Pangaea. Morgan asserts that the appropriation of religious iconography is central to his practices, noting "I steal from every major culture," and citing a particular predilection for Byzantine, Egyptian, Mayan, and Hindu traditions. 
The religious character of Smith's work is more subtle. Some of his portraits employ elements of dress and gesture that are reminiscent of the long history of religious icons. For instance, the first painting of Armani, depicts the sitter with their head draped with a pale pink cloth, much like the veiling of the Virgin Mary in many Renaissance portraits of the Madonna.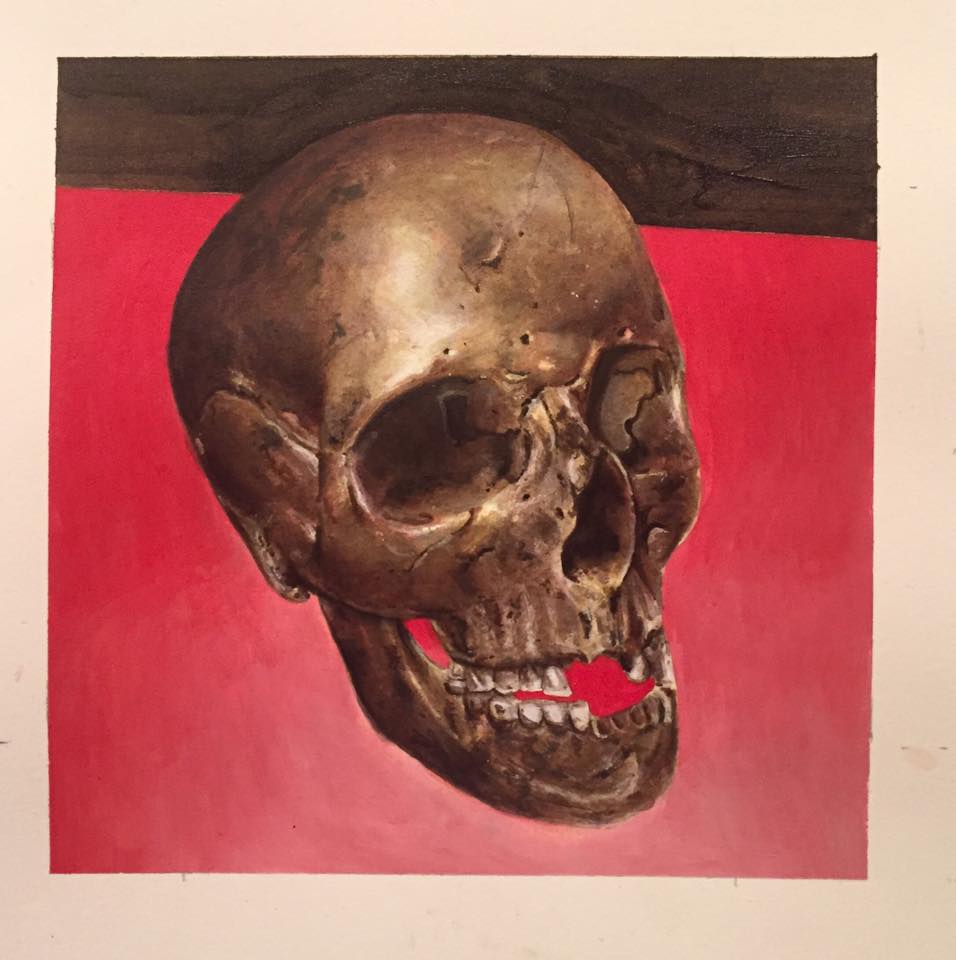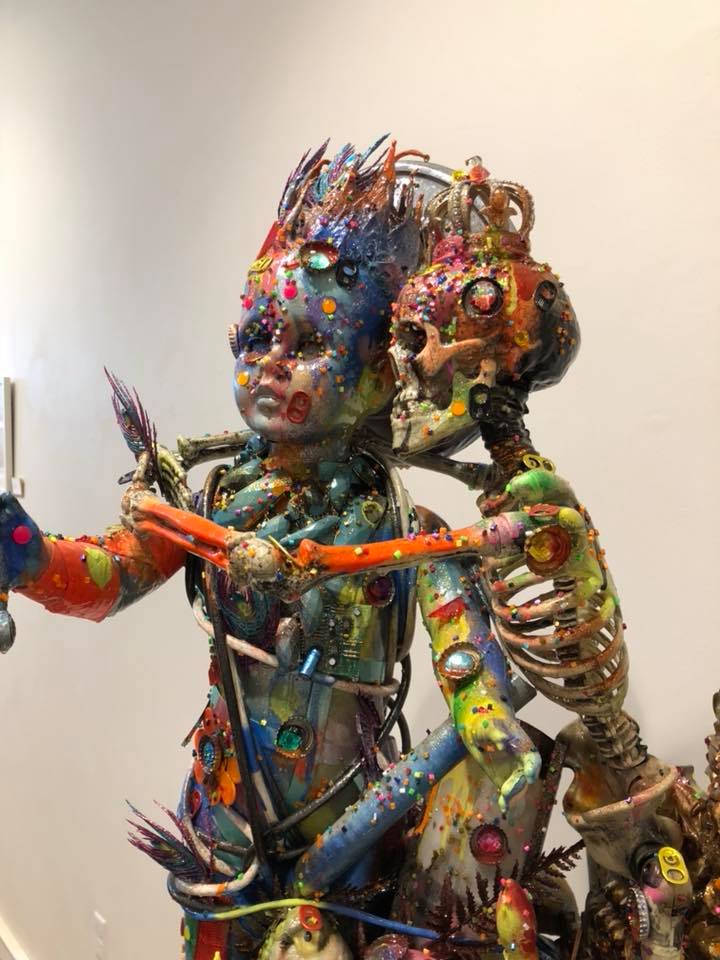 Smith has also called upon religious symbolism in his depictions of skulls, both in portraits, like the one held by Pablo and on their own. Within Catholic imagery, skulls have often appeared at the base of crucifixion scenes to depict the connection between Adam, the first man created by God, and Jesus, his son. Similarly, skulls are prominent in Protestant imagery, specifically in the form of the Vanitas, a genre of still life that was popular in the Netherlands in the 16th  and 17th centuries, in which the skull serves as a reminder that material objects cannot transcend the mortal plane and thus faith and good works are essential for transitioning into the afterlife. 
Placed side by side, Smith's and Morgan's works balance each other out to create a fuller picture of each artists' respective practice. The overt role of religion in Morgan's work, for instance, helps to clearly draw out those elements at play within Smith's. Conversely, the highly legible engagement with performative queerness in Smith's hyper-realist portraits primes the viewer to read Morgan's very symbolic assemblages more deeply. The result of this compilation of two different artists with two very distinct practices is ultimately a greater understanding of both artists' work and the issues they explore. As such, Pangaea, on the whole, illuminates how the differences among artists and their work can ultimately reveal their overall similarities.