Patrick Adams begins the artist statement for his new body of work with definitions of the noun and verb forms of the word trace. This may seem a little odd at first, but these connotations strike at the heart of the show and hit the target by not aiming at the bull's eye. So if you expect a distinct horizon that appears in almost all his previous work to orient you and guide your eye through a window-framed landscape, brace yourself.
With his foray into new territory, Adams has dared to put you, the viewer, squarely in the navigator's seat, and the direction you take when you look at these paintings and where you end up is anybody's guess. Without the unexpected there can be no surprise and there is no shortage of either in this exhibit, Traces, at New Editions Gallery in Lexington, Kentucky.
The works on display are inspired by Adams' recent travels through the Vaucluse region in southeastern France, a place that has captured his imagination for almost twenty years. He points out that Navigator is the breakthrough piece that guided him through the rest of this series. "It is raw and loose. And it taught me the value of getting lost in the landscape, of not having to fix the horizon or know where I was going."
A few of the paintings, such as Heading West, show traces of his earlier work that contained single and sometimes multiple horizons. However, these transformative pieces are clear indicators of the "unbound" direction his new work is taking.
Adams explains that his current path is in part an extension of what he has always been doing, but is also a departure because he is now allowing the vocabulary to widen a little and learning to be freer and more expressive, and to move things around because he feels a need to say more:
The first thing I decided was to not be bound to a single horizon, so the new work is more on the surface and the space is more complicated with a less identifiable light source. It is not so much a picture as it is a composite. A building or a landscape is stationary, geographically, yet it is still moving through time which means it changes as does the light. We can never perceive it in the same way regardless of how many times we look at it.
Keeping this in mind, View from the Terrace indeed denotes a landscape unlike any other Adams has produced before.
Apart from geometrics, there is no recognizable form here. It is not a single canvas, but a collage of other canvases removed and superimposed with vertical, horizontal, and angular splashes of color. It begs to be touched (not allowed) because the palimpsest layering creates a tremendous texture of harmony and tension, and its irregularity lends it a ragged and compelling rhythm. View from the Terrace, beautifully compressed and highly energetic, typifies all of the artistic elements at play in this series.
Tower of the Marquis and Roussillon demonstrate Adams' approach and understanding that he cannot separate himself from his experience with the landscape and that he must explore the essential nature of this relationship—a process he calls heuristic.
You might say his experience in the Vaucluse is solidly imbedded in his psyche as well as his art. Tower of the Marquis is part of the chateau built by Marquis de Sade and sits at the highest point of Lacoste, one of the many "perched villages" in the region. Adams declares that these villages "look like they literally popped up out of the ground because they are so seamless with the landscape, made out of the same rock, the same color." The city of Roussillon made no less of an impression on him. He stresses that the city is where they used to mine the clay for artist pigments and still sell them there today.
"The whole city is done in shades of red, yellow, and ochre that come right out of the ground beneath them. It's organic, layer upon layer of time itself. This and the walls of historic structures and the human interaction with the landscape are what interest me. It's what I want to paint." The question is, how do you paint the unpaintable? In the abstract and heuristically, of course. By rolling up one's sleeves and fully experiencing the presence of the past. Wondering and Wandering symbolizes the crux of this process.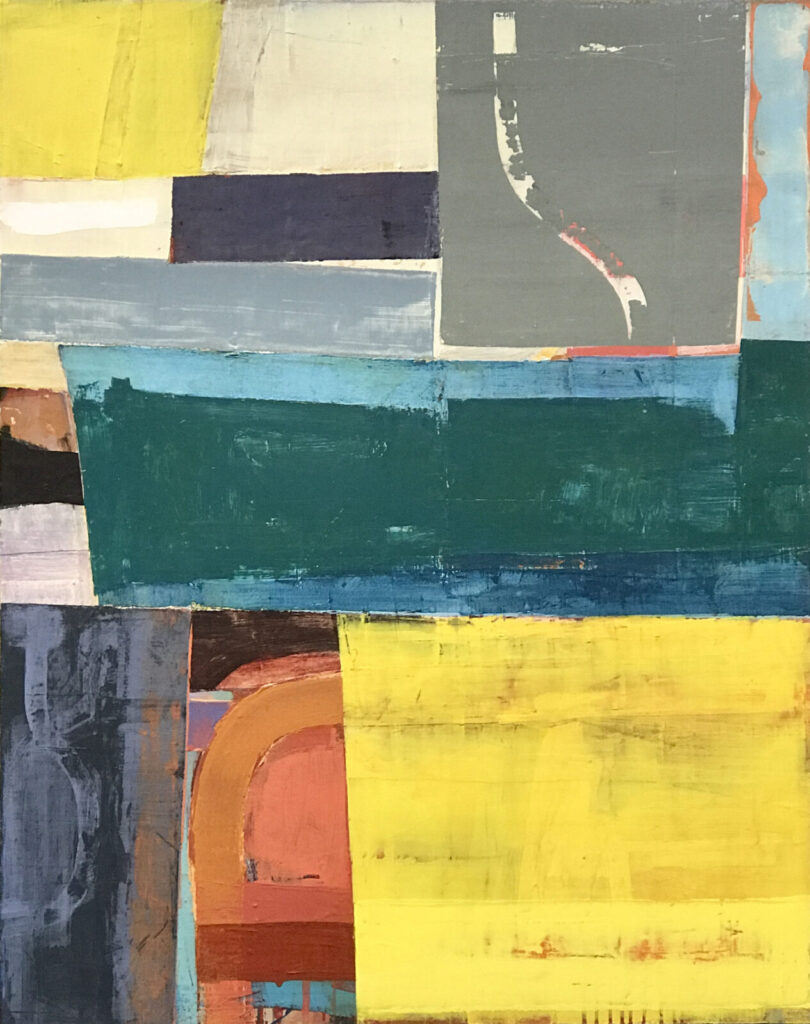 Adams admits there's a bit of a mapness in most of the work but it frees him to explore and push boundaries, to let the landscapes evolve organically without concern for traditional perspectives and literal references. While this approach may be disorienting at first for some viewers, he hopes they, too, will be less literal and invites them to see it as metaphor and understand it as the visual language he intends it to be, a language of discovery. The beauty and the mystery of the abstract is in not having it spelled out for you.
The star of the show is undoubtedly De Stael, the last to be completed and hung, and the first to be sold almost before the paint dried.
De Stael was a mid-century modernist who lived in a hilltop village in Ménerbes and whose art became known for its distinctive impasto style. Adams asserts De Stael has always been an influence on his work and this painting is dedicated to that influence. As happenstance would have it, there was a retrospective at a nearby hotel in the Vaucluse area where Adams was staying. The highlight of the evening was getting to meet and speak with De Stael's son.
"That exhibit changed my whole mindset. The light in his paintings was very Provençal with very thick blocks of color." This was the "aha moment" that precipitated Adams' dramatic change of direction. Although he is not emulating De Stael, Adams layers his canvases and uses vivid colors and minimal detail that convey the essence of his vistas and landscapes from an arresting improvisational and intuitive vantage point.
The philosophical, theoretical, and ideological played a large role in Adams' earlier work. In this show, they do not. Traces, in every sense of the word, relies on the experimental, the empirical, and the visceral for its impact. It is, in short, thoroughly heuristic.
Adams knows that not everybody will like his new work. Even a couple of galleries that have long represented him have already expressed reluctance to display the paintings. He was their "landscape guy" and these don't quite fill the bill or meet their expectations. If that remains the case, he will move on without them.
When I asked him where he goes from here, he replied, "I'm on a journey and I can't go backwards. The real challenge for me is to stick with my guns, not get off my path, stay here because I'm very happy here, even if it makes some people not happy."
Traces remains on exhibit through November 2, 2019, at New Editions Gallery at 500 W. Short St., Lexington, KY. Phone: (859) 266-2766. Gallery hours are: Tuesday thru Saturday from noon to 6pm.
Email: info@neweditionsgallery.com
All images of artwork were provided by the artist.