Three Lexington artists are helping Lexington's Urban County Government communicate with the public it serves. The Civic Artist in Residence program (CAIR), a yearlong project of CivicLex in partnership with the city and the Bluegrass Community Foundation, has selected their trio of artists. Standup comic and actress Debra F. Faulk, filmmaker Anthony Alex Gilmore, and quilter and textile artist Hannah Allen will work with three different city departments to conceive and execute artistic projects with an emphasis on problem-solving.
Each of the artists – selected by an advisory panel from 56 applicants – will spend the first three months embedded in their city departments, learning about its workings. That will be followed by three months of identifying problems and potential solutions, then by an additional six months to plan and create their artistic projects. "The idea is to use the creative processes that artists uniquely have to try and impact how our city functions, how it engages residents, how it looks at itself," says Richard Young, executive director of CivicLex, a non-profit group that encourages civic engagement. "They'll be working with those departments to identify issues and then come up with creative interventions that can address them."
Faulk, 53, is a professional comedienne with a long history of using theater and comedy to address social issues including racism, gang violence, and drug addiction. She performs across the commonwealth in "Nancy Green: Being Aunt Jemima, the Pancake Queen" as part of Kentucky Humanities' Chautauqua series. Faulk will be embedded at the Social Services Department's Family Care Center, which serves teen mothers. Gilmore, 43, is a maker of documentary and fictional films about Asian-American issues and other topics that have been screened at film festivals around the world. He will be focusing his lens on the Department of Environmental Quality and Public Works, which handles waste management, traffic engineering, and other city functions. And Allen, 31, who contributed to the Rita's Quilt project displayed in Paducah's National Quilt Museum last year, will be attached to the city's Finance Department, which manages the city budget.
Each of the artists will work about 15 hours a week and receive a stipend of $15,000, funded primarily by a grant from the National Endowment for the Arts. Although they're just at the beginning of their discovery period with the city departments, the artists already have ideas starting to percolate in their minds about possible approaches to their work.
Faulk, for example, is keeping her creative options open – her work will clearly involve performance of some kind, but it might be comic or dramatic (or both), scripted or improvised (or both), and may or may not end up on an actual stage – but she's clear about her primary goals and messages while addressing the unique challenges of very young mothers. "I'm going to be working with these teen moms that have been written off," she says. "I meet people where they are, and what I want these moms to know, what they end up walking away with after being with me, is that you are worth it, you are worthy, and now let's come up with a plan. Sit down, Mommy, bring your baby in, and let's all figure this out." To that end, she says, she will work with the young women to discover their strengths, and then help them unify and gain greater strength for a common purpose – an approach that's at the heart of an improv game she invented called Potluck. "I'm good at figuring out what people are good at and then bringing them together," she says. "If I find that you're really good at meats, and she's good at desserts, and he's good at vegetables, and she's great with decorating, we can all come to the table and have a fabulous meal."
For his part, Gilmore expects to make a film, but it could be either documentary or fiction, or possibly something else altogether. "Everyone would be expecting a documentary, but trying to script and shoot a fictional story that deals with real-world problems and things that the community could learn from – I think that would be fascinating," he says. In the meantime, Gilmore is compiling a running list of creative possibilities, including an innovative approach to the workings of street lights. "I'd have to talk to the engineering team, but I assume that the lights have some sort of control, and one thing that I've done many times is projection mapping [a technique that transforms buildings and other objects into display surfaces for video projection]. It might be interesting to have a streetlight light show in different places around the city, maybe with music, with the lights beating to the rhythm of the music. Maybe we bring in some speakers and do a dance party, I don't know. I think it could be really cool."
Of the three artists, it's Allen who's been given the least obvious city department pairing. "My family and friends have been asking me: What the hell are you going to do with quilts in the finance department?" she says with a laugh. "But actually a lot of quilting is math – which is hilarious, because I failed every math class I've ever taken – and quilting is very graphical in terms of that. I don't want to be too literal in terms of what I'm trying to do, but remember in grade school you had Tangrams, little plastic shapes that helped you understand fractions? Maybe I could use quilting as a form of that." Another possibility is a series of quilts that relates to the city budget. "No citizen is going to say, I'm going to go out and read all 1,000 pages of the city budget," she says. "So how can I graphically and artistically represent the important aspects of that document in an approachable, very cozy, very loving, hospitable manner, rather than a 1,000-page PDF? The budget will be incorporated, somehow, but not the way you would think. I do a lot of fabric manipulation, natural dying, and sometimes include embroidery and traditional textile work. But it won't be what you think it will be. I don't even know if I know what it'll be."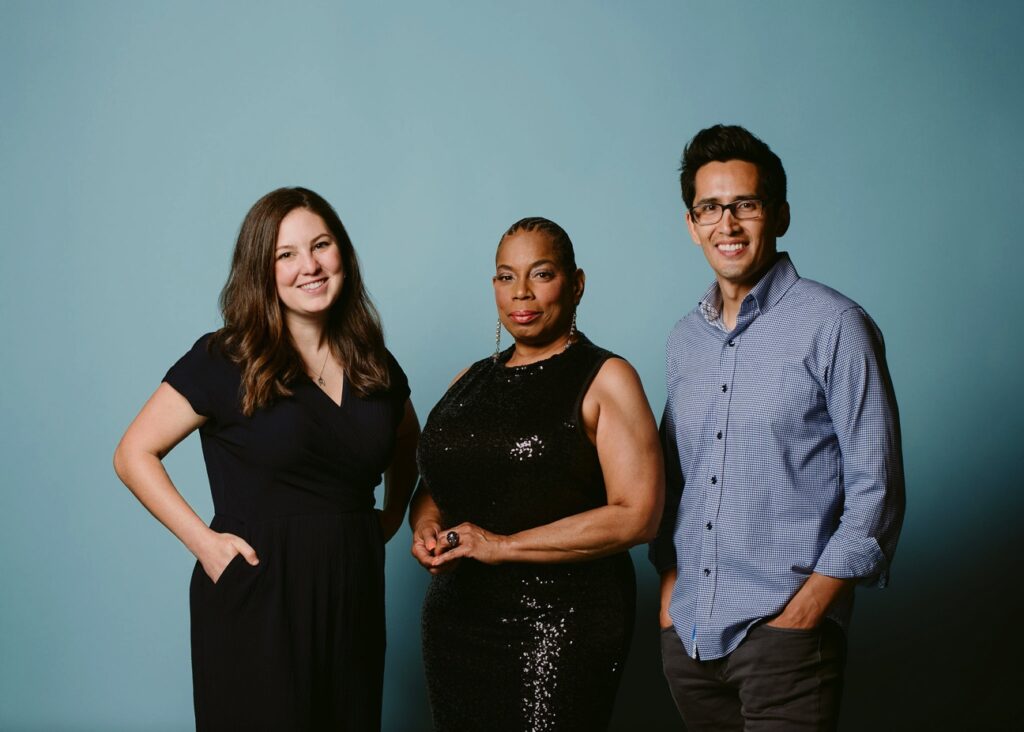 Lexington's civic artist residency program is modeled after similar projects in cities and rural areas around the country over the past several years. Those programs have identified and addressed city functions such as the accessibility of public meetings in St. Paul, Minnesota, and the regional planning process in Blacksburg, Virginia.
Other artists have come up with creative responses to social issues such as homelessness. "In one case, the artist worked with folks inside city government to do theater where they put themselves in the position of someone who's homeless, and actually worked with people in the community that don't have a home, to deliver services in a better way," Young says. "The goal is to find a creative way to communicate and connect that takes some of the contention and the formality out of how city government works, a way that's much more human and more authentic than what our bureaucracy does."
At this early stage, it's unclear what form the artists' works will take, what their messages and audiences might be, and how or whether they will be presented to the public. If the artists end up producing works in traditional formats – a play or an evening of standup comedy in Faulk's case, a film in Gilmore's, fabric art pieces in Allen's – there might be a public performance, a screening, an exhibit. But the end result of the artists' work could take different forms that might not lend themselves to the usual modes of sharing.
"What might come out of this is a piece of work that people can look at or participate in – that's one way it could happen – but there are other things that could come out of it, instead," Young says. "Maybe Hannah's work with Finance doesn't take the form of a piece of art. It could be something that is more systemic and throughout the department, maybe a new activity. Maybe Tony will make a film that we can show at the Kentucky Theatre, but maybe it's not that. Maybe it's a series of video monologues of different folks across different divisions within the department talking to each other about why they care about their work, or what they're having trouble with. Maybe Debra will create an actual theater work at the end, or maybe it's a series of workshops for young moms to help them process the things they're going through. What we're trying to do is provide a canvas for these three artists to do what it is they do. Fortunately, we have the kind of relationship with the city that they could accept such a radically open notion."
Heather Lyons, director of arts and cultural affairs in Mayor Linda Gorton's office, said she welcomes the artists and their exploratory process. "I don't think any of us knows what the end result will be, but I'm really delighted by this opportunity for city employees…to benefit from some of the creative input they will get from the artists. I think it could be a deep look at social issues and how city government operates. It's also a fantastic opportunity for city employees to make the work they do understandable to the community – to communicate what they do and how they do it."