There are two Mark Lenn Johnsons.
The first and (at least locally) best-known Mark Lenn Johnson is one of Lexington's busiest, most beloved arts administrators. As president of Art Inc. Kentucky, a nonprofit arts incubator that offers professional development assistance to emerging Kentucky artists, Johnson presides over a sprawling operation that he envisioned a few years and has now manifested as a brick-and-mortar reality in Lexington's East End. Besides offering entrepreneurial classes on everything from social media marketing to how to set up a tax-compliant business, Art Inc. has expanded to include ArtHouse Kentucky, a gallery inside The MET complex at Midland & East Third that also has an online marketing site, ArtHouseKentucky.org; the Artists' Studios, a complex of workspaces for artists next door at 594 E. Third; and the Artists' Village, a nearby development that will eventually include 16 customized homes for working artists surrounding an oval green space that doubles as an art park and event venue. (Five of the homes, including Johnson's own, have been completed, with more in the planning stages.) Taken together, the ventures are an impressive and much-needed new resource, both for the local visual arts community and the predominantly African American, historically neglected East End neighborhood – much of the credit for which goes directly to Johnson.
That Mark Lenn Johnson, who's indifferent to whether his middle name is included, works primarily during the day. The other Johnson, a glass artist and internationally exhibited art photographer who always uses his middle name, is a committed night owl.
Johnson the Artist often toils late into the evening at his home studio in sessions that typically start at 9 or 10 p.m. and continue until 2 or 3 a.m. Sometimes he makes glass beads for jewelry, molding each bead with a blowtorch. More often he makes exquisite glass bowls in gracefully flowing, vaguely aquatic shapes, flecked or streaked with luminous ribbons of color that float suspended in their translucent medium like light penetrating the depths of an ocean. Starting with a fine powder called glass frit, he creates flat glass discs and fires them in a "warm" kiln (around 1,500 degrees Fahrenheit) for about six hours. Over the course of several subsequent firings, he applies the various colors, using a grinder to smooth out edges. In the final firing at up to 1,200 degrees, the discs soften, droop and conform to molds that give them their distinct shapes, often featuring undulant wings that suggest butterflies, manta rays, or the scalloped edges of shellfish. "His glass pieces are amazing," says Lexington painter Cheryle Rhodus Walton, who works with Johnson part-time at ArtHouse Kentucky. "His colors and movement bring life to these 3-D objects. They're like living sea creatures, breathing and moving slowly and majestically through the space they occupy."
Some other works refer more abstractly to human movement and connection. Examples of the latter include several kiln-formed pieces on view as part of "We … Meaning Black Men," a group show with Kenneth Burney, Kiptoo Tarus, LaVon Van Williams, Jr., Frank X Walker, and Patrick J. Mitchell at the Lexington Central Public Library that continues through January 15. "Jazz," part of Johnson's Dancer series, captures both a sense of improvisational flow and, with the help of lighting that leaves a flaring skirt of dappled color at its base, a dramatic, even theatrical presence. And "Sole Azurro," part of the artist's Tramonto Siblings series, features two smaller bowls nestled inside a larger one that suggests a protective family unit.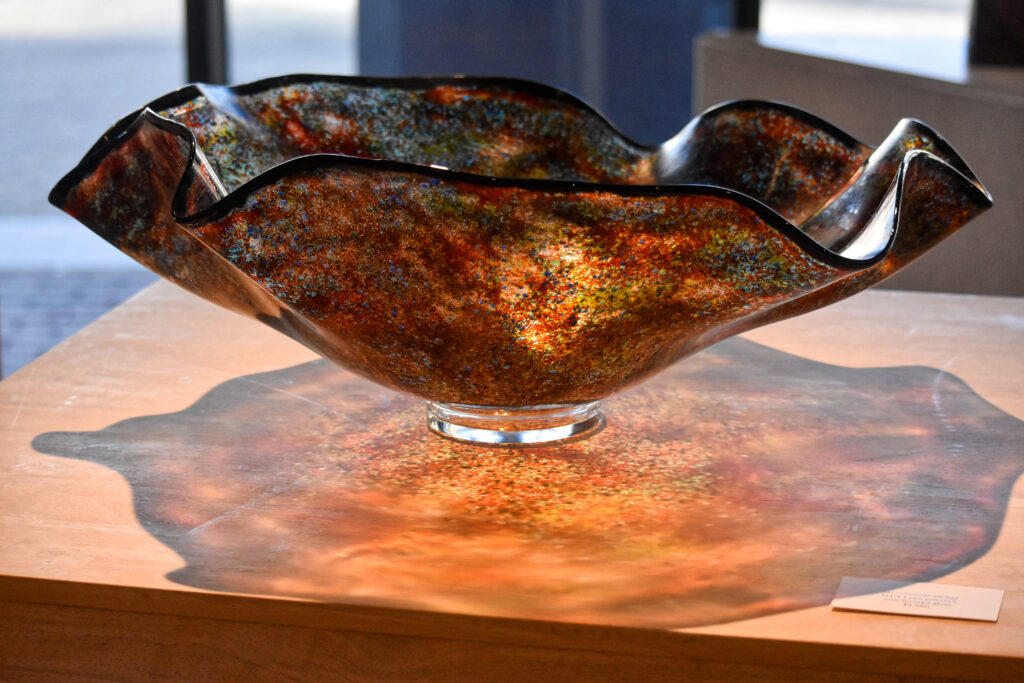 On some of his late-night creative spurts in his studio, Johnson turns to photography, using his glass pieces as trippy, Technicolor backgrounds for two-dimensional images of drops of water crashing into pools, creating whirlpools or kicking up backsplashes that look like fountains or, perhaps inevitably given the medium, dolphins' fins or the flukes of whales. Images from Fountainfalls, as this series of photographs is called, have been exhibited as part of group shows in New York City; Florence, Italy; and at the Carrousel du Louvre, an underground shopping complex underneath the Louvre Museum in Paris. The series can be viewed on Johnson's Instagram account, and the artist is working on a collection of the photographs (of which there will eventually be about 125) in book form.
There are several reasons for this second Johnson's nocturnal work schedule. First, it's the continuation of habits formed years ago as the single father of two young sons who needed quality time, and occasional help with homework, from their dad. (Both sons are now in college.) Most important is the simple fact that no other times are available, as most of his daylight hours are consumed with helping other artists' careers.
Wouldn't one Johnson like to sideline the other? Not at all.
"From time to time I wish I had a little more time to do my own work, but ultimately I don't think I would do anything different," Johnson says in an interview at his studio, where his two highly spirited dogs, a Siberian Husky named Koa and a Jack Russell/Chihuahua mix named Picasso, keep him company. "I've received some blessings in my career as an artist. Some people in the art world took notice of my work, and I'm trying to pay that forward. Along the way, hopefully, I help some artists and provide them with some opportunities as well. I'll fit my own work in there as I can. But right now, I'm doing exactly what I want to do. If I had a blank sheet of paper, this is exactly what I would have written for myself."
Johnson the glass artist got his start just over a decade ago when he became fascinated by the work of the prominent Kentucky glass artist Stephen Rolfe Powell, who founded and maintained a studio at Centre College in Danville and died in 2019. "I'm a huge fan of color, and his pieces were incredibly colorful and different from any glassmaker I'd ever seen," recalls Johnson. "I met him on several occasions, and he gave me some feedback on my work that prompted me to keep going. I started making glass beads, then got into hot glass, concentrating on glass bowls."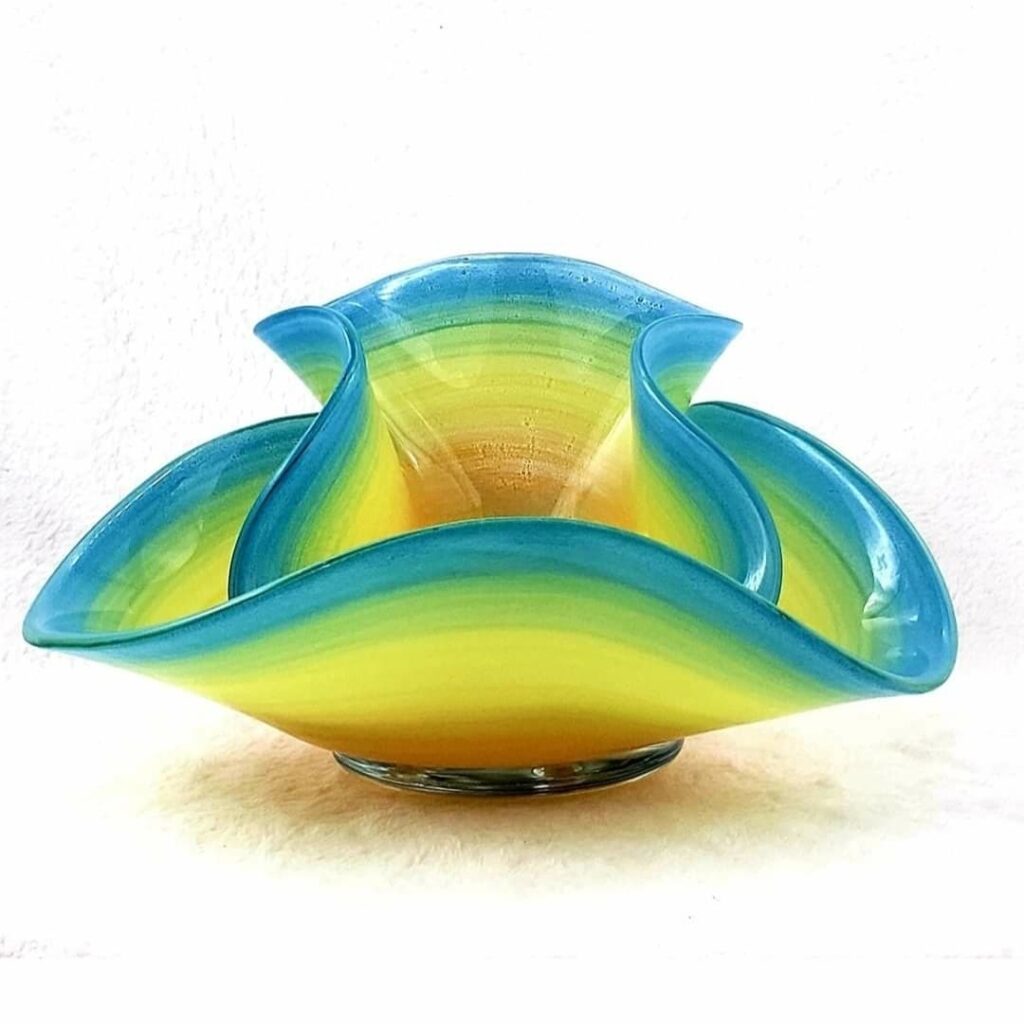 Johnson trained in glass blowing with one of Powell's students, Brooke White, Jr., in Louisville, and expanded his influences to Dale Chihuly and, most important, one of Powell's idols, the glass maestro Lino Tagliapietra of Murano, Italy, now in his 80s. Johnson's early glass bowls drew inspiration from an unexpected source: graffiti, especially the layered, often neon-hued work by taggers that he'd seen during a trip to New York City. The resulting pieces, examples of which have been seen on exhibit at the Pam Miller Downtown Arts Center, the Kore Gallery in Louisville, Completely Kentucky in Frankfort, and currently at ArtHouse Kentucky, are explosively colorful, with emphasis on splashes of deep blue and harsh red, in the manner of street art and the most masculine strains of Abstract Expressionism. "The way I applied the colors in those pieces was rough, rugged, harsh, even jagged," Johnson says. "In my mind, it was representative of graffiti."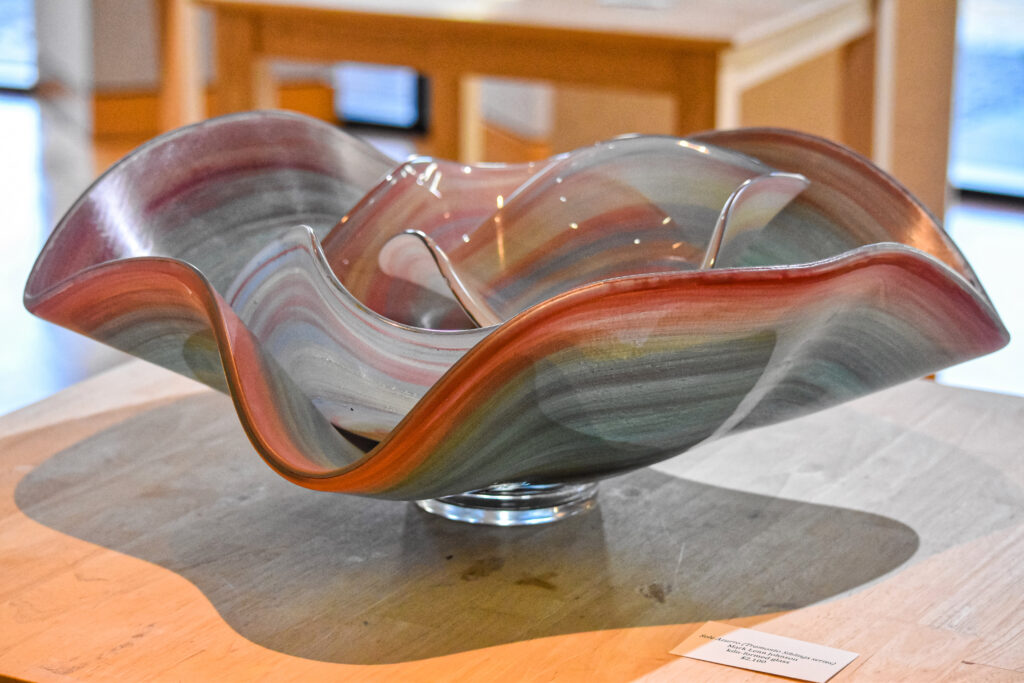 In his more recent series, Tramonto (the Italian word for sunset), Johnson's palette has become quieter and more controlled – the muted blues, lime greens, and pale pinks of a serene sundown often hum and harmonize – and more delicately, precisely placed. There's a refinement here, a serenity suggestive of a mature artist now in his early 50s, his brash youth increasingly behind him. Slender, affable, and soft-spoken (he's often described as "unassuming"), Johnson always appears casual yet elegant in his laid-back uniform of jeans and multilayered shirts, often set off with beaded necklaces and/or bracelets he makes himself; as a jewelry designer, he's one of his own best models. "His bowls are my favorite, even though I own some of his handmade jewelry," Lexington painter Lakshmi Sriraman says. "I'd love to be a fly on the wall and see him make those beautiful glass artworks. And I'd love to collaborate with him sometime and make partner pieces to go with his glass creations. Someday."
Johnson's artistic career developed an unexpected offshoot in 2015 during an art experiment in his kitchen with his two sons, Matthew and Mackenzie, then 12 and 13. "I wanted to expose them to as much as possible in arts and crafts," he recalls. "We had some food coloring and started putting drops of it, two or three colors at the same time, into a fishbowl, just to see what watercolor does. We were just having a good time, but one thing led to another and I started taking some pictures of their creations, which turned out kind of interesting."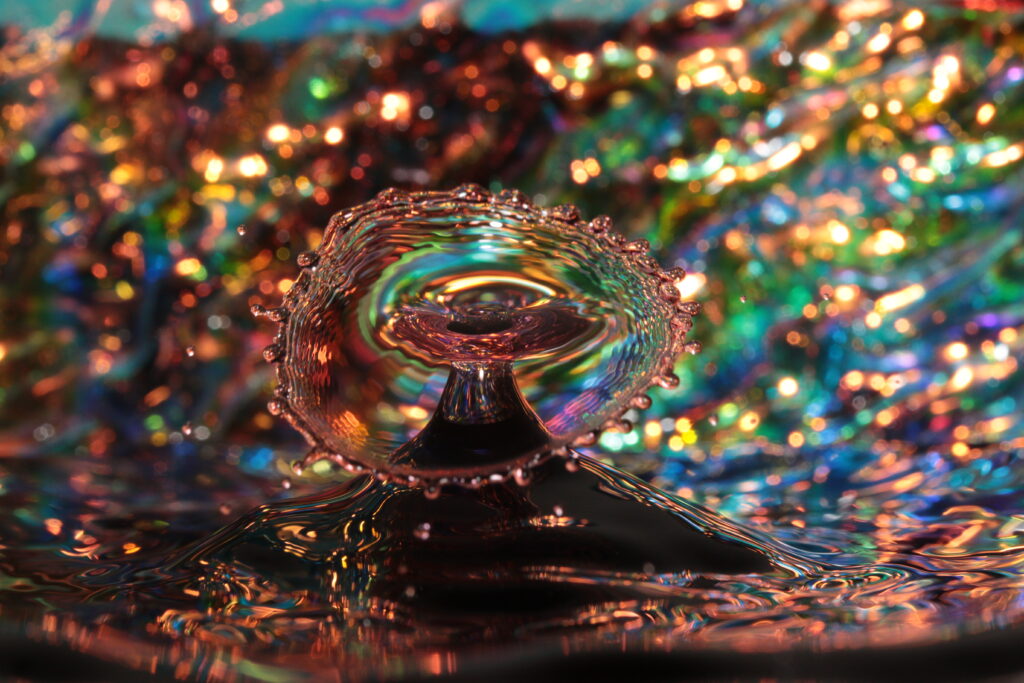 The first, experimental series of photographs, which Johnson called Colorswims, gave way in time to a second, more intentionally manipulated series, Fountainfalls. Taking the fishbowl concept into his studio, Johnson added a better camera, a high-speed macro lens, and a lighting kit to the process, repeatedly photographing the immediate aftermath of a drop of liquid landing in a pool of water, producing an up-slash that could resemble mountains, volcanic eruptions, or storms at sea. In an epiphanic moment, Johnson began using his colorful glass bowls as trippy backgrounds for the now psychedelic, phantasmagorical photographs. "I wanted my glass to be part of it, to be incorporated into this new art form," he recalls. "At first I was shooting against a gray wall, which I didn't really like. I started using broken pieces of glass just sitting around in my studio, then went to the full pieces that I'd worked on. And I just loved what the end result came out to be."
So did several other people. Soon after Johnson began posting some of the Fountainfalls photographs on Facebook, the editors of Artblend Magazine invited him to exhibit a half-dozen prints along with work by other artists at Art Expo 2016 at New York's Pier 19. That in turn led to more Fountainfalls images – all of which are given unusual women's names – being included in the Paris and Florence group shows in 2017, both of which Johnson attended in person. The editors of ArtTour International magazine were so impressed by the Fountainfalls series that they named Johnson one of the sixty best contemporary artists in the world. "It was a pretty amazing, pretty phenomenal moment for me," he recalls. "I met people from all over the world, which I still think was a pretty cool thing."
Johnson still considers himself first and foremost a glass artist, "even though I've had more notoriety and recognition from my photography work," he says. He makes no large claims for his art, focusing simply on the crafting of beautiful objects. "I don't really apply a meaning to any of my work," he says. "Given the world we're in, I just try with my work – whether it be my glass, or my beads, or my photography – to elicit a positive response with someone and give them a moment's peace, a moment of pleasure in this world. It doesn't necessarily speak to social issues or anything like that. With everything going on, I just hope that my work gives someone a little happiness in their day."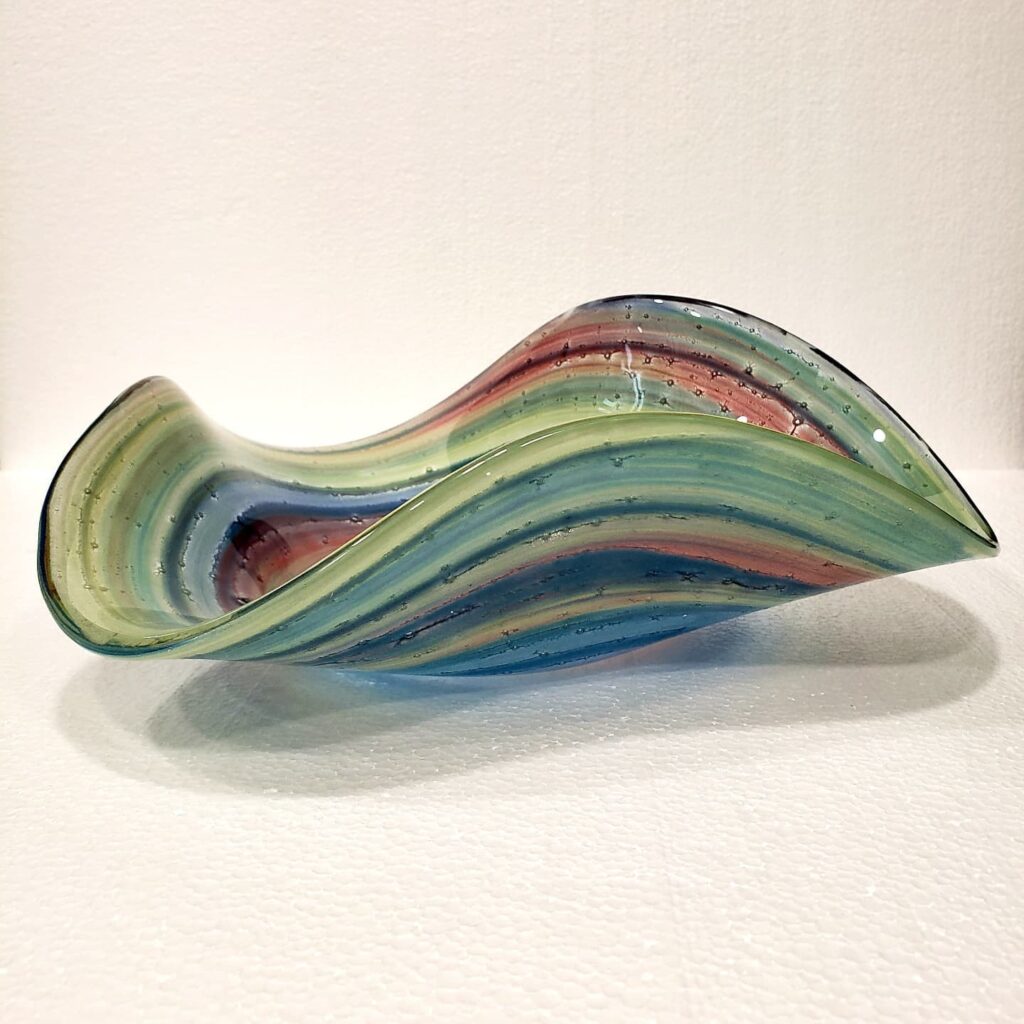 Johnson the Arts Administrator, based specifically in the East End, has his roots in the neighborhood. He was born there, growing up on Fifth Street as the son of a math professor, and maintained ties to the area throughout his schooling at the University of Kentucky (where he majored in mathematics) and his career in banking and the Kentucky state government, where he worked in the small business services division. Eventually, he found his way into a position at Community Ventures, a 40-year-old nonprofit known for working with Kentuckians to purchase their own homes and help them start businesses. The corporation had started several small-business incubators, including Louisville's Chef Space, for entrepreneurs who want to get into the food industry. About five years ago, Johnson – his own artistic career gaining steam – began to wonder whether Community Ventures could do something similar for artists in Central Kentucky. "The typical artist, they're great at what they produce," he recalls about his thinking at the time. "But when it comes to the business side of things, that's where they need a little bit of help."
Community Ventures president and CEO Kevin Smith greeted the idea with enthusiasm. "Mark is so humble that he had worked for me for ten years before I even knew he was an artist – not just an artist, but a world-renowned artist," he says in an interview. "That blew my mind, and once I learned that he was interested in working with artists in a business context, I was all for it. You don't find many artists of his caliber plus the business acumen that he has. He knew what was needed, and he has grown it from there."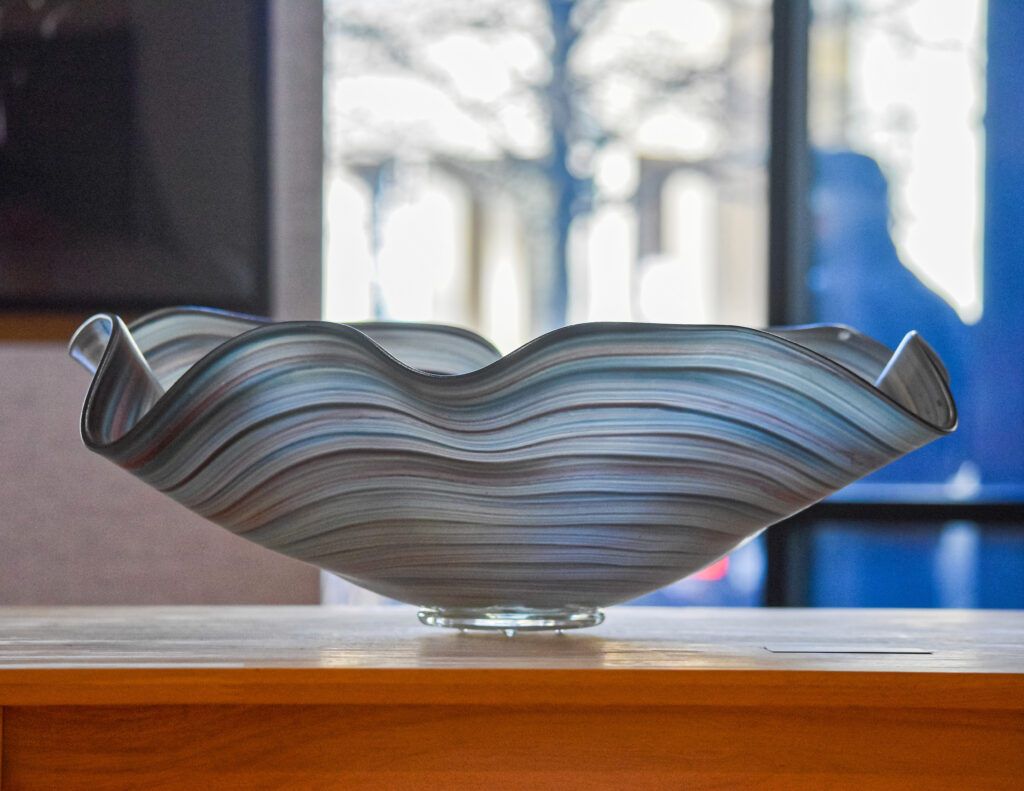 With Smith's blessing, Johnson launched Art Inc. Kentucky, which began as an educational resource, offering classes for artists on how to price their artworks, how to set up an LLC, how to work with art galleries, and so on. Those classes proved invaluable to many artists from around the commonwealth, many of whom used the information to successfully navigate the substantial application process for Kentucky Crafted, the Kentucky Arts Council's annual juried showcase that offers local artists a crucial, often career-making program in which to develop, market, and sell their work.
"I came across Art Inc. in the very early days of my painting career, which was great because I knew I wanted to take my artwork to the next level but had no clue how to do that," Sriraman says. "I credit Art Inc., and Mark personally, for my early success. I applied to Kentucky Crafted with his encouragement and guidance, and getting juried into the show opened so many doors for me."
Walton had a similar experience with Kentucky Crafted. "I had just about given up even trying to apply, because I was sure I would not be what they wanted," she says. "Mark encouraged me to go for it, and even spent a couple of hours one afternoon helping me get all my ducks in a row and figure out all the paperwork that goes along with it. He was the driving force behind why I'm a Kentucky Crafted artist now."
After a while, Johnson began hankering for additional ways to help artists market their work. "All the education in the world is great, but artists need a way to take that education and turn it into income," he says. At his initiative, Art Inc. launched arthousekentucky.org, an online marketplace for local artists. And when Community Ventures opened The MET in 2021, it devoted prime street frontage to ArtHouse Kentucky's physical counterpart, which received additional financial support from the Bluegrass Community Foundation on its way toward selling more than $100,000 worth of art in its first year – more than expected – despite the coronavirus pandemic. You can find Johnson there most weekdays in nearly constant motion, tirelessly working the register, chatting up visitors, meeting with artists looking to sell their work.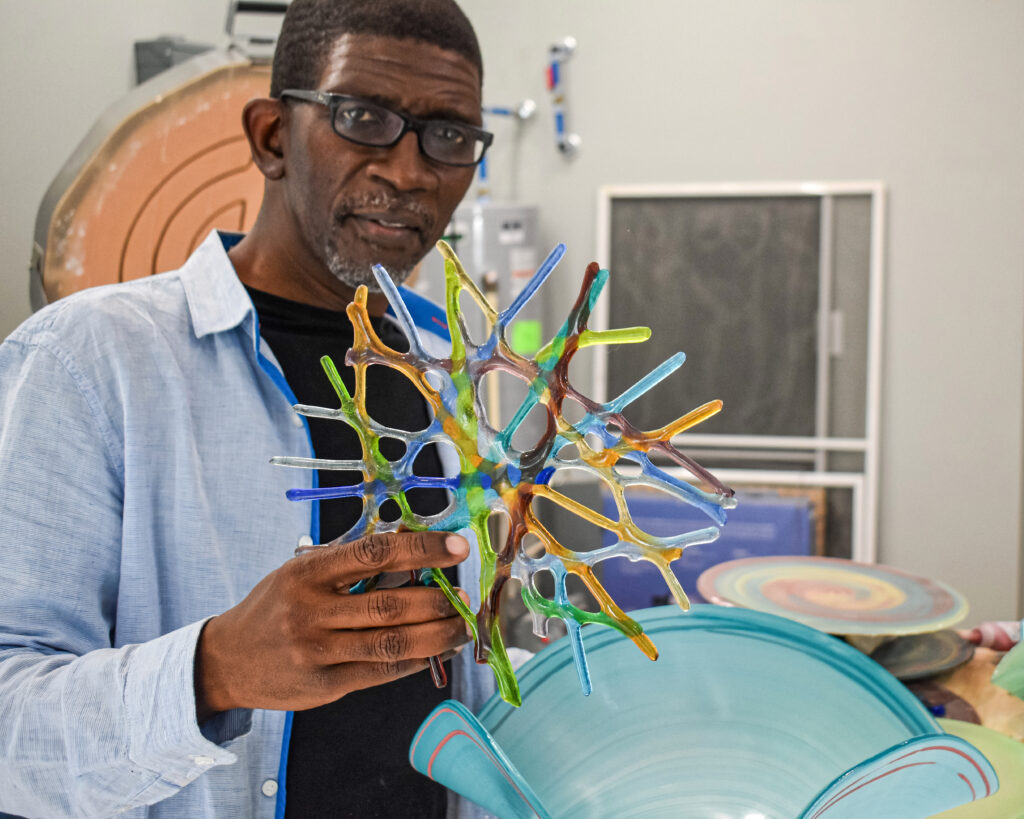 "Mark is the real deal, in that he means what he says and backs it up with actions," Walton says. "He has a great passion for the arts and artists and is always on the move. I asked him one day if he'd ever sat through an entire movie. He said yes, and I told him I would believe it when I saw it."
At the same time, also under the Art Inc. banner, the Artists' Studios – located in the upstairs space above DV8 restaurant across from The MET – is at full capacity with 16 studios occupied. "During the pandemic, artists were at home creating their pieces at the kitchen tables or in their basements, but they were starting to miss being part of a community," Johnson says. "So that's when the Studios came into being." And this fall, the Artists' Village held its first event in its central greenspace, which included a small art fair with booths, live musical performances, and visitors lining up at food trucks. A beaming Johnson could be seen strolling around the event with guests, pointing out special features and exuding satisfaction with a dream vision finally manifesting itself in his beloved East End.
"I think Mark's impact on the local arts scene is often overlooked and largely unrecognized, possibly because of existing perceptions about the East End," says visual artist and former Kentucky Poet Laureate Frank X Walker, who along with his family became the first resident of the Artists' Village and now has Johnson as his next-door neighbor. "What he has accomplished with the gallery, with the Artists' Studios and the Artists' Village, has transformed the face of Third and Midland and created an arts and artists' showcase that is unique in its inclusivity, equity-mindedness, and community accessibility. He comes across as an unassuming Clark Kent, but he is a real superhero to the East End and to Lexington. He may not have X-ray vision, but it was his artistic vision that convinced us to invest in and be part of what I still believe is a dream opportunity for artists to live and work in community."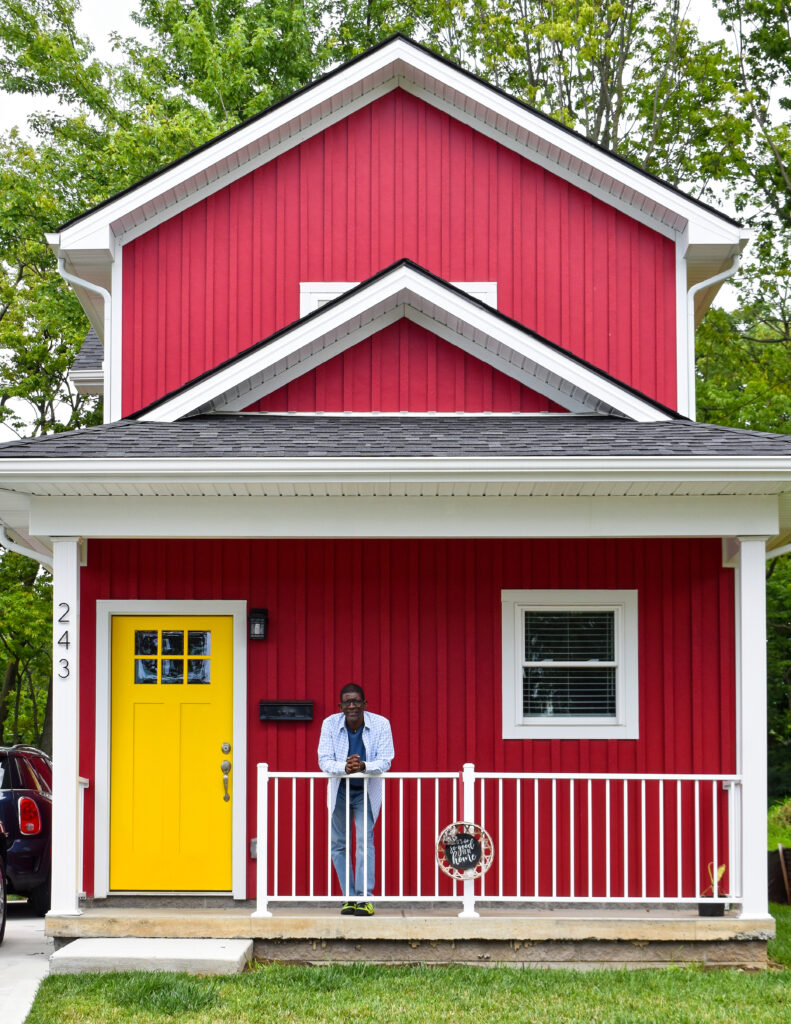 Sriraman is equally admiring of both Johnson's humility and the ambition that it has the effect of disguising. "Mark is rather unassuming, so it's easy to overlook his many accomplishments as an artist, as an art advocate, and as someone who has been instrumental in building a vibrant art community in the East End, but don't be fooled," she says. "Behind those smiling eyes is a keen sense of vision and a mind that is constantly working on manifesting that vision into reality. When I first met Mark, he showed me the plans of what stands before us as the Artist Village, the studios, and the gallery. It was an idea. He made that possible. His work has impacted and continues to impact many, which is the definition of a community leader, I would say."
It's testimonials like these that suggest why Mark Lenn Johnson the artist is willing to share time and space with Mark Johnson the arts administrator and community leader. Now nearing the end of his first year as a resident of the Artists' Village, two streets from where he was born in the East End, Johnson is a man in full, exactly where he wants to be in his life and his work, day and night.
Top image: Meri, Meaning Sea (Finnish) by Mark Lenn Johnson. This piece is part of the artist's Fountainfalls photography series, in which he uses a high-speed camera to capture drops of liquid as they fall into a bowl of water with his own glass bowls as colorful backgrounds. Image courtesy of the artist.