Do you remember the first time you went to your favorite local music venue, art gallery or theatre? Was there a sense of community palpable in the room among those individuals whose interests brought them together, if just for a few hours? Did you discover a band doing something different from what you had ever heard before? Maybe there was an artist whose work you have since come to fall in love with. Something must have kept you coming back until going there felt like coming to your second home. Perhaps you created a relationship that wouldn't have been possible without that one night at Al's or that thought-provoking conversation at the Parachute Factory.
The prospect of getting out of the house to participate in non-digital communities may be increasingly rare, but those who make the effort know that the reward for those unplanned experiences makes every effort and dollar spent worth it. These kind of memorable experiences are the ones that Infinite Industries wants to make more accessible and less rare for everyone who wants to be a part of the various subcultures in Lexington.
For me, it was when I went to the Parachute Factory, shortly after I moved to Lexington – my first year of college. I wasn't sure what to expect but found an art show that was more experimental than what I had previously been exposed to. (I was floored.) But I also found a place to talk and meet other creative people, and it felt like turning over a stone and discovering the existence of a whole culture I didn't know about before.
But I got lucky; I had met the right people who took me there that night. For those of us whose lives primarily take place around other creative people, we can rely on our network of artists, curators, writers and musicians to let us know about their projects and other artists on their radars. From this we build our evening and weekend plans, but this flawed system leaves people out, and inevitably events become forgotten in the web of information stored within our skulls. The result of this is a fractured art community. Programming is strenuously planned, just barely funded, and yet attendance is often lacking. This is exactly the reason behind the existence of a new start-up non-profit organization in Lexington called Infinite Industries.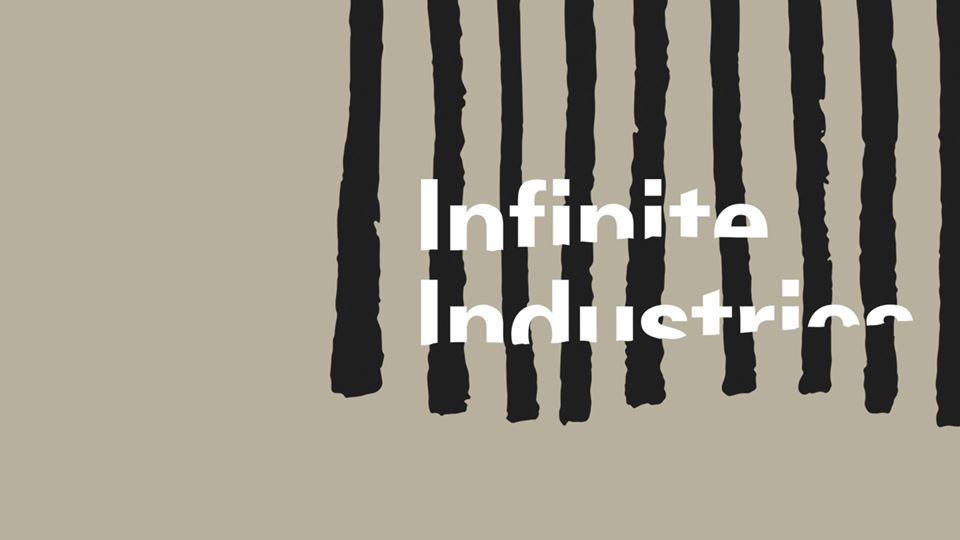 Dmitry "Dima" Strakovsky started Infinite Industries at the end of 2017. Dima is a studio professor at the University of Kentucky, a digital media artist, and has done curatorial work around the world. To Dima, Infinite Industries is the answer to fixing a fractured Lexington arts community. It exists as a website (Infinite.Industries) populated by several cards with information about local events in Lexington. The events featured are not the ones you are likely to see ads for, and the website shows only a curated list of upcoming arts and culture events in Lexington.
While there always seems to be something interesting going on somewhere in the city, the awareness of these events seem to extend only to particular groups specific to that venue. Thus his idea for creating a more democratic, welcoming and healthy artist community in Lexington is opening the lines of communication between the people looking for these events and those programmers looking for their audiences. No algorithms or paid promotions; these events are primarily from organizations without a large budget for marketing. Additionally, every time an event is entered on the submission form on Infinite Industries, this information is stored in a cloud database, documenting all the cultural happenings in Lexington in all their varieties.
The realm of the Internet has the potential to be used in a way to make places like art communities more democratic, but only with the right tools – like Infinite Industries. Marketing for events in places like Lexington primarily consists of posting the event on Facebook Events. The rest of the process is simply hoping that the people willing to take time out of their schedule to attend will navigate to the post at some point in their algorithm-calculated scrolling. Infinite Industries exists to offer an alternative to this process. They look to cater to individuals in Lexington that are interested in everything from jazz and folk music to EDM shows and experimental new media art shows.
Dima Strakovsky began his artistic career in Chicago, receiving his MFA from the Art Institute of Chicago. Working as both an artist and a curator, he has shown works and curated shows around the world, including Moscow, Beijing, Poland, Los Angeles, New York, Vienna, and Vancouver. Though, getting his career started in Chicago seems to be at the foundation of his curatorial philosophy and artistic practice. In my conversation with him, he explained how in his graduate school days, curating shows necessitated using various alternative spaces. This created room for everyone involved to experiment and learn.
These alternative spaces, coupled with the fact that the art scene in Chicago did not force artists to constantly push a specific brand or ideology, facilitated an art community based on experimentation and the exchange of ideas. It seemed like an obvious conclusion to draw that this experience has shaped the work he is doing with Infinite Industries. Because that is what it is about: Facilitating these experimental spaces in a democratic way so artistic individuals and the community as a whole may thrive.
To get involved with Infinite Industries, follow their social media accounts for updates on upcoming collaborations and/or events. They send out a weekly digest of upcoming events if email communication is your thing. There are also several venues around Lexington that may be displaying Infinite Industries stickers (designed by local artists) – feel free to take one! Don't forget to submit your event to the website for that extra exposure, and – as always – support our local artists and artistic happenings.