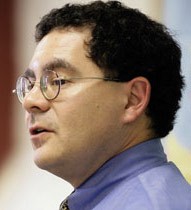 Ukraine is the scene of a rapidly escalating crisis that has raised fears of a military conflict. As world leaders push for a diplomatic solution, UnderMain launches a dialogue of local perspectives on this global event.
We posed key questions to Transylvania University History Professor Ken Slepyan, author of Stalin's Guerillas, an account of the Soviet partisan movement in WWII.
UM: Can you enlighten our readers on the relationship between Russia and Ukraine?
KS: Russia and Ukraine have a long and complicated history.  The first Russian state was actually centered in Kiev, the current capital of Ukraine.  The areas that comprise today's Ukraine have been at different times (and often simultaneously) a part of the Russian Empire, Poland, and the Austrian Empire.  Eastern Ukraine became part of the Russian Empire in the seventeenth century, while the West remained part of the Kingdom of Poland, and then the Austrian Empire.  The borders of contemporary Ukraine  were established only in 1939 (under the Molotov-Ribbentrop Pact when the USSR annexed western regions from a resurrected Poland).  Because of these varied histories, the culture, experiences, perspectives, and demographics of Ukraine are quite different from each other in the East, West, and South, with Western Ukraine pulled more towards Europe and Eastern Ukraine to Russia.  However, you can find many Ukrainian speakers in Eastern Ukraine, Russian speakers in Western Ukraine, and Ukrainians who speak Russian but identify with Ukraine rather than Russia.
It is also worth noting that in the Crimea, while ethnic Russians do constitute a majority of the population (a little above 50%), the significant Ukrainian and Crimean Tatar populations do not want to be a part of Russia.  The Russian majority was achieved, in part, by the mass expulsion of the Tatar population in 1944 based on alleged collaboration with the Germans, and the resettlement of the area by Russians.  (The Tatars have been returning in large numbers since the 1990s). Also, while it is a bit of an urban legend that Khrushchev "gave" Crimea to Ukraine on a whim in 1954, there are sound geographical reasons why the peninsula was administratively attached to Ukraine, primarily because of food, water, and power needs.
UM:Why should we care about what is going on in Ukraine?
KS: Ukraine is a country that is a bridge between the rest of Europe and Russia and  the Eurasian continent.  It has a culture and history tied both to Russia and Central/Eastern Europe and "belongs" to no country in particular.  We should also care that a sovereign, democratic nation be able to choose its own political course without being invaded by a neighbor who doesn't like the results when Ukraine poses no threat to Russia's existence.  It also important that the European continent remain stable and peaceful.  Ignoring Russia's actions will undermine this objective.  This said, Ukraine is more important economically to the countries of the EU than it is to the US.
UM: What are the Russian Federation's strategic interests in Ukraine?
KS: Ever since the collapse of the Soviet Union, Russia has deemed the "near abroad" (former republics of the Soviet Union) an essential part of its sphere of influence.  There are three main strategic concerns: 1. The control of the naval base at Sevastopol in Crimea, the headquarters of the Black Sea Fleet, and necessary for access to the Black Sea and the Mediterranean.  Losing Sevastopol and Crimea would be viewed by the Russians as a catastrophic strategic defeat (however, there is no credible indication that this was a real possibility) 2. The protection of ethnic Russians living in the near abroad, such as the populations in Crimea and Eastern Ukraine; 3. The establishment of a "Eurasian Union" consisting of former states of the Soviet Union, with Russia as its head, to serve both as counterweight to the European Union and to secure Russian hegemony in the region.  Also, perhaps less important, but also possibly a factor, Ukraine's heavy industry is located in Eastern Russia (although much of this industry is not up to world production standards).
UM:What are the United States' strategic interests in Ukraine?
KS: What happens in Ukraine is important but I hesitate to say that in itself it constitutes a vital American strategic interest.  As part of the deals to remove nuclear weapons from Ukraine, we are signatories, along with the Russians, to the integrity of Ukraine's borders.  It is not in American interests on principle for Russia to violate Ukrainian territorial integrity, and for the message that this sends to other Central/Eastern European nations and the other countries in Russia's near abroad.  Moreover, Ukrainians, especially in the West look to the US for support and we cannot take that role lightly.
UM: What are the realistic response options for the United States at this juncture?
KS: As I see it, American options are very limited.  I do not think that military intervention is a realistic option or even desirable option, given our lack of immediate bases in the region, the stretching out of our forces dealing with situations, and (not least!) the fear that this could escalate in a much more serious crisis between the US and Russia (both of whom still have substantial nuclear weapons).  The response will therefore have to be political and economic: isolation of Russia (such as not participating in preparations for the upcoming G-8 summit in Sochi, or boycotting them altogether), targeted economic sanctions, possibly aimed at the business community to put pressure on Putin from that direction etc..  It will be necessary to get support from the EU and other countries for these to be effective, but it is unclear how far these other states would go along with these, especially since many EU states remain dependent on Russian natural gas (as does Ukraine).  However, if Russia believes that securing/annexing parts of Ukraine are that important to it, then our responses won't be able to achieve much of anything, except as a signal to the Russians that we oppose this action.
However, while these measures may be necessary, we also have to remember that we need Russia's cooperation on other important national security issues: the disabling of Syria's chemical weapon stockpiles, our current position in Afghanistan, and continued pressure on Iran to deal with that country's nuclear threat.  We will have to be intentional as to what our priorities are in these areas with respect to Ukraine.