There are more connections between Osaka, Japan and Kentucky than one might probably expect. Firstly, the University of Kentucky has a very close relationship with Osaka's Kansai Gaidai University and has been sending students abroad there for decades. In addition to this academic connection, in 1985, following the victory of the Osaka-based underdogs of the Nippon League, the Hanshin Tigers, at the Japan baseball Championship Series, some rowdy Tigers fan removed a statue of Colonel Sanders from the front of a Kentucky Fried Chicken restaurant and threw it in the Dotenburi Canal from Ebisu Bridge, as an effigy to Tigers' foreign slugger, Randy Bass, who had helped carry the team.
This incident led to the "Curse of the Colonel", which is believed to have caused an 18 year long losing streak, which was not broken until the statue was pulled out of the river in March 2009. The statue was still missing it's glasses and left hand, but, nonetheless, the curse was broken and now all KFCs in Osaka have been ordered to bolt down their Colonel Sanders statues (especially when the team is playing well.)
Here is video of when they found the sunken statue.
While the connections are obviously there, most Kentuckians may only be aware of Osaka Japanese Restaurant in Lexington, but likely don't realize that there are 3 University of Kentucky themed restaurants, all called UK Cafe, in Osaka and Hyogo Prefectures.
[aesop_gallery id="13494″ revealfx="off" overlay_revealfx="off"]
When most people around the world, and in Japan, hear "UK", they likely think United Kingdom, but for the initiated Big Blue Nation fans, we undoubtedly think University of Kentucky every time. As a UK alumni and Wildcat fan, I decided to venture to western Japan to interview the owner of UK Cafe, Yoko Hirayama, who is from Osaka, and runs all 3 UK Cafe restaurants. She picked us up from Sakura Shukugawa Train Station on a rainy Tuesday in her Cadillac and told us her story.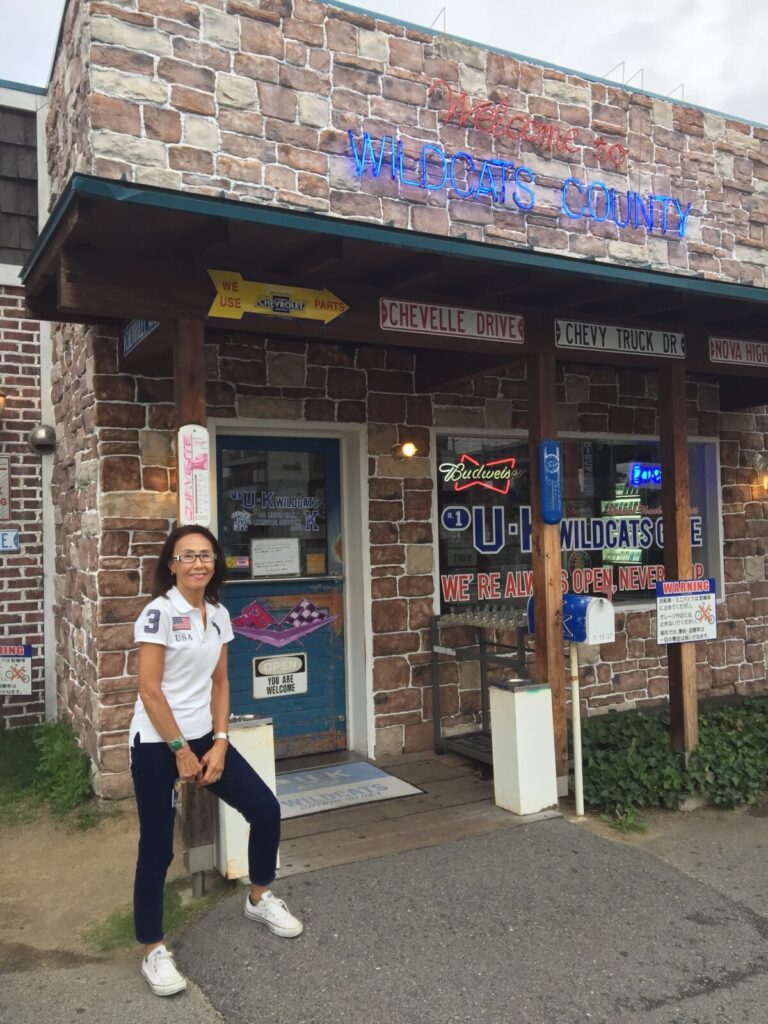 In 1979, Hirayama's husband went to the University of Kentucky for one year as an exchange student and was inspired by the American diner food that he had at student potluck parties. Initially, when he arrived, he didn't speak English and was very timid. While he was here, he started playing billiards and, through that, met some friends. When he came back to Japan, to settle back into the Kansai area, he wanted to start a diner that had similar "American Size Power Food" for other university students in Osaka who were in need of late-night high calorie meals. He loved the University of Kentucky and thought about naming the restaurant Lexington Cafe, but he ultimately decided on UK Cafe and that was the beginning.
The first UK Cafe opened up in Eastern Osaka in 1980 and, now, there are three different UK Cafe restaurants, including the second Osaka shop, in Sakai Ohama Nishimachi, that opened in 1992. and the most recent shop, in Hyogo Prefecture, opening in 2010. The menu is based on the travel experiences of the Hirayamas and their trips to Kentucky and every state in the U.S., trying specialty foods that they discovered on the way. They arranged these items, like Denver Omelets, to fit the Japanese palate and quickly gathered a large following of people hungry for good food, for a cheap price, and lots of it. In fact, people constantly steal their handwritten menus because of the stories attached to each item.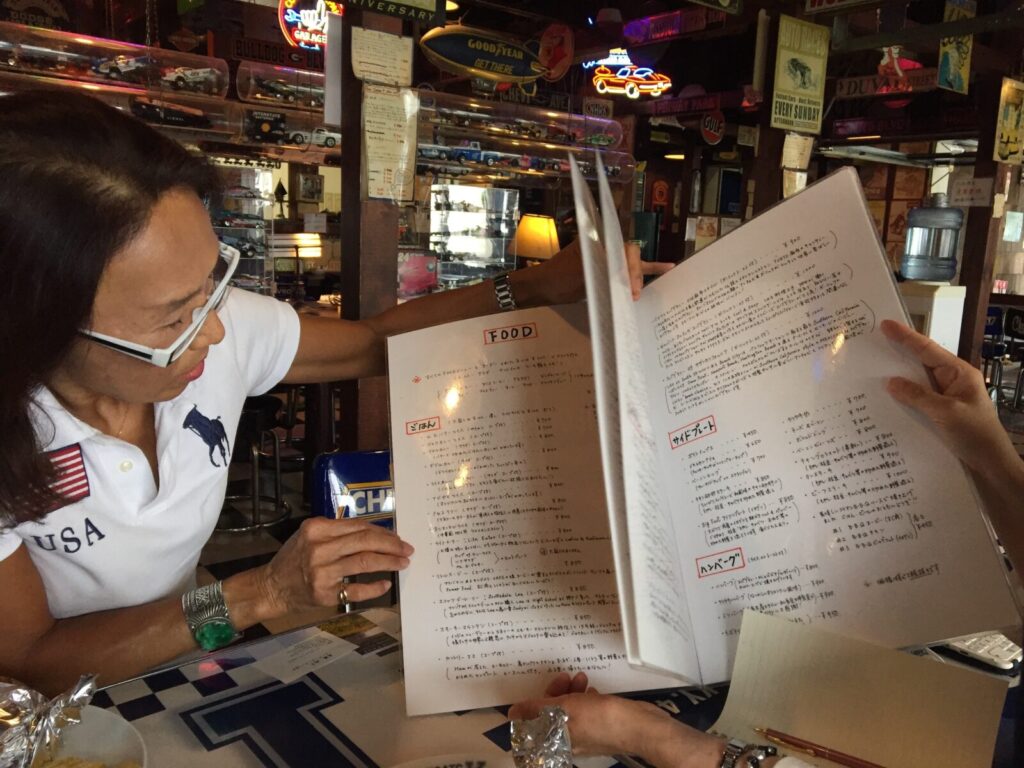 The menu is divided between main dishes, salads & sandwiches, breakfast & lunch, burgers, spaghetti, & omelets, desserts, and drinks. There are bourbon cocktails and there is a UK Special Sandwich, which is made up of potatoes, country ham, and cheese. There is also an item on the menu called Super Soul, that is a spicy Gyu Motsu Korean dish connected to former WLAP-FM Lexington radio DJ, Billy Love. Initially, they were open all night, 365 days of the year, but lately, due to a shortage of personnel from 3-8AM, they've been closing for a few hours in the late morning.
Before her husband's passing a few years ago, the couple visited Kentucky many times together and, when I asked Hirayama what her first impression of Kentucky was, she mentioned Kentucky's beautiful farms and it's unique fencing. The couple modeled the fencing in the front of the Hyogo Prefecture branch of the restaurant with the same type of Paddock Fence design motif. The couple also thought that Lexington was a beautiful university town that was very safe and peaceful and had a unique connection to Japan via Toyota and other Japanese businesses. The crowd at the restaurant is a mix of Japanese students, families,  and the occasional visitor from Kentucky. Hirayama told me that the UK Men's Basketball team has visited the Higashi-Osaka branch of the restaurant.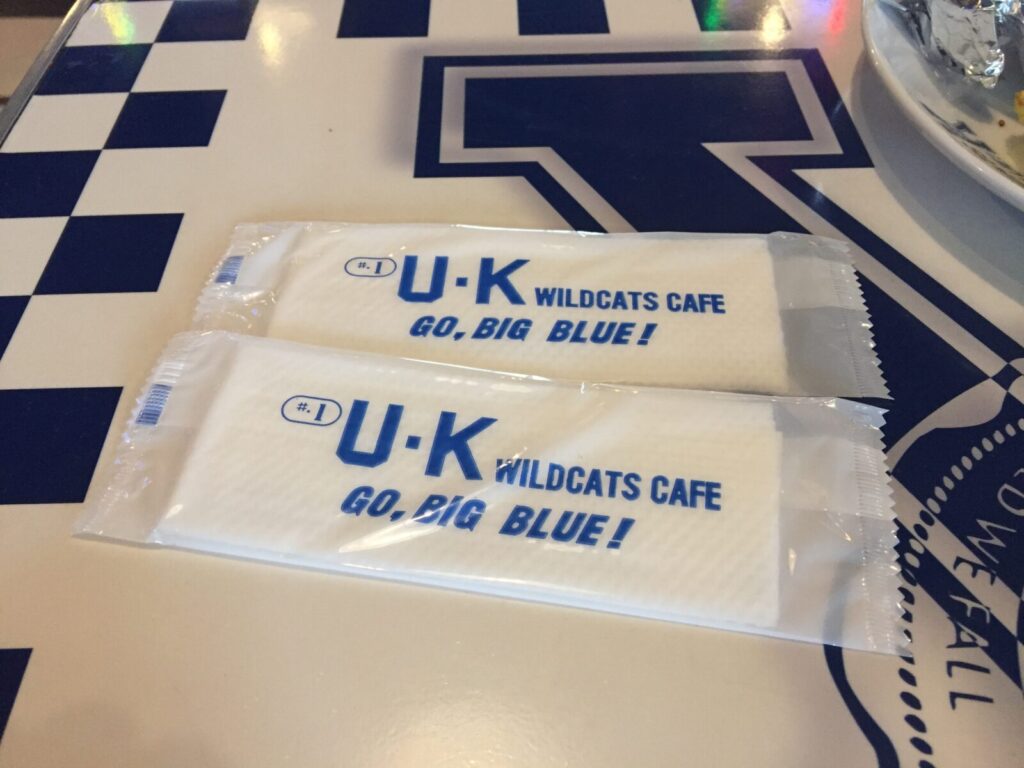 The restaurant is decorated with UK Wildcat posters, tables with the Kentucky state flag on them, and tons of model cars all over the interior. There is even a set of JBL speakers that play Bob Marley, The Doobie Brothers, Allman Brothers, Eric Clapton, and mostly southern classic rock. There is another special Kentucky item in the garage of the Hyogo restaurant, in the form of a 1963 Chevy Corvette Stingray split-window, which the couple bought in the US about 30 years ago and had it shipped to Japan. The car was her husband's favorite car, and he dreamed of owning one since he was in elementary school. A rare site,  even in the states, 1963 was the only year that Chevrolet produced these Corvettes with the split window in the back.
Some of the other items on their menu include a dish called "Goodbye Donkey", which is taking a jab at the generic Japanese burger chain restaurant, Bikkuri Donkey. There is also a dish called Mr. Trucker's Sandwich, which is a huge cheeseburger with onion, ham, and pickles, dedicated to very large Union 76 truckers that the couple met everywhere.
My friend from Gunma, Chef Shinya Matsubara of Tokiwakan, told me that while he was a college student in Osaka, he often went to the Higashi-Osaka branch and ordered the Good Bye Nagoya, which is a piece of miso-katsu-sauce-covered sinewy meat atop a pile of fried rice. When he was reflecting on his time there, and how many interesting canned American beers that they used to have, Shinya remembered that the cafe was relaxed, affordable, and gave you a lot of food; the perfect place to power up for a busy Osakan university student. However, when I asked him if he was aware that the theme of the cafe was based on the University of Kentucky, he said, "Honestly, most people probably think it's based on the United Kingdom, but I guess I was wondering, where are all the fish and chips?"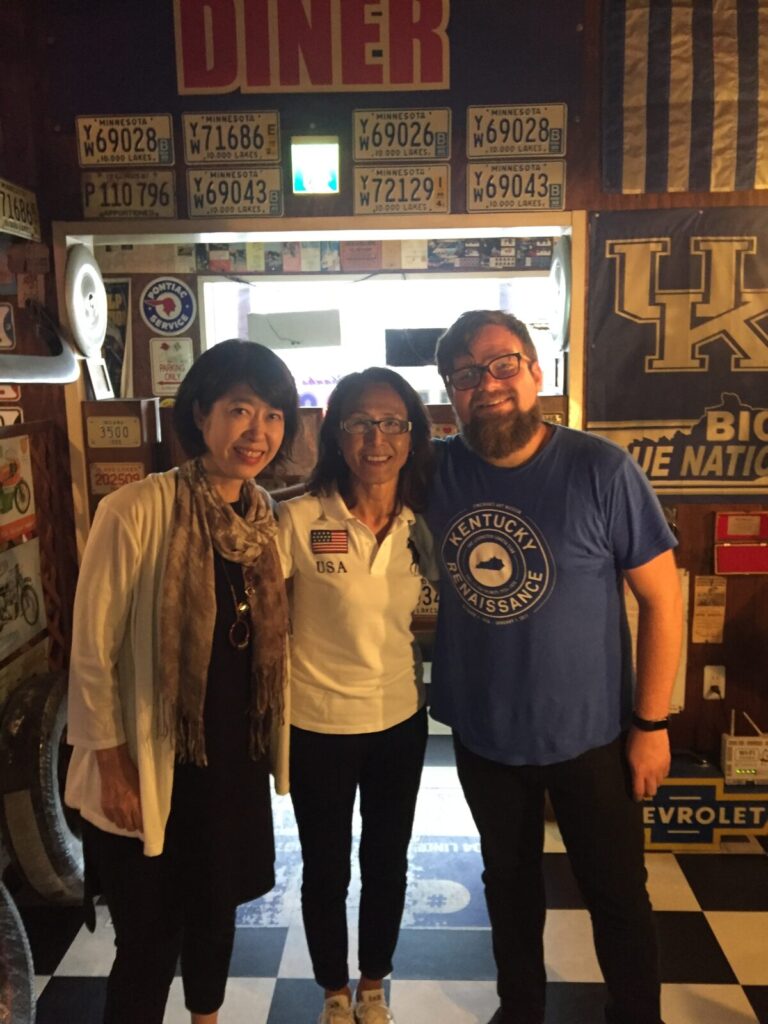 Check out my interview with UK Cafe Owner, Yoko Hirayama, with interpretation assistance from Junko Takahashi.
If you can't make it to Japan, you can visit UK Cafe's website at http://ukcafe.net
However, if you can make the trip, here is the information that you'll need:
UK WILDCATS CAFE – The larger shop with the 1963 Corvette in Hyogo Prefecture
西宮武庫川店 (Nishinomiya Mukogawa Branch)
1-15-27 Tsunematsu
Amagasaki-Shi, Hyogo-Ken 661-0046
Hours: Open 365 days of the year from 9AM-3AM
Link to the Yelp page: Here
UK WILDCATS CAFE – Honten (the original Eastern Osaka shop)
高井田店(Higashi-Osaka Takaida Branch)
5-4-30 Takaida-Nishi, Higashi-Osaka-shi 577-0067
Hours: Open 365 days of the year from 10AM-4AM
Link to the Yelp page: Here
UK WILDCATS Cafe – Southern Osaka location
堺大浜店 (Sakai Ohama-Nishimachi Branch)
23 Ohama Nishimachi, Sakai-shi
Sakai-ku, Osaka-fu 590-0977
Hours: Open 365 days of the year from 9AM-Midnight
Also, if you are from Kentucky, why don't you send them something nice? 🙂
Listen to a conversation with Chuck on WEKU's Eastern Standard: