The Master Musicians Festival 2018 sprawled over the sunbaked rolling hills of the Somerset Community College Campus. Food truck aromas followed the nose through booths offering crafts and tie dye t-shirts.  Good humored folks laughed and danced and sweated in the sun while an incredible line-up of musicians poured out hearts, souls and talents from the festival's pair of stages.
The Eastwood Stage stage, nestled in the trees down a slight hill from the big main stage where headliner John Prine would play later that Saturday, was home to the local acts that were performing between main stage sets. Hosted by Eastwood Records, the second stage gave "the little guys a spot down here in the valley," musician John Clay quipped when he opened his set.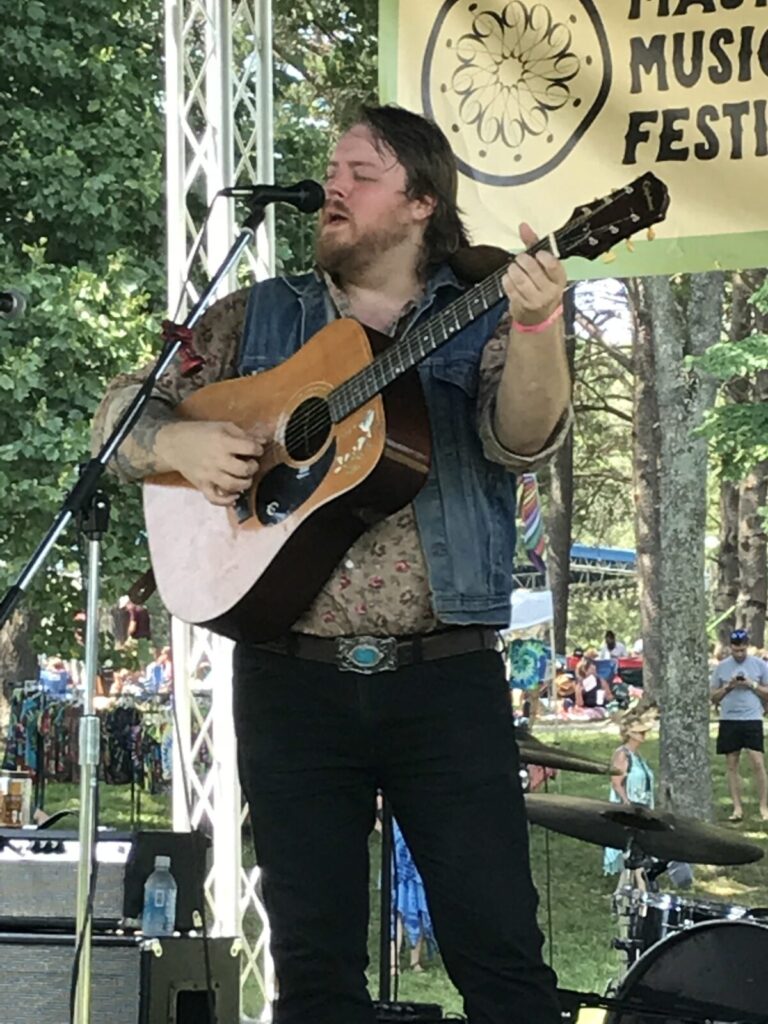 Since 1994, The Master Musicians Festival has hosted big names in Americana music on its stages for folks to enjoy. This year brought one of Kentucky's legends as headliner John Prine shared his bill with the likes of Amanda Shires, JD McPherson, The Dead South, Dawg Yawp, and many more. Some hot local bands shared the big stage with those names, including Joslyn and the Sweet Compression and Arlo McKinley and the Lonesome Sound.
But our attention was drawn to the second stage, a brilliant festival strategy of providing local artists opportunities to call attention to their offerings as set changes happen on the main stage.
This year's second stage hosted several Eastwood Records bands in addition to John Clay and the Boxwine Prophets. The lineup included Dave Ernst and the Early Favorites and Nick Dittmeier and the Sawdusters. They shared the stage with other local favorites, including John R. Miller, Coby Langham and the Citizen's Band, Eric Bolander Trio, Luna & the Mountain Jets, Bee Taylor, Magnolia Boulevard and the last night closed out after John Prine left the stage post encore with Reverend John & the Backsliders.
Wesley Allen founded Eastwood Records in Louisville four years ago, to honor his father, nicknamed "Eastwood" from his hometown of Eastwood, KY. In that time, he has come to represent some up and coming names in Americana within the mostly Louisville scene. Having a fond love for Louisville and Kentucky music, Allen "felt like it doesn't get enough attention and I wanted to be the guy who changed that and put that out there."
Listen to Cara's conversation with Wesley Allen
Allen's good friend Nathan Paul Isaac works in both camps, so the connection between the Festival and Eastwood Records was a natural fit. "I owe that dude a lot," Allen laughs. The opportunity to put his musicians on a bill with such a remarkable Americana line-up was a great choice to make. "It brings an amount of exposure that you would have to pay thousands of dollars for anywhere else. The fan base that comes to this festival is heavily Americana, so to have three of my top Americana bands get to play here and get represented at festival with somebody like Amanda Shires or John Prine, you would have to beg for it, they literally just offered it to me. It's a no brainer."
John Clay, who plays on Eastwood Records as a lead act but also plays drums for several other bands on the bill, has been with Wesley since 2016. He's been on tour for awhile playing drums with Colter Wall, and Nick Dittmeier before him, but is finishing working on two albums with Eastwood Records to be released soon.
[aesop_video width="content" align="center" src="vimeo" id="282206036″ caption="John Clay and the Boxwine Prophets | Video by Cara Blake Coppola" disable_for_mobile="off" loop="off" autoplay="on" controls="on" viewstart="on" viewend="on" revealfx="off" overlay_revealfx="off"]
John Clay sings with a soft warble to his voice, only to send his voice sailing loudly out over the hills in the next note. It's an authentic voice that is powerful and feels like it belongs in those hills. He starts one song with a booming a capella that has a touch of twang and a load of truth. When he covers a TVZ song, folks get up and start dancing, despite the heavy July heat. His rocking honky tonk songs make people leave the cool comfort of the shade to move in the sunshine.
Asked how it feels to share the bill with John Prine, Clay searched for an answer. "It's very shocking. A lot of my friends are on this bill. Most have been directly inspired by his music. To see your name on a bill with someone like that, it's hard to explain."
That seemed to be the sentiment of all the musicians I had the opportunity to talk with that day. It is surreal to be at home in such a friendly community as Somerset, nestled in the hills you walk daily, and to be doing what you love so much, in such astounding company. Everyone I talked with that day was walking in a sunshine- filled daydream.
Dave Ernst, who opened the Eastwood Stage that Saturday, was still reeling in the completion of his set with his band The Early Favorites. "It's Amazing, my first time to the event. Blown away with how cool and friendly it is down here. It means alot. This place is amazing, stages are great, setting is wonderful."
Listen to Cara's conversation with Dave Ernst
Coby Langham was the next to play the Eastwood stage after Grayson Jenkins of Lexington finished his set on the main stage. Coby and the Citizens Band, named for Langham's truck driving career, filled the stage as the day was still getting moving.
Coby and the band nailed their set, singing solid Americana songs into the hot afternoon. Some songs were more playful, getting folks to tap their feet and move in spite of the heat, others more heavy like with lyrics like "a mountain of pills to swallow these hills." His song "Sober Bible" was a sad, mournful tune about loving someone with an addiction. His songs sing of truth and life and the real poetry of real life. The harmonies were sweet, even pretty to contrast the dark lyrics that hit home to too many.
[aesop_video width="content" align="center" src="vimeo" id="282210353″ caption="Coby Langham and the Citizens Band performing at the 2018 Master Musicians Festival | Video by Cara Blake Coppola" disable_for_mobile="off" loop="off" autoplay="on" controls="on" viewstart="on" viewend="on" revealfx="off" overlay_revealfx="off"]
The parking lots were filling and people were setting up their chairs for a day in the shade. You could hear the music of the main stage from the second stage, so many settled in for the day amid the hammocks and children's games thoughtfully constructed by the Festival. Golf carts whizzed by all day providing rides to and from the parking lots for everyone. Hot wooden benches were covered in soft woven blankets for comfort. Free water was given out everywhere. The festival felt very comfortable and welcoming, something mentioned by all of the musicians we interviewed.
After his set at the merch table Wesley Allen manned steadfast all day long in the heat, Coby and his band were happy and sweaty and enjoying their part in the festival. "This is the biggest thing we've done yet. It was the easiest 'yes' I've ever said to anything. To be here with John Prine, we're going bonkers. It's a real big deal for us."
Later that night, John Prine took the stage and every musician mentioned was in the crowd. Prine's music rang out over those hills to the love and adoration of everyone in the crowd. It was a great set, he played his classics "Dear Abby" and "Your flag decal won't get you into heaven anymore," along with several songs from his new CD Tree of Forgiveness. He started and ended his whole set with "Paradise" while the crowd joined in with nostalgic love. The musicians who were so grateful to share the bill with him joined in.
Like Coby Langham said, "It's a real big deal for us."