"I've been waiting for this night for so long; I'm so glad you're all here!" Senora May told the crowd that gathered from the front of the stage all the way to the back of The Burl to celebrate her first CD release.
Lainhart is titled in honor of her maiden name, and many of the songs speak on the theme of family.
Senora May's music is soft and easy on the ear. It envelops you with a warmth that is familiar and welcoming, even if you've never met her. With guitar picking that trickles along like a brook, her voice has the fluidity of a flowing brook. Senora is a child of the hills – the gorgeous backdrop on the cover of her CD is the backdrop to her life and her music.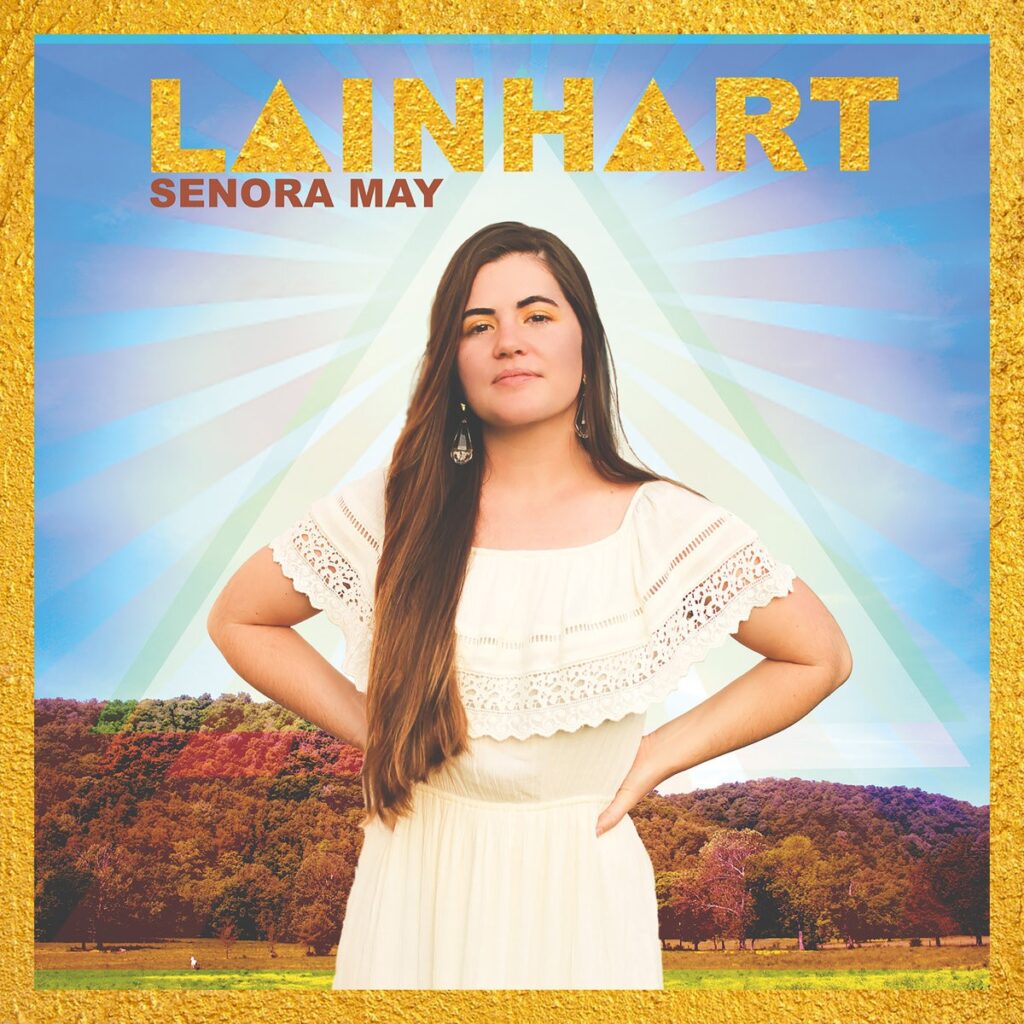 "I am inspired most by nature, second by people.  I can't explain it. It's just my process to be in awe of my surroundings, my emotions dictate which direction the song might turn, but I am initially inspired by some sound, or visual directly before me or triggering my memory.  If I hear a cardinal or a mourning dove, or I see limbs broken and scented from deer, that triggers something in my mind."
The title song Lainhart begins with sounds of farm life that distort into sounds of war. Written when her brother Levi left for Marine boot camp, the song is a tribute to him but also to her family and the life they live in the hills of eastern Kentucky.
Ambient and significant sounds are in several songs on the album, a sonic tapestry of her story. It's a story of family and love and distance and work of all kinds. Senora was joined onstage at The Burl by Josh Nolan on guitar and toy piano and John Isaacs on drums.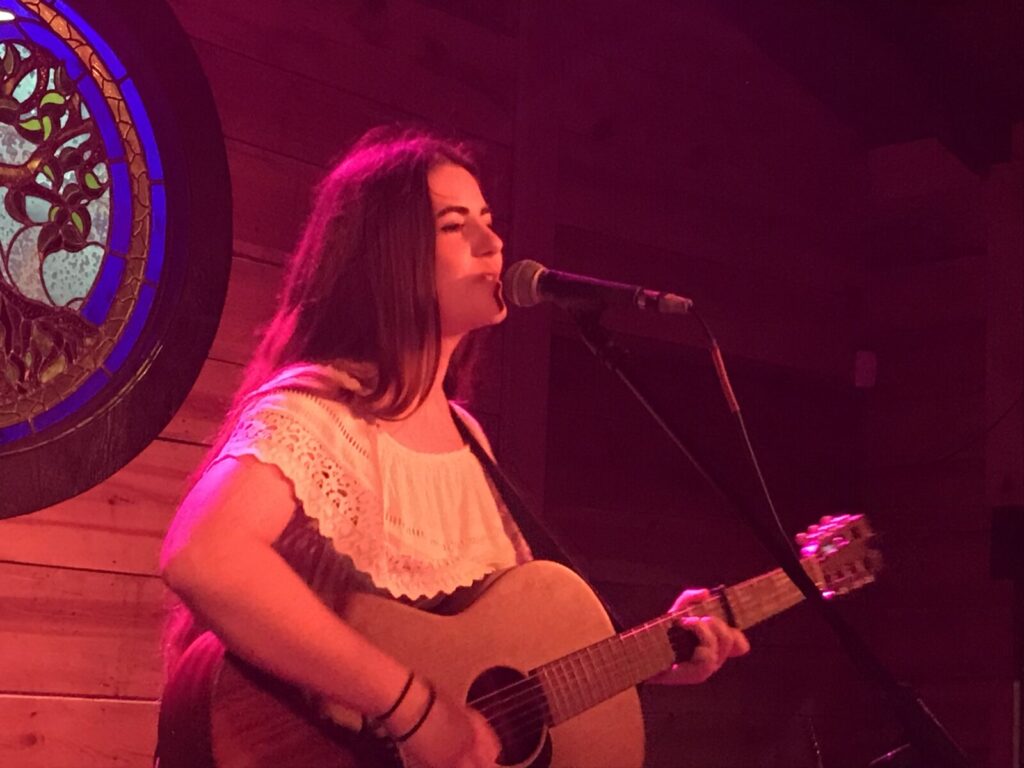 The album tells the story of a woman coming into her own. The wife of Tyler Childers, Senora May's music is certainly influenced by being the wife of an actively touring musician. 
"Through the deliberate arrangement of my album, I hoped for people to navigate the loss, the support, pride, and then self-discovery and bliss through solitude. I would have surely lost myself through turn points of this project, if I hadn't encountered the self preservation piece."
She lives in peace with the solitude of her home, without electricity amongst the hills she grew up with, fostering her independence and her art, including music, graphic art, painting, stained glass, fibers, as well as other mediums.
Her song "By My Lonesome" is an anthem for the independent natural woman, confident in this solitude and strengthened by her abilities. Senora brags that she can skin any animal properly and teach another to do the same. A true child of the hills, she lives the authentic life she sings about, and her voice and lyrics roll as naturally as the fog in the hills at sunrise.
"Only Want You" plays to the background of coyotes yelping as she sings of a wife missing her husband who is out on the road while she listens to the crickets sing around her at home in the hills. Tyler has been touring for most of their marriage, especially so in the last year or so, and this experience certainly influences her music.
"Missing him when he's gone is always there, I try to stay busy enough that it doesn't become a problem. When I let my emotions interfere with my productivity, I call him and we talk about it and he'll do the same. We have a really good relationship in that way. But yes, I would say quite a few of our songs have no option but to be inspired by our missing of one another."
Her CD release was quite a success: a full house at The Burl with Tyler home to watch the whole thing. The crowd was treated to a spectacular natural light show as thunder and lightning blasted outside, knocking out some of the lights as she played. Loyal fans turned on their phone flashlights to illuminate her with love, singing her words back to her. The whole CD was inspired by her fans, "I put Lainhart out, for my fans who have bugged the hell out of me. I put it out for my family and friends who love me and have convinced me of my capabilities."
The week after Senora May's CD release at The Burl in Lexington, she played the early morning stage Saturday at the Kickin' it on the Creek festival in Irvine, Kentucky, in her native Estill county. Senora was quite at home as the sun rose up over the ridgelines of the holler where the stage sat, the fog burning away with the day's rising heat. She roused folks from their tents with her songs, luring them into the sunshine with her mesmerizing and sometimes haunting voice.
[aesop_video width="content" align="center" src="vimeo" id="291369200″ caption="Senora May performing at Kickin' It On The Creek" disable_for_mobile="off" loop="off" autoplay="off" controls="on" viewstart="off" viewend="off" revealfx="off" overlay_revealfx="off"]
A completely different scene than at The Burl, the festival takes place deep in a holler in Estill and Lee County, where Ross creek winds through the bottomland between two ridges. A long slightly-horrifying-to-drive gravel road takes you right to the house of Byron Roberts, a friend of Senora's family who recalls the day she was born. Roberts has hosted the festival at his home for the last five years. 
The festival is a reunion of sorts for Eastern Kentucky musicians.
The whole feel was that of family, which Senora's music embodied as she sang up on a stage adorned with flowers her father had grown and picked for her set. Local and homegrown, with love of family. It was the perfect setting for Senora May's music, which helped bring the day of music to fruition, and would be brought to a head later that night by her husband Tyler.
Folks gathered around with sleepy eyes and happy smiles and cups of coffee as they sang Senora May's words back to her, one of her favorite parts of making music and sharing it with others.
"I like the way I feel when I'm singing and people are singing along. I like to hear that my lyrics have helped someone in some way."
It was clear during these two shows, her crowds like it just as much.
Cara Blake Coppola is a contributing writer for UnderMain and a book author. Video by Derek "Doc" Feldman.