The lineup at The Burl on a Friday evening in May was packed with a triple header of local musical talent for the fifth year anniversary of Alcatraz Shakedown. Following Magnolia Boulevard and preceding the headliner, Short & Co. took the stage and took over the room with some face melting blues and guitar work.
[aesop_video width="content" align="center" src="vimeo" id="273518219″ disable_for_mobile="off" loop="off" autoplay="off" controls="on" viewstart="on" viewend="on" revealfx="off" overlay_revealfx="off"]
Jeremy Short is the front man for Short & Co, his first band as frontman and lead vocalist and guitar. A lifelong musician who previously played as guitarist and backing vocalist for others, including Sasha Colette and the Magnolias, this band and their first CD, Lost in a Spin, is his first foray as lead guitarist and songwriter, which he claimed to be "brand new, incredibly challenging and a steep learning curve for sure." All who listened that night and have his newly released CD can agree, this is a good thing.
Jeremy Short can play the blues. And I'm not talking just playing. Playing a guitar is one thing, using that guitar to channel the essence that is The Blues is another thing. It requires a master of the craft. Short is undeniably a master of the guitar, and The Burl's welcoming wooden walls were happy to embrace his music and his sound that night.
From a family of devoted musicians and singers, Short was raised surrounded by the voices of his family singing in harmony. As a child he lived with his grandmother, who had a piano at home and played at church, and his grandfather, the preacher of the Methodist church in Wolverine, Kentucky, a small town in Breathitt County Short describes as "on the way to Hazard." He thought everyone started Sunday dinner with the family by singing praises, "that was normal to me". While no one in his family took their talent to the stage before him, Short grew up with a love of music and harmony. That is quite evident when Short & Co. takes the stage.
Joined on stage by Corey Heim on bass and John Clay on drums and vocal harmonies, Short & Co. sounds like much more than three people up there. Their vocal harmonies were tight. John Clay, a seasoned musician and vocalist out of Louisville, kept a solid back beat of drums while also matching his voice to Short's with tight precision. The bass gave that solid foundation and held it while Short sunk down into deep, solid confident blues solos.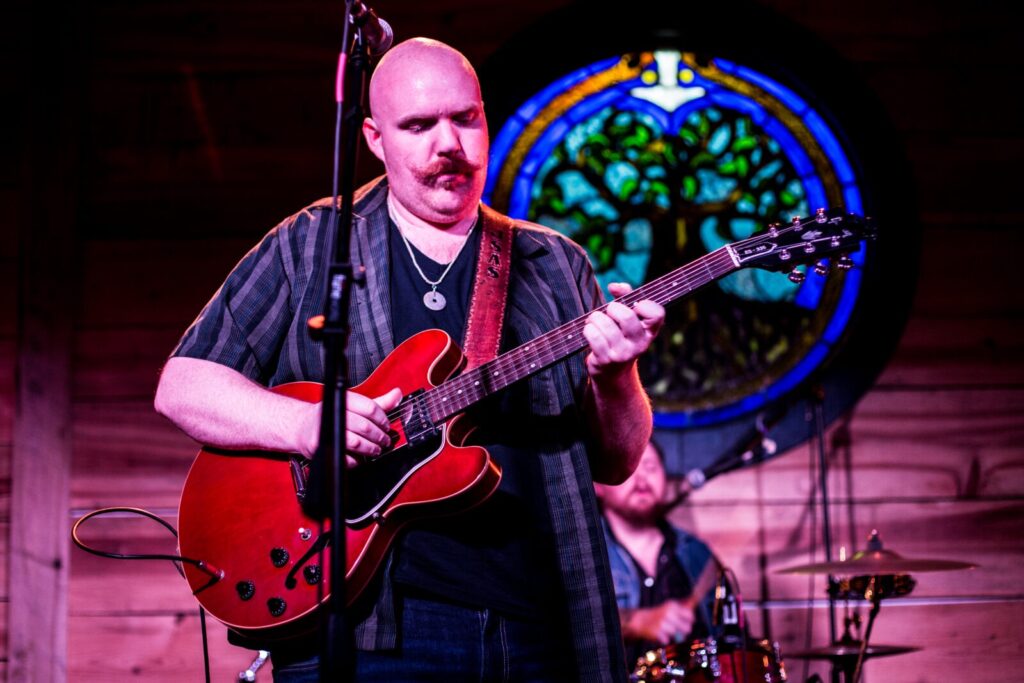 Whether using his slide or not, Short is quite familiar with the neck of a guitar. Playing it with ease and soul, he ran up and down the neck creating slick blues licks while the drums and bass danced behind him. Ranging from a more Chicago style song then into a poppy sounding song that echoes his love of all Steely Dan guitarists, his set ended with a song that had a Rockabilly sound to it. Covering "Dead Flowers" by The Rolling Stones rounded out the set, giving a deep variety of great guitar led music for the crowd that night, which danced enthusiastically all night long.
His mastery of the craft of the guitar solo has earned Jeremy Short enough attention to be invited to attend Tyler Childers' panel during Bonnaroo this summer, discussing the guitar solo during the festival. He will also be appearing at the Bluegrass BBQ festival in downtown Lexington. His new CD can be purchased at shows, or on his website at shortandcompanymusic.com.
Photos and video by Derek Feldman