On a whim, one sunny Thursday morning, I met with Kerrigan Clark, one of the founders of Racecar Factory gallery, as I passed through Indianapolis to visit my partner in Michigan. This haphazard meeting felt synonymous with my introduction to Racecar Factory. Clark, with Meris Drew, named the space when they'd heard that the building containing the gallery was once a racecar factory. They later found out it was actually a regular car factory. After some pandemic-related ups and downs throughout their first year in 2020, they seem to have reappeared spry and energetic, planning an ambitious 12-exhibition calendar year.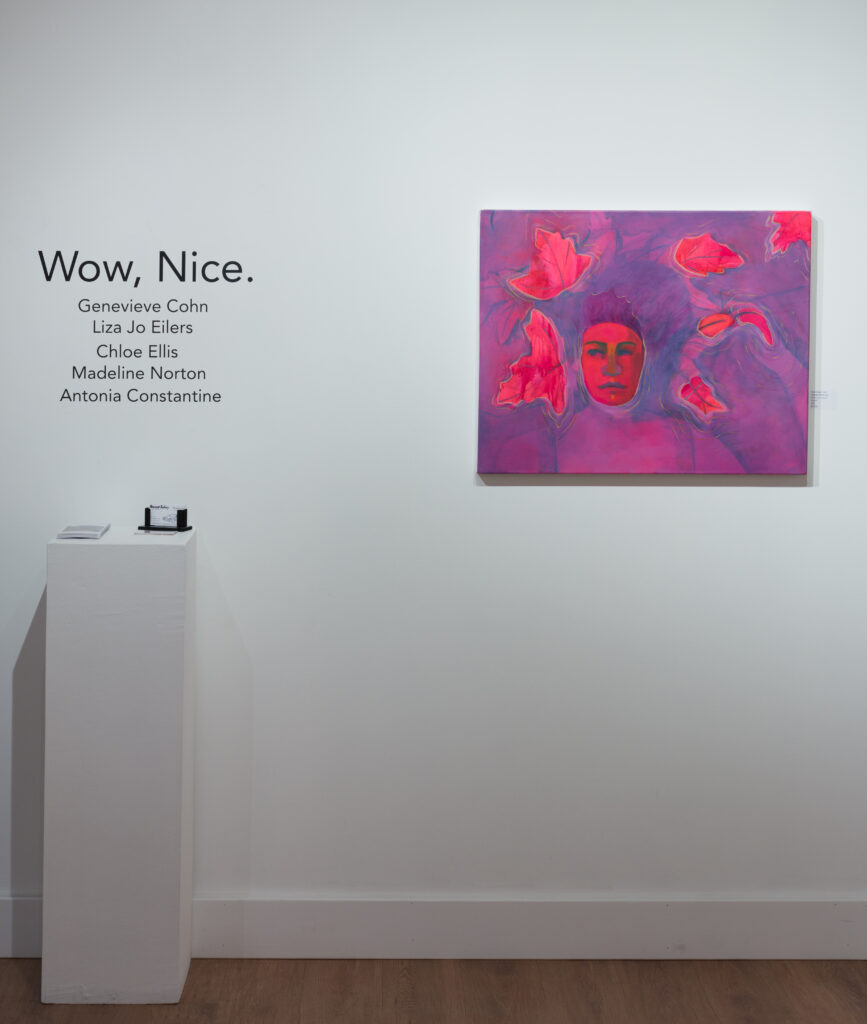 The exhibit Wow, Nice. is a survey of young figurative painters who calibrate the figure, narrative, magic, and materiality in objectively varying but continuously stimulating ways. The exhibition has works contributed by Genevieve Cohn, Liza Jo Eilers, Chloe Ellis, Madeline Norton, and Antonia Constantine. A string of nondescript performativity prevails through these works. Figures stretch, stare, bend, and bow in response to light and color across the surface of the paintings. An entertaining but flaccid attractiveness, rampant on platforms like Instagram and historicized in pulp films, holds these works together at their core. For example, the works provided by Liza Jo Eilers pull at a specific latent memory of coy sexuality prevalent in film noir. In "Just put your lips together and blow" (2021), we see a figure with long wispy hair and squinting eyes focused on their cigarette while armored with bunny ears. A cakey oil stick has been used to write "H-E-A-D" across the canvas. The individual letters stretch from top to bottom of the canvas. The ambiguity provided in Eilers' works elicits an open-ended narrative to be built openly by the viewer. They're a bit like a long drive in the middle of the night.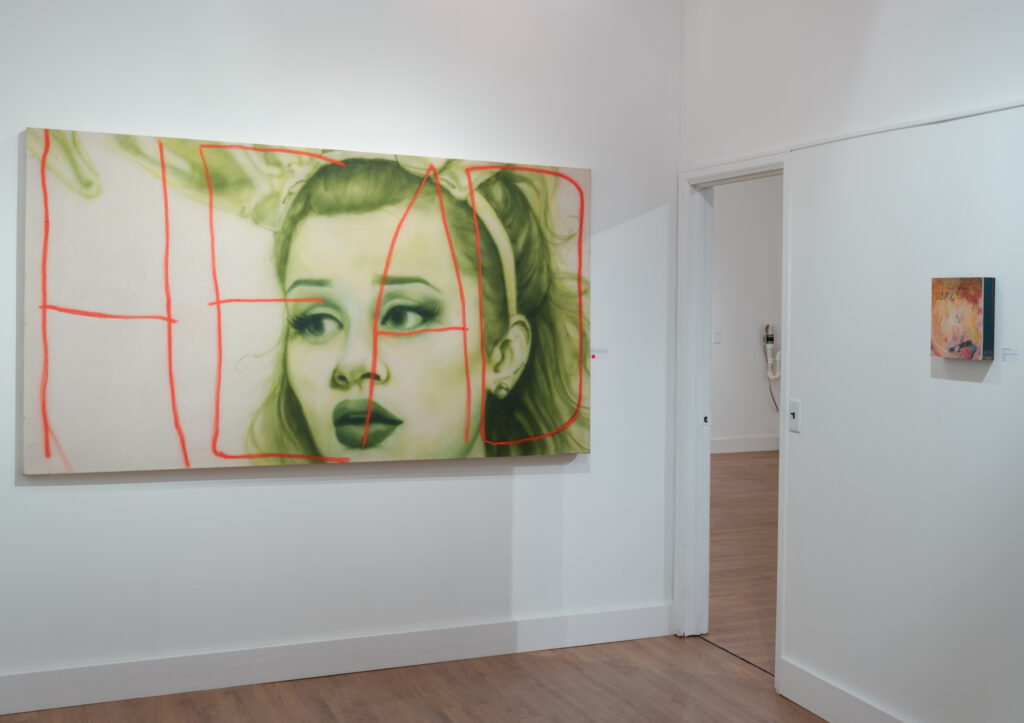 Madeline Norton's work leans into effortless materiality that relies on an absence of gravity, and a profound and, frankly, disregarded understanding of paint and its physical properties. Their spaces merge material abstraction and narrative figuration into fictional and spaceless textural explorations of other worlds. Their surfaces are constructed to appear half-heartedly assembled. Closer inspection reveals carefully carved cuts along the paintings' edges, diligently behaving as if they've recently and tragically broken away. In Norton's "bottom feeders" (2022), we see two figures on all fours, one frowning and looking upon the central pinkish figure who may be attempting to sweetly smile at the audience with a confusing and somewhat sinister side-eye. To the top right, we see dangling legs and wings, possibly a crucial figure exiting the scene where we find ourselves. More importantly, we see paint smeared, printed, pushed, and forced into shapes that seem prepared and self-creating.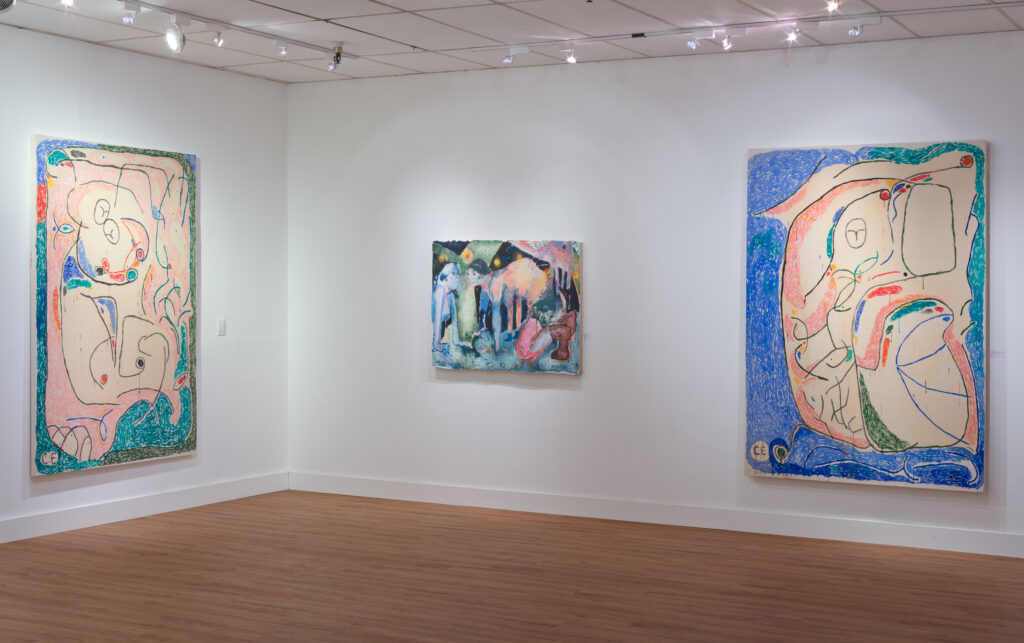 In a hard and fast contrast, you find current MFA student Antonia Constantine's Big Stretch (2021) and Good Flow (2021) flat, digitally romantic, hyperflexible figures recalling an early Natalie Wadlington. All of Constantine's spaces appear flat and rounded, with an approach to chiaroscuro made initially made possible by Photoshop and Blender, now appropriated in painting. Here, we see figures bending and twisting over unimaginable space, where oceans, yards, and table tops exist in the same picture plane. Existing and glowing in a plasticized way that digitality can't avoid. It appears we are witnessing a series of digitally surreal yogis. Reminiscent of gems and painfully contorted in an irrevocably uncomfortably familiar manner.
Genevieve Cohn and Chloe Ellis play with mark-making and color akin to modernist approaches. They feel sturdier. Together, they are a group of playful, profound, engaging, and youthful paintings of real and quintessentially fictional scenarios. An exciting start for a new and refreshing art space in Indianapolis.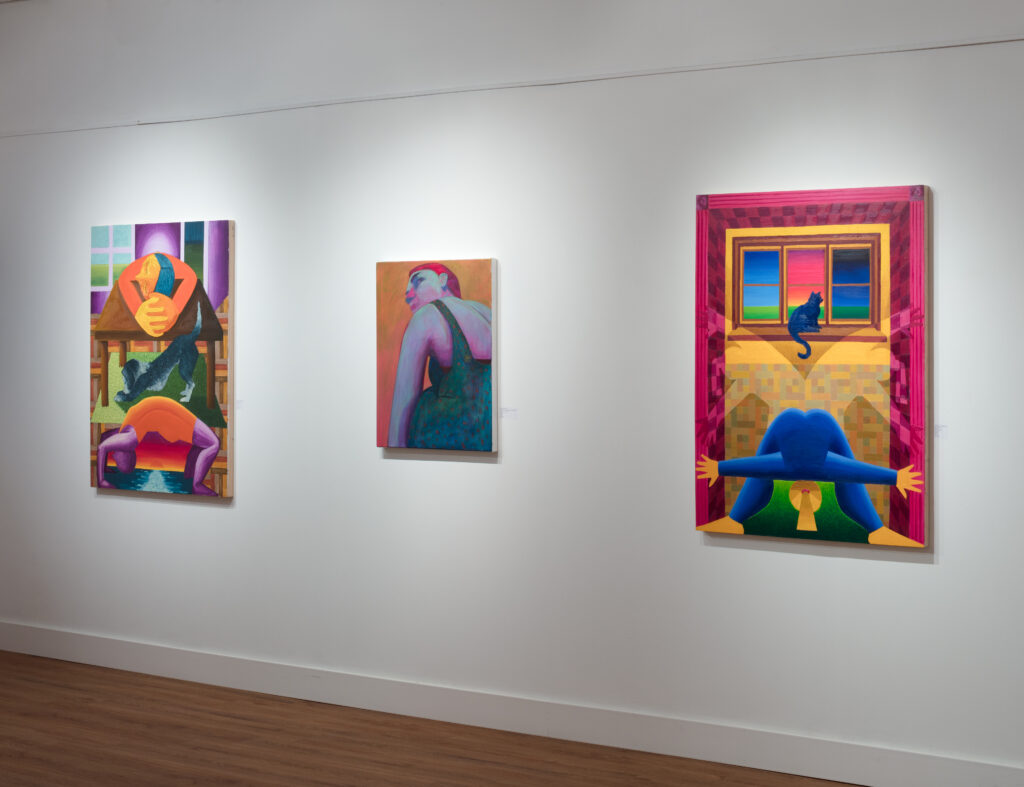 Wow, Nice. ran from September 2 through October 1, 2022. Racecar Factory has gallery hours during their opening receptions on the first Friday of every month and by appointment. You can view the Wow, Nice. works on their website.
Top image: An installation view of "Wow, Nice." at Racecar Factory gallery. On the left side of the wall hangs "sitting on my exes" by Madeline Norton, and to the right hangs "She moves in her own wave (St Ives)" by Chloe Ellis. Image courtesy of the gallery.
UnderMain: On the Road sends writers out of Kentucky to explore the visual arts in cities of the Midwest and near South. This program is generously supported by the Great Meadows Foundation.