The drive through Detroit to The Heidelberg Project sets the stage. The perfectly laid out streets are gutted, with as many or more empty lots as standing buildings. The outdoor art environment, on a block of H Street, is no exception. Two houses remain standing. But this block is different than all of the others; it houses an internationally known series of art installations created from everyday items. Visiting the Heidelberg Project brought both joy and challenge.
This is modern folk art at its finest – emerging from the common people and welcome to all. I saw other camera-toting out-of-towners during my visit, but also noticed a Detroit city trash truck parked along the street; the driver was taking in the sights, too, and capturing them on his cellphone.
Walking through the art environment feels a bit like a treasure hunt because there are so many small and large assemblages placed throughout the space. Immersing myself in the surprising mix of elements required walking slowly and looking closely.
I found several art pieces delightful. I couldn't help but smile at an assemblage of toy plastic cars stacked together at all angles. The traffic pile-up included several red and yellow Little Tikes Cozy Coupes, an iconic vehicle full of nostalgic memories from when my sons were young. Many of the cars had stuffed animals behind the wheels.
Further on, I came across a decommissioned Detroit taxi topped with an advertising sign for Tippy Toes the Clown. A nearby playground incorporated trees festooned with colorful yarn. Tied pairs of shoes hung artistically on a chain link fence.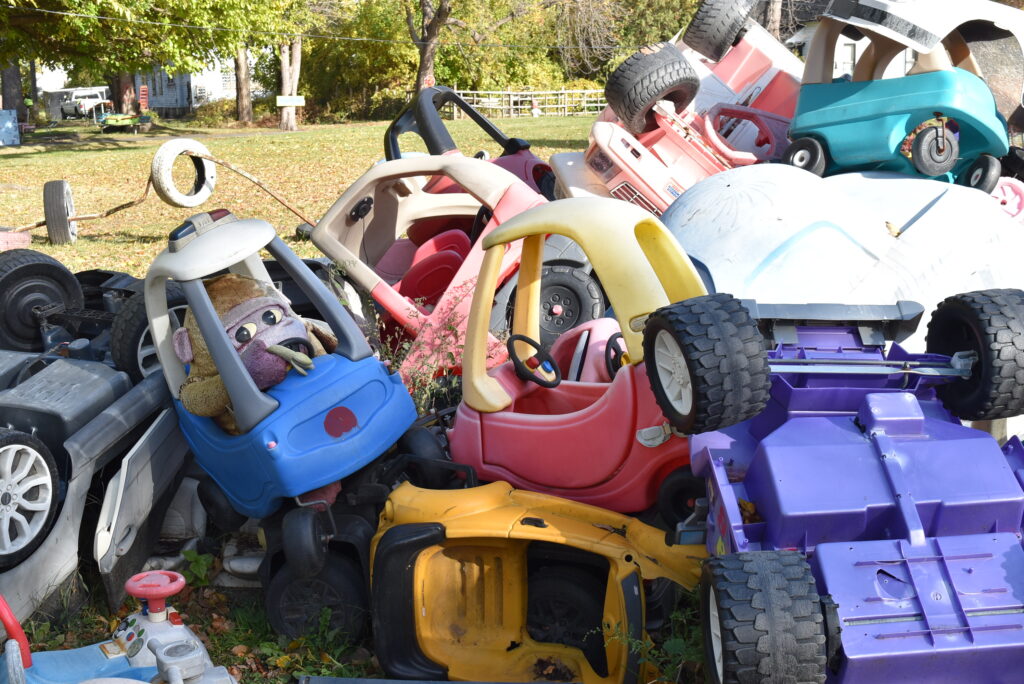 Getting a good view of one of the more challenging elements of the exhibit required navigating some rickety steps into a cement block basement. It had an ominous, somewhat creepy, feel. Overhead remain charred wooden beams from when, one presumes, the house atop it burned down. The basement is full of dolls of all types, mostly dirty, many naked, and with a lot of missing hair or other body parts.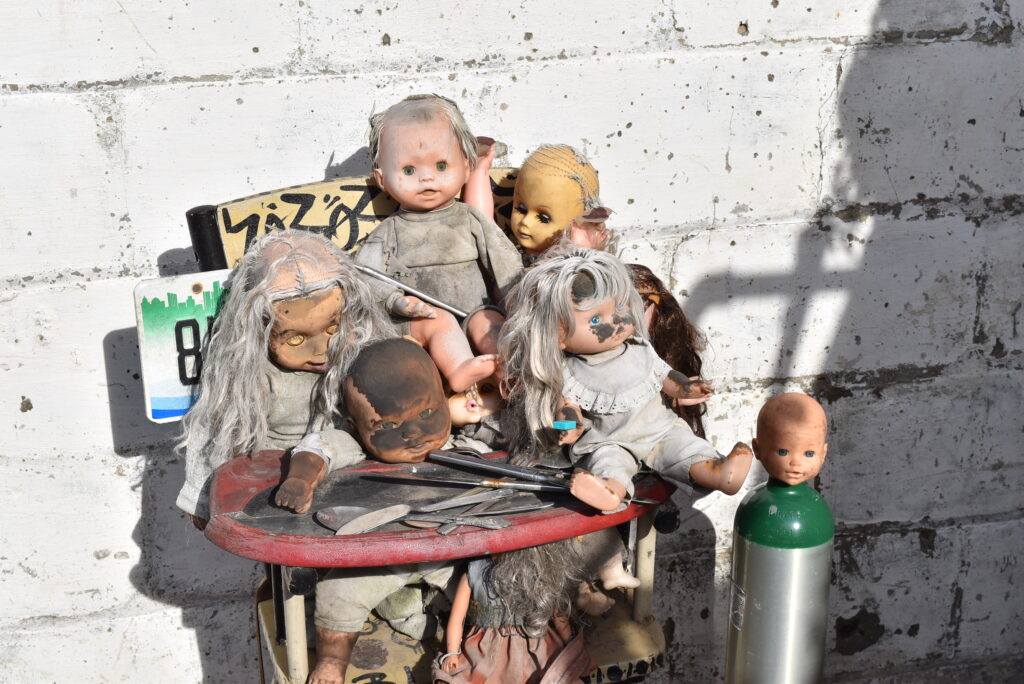 All of the elements of the Heidelberg Project are crafted from a motley collection of discarded objects: grocery carts, rusty metal car parts, discarded plastic children's toys, broken household appliances, old shoes, mannequins, toilets. But make no mistake, this is not trendy upcycling. The sculptures do not weather into a pretty patina. It is more gritty, more real, and more confrontational. The outdated equipment and plastic toys considered disposable by our modern society reflect the places – and people – considered disposable as well. Redeeming the discarded through art is a metaphor for the project's hopes for Detroit, the neighborhood, and its residents.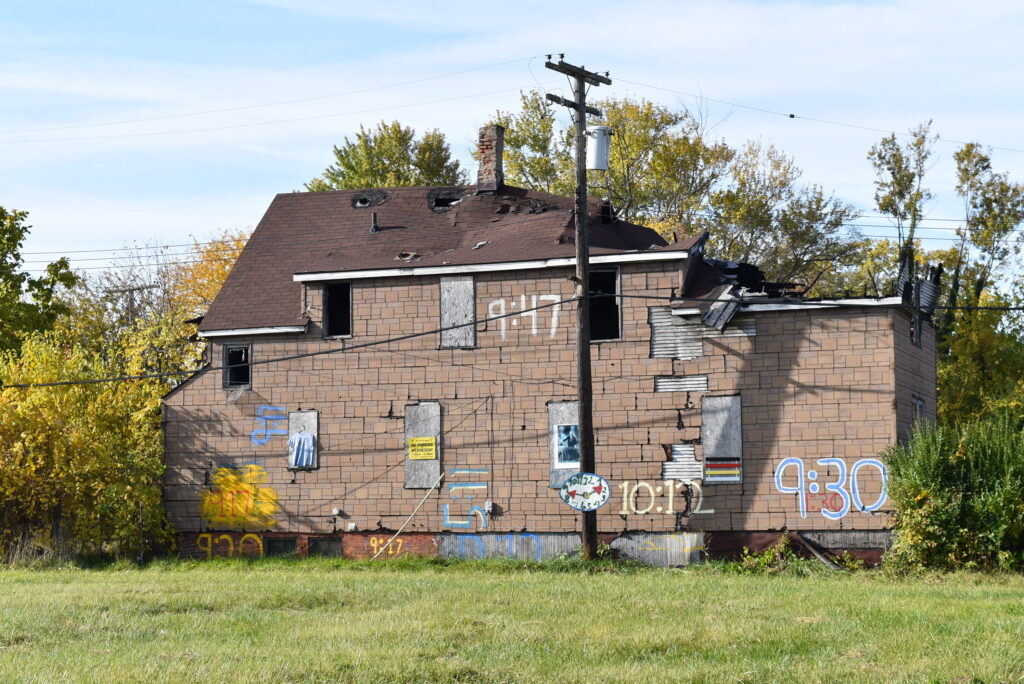 The Heidelberg Project art environment is the singular vision of artist Tyree Guyton, who serendipitously arrived at the art installation during my visit and agreed to an impromptu interview. He explained that the iconic Dotty Wotty House was his childhood home. When he returned in 1986 and saw his neighborhood struggling with drugs, poverty, and violence, he had to do something. His grandfather encouraged him to stay true as an artist, pick up a paintbrush, and set to work.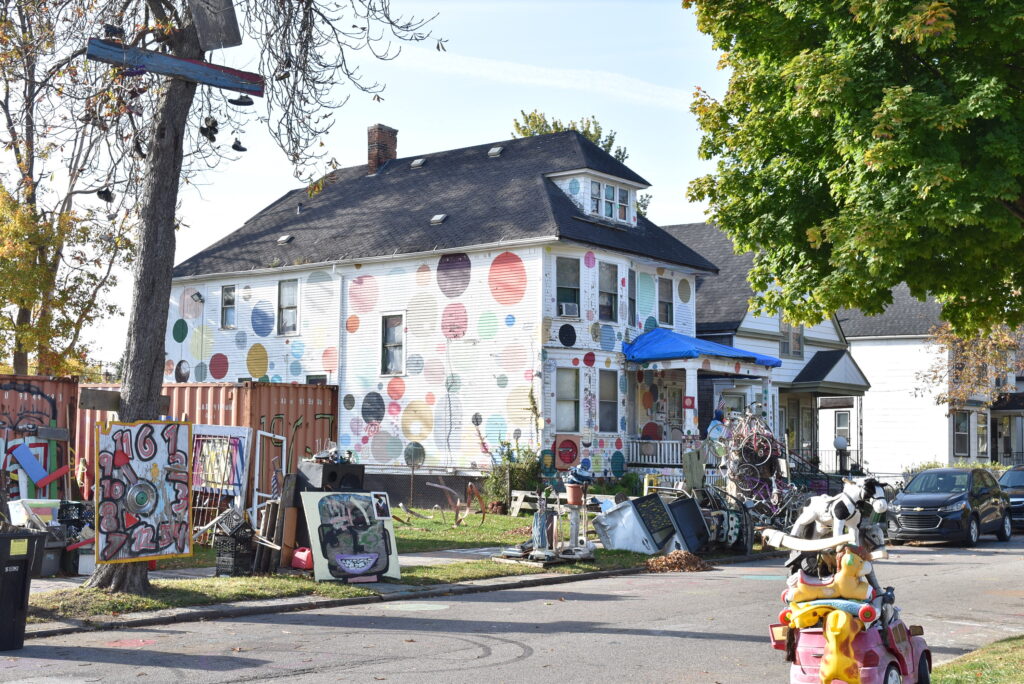 The Heidelberg Project has had its share of controversy in its 36 years, including elements destroyed by city-sponsored bulldozing and a string of arson fires. It has endured and become one of the most visited cultural sites in Detroit, with guests from more than 140 countries.
The most pervasive element of the art environment was a series of clock faces and digital times, painted on sidewalks, trees, and old buildings. Each one had a static time, and each one was different. Select words gave a hint to the significance. When I asked Guyton about them, he explained their importance to him.
"The time is now," he said. "This is my purpose. I believe in changing what you can change and leaving the rest to God. Life is bigger than us."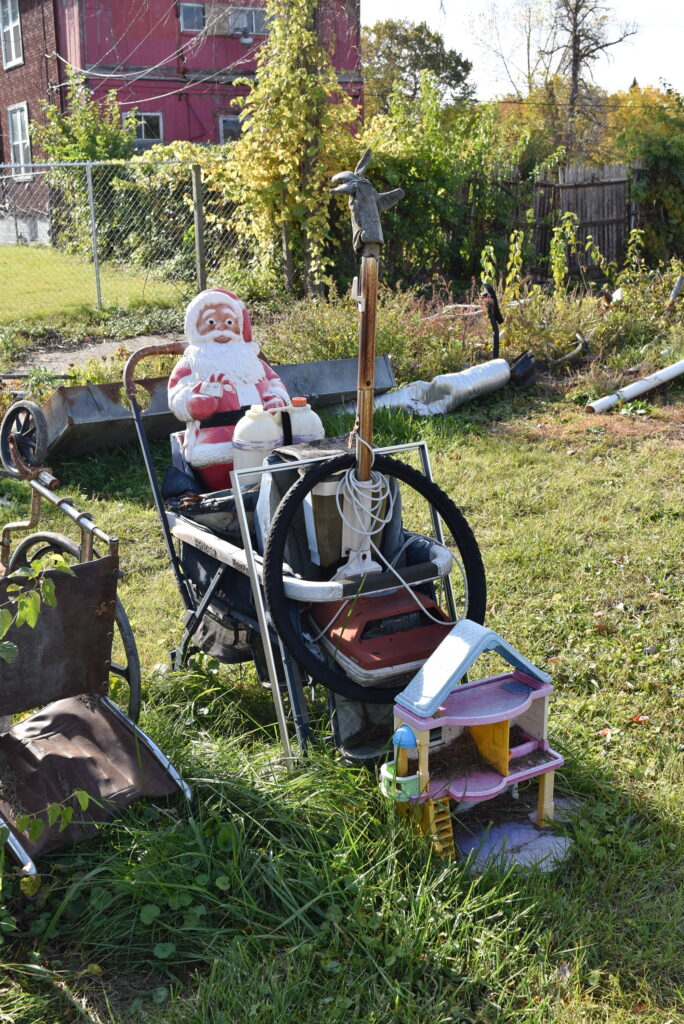 Top image: A photo of a sign that welcomes visitors to Detroit's Heidelberg Project. Photo courtesy of the author.
UnderMain: On the Road sends writers out of Kentucky to explore the visual arts in cities of the Midwest and near South. This program is generously supported by the Great Meadows Foundation.