CRITICAL MASS was, well, quite critical it turns out. Thank you all who participated and thank you Stuart Horodner for moderating the panel discussion. This new initiative organized by UnderMain in partnership with The Art Museum at UK was done so to create dialogue about art and exhibitions, and to encourage new critical voices in our community and region.
We are pleased that Guy Mendes and Joey Yates, Ryan Filchak and Elizabeth Ann Smith were able to give us their thoughts on criticism. Thanks also to Georgia Henkel and Janie Welker for the substantive rebuttal.
This level of discourse is something that UnderMain remains committed to and we are not shy to say that any support you can offer is appreciated. At the bottom of this page you will find a button: UnderWrite UnderMain. Just click and donate and know that your contribution is helping to sustain this much needed element for a healthy arts market.
Thanks again all for a great first step.
Here again were the reviewers:
Guy Mendes
We are pleased to provide our first review, "VIVIAN MAIER: On the Street" by Guy Mendes. Guy is a well-known figure in the industry and we are very excited about his participation in this exhibit's review. Additional reviews to follow later today….
       Mendes on Marble Creek, Photo by Robert Bruner
Guy Mendes was born and raised in New Orleans, Louisiana, Guy Mendes made his way upstream to Lexington in the mid-1960s to attend to the University of Kentucky, where he studied with writers Wendell Berry and Guy Davenport. Through Berry he became friends with and studied with photographers Ralph Eugene Meatyard and James Baker Hall. Through Davenport he met and collaborated with North Carolina poet & publisher Jonathan Williams of the Jargon Society. Mendes is the author of three books, LOCAL LIGHT (1976), LIGHT AT HAND (1986) and 40/40–FORTY YEARS FORTY PORTRAITS (2010).
His work has been published in Aperture, Newsweek, the Smithsonian, Mother Jones, Humanities Magazine and Playboy, and exhibited at the International Center for Photography, The Aperture Gallery, the New Orleans Museum of Art, The Speed Art Museum, Zephyr Gallery, the Hite Institute, the University of Louisville Photographic Archives and the University of Kentucky Art Museum. He is represented by the Ann Tower Gallery and Institute 193 in Lexington, and in Atlanta by POEM 88.  His current position:  Head Guy at guymendes.com. Most recent exhibition: Blue Roots and Uncommon Wealth—the photographs of Carey Gough and Guy Mendes, at Iris Bookstore/Gallery in Cincinnati, Oct.2014—Jan. 2015.
Joey Yates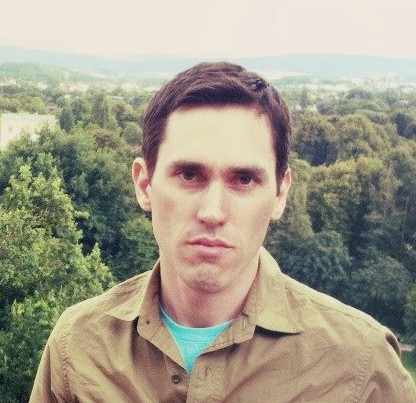 Joey Yates is our second reviewer being published today. He is the first of two reviews of "LOUIS ZOELLER BICKETT II". Joey describes the exhibits as "compact, yet vital and succinct selection of work from Bickett's immeasurable output."
Yates joined KMAC as Associate Curator in May 2012 beginning with a solo show from acclaimed sculptor and furniture designer Wendell Castle. The Wendell Castle: Forms within Forms exhibition was accompanied by the 'Caligari' piano series, which featured a diverse roster of performers and composers playing on a Castle-designed art case Steinway piano. Yates recently curated Simone Leigh's solo exhibition Crop Rotation and was co-curator for White Glove Test: Louisville Punk Flyers 1978-1994.
Other notable shows since at KMAC include Second Life, an exhibition that explored taxidermy and other uses of animal and insect bodies in art, as well as The 7 Borders. He has collaborated with the University of Louisville's Art program to present the Aegis 3rd Biennial Symposium on Art History and Visual Culture.
Yates has also developed internships that offer educational and curatorial opportunities for students to engage with KMAC's permanent collection. In 2011 Yates taught a course at Bellarmine University called Art of the 21st Century.
Ryan Filchak
Now a freelance writer and gallerist in Lexington, KY, downtown has been the backdrop to his humanities pursuits – educational and extracurricular – for seven years. Ryan graduated from Transylvania University, where he studied English and Education, in 2010. This spring, he earned his MFA from the University of Kentucky's School of Art and Visual Studies. He has helped to install, execute and promote exhibitions for a number of art spaces in the community, including The Lexington Art League, Heike Pickett Gallery and City Gallery at the Downtown Arts Center. You can read his latest reviews at UnderMain.com.
Elizabeth Ann Smith
Elizabeth Smith is a graduate student at the Hite Art Institute in Louisville, Kentucky, where she is the 2015-2016 Payton Fellow in Art History. Her research interests include Dada and Surrealism and twentieth-century philosophy; her projects have examined such topics as Friedrich Nietzsche's influence on Georgio de Chirico's early paintings. She has published in the University of Buffalo's Art Graduate Catalog, and currently works at the Huff Gallery at Spalding University and is a curatorial intern at the Speed Art Museum.