Whatever your expectations might be of the Appalachian Program Director at Southeast Kentucky Community and Technical College in Harlan County, Kentucky, Robert Gipe is sure to defy them. Whatever your first impression might be of the towering 6' 5" professor from Kingsport, Tennessee, with the low-slung mountain cadence and a reddish semi-pompadour that adds a couple of extra inches to his already considerable height, it is bound to come up short.
Gipe possesses one of the largest personalities, skillsets, and hearts in all of Appalachia, and perhaps the known universe. And it is this rare collection of qualities that has taken him from a professorship at a community college in a coal-mining mountain town where delivery trucks turn back because there's nowhere to go beyond it, to nationally known creative talent working on an Emmy-winning series.
The story of Gipe's emergence begs to be told, as does the story of how he got set on his path in the first place. I've known him since we struck up a friendship back in 2012 at the Appalachian Writers' Workshop in Hindman, Kentucky. Of all his talents, making friends surely stands near the top. We sat down recently and he reflected on how someone who came up in Kingsport, Tennessee, wound up a bedrock of Harlan County, Kentucky, and the region, as well as a light seen from afar. We spoke about his boundless drive to serve, and how it was cultivated. I also spoke with colleagues and fellow creatives who shared their impressions of him, and their thoughts on what makes him such a singular Appalachian figure.
After retiring from his post at Southeast in 2018 after 21 years, Gipe left a hole that proved too big for one person to fill. As it turned out, two people weren't enough either. When I asked just how many it took to replace him, Gipe said, "I got some money on the way out and we hired three people." Then he paused and recollected that he stayed on part-time the past three years and that another full-time employee was hired to handle a different aspect of his job.
You'll note Gipe says he "got money." When he refers to getting money, he's talking about securing grants. Among his many talents, he's one of the region's most prolific grant writers and was working on one the day we sat down to speak for this piece. Between college programs and community projects, he has personally brought more than five million dollars to Eastern Kentucky. But he was a fundraiser long before he arrived in Harlan County. Early on, he had to be. "I was writing grants for my own salary when I was 26 years old."
In truth, though he now splits his time between Harlan and Lexington, Gipe can't let his work in Harlan County go. He is still active in the Higher Ground community play series he helped found. Since 2005, community members from in and around Harlan have written and acted in plays that focused on social and societal issues affecting the community, ranging from surface mining to LGBTQ+ rights to the opioid epidemic.
The group has traveled all over the state and region performing, often with Gipe playing a role. This year he spent the weekend before Halloween with the group in Pound, Virginia, acting the part of a character named Blister, so called because of his protruding belly, to which Gipe bemoaned he does not need a prosthetic to accurately portray. Gipe, the play series, and its importance to the community were first highlighted by the New York Times back in 2011.
"I love it," he says. "I think at some point I may step off just so the next generation can have their own head and don't have to have my old ghosty ass around." But for now he's still deeply involved, and his fellow organizers aren't eager to see him depart any time soon.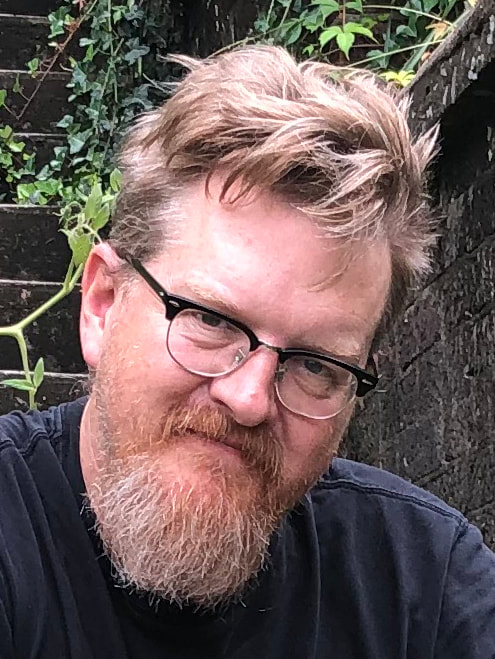 Though he still helps in the writing process, he's trying to turn loose of the reins. "We really all do write them together. Everybody gets their licks in." He compared the group to the writers' room on Thirty Rock, but with a diversity some don't know exists in a place like Harlan County. "We do the work together. It's older people and younger people. Men and women. Black and white. Gay. Straight. Whoever's around."
Gipe stirs many pots, but Higher Ground holds a special place. "I love his books," says North Carolina author Leah Hampton, "but I think his Higher Ground plays have perhaps been his most important work. The process he goes through producing those plays and guiding the performers is life-changing."
Elana Scopa confirms the notion. Born and raised in Harlan, Scopa's father was on faculty at Southeast with Gipe during her childhood and still is today. She has since joined as an associate professor of biological sciences. But her passion is Higher Ground. She credits Gipe and Higher Ground with drawing her back to Harlan County after she left to get her master's degree, and keeping her there. "It's really been the reason I've stayed in the community. Because it's given me the community that I've been looking for. It's my community, my family, you know, my mental health."
But as large as it has grown, even Higher Ground isn't enough for him and never has been. He's still part of a group teaching college classes to incarcerated people in Harlan County and he's also teaching writing classes in Knott County, Kentucky. Additionally, he's raised money for community commercial development projects and building trades training. His fingerprints are all over the community, so much so that when the writers of the FX series Justified ran out of ideas for the sixth and final season, they came calling. Though Gipe wasn't officially credited with anything on the series, he and his Higher Ground collaborators influenced the storylines, and soliciting him for input on regional projects was a precursor of things to come.
Gipe went off Southeast's payroll once and for all on July 1, 2022, but he hasn't stopped grinding. When I asked Gipe why he kept at it after retirement, he said, "I don't know how to stop working. Stop contributing."
I suggested he'd finally stop thirty seconds after his own death.
"Yeah," he laughed, "my last involuntary muscle twitches will end up a grant proposal or something."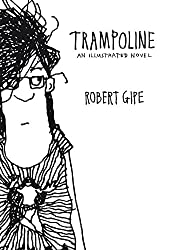 As big and vital as Gipe's role has been in Harlan County for the past 25 years, outside his primary stomping ground he's better known for other accomplishments. It's those accomplishments that have brought him to the national stage. As the author and illustrator of the Trampoline trilogy of illustrated novels, he won the 2016 Weatherford Award for best Appalachian fiction. Initially focused on addiction, teen angst, family dysfunction, and the environmental scourge of surface mining, the multigenerational series expanded in scope as he moved ahead. He completed the trilogy with two more books following the characters from Trampoline and their offspring in Weedeater and Pop. The series is now widely taught in high schools and colleges in the region. It's Gipe's literary exploits and extraordinary range that led fellow Kentucky author Silas House to dub him, "the closest thing Appalachian literature has to a contemporary Mark Twain, especially in the vivid way he creates narrative voice and the way he combines comedic elements with serious social topics."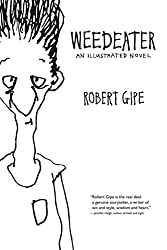 The first published version of Trampoline was a series of chapbooks Gipe wrote, illustrated, printed on a photocopier, stapled by hand, and sold for a few dollars each. He intended a five-act novel with each act consisting of three chapters following a teen protagonist named Dawn Jewell and her strikingly imperfect but spirited existence. He completed the first two acts and sold the six chapbooks at Southeast Community and to other students at the Appalachian Writers Workshop at the Hindman Settlement School in Hindman, Kentucky. It was at the workshop that House became aware of the project, and he and his collaborators at Still: The Journal literary magazine proposed that Gipe let them serialize the novel online.
House in particular was drawn in by Gipe's ability to bring social activism to his work in a way that was palatable and entertaining. No slim feat. "People talk a lot about how funny Robert is," House said, "but I think more about how conscientious he is. He's very troubled by injustice, and I appreciate that about him a lot. I think his writing has revealed more of that side of him over time."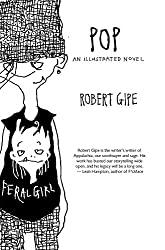 Gipe serves his environmental and social activism with a spoonful of sugar, so to speak. That sugar is humor and dramatic tension. It's not by mistake. "I got involved in the case to protect Black Mountain that's fictionalized in Trampoline," Gipe said. "Somebody was talking about how literature works and they said you can't make good fiction out of environmental activism, that it'll just inevitably be didactic, you know, it'll inevitably just be boring." Gipe shakes his head at this. "I set out to prove that wrong."
The six chapters Gipe completed and published by himself can be found in digital form on the Still site to this day, but the final three acts aren't there. After seeing the opening acts online, then director of Ohio University Press, Gillian Berchowitz, contacted Gipe with an offer to publish the full novel. "I never sent a query letter," he said. His homemade chapbooks led to Still, which landed him a book deal, which would eventually lead to even more.
And in talking to Gipe, you find out that's been a pattern. He doesn't seek jobs, publications, and creative opportunities so much as he gets discovered. His first job after finishing graduate school at the University of Massachusetts was director of marketing at the hallowed Appalachian cultural center Appalshop in Whitesburg, Kentucky in 1989. A recruiter offered him that job after seeing a project he completed for another entity while he was still in grad school working on his thesis.
He worked at Appalshop for six years spearheading creative training for school-age kids until he was solicited away from that job to go to the Annenberg Rural Challenge in 1995, where he gave away money to rural schools in Appalachia to connect communities to curriculum. It was while delivering a presentation in that role that Gipe was discovered by the then president of Southeast who asked him to apply there, then hired him.
Gipe and his brand of Appalachian authenticity have resonated with many people, not the least of which was fellow author Beth Macy, whose New York Times bestselling book Dopesick, about the genesis of the opioid crisis in the region, led to a Hulu limited series of the same name. She served as an executive producer and insisted that the production include Gipe, her "Appalachian sensei." He was named creative consultant at her behest and the series went on to be nominated for 14 Emmys and won two.
When I asked him what he contributed to Dopesick, Gipe mostly demurred. The most he would allow at first was "place names." He said some of their fictional locations didn't sound quite right to him. He also eventually conceded that he helped with the portrayal of Christianity in the region. Gipe's younger brother Will was a Presbyterian minister in Appalachian Virginia for many years, so Gipe made some suggestions regarding local preachers' way of speaking that made the final cut. Beyond that, he couldn't, or wouldn't, point to much more that he offered the series.
Macy was quick to dispel such modesty. "His mind is like, on fire. You could give him a scenario, and Danny (Strong) – our showrunner – would do that, and Robert would come back with like 15 scenes. The partying scene at the bonfire, that was all Robert. Robert checked the language. Robert also backed me up when I thought some things we were considering were too stereotyping of Appalachia."
By Macy's account, Robert's influence on Dopesick actually predated the series and started with the book itself. "I was reporting from Lee County (Virginia), where my main source, Dr. Art Van Zee, suggested I read his (Gipe's) work to better understand Appalachia. I gobbled up Weedeater, and somehow we started talking on the phone," she said. "I came to rely on him for emotional support, to talk through what I was seeing and how hard it was, and he empathized and gave me great advice."
For his part, while he claims little credit, Gipe is proud of his association with Dopesick and the greater points the series made. "They did a good job," he said. "The thing I love about Dopesick is, it's a critique of the economic system that allows the Sacklers and their ilk to run roughshod over people that live in communities like mine." Dopesick, he said, plumbs "the idea of who people think they can get away with abusing. It has to do with who gets to be fully human and who gets to be partially human."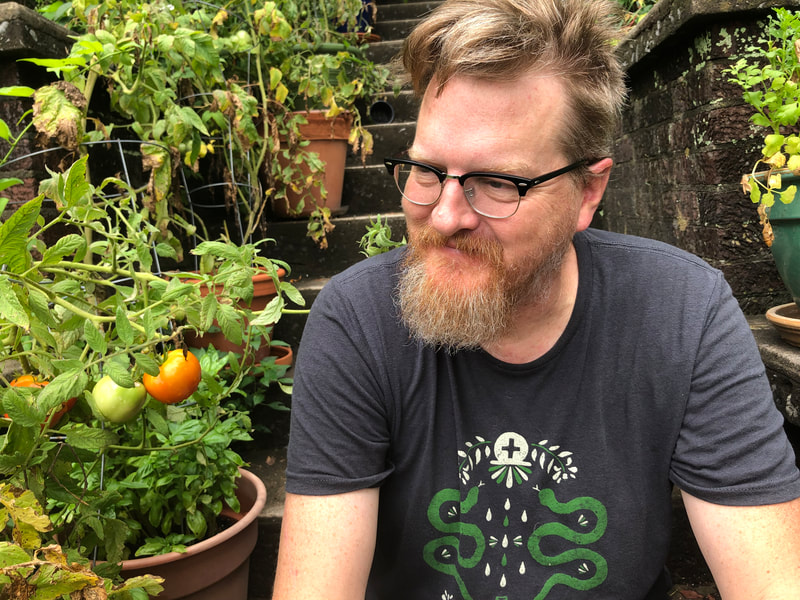 It would be easy to assume that what came next for Gipe sprang from his work on Dopesick, but the origin is unrelated. Before he ever signed on with Dopesick, or even published Weedeater, Gipe had returned to his old haunt Appalshop to promote the release of Trampoline. It was there that he stumbled into a potentially bigger breakthrough, only he wouldn't know it for some time. On that trip, Gipe met members of an East Coast contingent that included several creatives from Broadway. One was director Rachel Chavkin, who would eventually win the 2018 Tony Award for Best Direction of a Musical for Hadestown, and who on that day picked up a copy of Gipe's debut. He was happy to sign it for her, but thought little of it at the time.
Though it's unclear when she ultimately read it, what is clear is that Chavkin was smitten once she did. After she landed a development deal to create content for Disney's streaming services, she set her eyes on Trampoline. Disney optioned the book at her behest. The project wasn't ultimately picked up, but Disney isn't the only suitor who has approached Gipe for the adaptation rights to the property. That interest is a testament to the resonance of his work.
So right now, that's where Gipe's professional story leaves off, though there is almost certain to be more. In the Robert Gipe world, things change by the week, the day, the hour. But in all this talk of big shoes and small screens, it's fair to wonder how Gipe was nurtured into a person who could get so much done, and achieve such notoriety while dwelling and working in places considered small and out of the way. It doesn't take much digging to find out. He's quick to cite the influence of his departed parents, Bob and Barbara Gipe. He speaks of them with notes of bemusement and reverence both.
His famed work ethic and drive to serve originated with them. "Both of them thought things should matter," Gipe said. "You shouldn't be – this is one of my dad's expressions – 'fiddle farting around.' You should, you know, be productive and contributing."
Bob worked as a warehouse supervisor for the Tennessee Eastman Company in Kingsport. Before that, he was a 6' 5" forward for the University of Tennessee basketball team. In addition to his day job, Bob spent endless hours in gymnasiums in the city coaching and officiating basketball.
Gipe and his brother Will were two of many kids in Kingsport who were coached by Bob. Gipe claims that although he was always the biggest player, he was, "Not that good." Knowing his tendency to downplay certain things, it's hard to tell whether that's true. "My brother was a tall point guard. He was sneaky good." In spite of his brother being a better player, Gipe says Will never beat him. "I just wanted it so bad I could never relax." Whereas Will, he said, "is a Christian man. He lets you have it. He knew how bad I wanted it."
When I asked whether his father made him and Will better players, Gipe responded quickly, "A lot." Of his father's coaching style he said, "He was cool. He was good. I mean, you know, he'd wear you out." Gipe shakes his head just a little. "He was very demanding, but he was a good coach. We loved him."
Like all the best youth sports coaches, Bob didn't just coach his own sons. He coached any team in need. "He would be coaching every season like a minimum of two and usually three or four teams," Gipe said. "He would coach church league, city league, boys club. He was the king of the volunteers."
Bob was willing to accept payment for officiating games, but not for coaching kids. His experience officiating colored how he coached. "I saw him lead the pregame prayer and get kicked out of the game by halftime," Gipe said. "He knew a lot about refereeing and would share his wisdom with the referees. He got a lot of technicals because of that specifically."
Bob's fire on the sideline wasn't the only unique thing about his coaching style. "He was very competitive," Gipe said, "but I will say this, he liked to win with the kids nobody else wanted. He didn't drink or smoke, but he was like Walter Matthau and the Bad News Bears, you know. He wanted to win with the kids other people overlooked. He was a good coach and he wanted to win the right way. So much of youth basketball is you've got one kid who's dominant, just feed him. He thought everybody should get to play. Everybody should get to shoot, you know. Everybody should have a full experience of playing basketball."
"I always respect that," Gipe said. "All that stuff about doing the community work, and all that stuff about not picking friends, you know, like just whoever comes, that's who you treat right. That's all from him."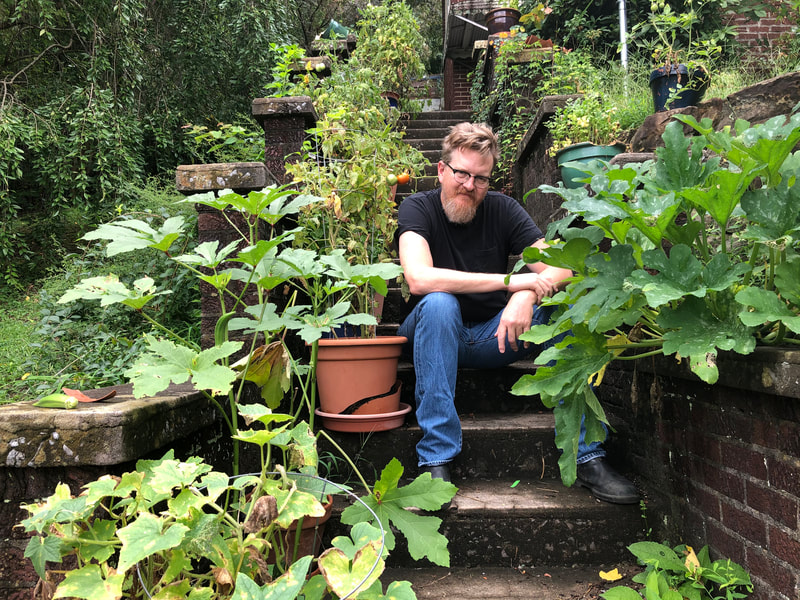 The mirror between his father's passion for basketball and Gipe's love of theater is not hard to see in the Higher Ground plays. Where everybody gets their chance. Everybody gets the full experience of writing and acting in the production. Higher Ground is the forum where perhaps Gipe honors his father's legacy the most.
Appropriately, many of the Higher Ground productions have actually been performed in basketball gyms. Something I learned the hard way at my first show. I arrived unannounced with my wife and friends in Harlan to surprise him, not realizing the demand for tickets. Upon seeing us, Gipe was immediately stricken. It was a packed house and tickets were reserved. He squeezed us all in, and my wife and friends had a clear view, but I sat in the stands in a place where I had to watch the entire play through a clear basketball backboard. I still enjoyed the show.
Gipe was barely into his teens when his family learned his dad was sick. He had lymphoma. Something he fought for nearly 15 years before succumbing at the age of 59 – Gipe's age now. Long enough to see his two sons into adulthood. As far as Gipe's father was concerned, if he was alive he might as well live. So he did.
Gipe recalls riding with his father three hours round trip so he could undergo radiation treatments in Knoxville, then going to see his beloved Volunteers play basketball – no matter how sick the treatments left him. And they often left him very sick. But there was no leaving the game early. And Bob didn't quit coaching. And he kept going to work.
His father's influence on him is present and profound, even after all these years gone. As you might expect, Gipe's fondness for his father has not dimmed. His mother Barbara's place in his heart is much the same.
"She did a lot of things," Gipe said. "She just always lived in Kingsport and was always a person that, you know, it's a lot of the place value." And here's where Gipe might also be talking about his own role in Harlan County. "It wasn't just Kingsport, but the idea that you just stay someplace and do something there. She was an RN. She taught infants to swim for a while. That was the thing that I always thought was cool that she did. She was the patient advocate at the hospital."
Much like her son, Barbara saw needs, and she addressed them. "She started a hospice at the hospital in Kingsport. She originated that," Gipe said. "And then, you know, she had a full-time job getting in everybody's business." She was ahead of her time in that regard. "She was the original helicopter," Gipe said.
Even in her later years, Barbara stayed in Gipe's business. One thing I learned as his friend was that he often called her at night before she went to sleep. She liked to know where he was and what he was doing. And she wanted to know when she'd see him. Once, we were in his car outside a convenience store in Harrogate, Tennessee, getting ready to buy provisions for the evening, and he put her on speaker so I could say "hello." I never met Barbara in person. She said hello back, paused only briefly, and said, "Robbie, when are you coming to Kingsport."
When she passed away in April 2016, I was of course sad for Gipe. We all were. Anyone who knew him knew how close he was to his mother. Gipe, author Carrie Mullins, and I had formed a little writing circle inside a larger writing circle, because we shared a similar sense of what we liked and how to do things. I picked up Carrie at her home in Mt. Vernon, Kentucky, for the trip to Kingsport for the funeral. The ride there was solemn as we were both preoccupied with our concern for Gipe.
On another road, Elana Scopa and a group from Harlan County were headed to the same place feeling the same thing. Empathy and a bit of dread about the coming sadness. As it turned out, our fears were unfounded.
Scopa described Gipe's eulogy as "the funniest thing I've ever heard. It was still sad and reverent and a wonderful tribute to his mother, but it was also so very funny. I think that's how he deals with things. Through humor."
If you had walked into the sanctuary and didn't know any better, and didn't hear the organ, and didn't see the flowers, you'd have thought you'd entered a standup show. And it was the same with brother Will as well, flexing his unique talents as a minister. The two of them offered a roughly thirty-minute eulogy so laced with both sorrow and levity that it left everyone wiping their eyes and holding their sides. That joy carried over to the reception after, and a day we had all dreaded became more of a fond recollection. That is the Gipe energy. Not just Robert, but Will and Bob and Barbara. Scopa's contingent from Harlan County was so moved by what they heard and saw that the entirety of the next Higher Ground play was essentially a recapturing of that day.
The Gipe energy is something created and nurtured by his parents, but that doesn't fully explain the unusual approach to art. When I asked Gipe his role model for his multi-faceted, multi-disciplinary approach to creating, he named Gurney Norman without hesitation. To hear Gipe tell it, the Kentucky Poet Laureate, author, orator, screenwriter, and storyteller was the trail maker he followed.
There are a few reasons for that, but one Gipe comes back to is that Norman in some ways reminds him of his father. "They were both born in the mid-1930s. They had very similar backgrounds." Gipe's father was raised by an aunt and Norman by two sets of grandparents. Supervision was light.
Gipe's father famously got off a bus in Cincinnati and climbed to the top of Carew Tower to locate Crosley Field so he could go to a Reds game. He did this alone. He was eight.
As a young boy, Norman would lead both his sets of grandparents to believe he was with the other, then roam eastern Kentucky and rural Virginia for days. "It's almost impossible for a kid to come up that way now because of the system," Gipe said.
Most of what he learned wasn't necessarily taught by Norman; it was modeled, Gipe said. "I came of age as an Appalachian watching him just patiently listen to all kinds of people who were eventually interesting. But it was very intermittent and at a relatively low percentage of what they were saying a lot of times. But then it was all interesting. His writing is just one manifestation of his love of story and the people in the region."
Norman shared a long and well-known association and close friendship with fellow Kentucky author Ed McClanahan, who passed away in November 2021 at 89. The two were both members of Ken Kesey's band of Merry Pranksters, a loose-knit collective of authors and artists who gathered for a period on the west coast where they created art and experimented with a variety of pursuits. They were both also a part of Kentucky's Fab Five group of writers along with Bobbie Ann Mason, Wendell Berry, and James Baker Hall.
As Norman's work is to Gipe, McClanahan's is to me. Though I was never as close to Ed as Gipe has been to Gurney, we were able to share some time together, talking about writing and life, and Ed was one of my trail makers. Gipe and I aren't Norman and McClanahan, but ours is one of those friendships that sprout up among writers and artists. The thing about Gipe is, he doesn't just have one plant or a garden, he's got a whole farm. In fact, the hardest thing about being friends with him is that he has so many friends.
One of those friends is West Virginia author Glenn Taylor, who first met Gipe, like I did, at the Appalachian Writers' Workshop. His initial impression, like everyone else's, was that Gipe was tall and funny and immediately likable and that his voice was "buttery-smooth."
All Gipe's friendships start with something like that. Time and exposure dispel nothing, only expand it. "My impression of him has changed only in the sense that it continuously became a deeper impression as I read his work and corresponded with him," Taylor said. "I came to realize he is a deeply thoughtful, unique, caring, and loyal individual. He is also one of the funniest people I've ever met, and a gifted storyteller, of course. I would go to battle with him."
Leah Hampton first met Robert Gipe at a Tennessee literary festival. "This was before Trampoline came out, so he was just some laconic guy in a black t-shirt towering over me in the line for the lunch buffet. He said 'hello,' and in typical Gipe fashion, immediately started telling me a wild, hilarious story. For me, it was pretty much love at first sight – in that way only writers can fall in writer-love with each other. The story was that good."
And that's how he does. He'll talk to anybody. He'll specifically start talking to someone who seems not to have anyone to talk to, because he doesn't like to see it. And it's in this way that he's so prolific in making friends, being friendly, and funny, and buttery-smooth, and tall. And, to be his friend, sometimes you have to wait in line.
Increasingly, the demands on Gipe that flowed from the success of Trampoline further crowded an already busy schedule. The more he traveled and made appearances, the more he was asked to travel and make appearances.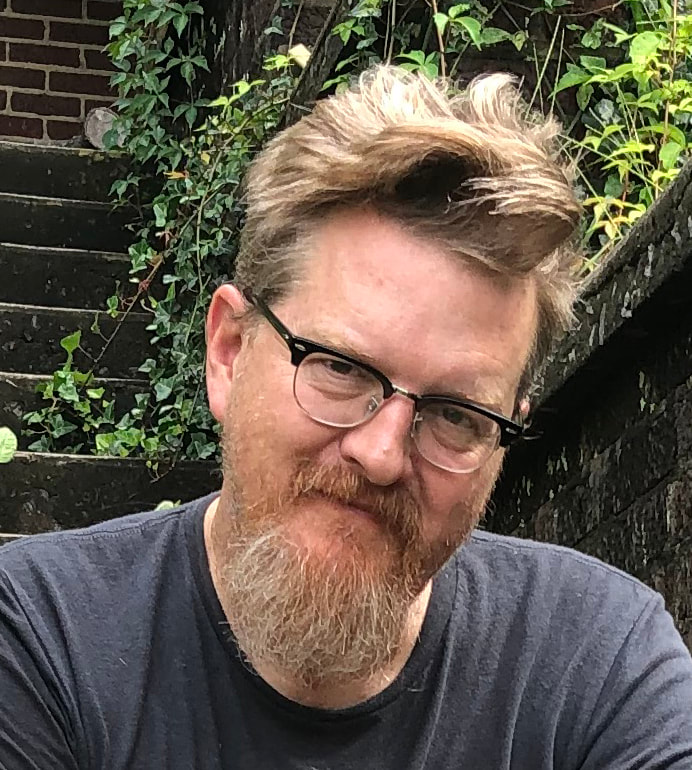 Gipe keeps turning up in The New York Times, most recently last week. He's also been featured in The Oxford American, and elsewhere. He still owns a home in Harlan, but on any given day it's hard to know where he'll be. My first question every time we talk is, "Where are you?" He spends a lot of time in Harlan, a lot of time on the road, and a lot of time at his partner Amelia Kirby's home in Lexington. They share activist interests surrounding our system of incarceration, and both became deeply involved in recovery efforts from the catastrophic flooding in Eastern Kentucky.
Even with all their work, they recently found time to go to the beach. There, Gipe found himself working anyway. Standing in the surf, Kirby's cousin hooked a thousand-pound tiger shark. "He puts on this gold codpiece," Gipe said, "and he puts on this harness that has a handle on the back so someone can hold him and he doesn't get jerked into the sea." Looking around, there's only one person in the party fit for the job, and that person is Gipe. So he grabs the handle and hangs on. Before long, they're all exhausted. Gipe, the cousin, and the shark. It takes over an hour to reel it in. When they finally get the shark to the surf – filled both with swimmers and now an enormous tiger shark – they unhook it and send it back into the sea. "It really didn't make any sense," Gipe reflected at the end of the story. But there was work to be done and he did it.
What Gipe will do next is anyone's guess. And however unexpected it might be, it won't be surprising.
Photos by Amelia Kirby.
To learn more about Robert Gipe, enjoy his website at robertgipe.com.
Wesley Browne's profile of Robert Gipe is the latest in an UnderMain series about Kentucky writers made possible with a grant from Kentucky Humanities.