A little over a year ago, Lee Carroll bid adieu to the 9-to-5 world, hopped on a plane to Senegal, and pursued his passion for world music in one of West Africa's most culturally rich countries. But in music, as in life, timing is everything. Within days of his overseas arrival, the world changed. COVID-19 had arrived.
"They shut the airports down in Dakar," Carroll recalled. "I was lucky enough to get on an embassy plane to get home. I had to leave my compatriot, who was Senegalese, but he lives in Chicago and has a U.S. passport. We looked at each other and said, 'If we don't get out of here, who knows when we can leave.' It was, like, nine months before they opened the airport again in Senegal, so we would have been stuck. So I did get home under the wire. But then I started thinking. 'What am I going to do now?'"
Beyond Nashville
While Carroll's devotion to African and global music is considerable, his resume as a professional musician might suggest otherwise. Having grown up in Cave City, he was a keyboard fixture in Nashville during the late '80s and '90s, playing and touring with Kentucky celebs Exile and The Judds. Appreciative of the career opportunities but frustrated by the stylistic limits they imposed, Carroll walked away from the music industry to make pizza. Specifically, he relocated to Pennsylvania and became a successful businessman overseeing ten Papa John's stores for 25 years.
"Basically, every 18 months in Nashville they hand you another album to learn," Carroll recalled. "That was the extent of it. Musically, that's very limiting. I'm not complaining – it was a great experience. I got to travel. I got to do the road work. I got to meet with and work with a whole lot of different people. It was a really interesting part of my life. But once you do a record, you play the same thing every night. You do that for 18 months with not much variation at all. So it was very limiting. When I left Nashville, I said I would never play with anybody again who thinks they can 'make it.' In a way, when you start thinking about what the public wants, you start making compromises.
"The reason you got into music in the first place was because you loved it. You just wanted to play music. You were drawn toward what appealed to you, then all of a sudden you're in a band. It's a commercial band and success drives the whole thing. 'How do you become more successful? What does the public like?' And you start compromising. After 26 years in the music business, I walked away. There was no joy in it anymore. I didn't play music again for ten years. I think it was the best thing I ever did, because when I came back to it, when I started playing again, it was like, 'Man, I feel like I'm 16 again, but I can play.' From that point on, it was like, 'I'm not going to play music I don't like. I'm not going to play for people who aren't listening. I'm doing this because it makes me happy. That's sort of been my driving force since then. If it makes me happy, I'll keep doing it."
Back home
Carroll eventually found his way back to Kentucky with pizza as his income and music as a hobby, but a hobby that quickly connected him with some of the region's foremost music makers. Quickly established was a working relationship with local producer, engineer, and musician Duane Lundy, who oversees what is now The Lexington Recording Company. An ongoing friendship and musical camaraderie led to Carroll adding keyboards to a number of recordings Lundy was producing, which of late includes projects for Justin Wells, Joslyn and the Sweet Compression, and Abby Hamilton.
But Lundy also became a sounding board for Carroll's newer music. In 2020, having sold his businesses, he was faced with a COVID-triggered lockdown that eliminated performance opportunities for live music. As a result, the keyboardist got to work on composing – a lot of it. With the help from members of his revamped C the Beat band (drummer/percussionist Tripp Bratton, guitarist Robert Frahm, bassist Thomas Usher, and saxophonist Jonathan Barrett), Carroll cooked up a musical potpourri that shifted from a Randy Newman-esque piano reverie ("Cornelia Sweet Dream") to tropically inclined, pop-friendly fusion ("Cartagena") to groove-savvy, dub-style jazz ambiance ("Marley's Ghost").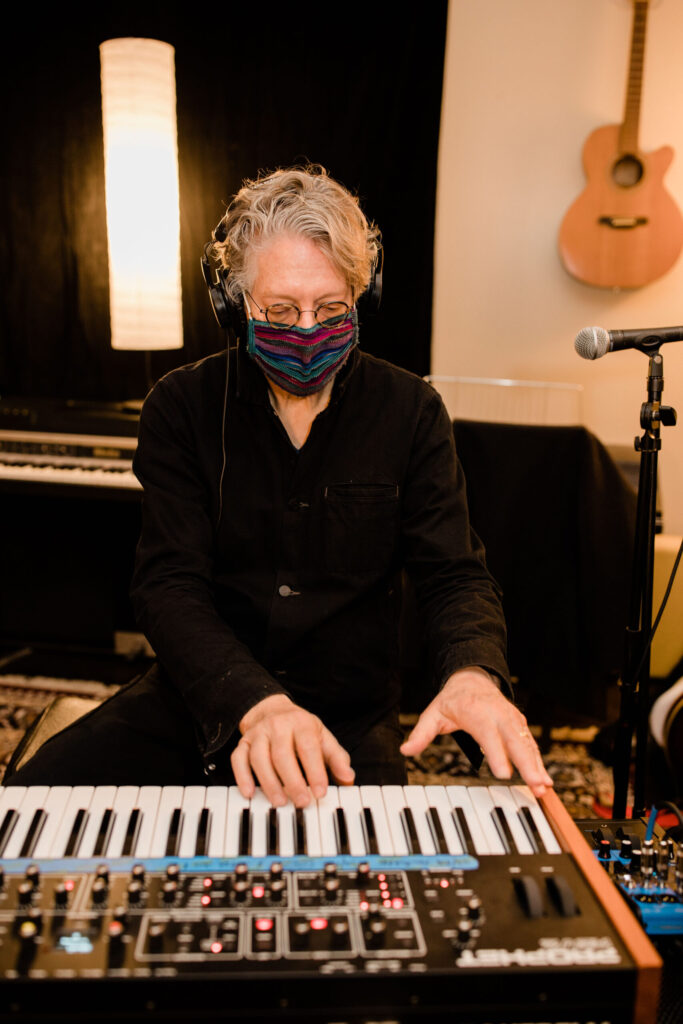 "At this point, I've written close to 40 songs since this COVID thing started. We've gone in the studio and recorded a lot of them. Then the question came up. 'What do you do with this?' I started brainstorming with Duane, and he said, "Here's what you need to do. You have all this material. You come out and release a single onto the streaming service – Spotify, iTunes, and all of that – and two weeks later you release another single. Maybe three weeks after that, you do another one. Then you release an EP with those songs and three more songs.' I started looking at the material and felt I could do that already. I could do that four times. That's a year, because each cycle takes about 12 weeks. That's a good spacing.
"This thing will evolve and change and adapt to whatever is going on. But what I'm going to do is start pushing the music out there. Sometime in the next month, when I have everything lined up and everything is mastered, we'll put that into play and start releasing the singles. Then I thought, 'We need an image to go with each single. We need some art.'"
Snake it up
Carroll envisions the release of his new music might culminate in a multi-media vinyl record package and/or book that would incorporate video and various levels of graphic design. But before all of that was art – art that would accompany the initial release of singles and EP collections. For that, he turned to one of his oldest friends and collaborators, Rodney Hatfield.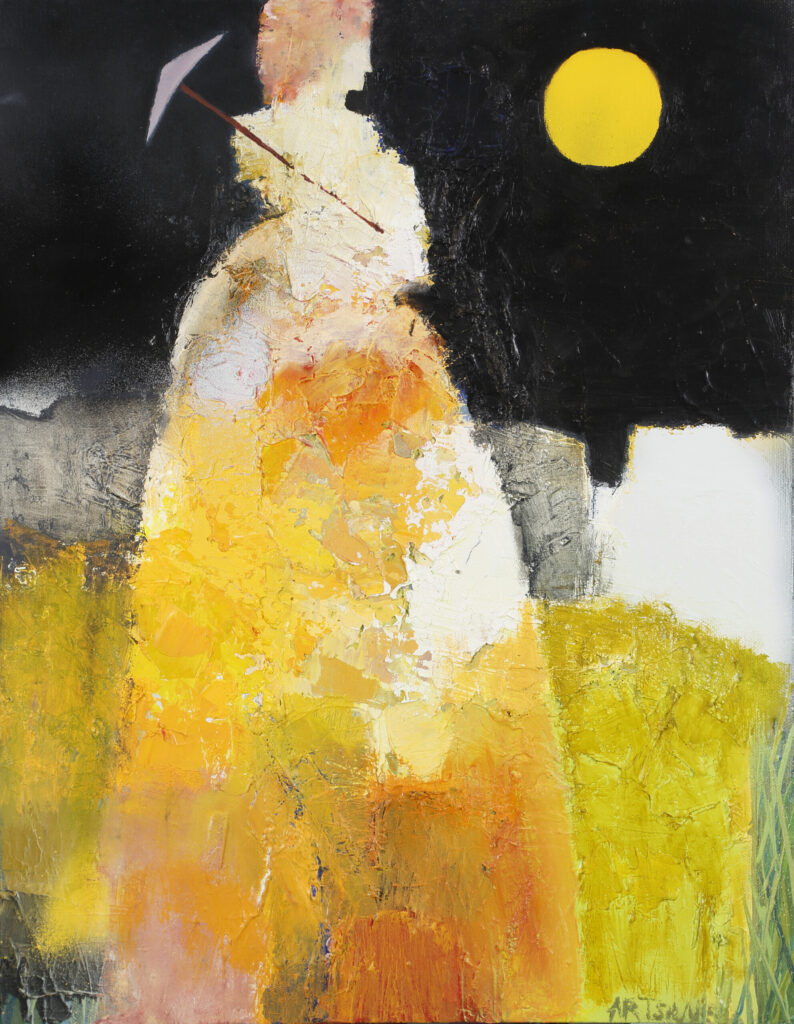 For many regional music enthusiasts, Hatfield was the harmonica stylist and co-lead vocalist for the Metropolitan Blues All-Stars and, with Carroll, the multi-genre Tin Can Buddha. But for the past several decades, Hatfield has devoted himself to painting. Under the nom-de-plume of Art Snake, he has created richly colored, broadly animated works that balance folkish intimacy with dream-like abstraction.
"We were tossing ideas around and everything kept coming back to Rodney," Carroll said. "We've collaborated for many, many years. I love Rodney's art. For Tin Can Buddha, we always used Rodney's images, so it just made a lot of sense. Plus, if we use a single artist for this project, then there is a common visual language that ties us together. It just made sense to use the same person. I talked to Rodney about it and he very kindly agreed to let me use images of paintings he had done.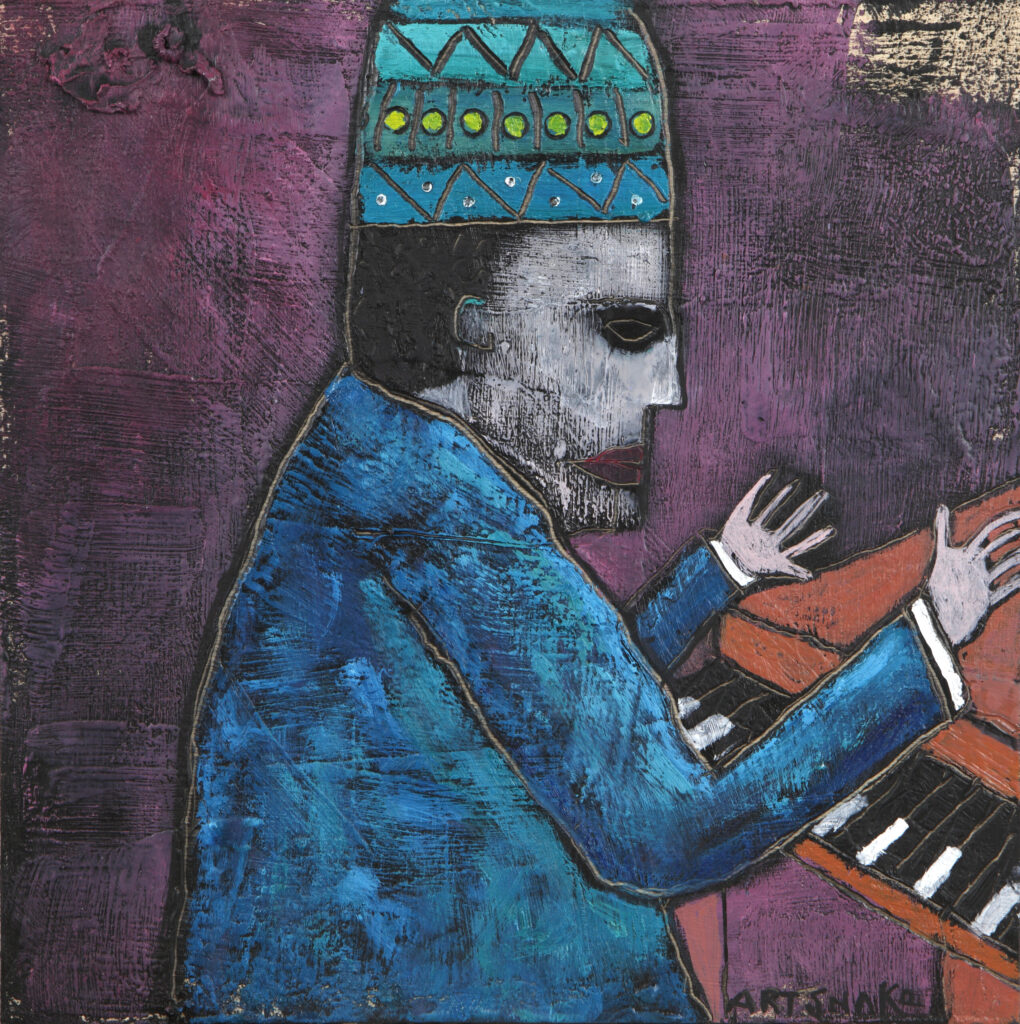 "The point of this is to do something meaningful. After I left the music business, I would find some of the records I worked on in the cut-out bin. It was like 'Back to the Future,' when Michael J. Fox looks at the picture of his family and they start fading. That's how I felt. So when I got back into music and started doing things like Tin Can Buddha, I was like, 'I want to do stuff that is meaningful to me. I don't care if it sells or not.' My son will have this after I'm gone and he can say, 'My dad did this.' I just wanted to leave something. I don't want to fade like that.
"I see this project as really an extension of that same thing. It was time to do something that has meaning to me and can perhaps touch some other folks in the process."
Check out two of the dozens of songs Carroll is releasing in the coming weeks: click.
C the Beat is performing this new music in concert at the Pam Miller Downtown Arts Center on Main Street in Lexington on the evening of Friday, July 9. Click here for details.
(Image at top: After Hours EP Cover Art by Rodney Hatfield)