On a Wednesday evening, having just crossed the state border from Tennessee into Kentucky with a final destination of Fort Wayne, Indiana, still hours ahead of them, Rob Ickes and Trey Hensley found it only natural to talk about traveling – or more specifically, where their travels have taken them this fall.
Just a few days earlier, Ickes was back on home turf. He was playing one of his native San Francisco's most prestigious music festivals, the gathering known as Hardly Strictly Bluegrass. There, the artist who the International Bluegrass Music Association has named Dobro Player of the Year no fewer than 15 times (making him the IBMA's most awarded musician to date) and his current musical compadre, guitarist and rock solid country vocal stylist Hensley, rubbed performance elbows with the likes of Americana giant Buddy Miller, country songwriting veteran Bobby Braddock, rock icon Robert Plant, and pop/blues vocal mainstay Maria Muldaur.
"It was," said Ickes in an instance of jovial understatement, "a pretty fun day."
A few weeks prior to that, Ickes and Hensley were right next door in Versailles, sweating it out with fans in the 90-degree swelter of a performance at the Kentucky Castle. It was a preparatory appearance ahead of their third album, an immensely spirited record titled "World Full of Blues."
It's a curious title for a duo whose music was born out of bluegrass and country. It might also cause some head scratching from blues enthusiasts, as well, as the record hardly adheres to time honored traditions of the blues. But, it's a big world out there and the mission of "World Full of Blues" was to explore the sounds sitting within it in ways that only a dobro, a guitar and a voice can. Well, that, and with the help of some high-profile pals.
"We're thrilled with it," Hensley admitted. "I guess we started on it last October, but finished it up pretty quickly. We're thrilled to finally get it out there. It's a pretty exciting time, for sure."
Off the Highway
First, some history. If you know bluegrass, you know the name Rob Ickes, the Tennesseean transplant from the West Coast who joined the prestigious string band Blue Highway in 1992. Over the course of 21 years, he took a love of the dobro that began with a listen to a Mike Auldridge record to a level of innovation that has made Ickes the most recognized modern day ambassador of the instrument after Jerry Douglas.
But after two decades, he was ready for a change. An alliance with Hensley, a guitarist with a solid-as-oak vocal command of country tradition, began in 2014 as one in a series of side projects for Ickes. But this endeavor took root. Following his departure from Blue Highway in 2015, work with Hensley became top priority. Now with their third album together out and another Lexington stop slated for October 28 at the Lyric Theatre for the WoodSongs Old-Time Radio Hour, Ickes is enjoying life off the Highway just fine.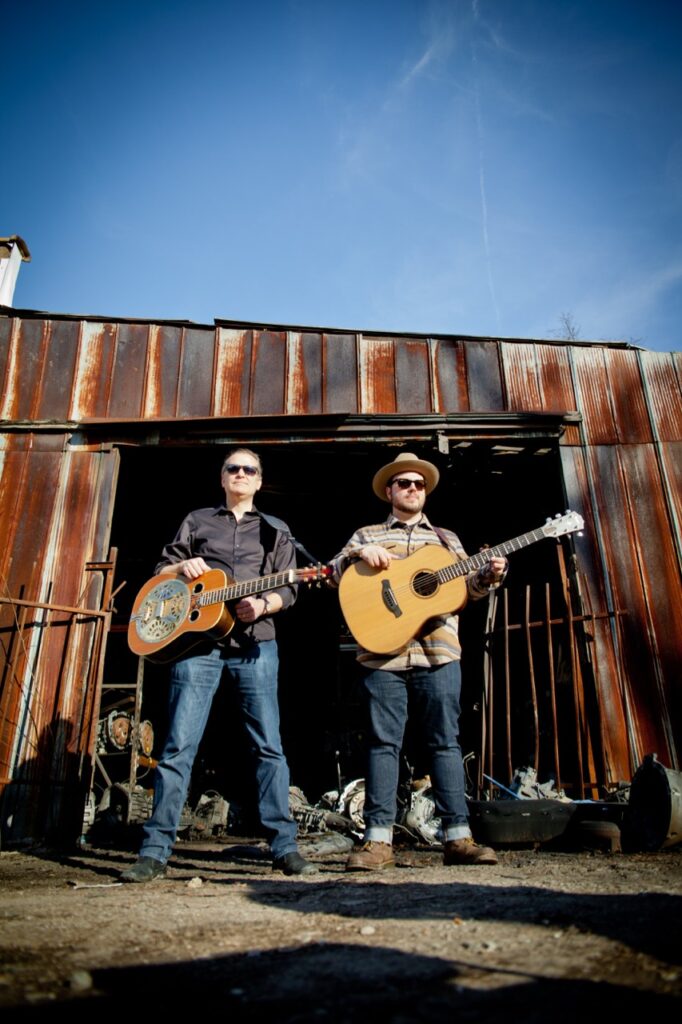 "A couple of years ago, Trey and I had a little time off in the fall where we got together. I've got a buddy who has a nice cabin outside of Leiper's Fork near Nashville, so we went up there with pieces of songs and ideas for songs. We wrote a bunch of stuff that ended up on the record.
"One of the goals was just to write more. Our first two records had a few originals, but on this one, nine of the eleven songs were written by one of us or both of us. That was kind of a goal for sure."
First to join to the party was songwriter/producer/engineer Brent Maher. As a record producer, his client list includes albums by Kathy Mattea, Dottie West and Kenny Rogers. Of perhaps greater interest to the Kentucky country contingency, Maher also produced every studio record by The Judds.
But Maher also had an ear for sounds made outside of Nashville. As a recording engineer he had a hand in creating records by everyone from Gladys Knight and Diana Ross to Merle Haggard and Glen Campbell. Among his most notable engineering credits: the hit crossover cover of "Proud Mary" fashioned by Ike and Tina Turner in 1971.
"Brent is a super cool guy," Ickes said. "We got together at his studio in Nashville. We recorded, just Trey and I, about 23 songs. Then the next day, Brent had the top 11 that he felt would fit together. Those were the ones he liked the most, so that's what we recorded.
"He wanted to focus on Trey and I and not have any other instruments on the record as far as strings went – no fiddle, no mandolin, no banjo. But he said he could really hear a B3 organ on some songs as well as percussion. Those were all his ideas. We thought they worked just great. We felt it would make for kind of a funkier sound, something a little more R&B almost. But it all began with Brent just focusing on our acoustic instruments and Trey's voice. He wanted to work from that sound. We thought, 'Fine with us, man.'"
Then the guests arrived.
The Blue World
The elemental duo sound that sits at the heart of the music Ickes and Hensley make is best reflected on "World Full of Blues" by a solemn country lament called "There's Always Something to Remind Me of You." It's a sterling bit of heartbreak led by the understated clarity of Hensley's singing, which sounds like the neo-traditionalism of Randy Travis' early records matched with the stoic storytelling command of vintage Merle Haggard. That Ickes' dobro work follows the forlorn singing around like a ghost adds to the tune's timelessness.
"It's funny," Ickes said. "Trey and I were thinking about having drums and stuff on that to make it something that really would sound more like a Randy Travis song. But when it was finished with just the two of us, it went to this Jimmie Rodgers kind of a sound. When we heard that, we wanted to go in that direction. It's just bass, guitar, dobro and organ on that. It was pretty sparse, but I think that really fit the lyrics great."
"But there were also songs where we really tried for a bigger sound," Hensley added.
"We were looking at adding the B3 and the percussion, but it also extended to the style of the songs. On our other records, we leaned on the bluesier side of country and bluegrass, but I think there is a natural progression on this record."
How far did that progression extend? Well, let's start with a cover of the Grateful Dead's "Brown-Eyed Women" and a cameo by the country artist least likely to become a Dead Head – Vince Gill.
"We had Vince on our last record, too," Hensley said. "He's been a good friend of this project from the very beginning."
"I don't think he knew the song or was very familiar with the Grateful Dead's material," Ickes added "But he sounded great on there. Now he loves the song."
Then there was the title tune to "World Full of Blues," a work that cried out for the accent of a blues stalwart. Enter the great Taj Mahal, whose gritty vocal grind offers a fun contrast to the unsettling reserve of Hensley's singing.
"We knew we wanted a guest on the third verse," Hensley said. "Rob and I made lists of who we would want as vocalist on the song and at the top of both of our lists was Taj Mahal. We played him the track, he loved it and he flew to Nashville. That day in the studio with him, that was a highlight for sure."
"It's just fun to work with great artists like that," Ickes said. "It's a thrill for us. It's nice to get a pat on the back from those guys. There's kind of a mutual admiration thing going on, you know?"
Rob Ickes and Trey Hensley, along with Larry Campbell and Teresa Williams, will perform at 6:45 pm on October 28 at the Lyric Theatre and Cultural Arts Center, 300 East Third, for a taping of the WoodSongs Old-Time Radio Hour. Tickets are $10. Call 859-280-2218 or go to lexingtonlyric.tix.com.
Walter Tunis writes about music for UnderMain. He is a music columnist for the Lexington Herald-Leader.