It's a perhaps natural expectation.
The sight of stringed instruments, the focus on traditionally based melodies and harmonies and a performance setting that often favors a social backdrop – meaning, in many instances, a festival. Put them all together and you have bluegrass, right?
Not so fast. Granted, that kind of reflex thinking might hit prospective fans of The Zinc Kings, especially those unaccustomed to the tradition, location and inspiration of the music this North Carolina quartet favors.
"Everybody thinks we're a bluegrass band," said guitarist, mandolinist and banjoist Mark Dillon. "When you play music with banjos, people are going to think you're in a bluegrass band."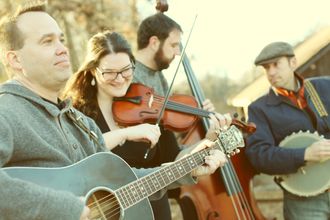 The Zinc Kings' traditional sounds are devoted more to pre-bluegrass country, folk and the assimilation of generations-old sounds collectively referenced as Old Time. Such traditional music ensembles are plentiful around the country. Most, though, operate so far under the mainstream radar that bluegrass becomes an accessible, available but ultimately misleading tag for audiences to pin on the music.
"It's a bit of a novelty, I suppose," added fiddler Christen Blanton Mack. "People who are not engaged in traditional music and they see a banjo, it's like, 'Uh oh, there's that thing.' It's a symbol of something people don't always connect with. They latch onto this idea of 'Oh, they're going to play bluegrass.'
"We played at a festival in New York and I knew a bunch of people there. They had been hearing me talk about the guys that I play with and what it's like being in an Old Time band. They're going, 'Yeah, bluegrass is cool.' I was like, 'Dude, really?' Because of where we're situated and because we have access to a lot of really great local tradition, it makes for an easy connection. It's not such a huge community, though, that you can't find commonalities."
In many cases, especially in Kentucky, Old Time music is passed down through families and communities, a lexicon built around fiddle tunes and folk songs that serve as the DNA for what later evolved into bluegrass and country music. It's the music of rural regions, of working environments and often of spiritual worship. It's the music of the mountains – the Southern Appalachians and the Ozarks, primarily. The Zinc Kings, playing as part of the Appalachia in the Bluegrass traditional music series at the University of Kentucky's Niles Gallery on Sept. 20, have their own mountain inspirations to work from, their own music to play and their own ways of finding a new audience for it.
Piedmont calling
The Zinc Kings were spearheaded by members of the University of North Carolina at Greensboro Old Time Ensemble that set out, beginning in 2010, to explore the folk traditions of the Carolina Piedmont. The band, completed by banjoist Dan Clouse and bassist Ryan Mack (Blanton Mack's husband, who joined in 2011), wasn't made up exclusively of natives from the region. Still, they were quickly fascinated by the Piedmont's accents of harmony and instrumentation, its distinctive string sound and, perhaps most importantly, the music's adaptability for projects that weren't strictly traditional in design.
"For us, the catch is that we live in central North Carolina," Dillon said. "We don't live in the mountains. We just recognized there was a pretty rich tradition that was happening with Piedmont.
"When you look at the history, a lot of people from the mountains were coming down into mill villages. A lot of African-Americans were coming into the mill villages, as well. When you get there, you start learning about artists like Charlie Poole (the North Carolina singer and banjoist whose late 1920s music would strongly influence succeeding folk generations). These guys were blending blues with North Carolina Appalachian music. We found there was a niche that really no one else, or very few people outside of the Carolina Chocolate Drops, were looking at."
For the classically reared Blanton Black, the music of the North Carolina Piedmont meant the study of a style with a looser, more socially inviting discipline. But the sense of devotion she gave it equaled what was demanded of her classical studies.
"I didn't start going to festivals right away," she said. "For me, the natural habitat for traditional music was just making music with your friends.
"When you put old time music on a stage and people don't know what they're listening to – because a lot of times, people might not – you present that music in a way that you would if you were playing that music in a jam with friends. We like energy. We love singing. Both help to connect you with an audience."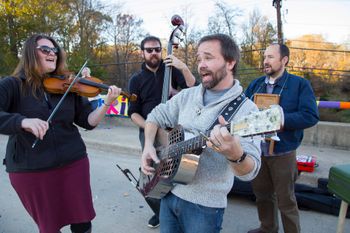 But the music of The Zinc Kings isn't locked solely into string sounds. Clouse, a Michigan native, studied tuba in high school before pursuing a Master's degree in music theory at the University of Tennessee. That's where and when he was drawn to the banjo. As such, he adds tuba and even washboard to the band's string sound. In fact, The Zinc Kings take their name from a washboard – specifically, a brand dubbed "the Stradivarius of washboards" by the Bone Dry Musical Instrument Company.
"I didn't grow up with Old Time music," Clouse said. "I never saw a banjo until I went to school in Tennessee. I didn't come to it with these ideas of what the music should sound like."
"All the world's a stage…"
On The Zinc Kings' third album, 2017's aptly-titled, "Piedmont," the inspirations of such Carolina stylists as blues singer Blind Boy Fuller, gospel/blues artist Blind Joe Taggart and musician/folklorist Bascom Lamar Lunsford are explored with the music's blues, folk and Celtic roots blended into a deliciously unspoiled Old Time fabric.
But the band isn't anchored to its homeland. "Piedmont" also reaches out to Kentucky by honoring famed Monticello fiddler Clyde Davenport with a lightly percussive and beautifully paced version of "Lazy John."
Similarly, the band's Old Time sound has sometimes taken flight from expected concert settings. A case in point: The Zinc Kings composed a score of traditionally inspired music for a 2013 production of Shakespeare's "As You Like It" undertaken as a collaboration between Raleigh Little Theatre, Bare Theatre and the traditional music organization PineCone.
"For Shakespeare, we had to work really hard to make the Shakespearean text fit the traditional Appalachian influences," Blanton Mack said "But the meter that's in Shakespeare did kind of lend itself to the music. We tried to stay really true to the text of Shakespeare but have the music feel participatory and inviting in hopes that people would want to sing along with us because that's something that everyone can do.

"There are bands into traditional music who do similar things to what we do. They're into traditional music but also are writing songs, composing music and working with composers and theatre companies. The tradition presents itself as being pretty straight forward and simple. The forms are really accessible, so we try to take the things that we love about traditional music, like the danceability or the sentiment of the song or the ability to tell a story like you might hear in a ballad, and just put out own stamp on it."
The Zinc Kings perform at 12 noon on Sept. 20 for the Appalachia in the Bluegrass series at the Niles Gallery of the John Jacob Niles Center for American Music at the University of Kentucky's Lucille C. Little Fine Arts Library. Admission is free.