It was everything one could have wished for on a downtown Saturday night.
The surroundings were sublime – a cloudless sunset with air cool and clear enough to fortify the spring that was very much unfolding. The streets around Broadway and Short were as full of people in motion as they would have been during a weekday rush hour. But the pace was markedly calmer. Some were heading to dinner, others from it. Many stopped and engaged in the sort of unhurried conversation that only seems to commence on a weekend. The lighting was a collage – a mix of the changing blue Mother Nature brought on with the dusk with an artful glow of man-made illumination that included the striking new marquee that greeted Opera House audiences at its Broadway entrance.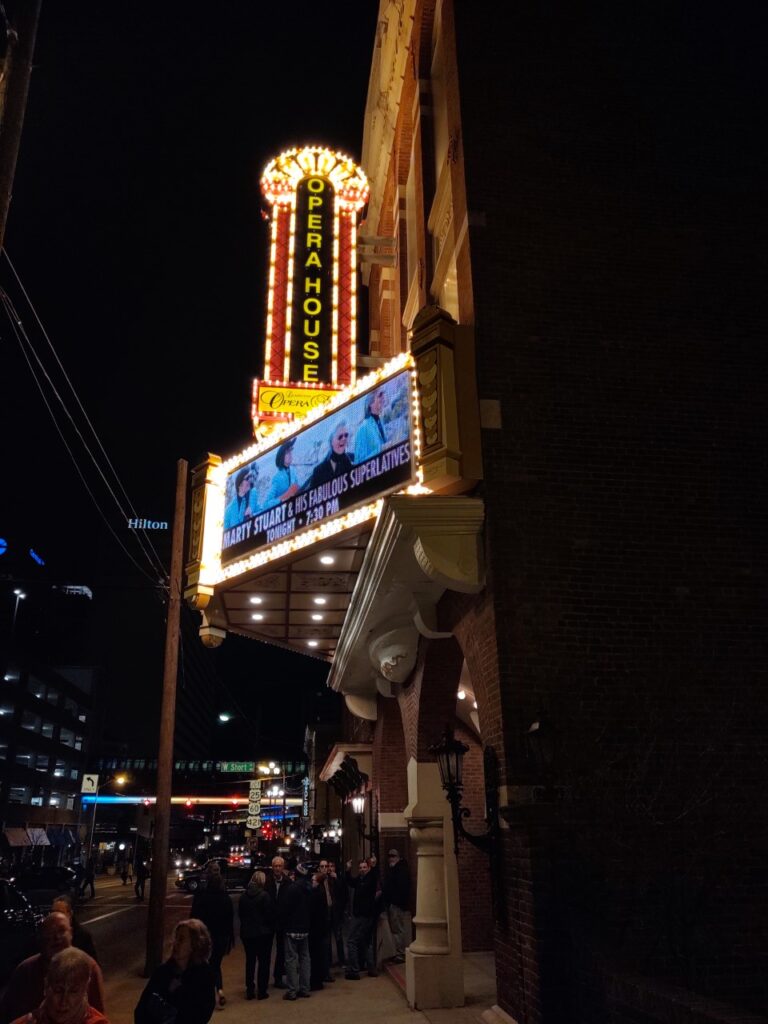 A large evening was planned inside the Opera House. Country music renaissance man Marty Stuart and his scholarly trio The Fabulous Superlatives were back in town for their first performance since playing across the street 16 months earlier, also on a Saturday night, as part of a sold-out Rupp Arena bill with Chris Stapleton and Brent Cobb. The room was going to be smaller for Stuart tonight, but he was the only act on tap. The night was to be all his.
Outside the Opera House, the mood was engaging. A major concert performance on a Saturday evening with spring in evidence – pretty hard to beat, right? Then something curious happened. A friend walked up to me who I had not seen in some time, but his greeting was unexpected. He didn't offer his hand. He leaned his left elbow toward me, expecting to me nudge mine to it in response."I won't ask you to shake hands, because, well… you know."
I knew alright. So did the three people in my company and my friend's wife, who was standing to his right.
Word was already spreading about COVID-19, about its devastating effects in China and its rapid tear throughout the rest of the world. With it came the grim understanding of how contagious the coronavirus could be. A simple handshake, a casual hug, any form of physical intimacy could spread it. But it still seemed far away. Everyone I knew was taking it seriously, but the general feeling was COVID was going to do its damage from a distance. So my friend and I jokingly rubbed elbows, went inside to watch Stuart and the Superlatives bust the place up with two hours of country roots romps, folkish confessionals, bluegrass standards and even a surf tune.
It was quite a night. March 7, 2020.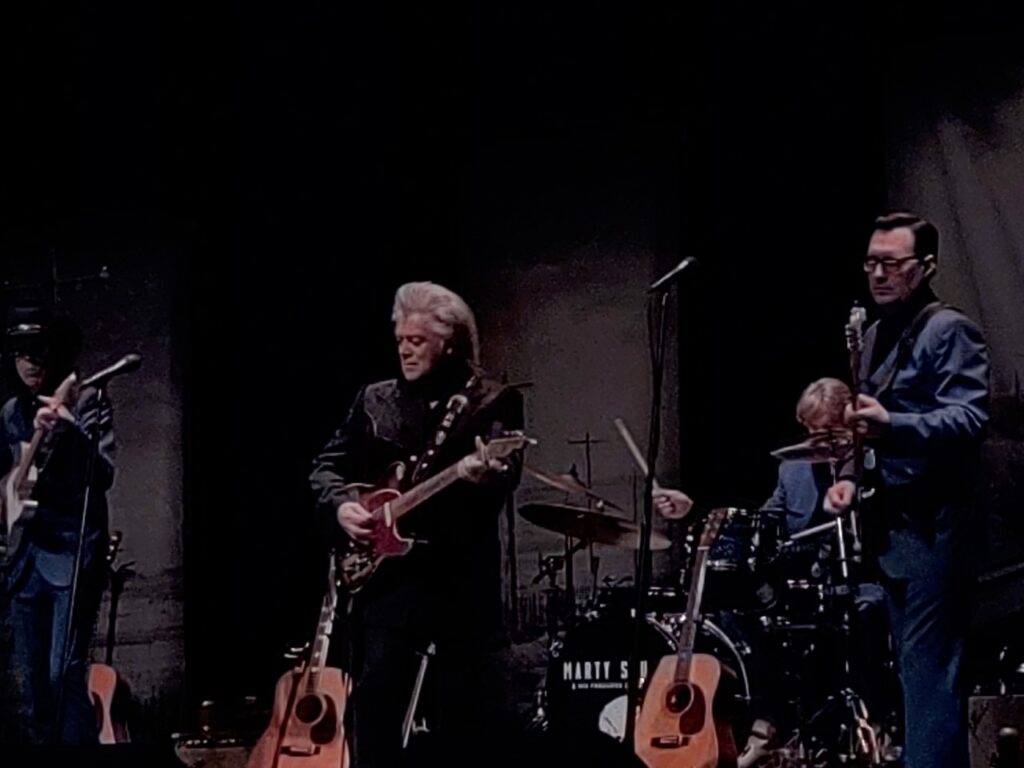 By the following weekend COVID had exploded, the world locked down, and live music, as we knew it, was extinguished.
Curtain down
Within days, the realities of COVID's arrival grew rapidly grimmer, as did the extremes of what was going to be needed to combat it. Live music, and all performing arts activities, began evaporating. The total effect didn't hit all at once, although it seemed like it. Live music still had a few hits left. In Lexington, two fell on the following Tuesday. Both, oddly enough, were jazz performances. Ironically, COVID, in something of a tease, was actually responsible for one of them happening.
Grammy nominated guitarist Julian Lage and Bad Plus drummer Dave King had been touring overseas as a duo. When a series of Japan concerts dates were scrubbed in the wake of COVID's invasion there, the two high-tailed it home and quickly assembled as many makeup dates before the coronavirus hit Stateside. One such performance fell into the lap of the Lexington-based Origins Jazz Series, which quicky booked Lage and King into The Apiary on Jefferson Street with roughly a week to promote the show. The concert drew well, amply satisfied those in attendance and brought Origins' third season to an abrupt and unplanned conclusion. It stands as, quite possibly, the only artistic gift COVID has given our city.
Over at the Niles Gallery on the University of Kentucky campus, the long-running Outside the Spotlight series (OTS), which leans more to free jazz and improvisational music, was welcoming an old friend, Chicago saxophonist Dave Rempis, back to town. Over the previous 18 years, OTS had presented Rempis at a variety of Lexington venues in the company of roughly a dozen different duo and band configurations.
What brought Rempis back to OTS and Lexington this Tuesday night was a trio called Kuzu that placed him alongside guitarist Tashi Dorji and drummer/percussionist Tyler Damon.
I had already made plans to attend the OTS show when the Lage/King performance was announced. From my Kuzu review: "The room acoustics played a role in this merry chaos, too. The natural echo of the Niles Gallery seemed to magnify the clarity and volume of sax and drums. Curiously, electric guitar, the only amplified instrument of the three, struggled to be heard above its acoustic counterparts. But the ensemble sensibility, full of vigor and invention, never waned."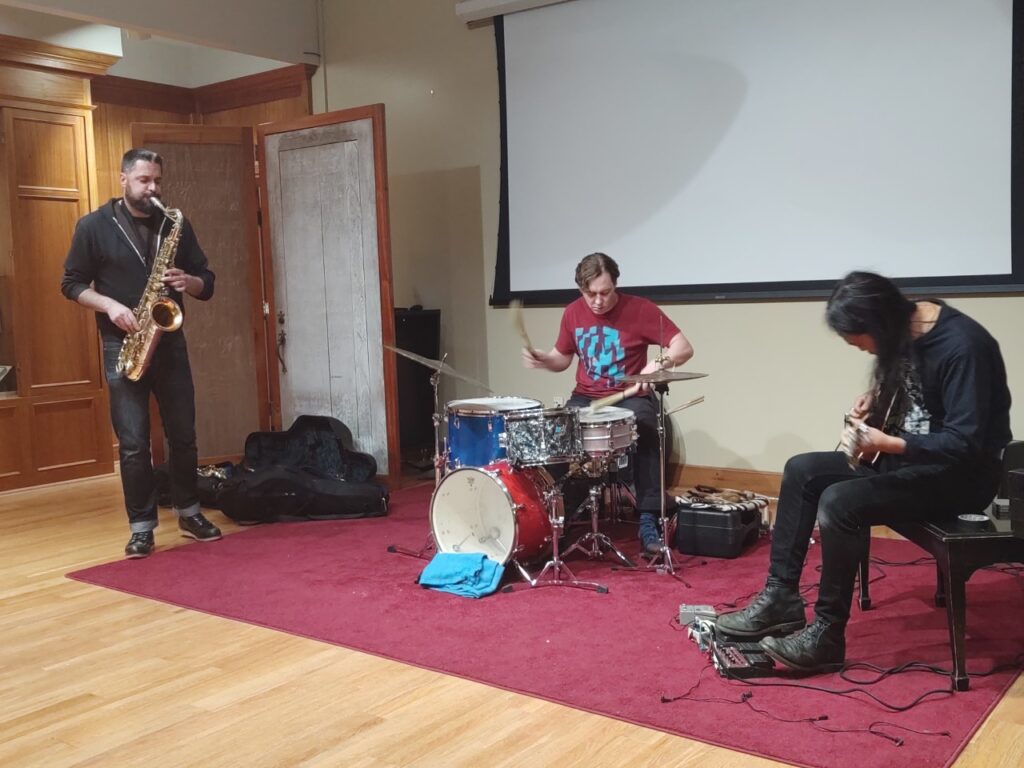 That was the last graph of the last review of the last full public performance I have attended. A full year ago.
Sounds lost
What we have lost over the past year is now immeasurable. There have been the artists – most notably John Prine – who have been taken by the coronavirus. There have been the venues, the most locally notable being Cosmic Charlie's, that have closed in COVID's wake. There have been the performances, including every major summer festival from the Festival of the Bluegrass to the anticipated second year of Railbird, that were lost.
It goes without saying that there have been valiant and welcome efforts to present at least some level of live music during the ensuing months. A special nod goes to The Burl, which continued to present socially distanced outdoor concerts in its parking lot as late as November. But even with all available precautions being taken, potential patrons had to weigh the risk of exposure. With the COVID vaccine not publicly available through the end of 2020, many music enthusiasts reluctantly stayed home. Being very much in the at-risk category, I was one of them. In most cases, though, the decision was made for us. Many touring acts that attracted arena, theatre or even club-sized audiences remained off the road. The grim forecast of what many venues were predicting was coming to pass.
"We were the first to close. We will be the last to re-open."
So what now? With the number of vaccinations gradually growing, there is at least some hope for live music's grand return. But it probably won't occur soon. Clubs like The Burl are again starting to offer small, socially distanced shows. Anything larger will probably still have to wait. That means more postponements (a Buddy Guy concert at the Opera House is now on its third rescheduled date) with the potential of more summer cancellations very much a possibility. Summer festivals are up in the air at this point, but the decision whether they go on or not may not even be in the hands of their promoters. If acts don't tour, nothing happens. Beyond that, at this point, it's wait and see.
One of the sadder and more recent postscripts to the year we have lost was the recent passing of jazz titan Chick Corea. His death on February 9 wasn't due to COVID but to a rare form of cancer that advanced rapidly after diagnosis.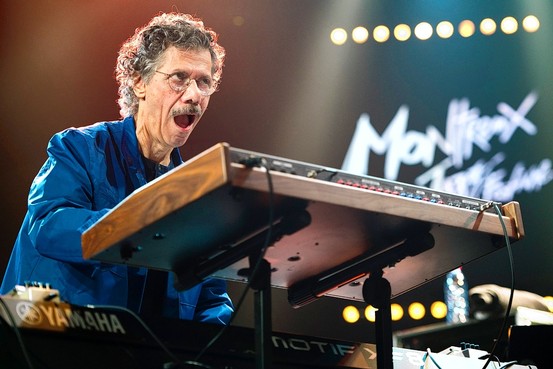 What makes Corea's departure especially sad was that during the earliest days of the pandemic, he maintained an unexpectedly high profile online. For roughly six weeks, he propped up an iPhone in his home studio and let audiences watch him practice at the piano. These weren't performances, although the playing was often of performance quality. It was instead, a means of simple, honest connection to an audience that felt abandoned by the loss of live music and in shock over a COVID-dictated lifestyle change that demanded isolation.
All of those sessions remain viewable online and serve as some of the most casual yet powerful artistic affirmations to surface during a year that tuned so much music out.
"Keep the spirit up," Corea said at the end of a practice session he streamed on Easter Sunday. "We're going to get over this. I know we're going to get over this."
Top Image Photo Credit: Cosmic Charlie's Facebook Page