On April 6, 2021, I set foot in a museum for the first time since the COVID-19 pandemic began. Seeing art in person was one of the last things we did before the world shut down in March 2020. My husband, baby, and I went to Washington, D.C. for the exhibition Hearts of Our People: Native Women Artists at the Smithsonian American Art Museum's Renwick Gallery over spring break.
Given the timing and significance of that most-recent museum visit, I knew that returning to an art gallery would be an emotional experience. I waited until I was fully vaccinated and two-week 'proofed', and until I could give the works the attention they deserved. I expected the experience to be different, but I could not have anticipated the intensity of my physical and emotional reaction.
As an art historian, curator, and critic, going to museums is not only an enjoyable pastime and a professional obligation but, more than that, looking at artworks in museums and galleries is what I do, fundamentally. I feel comfortable and at home in galleries. The first public place I took my newborn child was an art museum, strapped to my chest at six weeks old, because I wanted to both review an exhibition and be with my baby. I have, on more than one occasion, spent most of my waking hours camped out in a gallery while installing a show. Being in a gallery and seeing art in person has been an essential activity for most of my life.
Museums are holy spaces to me. As someone who struggles with an anxiety disorder, standing in front of art calms me, makes me be present. Romantic landscapes, minimalist sculpture, and abstract expressionist painting all provide me with a sense of my own embodiment that takes me out of the spirals of my own brain. Being in a gallery is the perfect blend of public and private. The hush of the space allows me a place to be alone, but be around other people, all from a distance and quiet.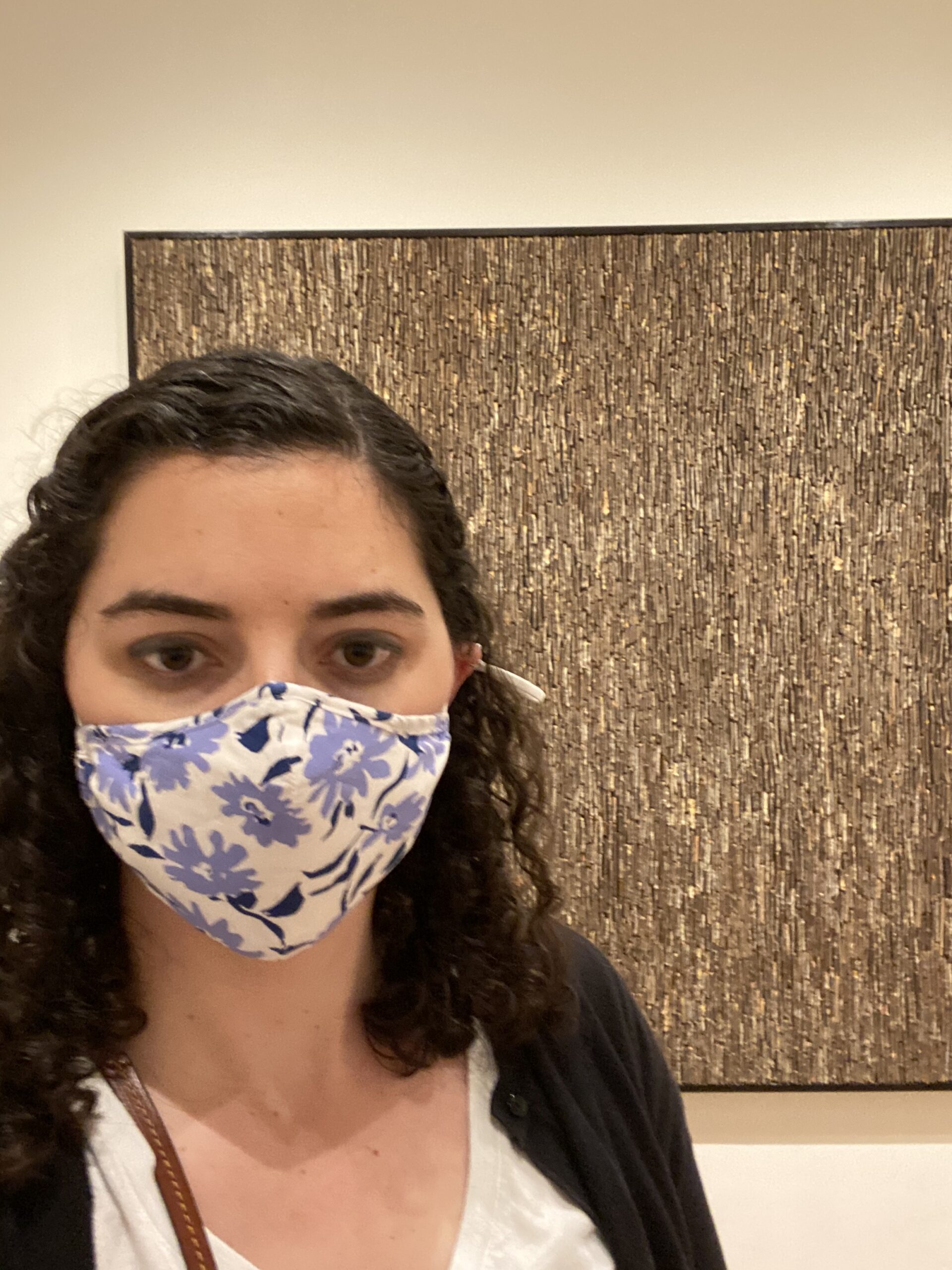 But that same anxiety disorder combined with having an essential-worker partner and a small child to care for meant I had to sacrifice visiting museums, at least until I was vaccinated. From March 2020 until March 2021, I retreated into the small world of my house, logging onto Zoom for endless meetings and only venturing out into public for a weekly grocery shop.
This past year was not, by any means, a year without art.  I teach my students that art does not only exist in museums and galleries. Art can be found literally everywhere, from the graphic design of soup cans in your pantry to movie posters and internet memes. I have actually taken pleasure in finding art where I can in our home. We have "real works" like the Lori Larusso diptych I finally got around to hanging in my living room, and the collage by Mike Calway-Fagen that hangs in the background of my office on Zoom. Our house is also filled with little works, like my Guerilla Girls mug, my Van Gogh Irises face mask, and the never-ending stream of crayon, marker and fingerpaint pictures my toddler creates.
I have taken a lot of joy in looking at art in my child's books, not just the illustrations of works like Julian is a Mermaid by Jessica Love or Raphael Lopez's images in The Day You Begin by Jacqueline Woodson, but the ones that showcase famous works of art, too. My child has recently gotten into the book Lola Dutch by Kenneth Wright and Sarah Jane Wright. In this book, the eponymous Lola discovers the great artists on a trip to the library and makes her own versions of Picasso's Blue Guitarist, Monet's Japanese Footbridge, Klimt's The Kiss, Vermeer's Girl with a Pearl Earring, Matisse's paper cut collages, and Michelangelo's The Creation of Adam. Similarly, a close friend gifted us Parker Looks Up: An Extraordinary Moment, written by Parker Curry and her mother, Jessica Curry, about the young Parker's transformative experience standing before Amy Sherald's portrait of First Lady Michelle Obama, one of the last works my child and I saw together in person before the pandemic.
And, of course, I have found art in digital spaces as well. From the outset of the pandemic, I have been attending virtual exhibitions, harnessing their capacity to bring art from far corners of the globe into my online classrooms as a part of my teaching. I have spent countless hours poring over the digital collections of museums and watching archival footage of performance and video work as I write my forthcoming book. I have continued to consume art on social media, since I follow many different artists and institutions, and I have taken joy at finding the little incorporations of visual art in even my guilty pleasure TV shows, like when I binged all of Gossip Girl and took great joy every time the Elmgreen and Dragset Prada Marfa sign appeared on screen. For 13 months, these experiences with art sustained me, all the while knowing that eventually I would venture back in person.
Like all things pandemic, the decision to return to the museum was quite personal. I know that museums have been open since Summer 2020 and that they are generally very safe when proper protocols are followed. They are generally larger rooms with good ventilation/climate control and where the natural crowd patterns involve distancing. But I needed the extra layer of my own vaccine-induced immunity before I could undertake a non-essential venture into a public site. When the vaccination rate in Lexington surpassed 1 in 4 people and the COVID positivity rate dipped below 3%, I decided it was time. I made a reservation and donned my mask to go to see some art.
Entering the University of Kentucky Art Museum during a pandemic felt the same as entering almost every other space in the pandemic. I had to stop by the desk, give my name, and get my temperature checked. In spite of the check-in protocols, masking, and hand sanitizing, entering an art gallery felt splendidly normal, a feeling I had apparently been aching for.
Upon entry, I was drawn immediately to the series of untitled hanging pieces by Jessie Dunahoo, consisting of collaged and quilted scraps of discarded plastic and cloth. In pre-pandemic times, I would have approached this piece and focused on the visual elements, the little details like the Kroger and Bounty logos emblazoned on the plastic quilts, or the vacillation between sheerness and opacity consistent in each piece. I would have ruminated on what Dunahoo was saying about the disposability of items in our culture, the environmental impacts of plastic, and the questions of mundaneness that a display such as these quilts calls to mind.
Of course I had these thoughts. I have internalized art historical methods to the point that my brain generates this kind of analysis automatically.
But having been starved of an in-person viewing experience for over a year, I was struck by the phenomenology, the sensorial nature of being up close to a work of art, to something that someone else made with their own two hands. I found myself wholly aware of my own size in relation to Dunahoo's works suspended above me. I could experience the line of my eyes moving in a way that was both foreign and familiar, scanning each piece from top to bottom, noting the shadows they cast as they hovered a foot or so above the ground, and taking in how each piece related spatially to the others. This was a stark contrast to how my eyes have functioned for the last 13 months, staring straight ahead, apprehending only what is at eye level in order to stay engaged in a video call or other aspects of my remote work. In standing next to these works, I began to take in the whole space.
I then moved to Elana Herzog's Shifting Ground and was even more overwhelmed by the evidence of someone else's touch. In Herzog's floor piece, she juxtaposes different scraps of carpet, layering them to create shapes and textures wholly unlike the rugs from which they derived. Walking around the edges of these pieces, I was tempted to brush them with my toe, and even to bend down and run my fingers over them, although I know the latter move was not a safe one in the pandemic (and as a curator, I know better than to touch the art in someone else's show). Both Herzog's floor pieces and Dunahoo's hanging collages brought back the thing that I love about seeing art in person – the thing that cannot be replicated through digitization, no matter how hard you try – the truly physically material nature of an art object.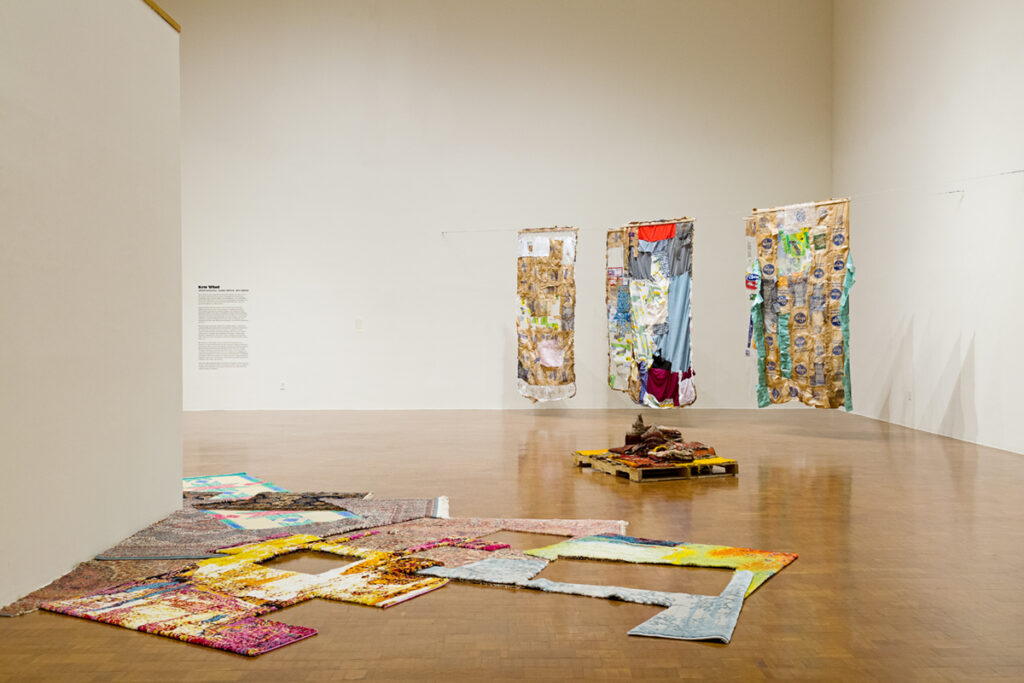 As I walked through the gallery space, the tactility of the works overwhelmed me, especially since the exhibition Sew What is all about textile. I found myself tearing up at Ben Venom's heavy metal quilts, overcome by the handmade, singularity of each one, a sensation that overrode any displacement that the kitschy nature of this particular imagery would have otherwise elicited. I felt drawn into the materials, particularly the printed t-shirts in Don't Wake Me Lucifer, which drew me back into the patchouli scent of Hot Topic in my childhood mall, where I would have bought similar shirts as a teenager, all the while reminding me of my eternally metal friends, who would shudder at the thought of purchasing a shirt like these in a store like that.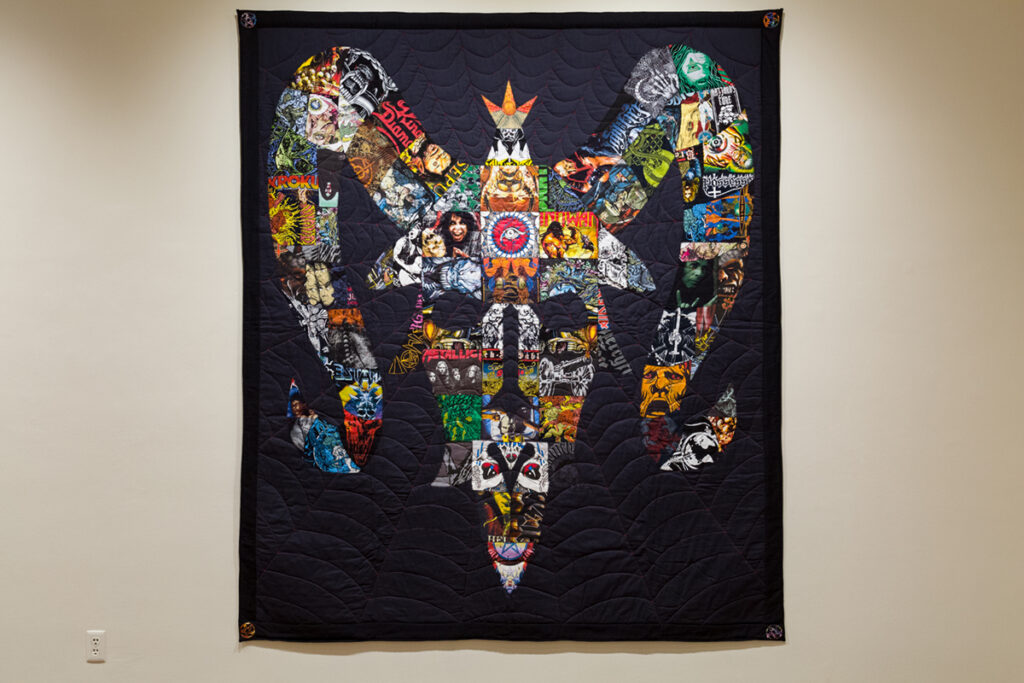 I moved into the next gallery space, which also felt immensely tactile. The exhibition Come Together: Assemblage and Collage from the Collection was full of objects whose handmade quality was apparent, primarily because they consisted of found items, repurposed and repositioned. There were small works of assemblage sculpture, like the one by Louise Nevelson's Untitled, and more elaborate paper works, like Christo's Manhattan Wrapped, which combined lithographic images with collage.
And then, there was the 6' by 6' square assemblage, Night Rain, by Judith Page, which swallowed me whole. Comprised of individual twigs creating a pattern of vertical lines mimicking the downward trajectory of raindrops, this work was everything I had been missing about seeing art in person. It was massive, especially in comparison with computer-screen or smartphone-scaled images my eyes had grown accustomed to. It was physically material, comprised of tiny pieces of wood that can only fully be apprehended up close. And in that monument of tactility, I found myself looking closely in a way that I couldn't when examining works from my desk chair, a way I always do when faced with a large-scale work of art: physically getting closer and further away from each section, all the while attending to the parts of the work at my periphery, and being aware that in looking closely, I am only seeing part.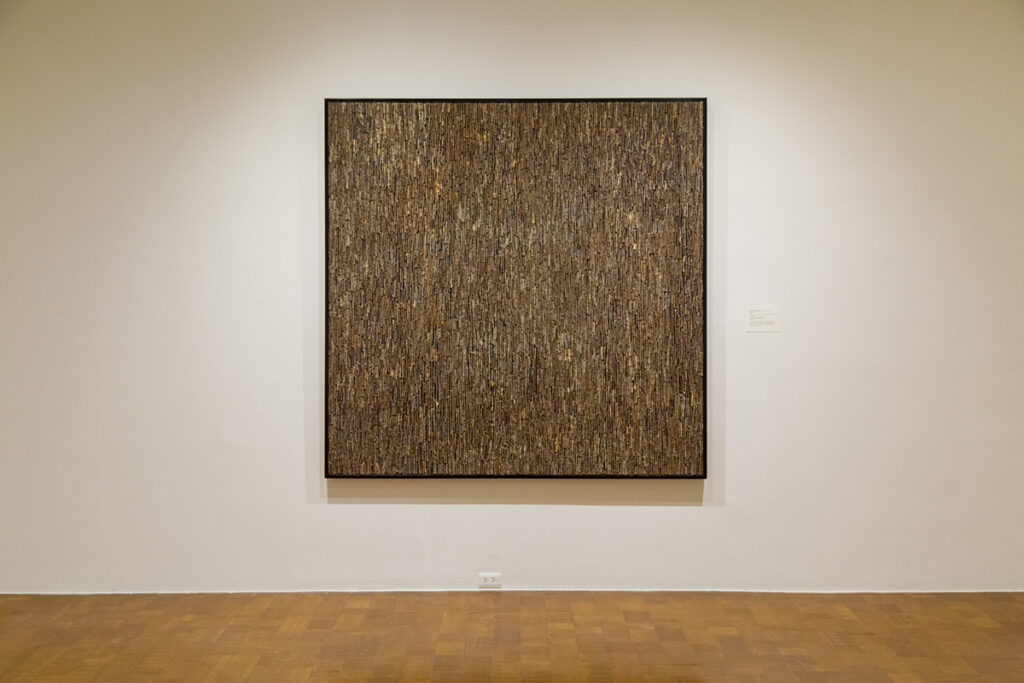 This sensation was altogether different from zooming in on individual details. Technology let me see, in clearer detail, elements of artworks that would require a proximity that no museum guard would ever be okay with. However, the photographic detail is revealed at the expense of the whole work; to make such a detail, the rest of the image must be cropped. But close looking in person means that you are present with both the detail and the complete work simultaneously. The tension therein is electrifying.
As I continued on, I was grateful that I began my foray back into the museum with works of textile and assemblage, objects that are unquestionably unique, even when they are made from items that are not. These two media have always felt the most approachable to me, since the objects within them are ones we are physically familiar with. Viewers know the feeling of a trash bag, a carpet, a t-shirt, or a piece of wood. We know what different textures of paper feel like, and we can appreciate the physical gesture of cutting fabric or newsprint in order to create a collage or a quilt. As such, looking at assemblage often involves a sensorial memory, an understanding of what an object feels like, just looking at it. Tactile recollection helps imbue the new work with meaning.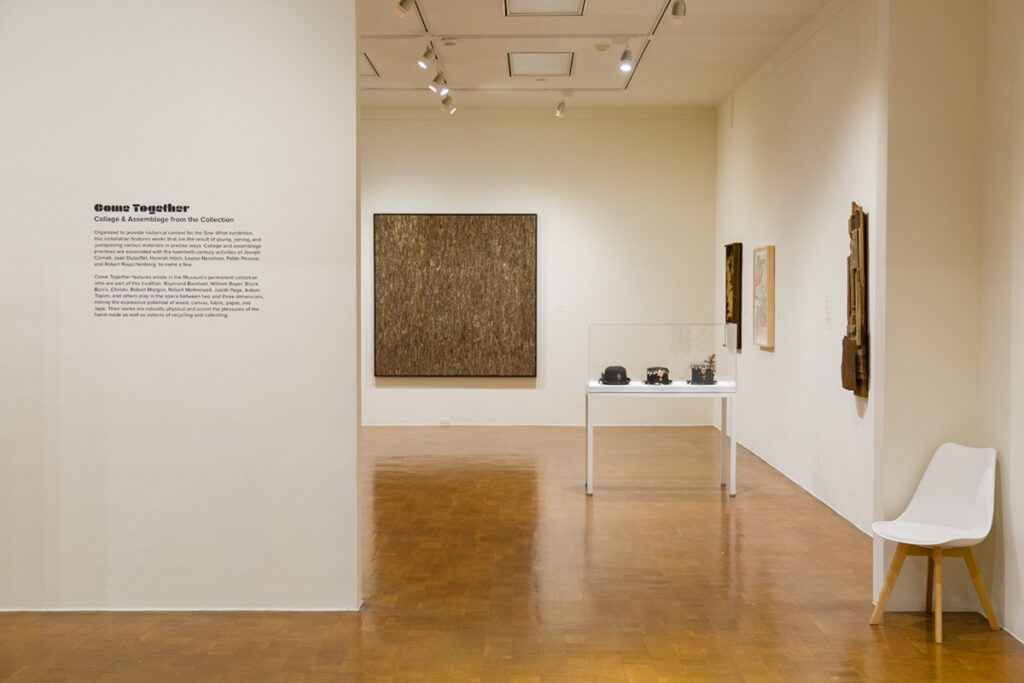 Yet, while I have always looked at quilts, collages, and assemblages as items with which viewers are familiar, what was unique about this viewing experience was that for the first time I was overwhelmed by the notion that these objects were the product of someone else's touch, that the feeling of familiarity I had with their materials was shared by the person who made them, and that we were now connected through this artwork. Granted, I have had this feeling in archives before, gripped by the sense of historical purpose and connection upon the realization that, for instance, Julia Child and I have touched the same physical papers. But in the case of these artworks, I myself did not touch; I merely looked. I got close and I looked, but in that closeness of looking, I felt connected.
I have, of course, always understood that art has the power to connect people. I am one of those who cry in the presence of a Mark Rothko painting, especially when I consider how he intended his works to be an extension of an essential need to communicate with others. But my feeling of connection during this visit was different. Instead of being consumed with the question "what is this artist trying to say," I was instead seized by a need for "how can I connect to this person."
This change is surely a result of the pandemic. In the last year, my social interactions shrank from interacting with scores of people on a daily basis to perhaps seeing one other family a few times a month. While I have been connected with colleagues, students, friends, and family over Zoom/Facetime/Google Meet since last March, these interactions, like the digitized artworks, never felt the same as being face to face.
Having spent so much time alone in the reclusive safety of my home – which, admittedly, for an introvert, had its perks – I had forgotten, on a visceral level, that even I am, by nature, a social creature as all humans are. We live collaboratively and we need to connect with one another. One of the biggest challenges of the pandemic has been that at the time when we need the care and support of other people the most, it has often been too risky, and even life-threatening, to be together. And so, for survival, we have adapted, culling down our social circles to small pods or family units and replacing the shared experience with the phone call or the video chat. But even having adapted, the need to connect, to really share an experience with another individual is still there.
In many ways, I know that my response to returning to the museum was unique to me. I have the privilege of feeling like all gallery spaces are there for me to access, that they are designed for an audience that includes me. I have a knowledge base that allows me to access artworks that others may find off-putting. But the feeling of standing before something touched, felt, and crafted by another person, the connection through items that have memories in my life and that clearly captivated another person, all of that can be felt by anyone. And I must say, that feeling, even if it was tinged with the grief for all the things I have missed in the last year or so, was truly a sensation worth having.
Seeing art in person again rekindled something that had been suppressed in the name of survival for the last year, and the spark engulfed me in a way I could not have anticipated. It likely will be a while until I pack up my whole family and fly us to a distant city with the goal of seeing an exhibition, but to go back to the museum and feel the presence of art again was a welcome reminder that what I had once taken for granted is far more important than ever before.
Sew What: Jessie Dunahoo, Elana Herzog, Ben Venom, and Come Together: Collage and Assemblage from the Collection, are on exhibit at the University of Kentucky Art Museum, through July 10, 2021.