In 2015, James Benjamin Franklin needed a jolt. After 15 years of living and working in New York, the painter felt his studio practice was shrinking, that he himself was getting swallowed up by the city. Six years later, the 13 recent works he presents in "A Layered Approach" at KMAC Museum are themselves the jolt: five large-scale paintings bursting with saturated hues and electric energy, along with eight smaller works on paper that pleasantly pulse with a sense of nascent form and color.
What happened was this: Franklin left New York to pursue an MFA at Cranbrook Academy of Art, the storied institute in Bloomfield Hills, Michigan, with a legacy of integrating design and architecture with the fine arts. It was there he realized that, while his abstract work was very tight, flat, and laborious, when he was painting on objects, his brushwork felt free and open.
"I had been thinking about different surfaces already," Franklin recalls. "I was hyper-aware of edges and relationships between the gesso and the fineness of linen or the coarseness of jute and burlap. It was the whole object. I needed to open up and I wanted the relationship that I had when I was painting other objects."
Noticing a fellow graduate student working with plaster mesh, Franklin constructed a wire frame and covered it with plaster to create a positive cast of a panel with built-up edges, almost as if he had flipped a traditional canvas to its reverse side. "Immediately, it got exciting," Franklin says. "I had this form that was awkward and rough and object-like. I started being really playful again with abstract lines and shapes pouring forth. Because the edges formed a tray, the work became a kind of performance space that was capturing the history of the making of the painting. You had a sense of time. And with the inherent frame, it was a complete unit."
The molded frame also provides the ideal space for Franklin to incorporate textiles and other mundane materials into his paintings: abstract shapes cut from crocheted afghans, fragments of hand towels and bathmats, handfuls of sand, and scraps of metallic paper. After arranging these items within the plaster frame, he begins to cover them in layers of paint, slowly building up the canvas by pouring one color and waiting to see how it spreads and dries before applying more deliberate marks. In this way, the finished work becomes a record of different disruptions to the surface, a collection of explorations in texture and the formation of images.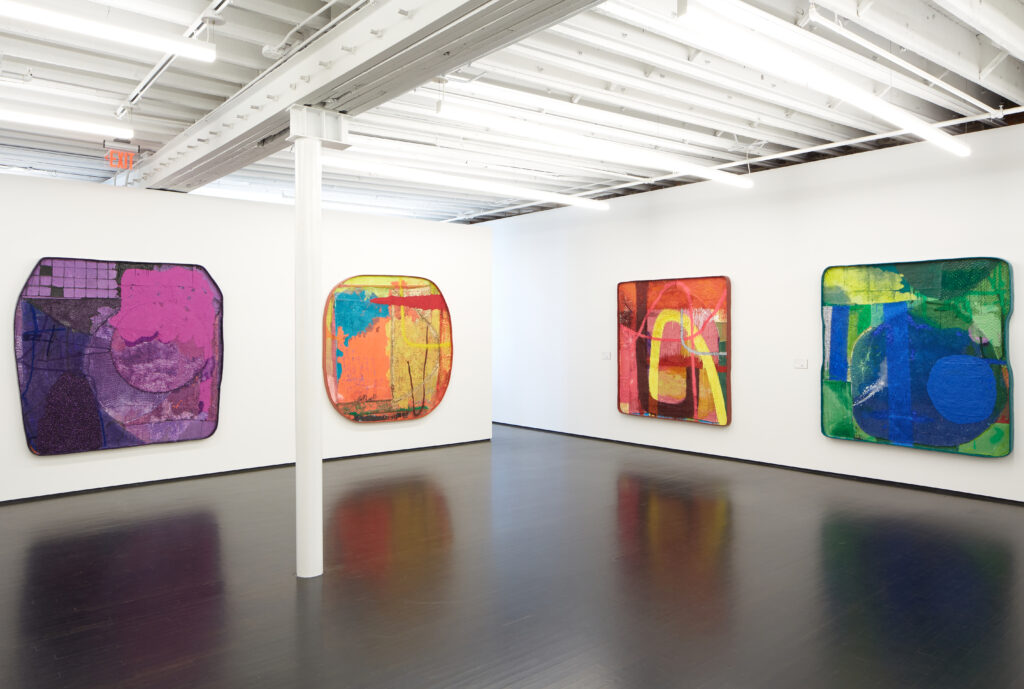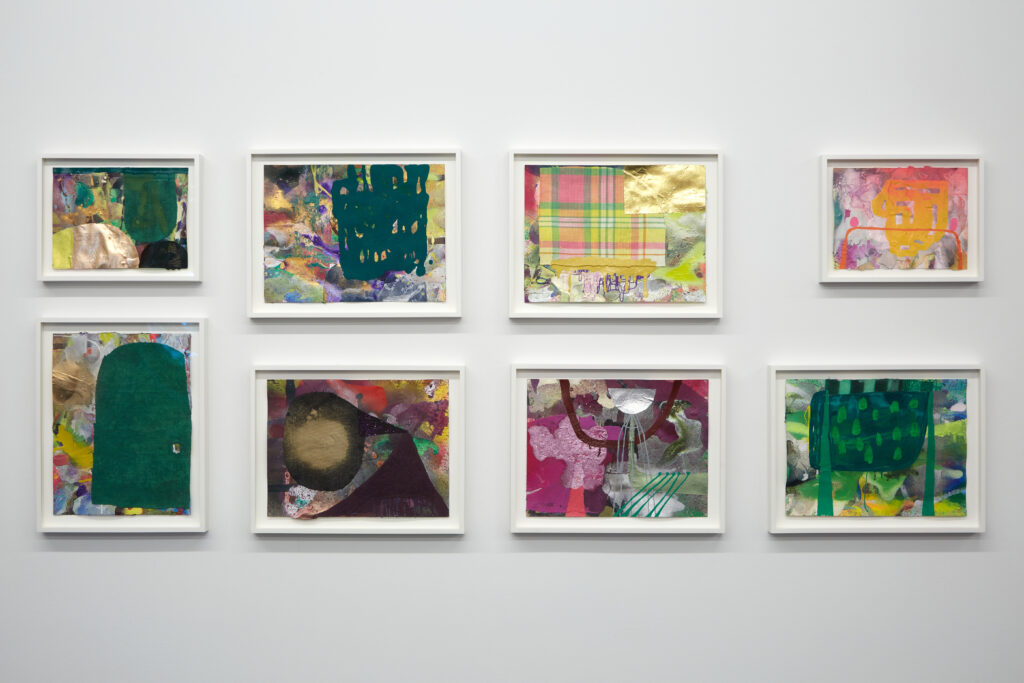 This residual visibility of process is part of what captivated KMAC Curatorial Director Joey Yates to Franklin's work: "You can see how many of his layers and the hand-built, hand-sculpted components came together into the final fixed positions," Yates says. "New marks, layers, and textures become revealed each time you look away and return for another look. It's like layers of a cake. As you slice into it and begin to consume the contents, you learn more and more about how the elements are put together. So much of the work is put into the collage and the handcrafted framing that the painting becomes like icing on the cake."
The largest work in the show, Opt (2021), radiates a golden warmth from within a 94¼ x 94¼ x 3⅛-inch frame resembling a misshapen square or, more imaginatively, a thick piece of buttery toast. The raised outlines of geometric shapes, sections of terry cloth fabric and a broad swatch of knitted chevrons are visible under layers of vibrant acrylic paint: desiccated crackles of canary yellow; rows of dripping indigo, fuchsia, and teal; thick, undulating brushwork in forest green and goldenrod. The composition is balanced, somehow dense with color, form, and texture, yet offering a sense of openness and ease. Opt is an undeniably joyful work; standing in front of the painting, one feels as if its molded sides are the only thing containing its sheer pleasure in having been made.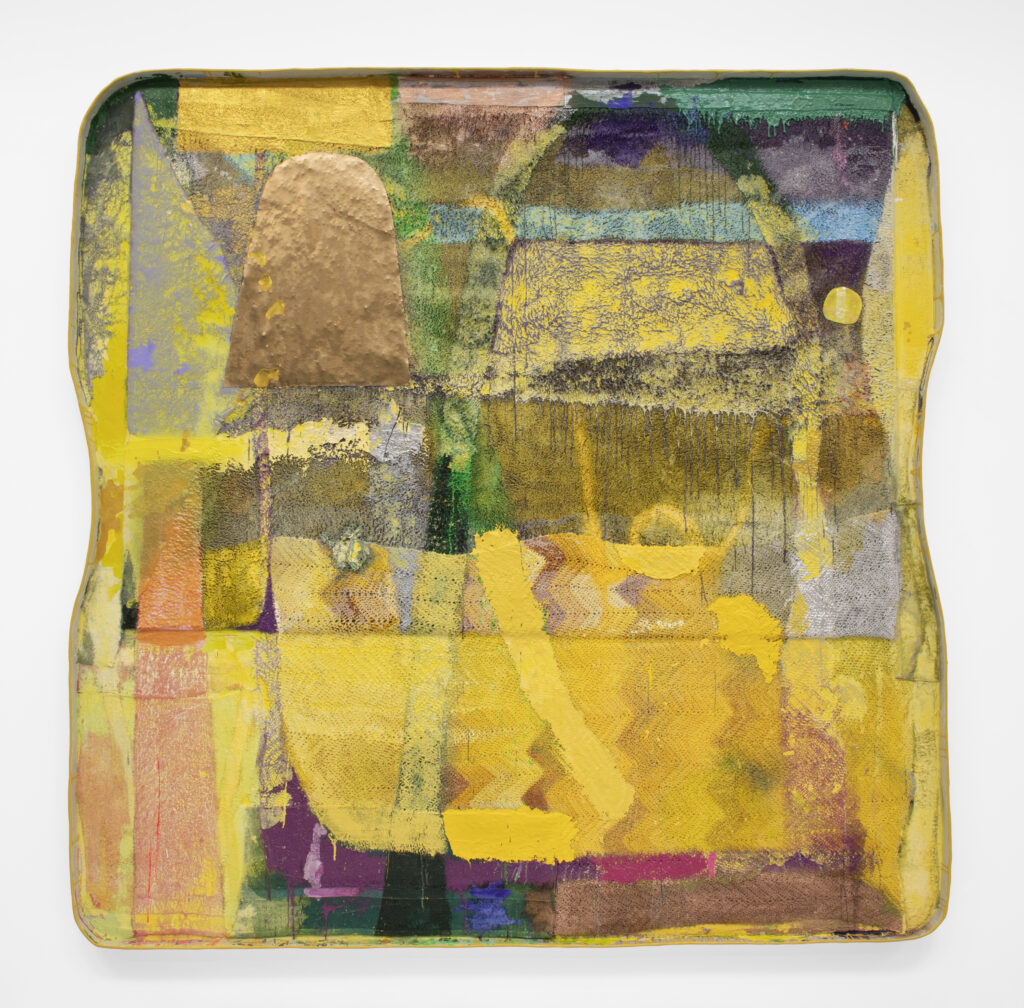 The four other paintings in the show (each roughly 74" x 74" x 3") are equally seductive in their unabashed display of color and exuberant mark-making that teems with a primitive playfulness. Collectively, they represent what Yates regards as "an audacious, smart and fearless approach to painting and abstraction. Franklin is developing his own abstract language which, for me, has traces of possibly divergent styles that range from graffiti and the cut-up designs of Henri Matisse, to the color fields of Mark Rothko and the assemblages of Thornton Dial, Robert Rauschenberg, and more recently Kevin Beasley, but he somehow brings them together in a seamless, unburdened and thrilling way."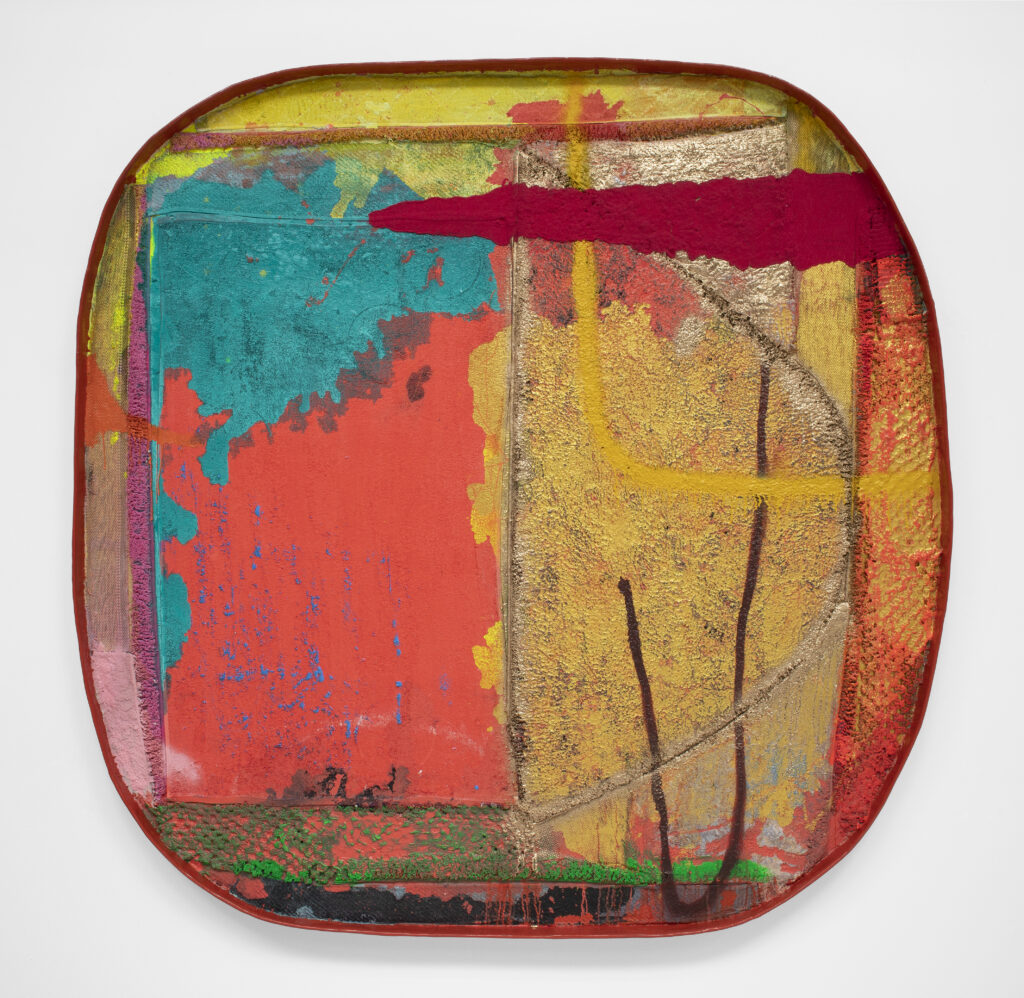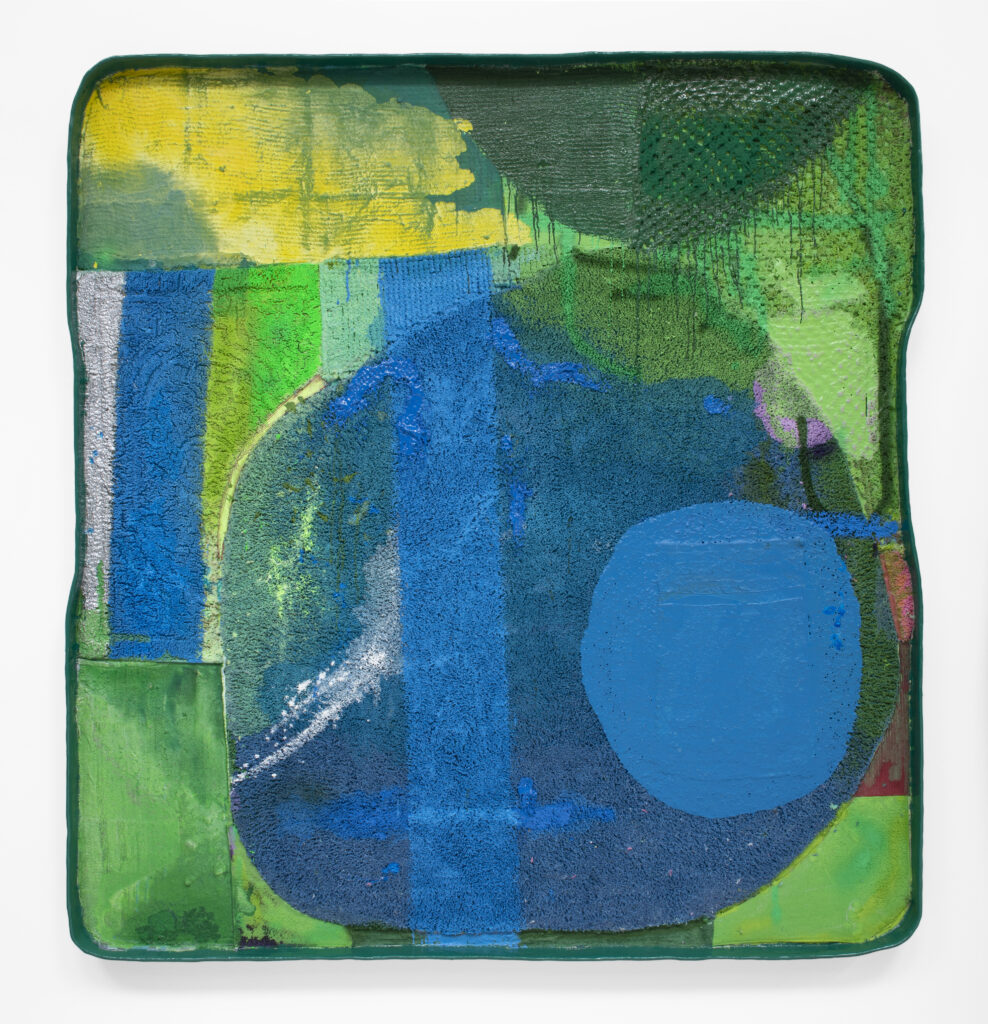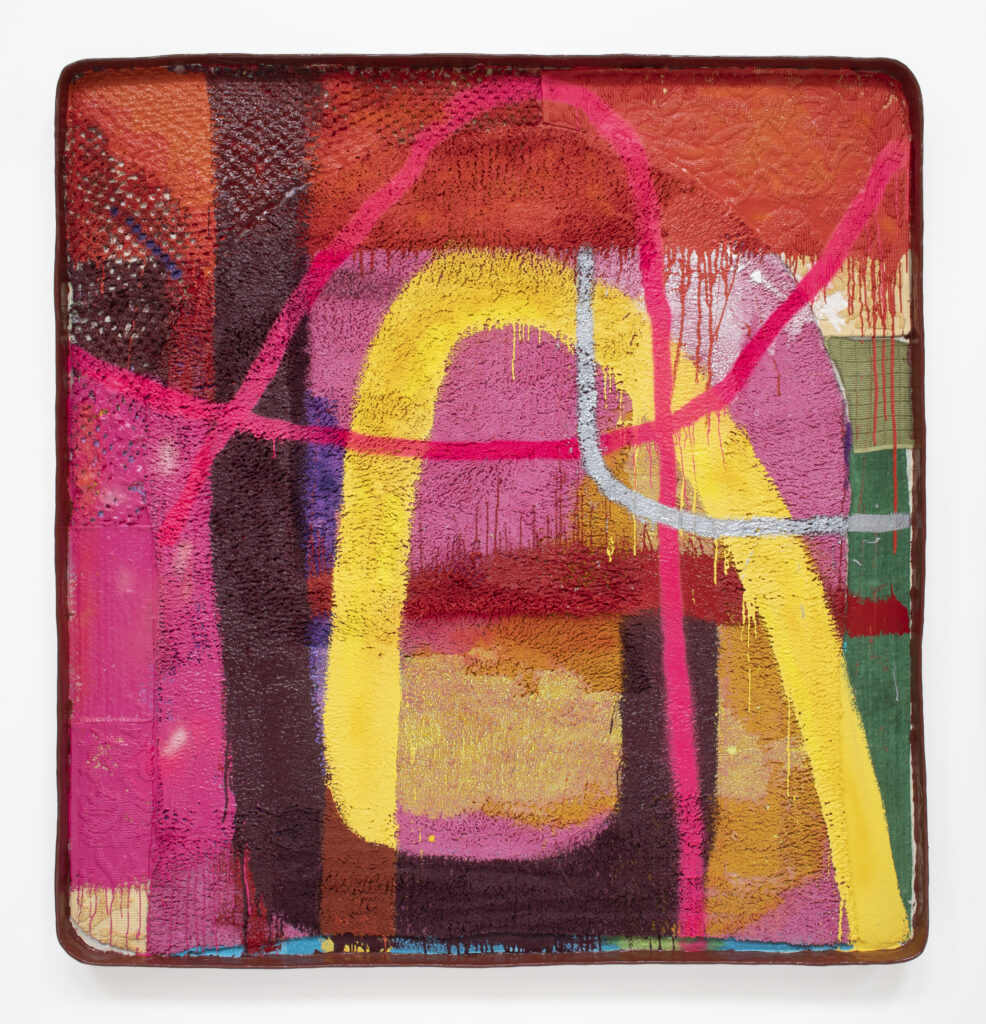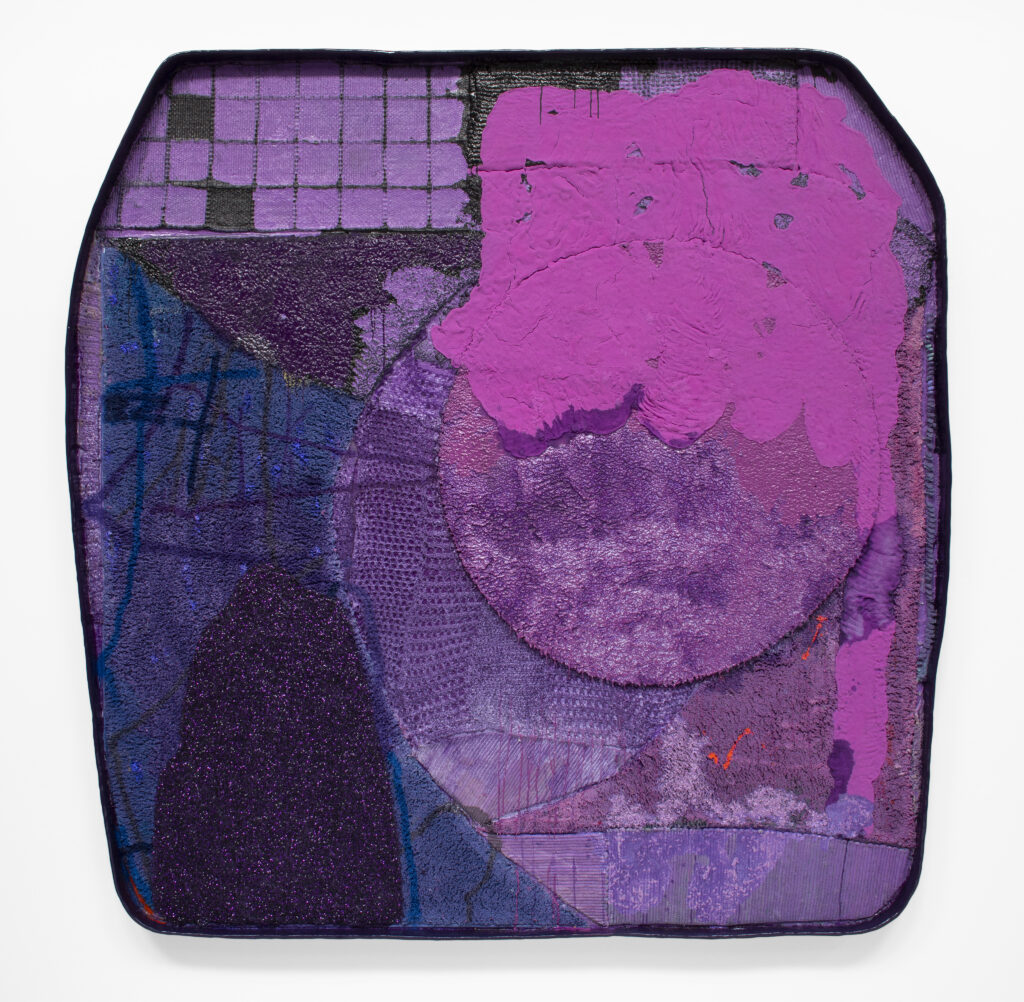 No less thrilling are the eight untitled works on paper (all 2021), horizontal pieces measuring 9" x 12" and 12" x 16", save for one vertical 16" x 12" example – studies in miniature that reflect a similar expressive freedom as Franklin's paintings. The relatively unsupportive quality of paper dictates a limited amount of layering of paint and fabric, and without the sturdy boundaries of a molded frame, little documentation of the process is available to the viewer. These factors contribute to the paper works' fleeting, sketch-like impression – an effortlessness that nevertheless produces a studied brilliance of composition and disruption.
For the artist, working on paper is a relatively recent approach, born out of the restrictions of the pandemic, that has already conferred its unique benefits: "It's less precious," Franklin says. "They are pieces in their own right, but they've opened up new avenues in the painting because I am experimenting. Since I've worked on them, the imagery and the way I've approached the paintings have changed. I want to keep that curiosity and exploration and the paper works allow that."
Undoubtedly, the works in "A Layered Approach" reflect a sense of tireless and enthusiastic investigation into the practice of painting and object-making. But more than that, they succeed in evoking that intrepid and buoyant interest in the viewer as well. Franklin's paintings contain multitudes, slowly revealing their layered histories, their substrata of pleasure and meaning, to the patient observer. With each successive viewing of the show, I felt my appreciation of the works expand and, ineffably, my sense that the future might once again be approached not with fear, but with a joyous, expectant curiosity.
"James Benjamin Franklin: A Layered Approach" is on view at KMAC Museum until November 7, 2021.
Top Image: James Benjamin Franklin, Untitled, 2021, 12" x 16". Acrylic, fabric, and sand on paper. Courtesy of the artist and Reyes | Finn, Detroit.