UnderMain's Christine Huskisson recently was in New York for the Whitney Biennial 2014. Beyond the event's interest to all artists working in America and beyond, there is another bit of relevant information between the Whitney Museum and Lexington. For many years Barbara Whitney Henry Peck, wife of George Headley and daughter of Gertrude Vanderbilt Whitney and founder of the Whitney Museum of American Art, lived on La Belle farm in Lexington. The farm is now home to the Headley-Whitney Museum. (Full disclosure: Chistine is a member of the Headley-Whitney Museum Board of Directors.)
New York, N.Y. – For its 2014 Biennial, New York's Whitney Museum selected three curators, non-New Yorkers all, each provided an entire floor in the museum's Breuer building to work solo.
We found Anthony Elms on the second level, ascended from there to the third floor domain of Stuart Comer, with Michelle Grabner on the fourth.
There is, by the way, an important connection between the Whitney Museum of American Art and Lexington, Kentucky.
Check out these images of what's happening in American Art – shots limited not to the galleries on floor after floor of the Whitney, but captured in some unexpected spaces, as well.


Second floor



Third floor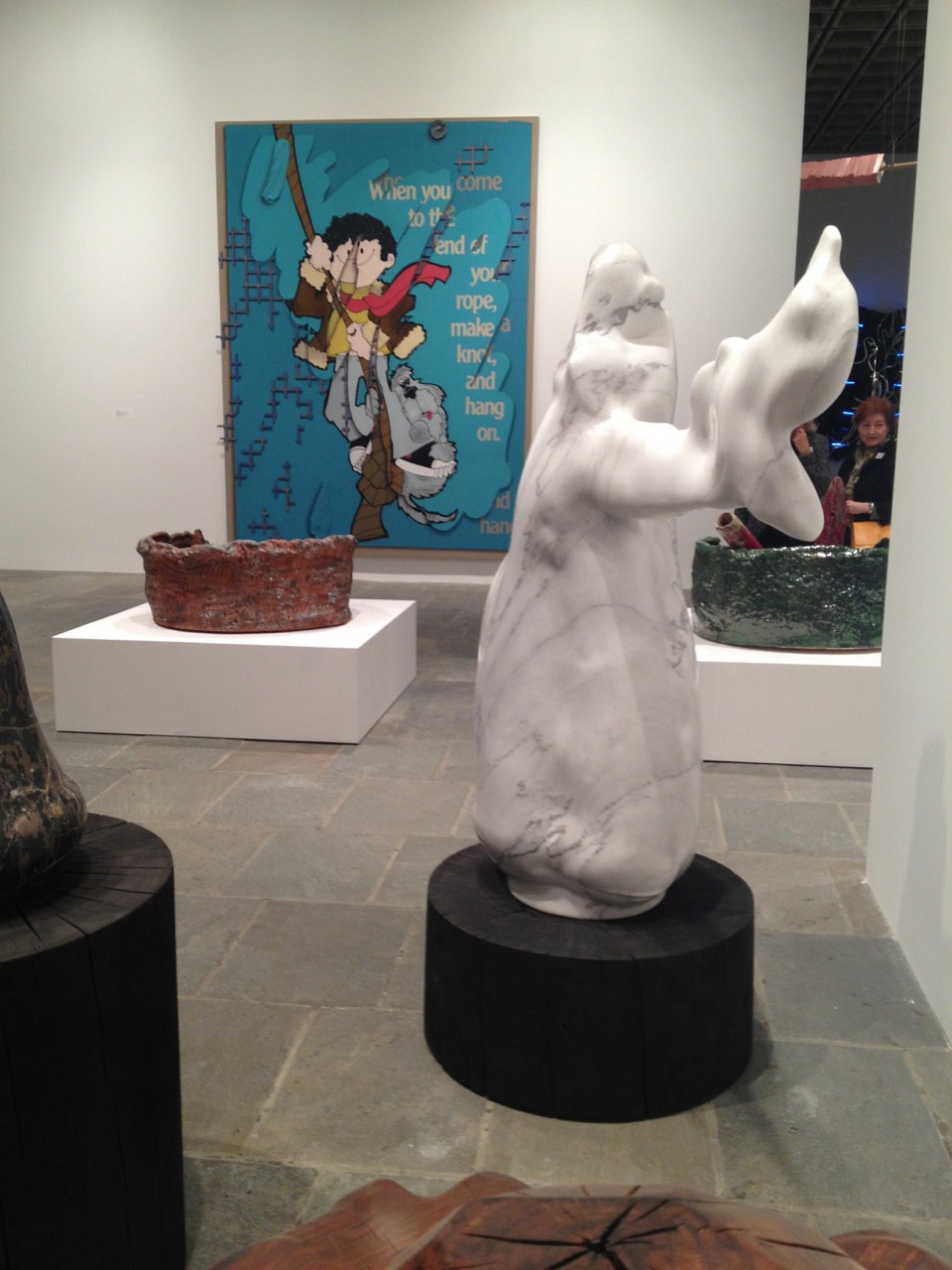 Fourth floor
Artists/works pictured here include: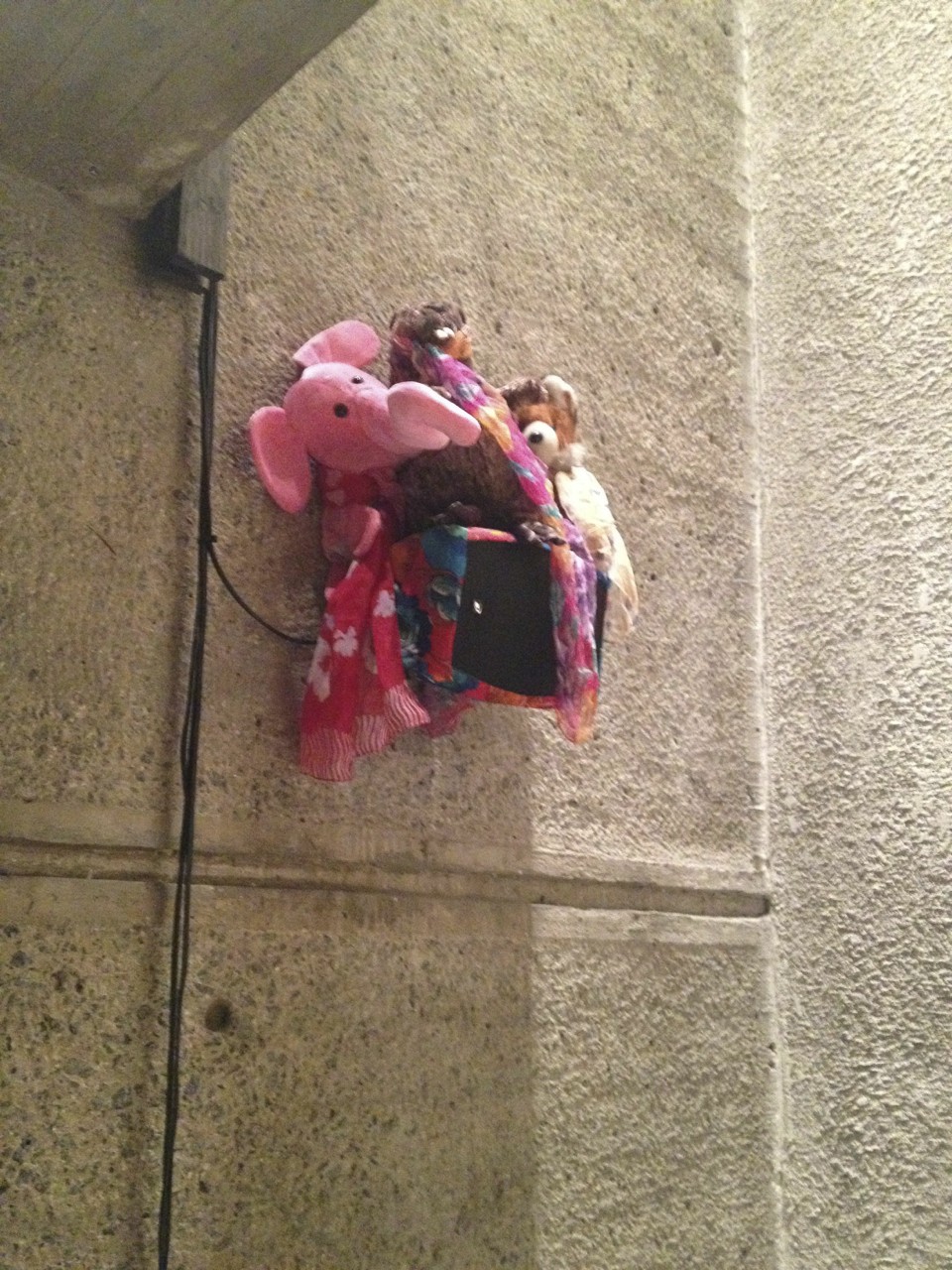 Charlemagne Palestine (stairwell),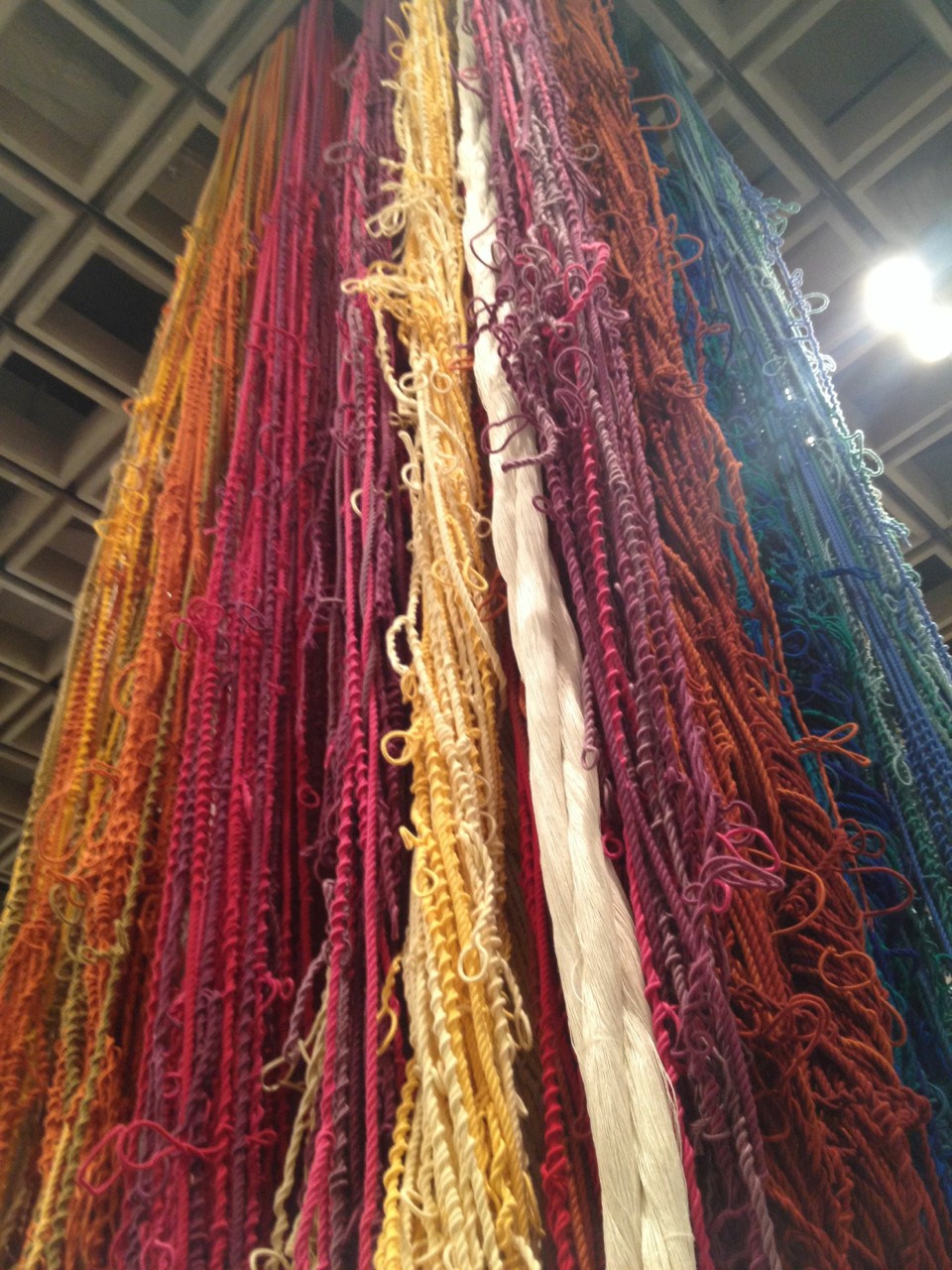 Sheila Hicks' Pillar of Inquiry/Supple Column, 2013-14


Peter Schuyff, Sans Papier 2004-2006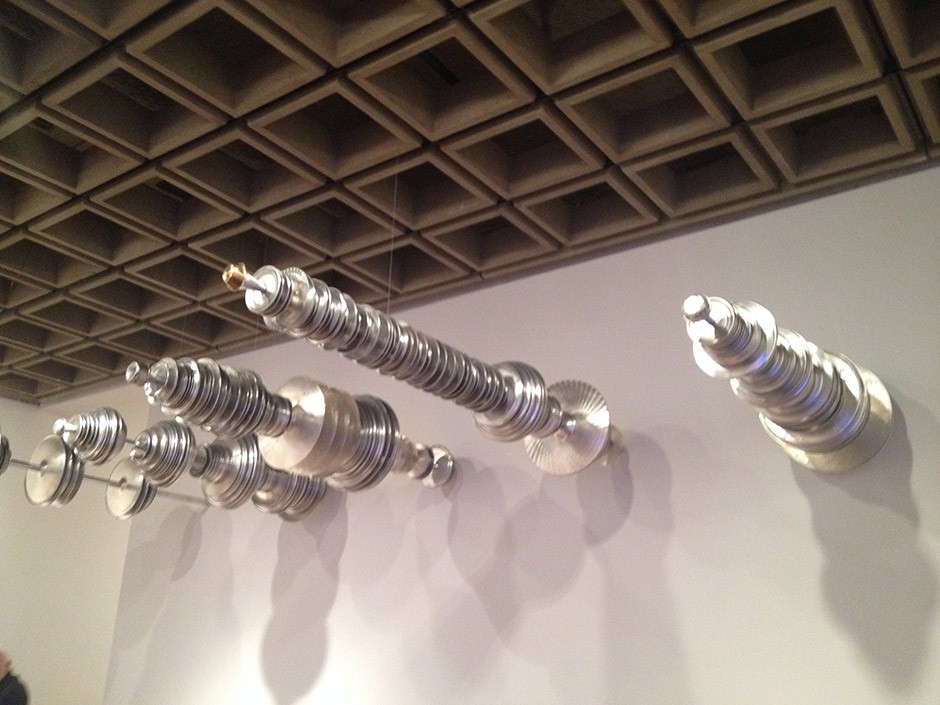 Terry Adkins,
From left to right:
Aviarium (Dickcissel), 2014
Aviarium (Mourning Dove), 2014
Aviarium (Seaside Sparrow), 2014
Aviarium (Grasshopper Sparrow), 2014
Aviarium (Broad-winged Hawk), 2014


Gretchen Bender and Philip Vanderhyden, People in Pain
Here is what the wall text in the gallery states about People in Pain. I thought it relevant given the array of media that, in sum, is the essence of UnderMain. 
In a 1987 interview, Gretchen Bender said: "I think of media as a cannibalistic river. A flow or current that absorbs everything." Bender's work in photography, film, and installation addressed this incessant stream of information and images emanating from movies, television, and advertising. From the beginning of her career in the 1980s, Bender was closely linked to artists of the so-called Pictures Generation, who took preexisting images, texts, and concepts from the culture and repositioned them in their art as a way of reading and deconstructing complex cultural codes. Although her work was exhibited and discussed widely in the 1980s, Bender did not receive lasting critical or commercial success relative to that of her peers.
Over the past two years, New York-based artist Philip Vanderhyden has worked to reconstruct and exhibit a number of Bender's video performances and artworks. People in Pain, originally exhibited in 1988, presents a crumpled field of vinyl backlit with neon illuminating a series of movie titles, gesturing to the cultural and narrative meanings of the films while equalizing and flattening them.
The original work never found a permanent home; it fell into disrepair and was discarded after Bender's death in 2004. Vanderhyden remade People in Pain with an interest in how the piece's "reappearance" illustrates the way "our cultural experiences live and die." The flowing titles, invoking decades-old movies, reference a cultural moment that is past if not forgotten; at the same time, Bender's comment on all-encompassing flows of information has only become more relevant in our present day.