My son and I were walking through Berlin, Germany, a couple of years ago. It was rainy and cold, but what an amazing place. We took the electric trams to make our walks more efficient, but we still walked more than eight hours every day. One night we explored Potsdamer Platz where we were delighted by the lighting in this hyper-modern place. After a while we walked toward Museum Island. Wandering into the more classical Bebelplatz we were utterly stunned to find ourselves in the midst of the most extraordinary phenomenon:  the Festival of Lights Berlin.
Somehow our research for this visit had missed any mention of this extravaganza. As it turns out, the festival has been an annual event since 2005, and now attracts over 2.5 million visitors yearly. Among the visual delights were 3-D videos projected onto buildings, each of them customized to fit the building and adding color, movement, graphics and manipulations of architectural features for gorgeous effects. Columns that grow, walls that crumble and rebuild, windows that breath, people seeming to move from window to window, each projection telling a story in color and light. If you've not seen this art form – projection mapping on city buildings – you owe that pleasure to yourself.  And you don't have to travel to Berlin to see it. It's now as close as Cincinnati.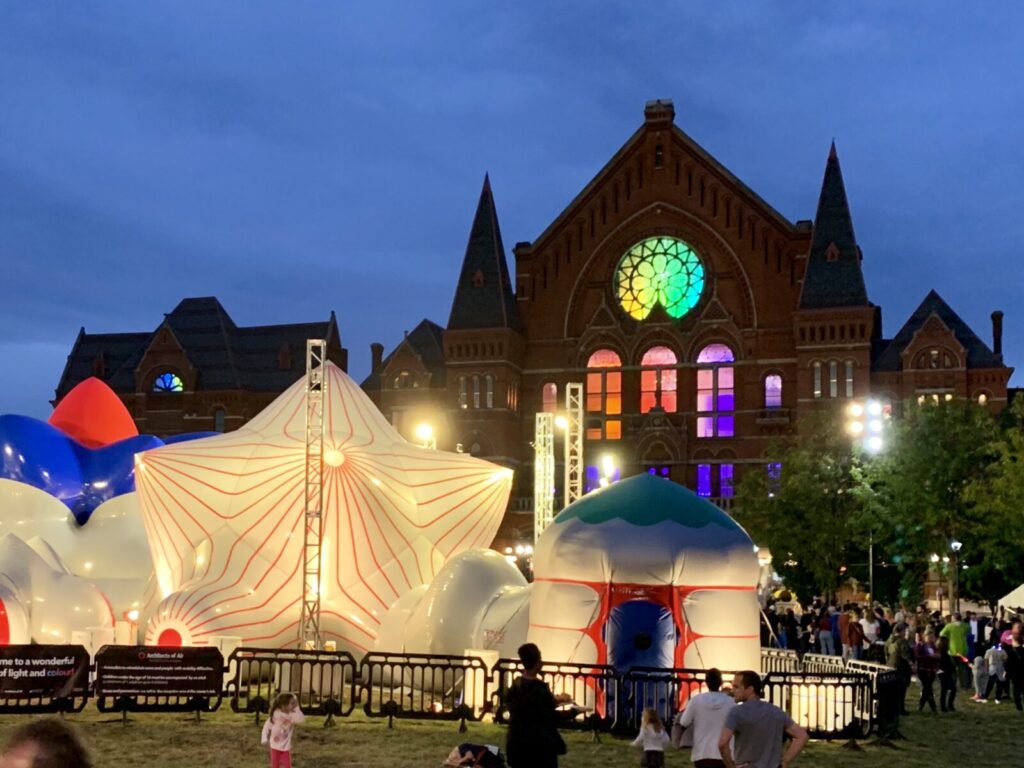 BLINK Cincinnati was a four-day art and music festival emphasizing nighttime light effects (October 10-13). BLINK 2019, expanded from the first event in 2017, spanned 30 city blocks, ranging 2.6 miles from north to south. Most of the streets were closed to traffic, so walkers and bikers enjoyed free rein. At the north end, 25 works activated the Findlay Market neighborhood and they continued down through Over the Rhine, Downtown, The Banks, and across the Ohio River on the iconic Roebling Suspension Bridge (the bridge itself being the subject of one of the wonderful lighting installations) into historic Covington. All told there were 96 distinct locations including 42 projections,17 murals, and 37 art installations, many of them interactive.
[aesop_video src="self" hosted="https://undermain.art/wp-content/uploads/2019/11/IMG-1852.mov" width="content" align="center" disable_for_mobile="on" loop="off" controls="on" mute="off" autoplay="off" viewstart="on" viewend="on" revealfx="off" overlay_revealfx="off"]
We spent one night and the following morning at BLINK Cincinnati, walking the full length of the festival, enjoying the works as they presented themselves. Navigating was made easy by signs with maps, handouts and, most impressively, by an interactive phone app. A free download, this app provided a coded map with GPS tracking. It located every feature, and with a click allowed users to read about each installation and artist, providing easy walking directions if needed.
[aesop_video src="self" hosted="https://undermain.art/wp-content/uploads/2019/11/IMG-1855.mov" width="content" align="center" disable_for_mobile="on" loop="off" controls="on" mute="off" autoplay="off" viewstart="on" viewend="on" revealfx="off" overlay_revealfx="off"]
The most striking aspect of BLINK Cincinnati was how democratic it felt, with thousands of people (over a million attended in 2017) of all ages, races, and ethnicities mingling on the streets, enjoying the festival. It was a free event with the exception of very few installations requiring a modest admission fee. Special provisions were made to assist with transit when needed, and 43,000 people took advantage of the streetcar service. There were six sound stages with live music (of varying quality), but it was easy to escape to areas where the sounds of the crowds dominated. The best accompaniment to the visual show were the sounds of laughter, children playing, oohs and aahs and conversation as we all responded to ever shifting visual delights. (At the Berlin Light Festival one of the most enjoyable features was how quiet it was).
[SlideDeck2 id=16234 ress= 1]
Another unexpected benefit was that we were introduced to parts of the city we didn't really know. With most roads closed to vehicles it was easy to walk and explore. We were particularly taken with the scale, breadth and quality of Findlay Market, Over the Rhine, and Covington. We've visited these areas before, but it's entirely different when you can wander on foot, without concern for vehicles, and with the primary objective of looking and seeing. What a brilliant way to experience a city!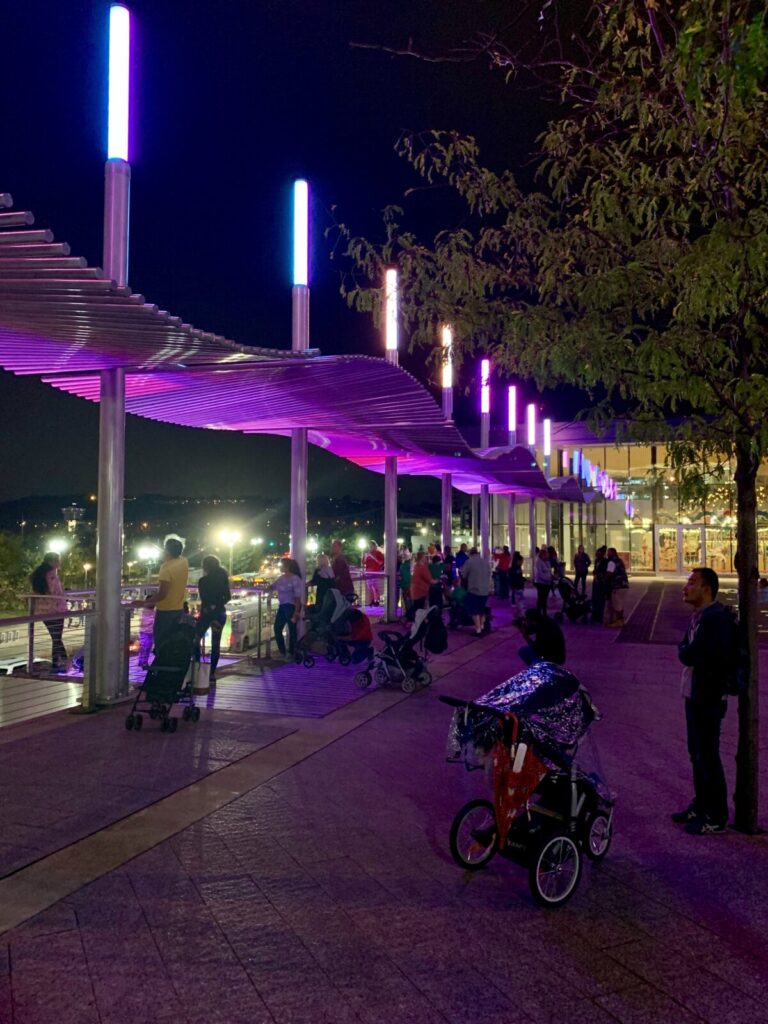 One could easily spend eight hours over two evenings enjoying BLINK, taking advantage of the excellent food scene, drinking in the extraordinary visual stimulation, and participating in the vibrant energy of diverse and upbeat crowds. One comes away knowing that it would be well worth the effort to carve out several hours on any given day to explore any of these remarkable neighborhoods. This imaginative investment in entertainment will surely reap immediate and long-lived benefits for Cincinnati.
[aesop_video src="self" hosted="https://undermain.art/wp-content/uploads/2019/11/IMG-1837.mov" width="content" align="center" disable_for_mobile="on" loop="off" controls="on" mute="off" autoplay="off" viewstart="on" viewend="on" revealfx="off" overlay_revealfx="off"]