We've asked a number of people to write brief reaction pieces to art critic Jerry Saltz's recent piece in Vulture,"The Last Days of the Art World … and Perhaps the First Days of a New One". The writers were also asked to comment about the effects the virus and resulting mitigation steps have had on their work. We will be publishing these pieces over the next several months.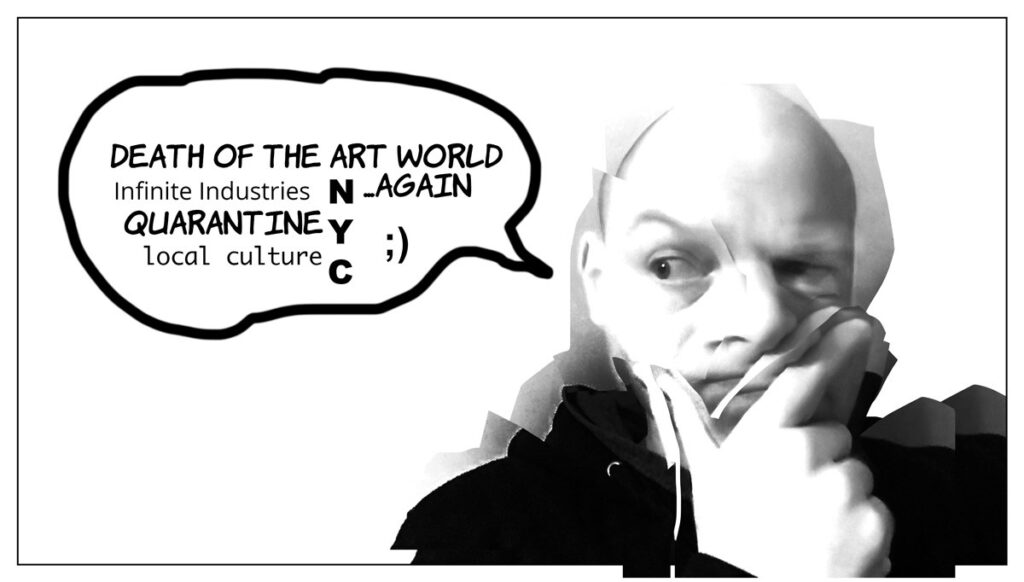 The art world that Jerry Saltz is mourning in the Vulture is one that outsiders don't really experience. To be fair, it is quite welcoming but rather hard to find or to keep up with. Its threads connect the world's political and commercial centers via the paths of global capital – most of these intersect in New York. I "heart" the city but I also recognize a certain myopia that it fosters whenever we talk about art. For example, the previous catastrophic events that the author refers to reflect the contractions in the market for contemporary art. These are not felt particularly strongly outside of the commercial gallery nexus; a feature absent from the landscape of most American cities, to say nothing of rural areas. New York, LA, sometimes Chicago, sometimes Houston, Miami once a year, that is where the art world lives. It is beautiful! It is amazing! It is full of my favorite people. It is also absolutely crippled by its own economics.
Saltz's assessment that the finances are concentrated "in the hands of a lucky, mostly white 1500 people" is spot on. This is precisely what has been leading the trend of ever-increasing centralization: smaller commercial galleries going out of business and larger galleries getting significantly larger, also mentioned in the article. It is an unsustainable arms race that involves moderate expansions in the rosters of artists and gargantuan growth in the amount of real estate a gallery has to occupy to try to keep up. Consequently, it is increasingly complicated for an artist not represented by a mega-gallery to gain access to financial resources needed to produce their art. Major museum and other large public-venue-type shows by living artists without commercial gallery representation are virtually non-existent in the United States.
The art world, much like the rest of the economy, is overly centralized. We are stuck in the endless loop of complaint that there is not enough money for art and bemoaning the fact that the market, back to the 1500 people mentioned above, is ruining the art world. This was an unsustainable scenario before the COVID-19 outbreak and the current pandemic is just accelerating the destructive process.
Now, after nodding my head to yet another denizen of the art world pointing to the obvious issues without providing any real solutions, I would like to simply say that chasing the same group of rich collectors around the globe is probably not a way forward. We need to expand the audience in a meaningful way; embrace contemporary technologies beyond the corporate fold of Instagram and try to see what "scales up" in the cultural sphere.
It must be noted that the idea of scale can be incredibly destructive: fast-food franchises give us scale but not necessarily a pleasant dining experience. Pushed to its extreme "scale" is simply another way to refer to bland monoculture. However, if we are careful, we can use the software development tools and marketing solutions of the internet age to make connections to new audiences and expand the base of participants in our cultural experiments. This brings me to a project that I care deeply about: a non-profit that I helped to start about three years ago.
Infinite Industries is a project designed from the beginning to try to expand the audience for contemporary culture in general. When the virus hit, the focus of what we do hadn't really changed: provide a unified platform for cultural producers to distribute information about their events. It is a pretty funky mix of technocratic and idealistic approaches: provide a single comprehensive platform but make it free and easily hackable so others can use it. We needed to make technical adjustments on the fly but we are a small volunteer tech team (BIG Shoutout to Chris Wininger and Matthew Gidcomb!) so we could pivot very fast.
Art, theater, dance, music worlds are super welcoming places but we constantly fail at getting information out about what we do to the rest of the world. The simple truth is that unless one is judiciously looking on Facebook, and is friends with all the right people, and is subscribed to at least a couple of listservs, they are not going to find much about what is happening in a town even as relatively small as Lexington. In order for us to thrive, we have to expand the audience. We have to be more visible! We have to be more vital! We have to diversify the sources of eyeballs and cash!
The art world and, by extension, a larger culturally active world that I would love to see on the other side of the pandemic is one that embraces technology to create resilient and decentralized networks that are open to an ever-increasing number of patrons.
Top image photo by Kate Trifo on Unsplash