It arrived via a media mail, a meticulously packed box. First the newspaper, then the cardboard, perfectly taped brown paper, a light plastic slipcover which I am sure was some sort of archival special something. I handle the book. It feels good in my hands. This is not a book that you dog-ear pages or highlight with a bright yellow marker. The book is a work of art, just like everything that comes from Grey Zeitz's Larkspur Press.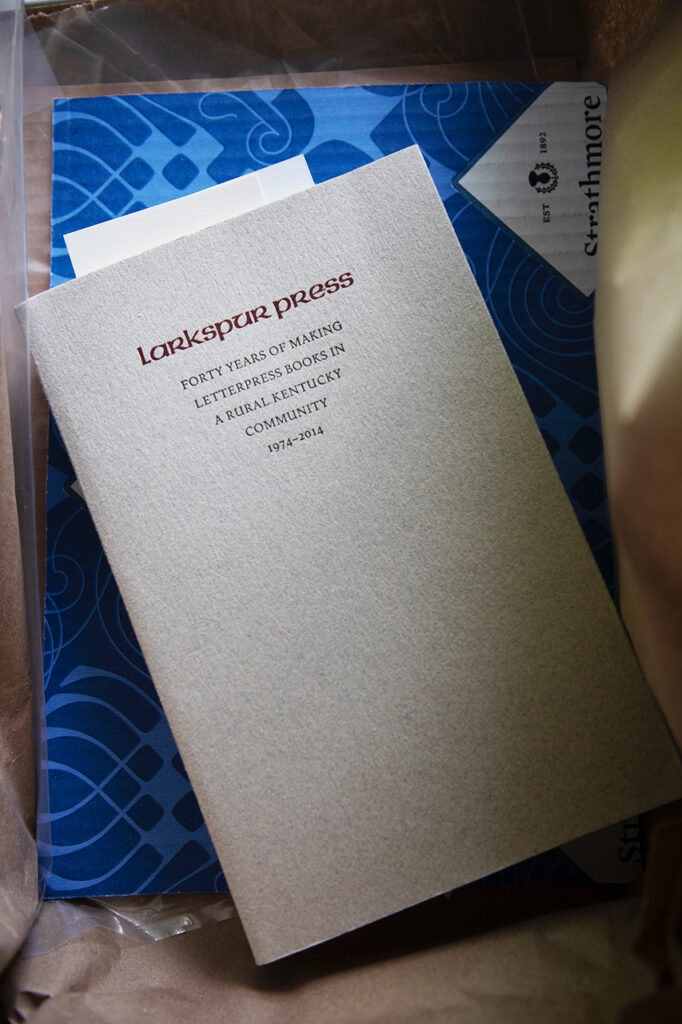 It was a gift as well as my homework, as I jokingly referred to it as. Grey told me via phone that I could gain insight by reading Larkspur Press: Forty Years of Making Letter Press Books in a Rural Kentucky Community, 1974-2014 by Gabrielle Fox. The book contained information about Grey's life and letterpress and beautifully crafted pieces and quotes about Grey by everybody in the Kentucky literary circles. The likes of Wendell Berry. I will admit writing anything after reading this has left me more than a bit intimidated.
I call Grey to set up a time to head over to interview and photograph him. I ask if he will share something that nobody knows about him, he laughs. "Everything has already been written about me." Least I forget the recent visit by CBS Sunday Morning, who did a fantastic segment on him. You can find it on the internet, but you won't find Grey as he is not connected to the internet, but he is connected to the art of traditional letterpress.
The last time I saw Grey, I watched him receive the Inaugural Kentucky Literary Impact Award at the Kentucky Theater in February 2020, before the world shut down. Before that, I had been attempting to get to his annual holiday sale the weekend after Thanksgiving with no luck.
To get to Grey's there are some obstacles; the first GPS often directs you to the right fork instead of the left, the second Sawdridge Creek might stop you in your tracks if the rain has come or is on its way. One day for a visit, my daughter, who was with me, took a photo of the creek and sent it to her physics teacher and asked, "I think this is a hydraulic jump." His response was immediate; he said, "Yes it is, get out of there." If the creek is running fast, so should you.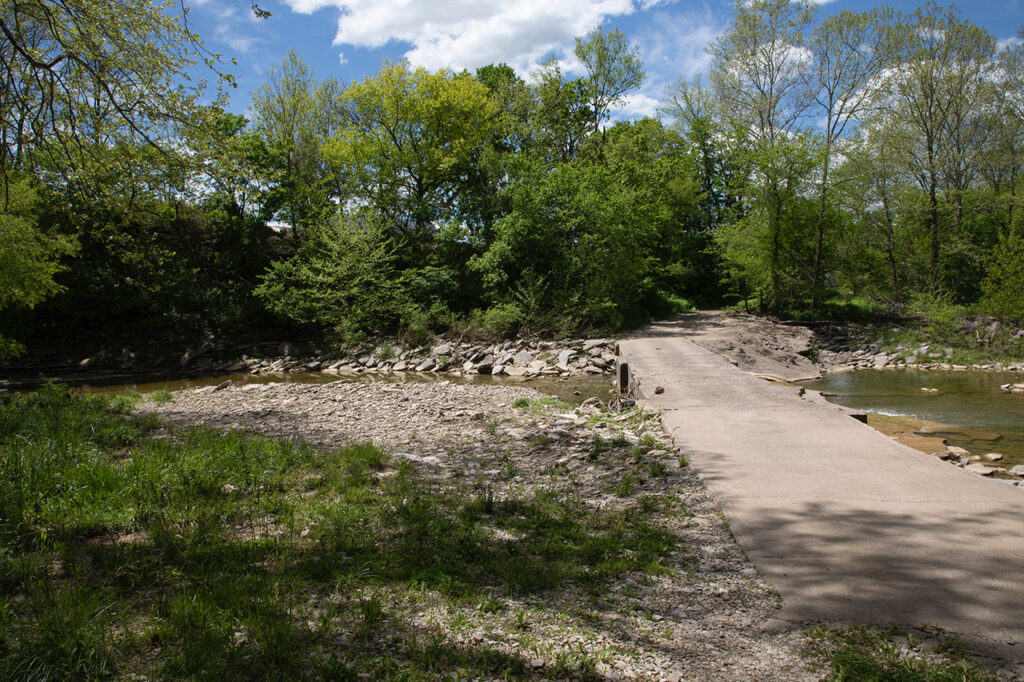 There have been days I have certainly wanted to visit Grey and been turned away by that creek, but not today. It is a glorious spring day in early May. I cross the creek and head down "the road" and listen to the still. The loudest thing out here might be the purple color of Grey's house. His studio sits back and out to the side. The door is open, and Grey greets me. His height holds almost as much of a presence as his beard. I walk into the crafted beamed space as the sun warms the wood, but the true warmth comes from Grey and his love and care for his work. The art of letterpress.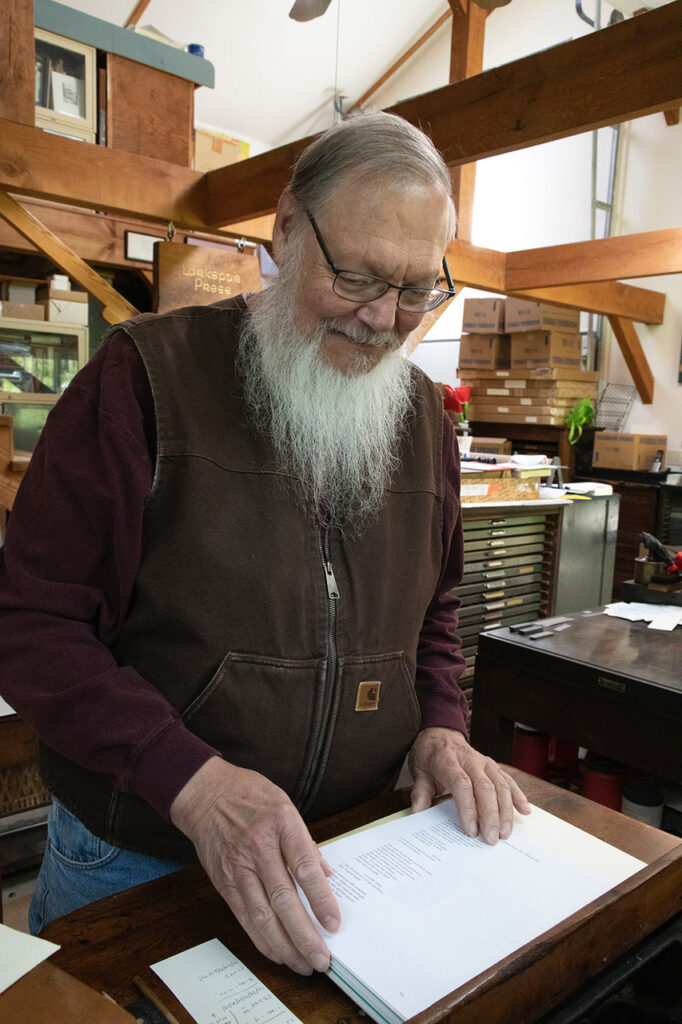 I look to the presses and see the work in production; it is something different today. There is a mouse, not a live one but a beautifully printed etching of one.
What are you working on today?
"I'm working on Mr. Poof's Discovery. My friend Wesley Bates is doing 18 wood engravings for it. It's an old tale that Rena and John Jacob Niles put down, and my teacher Carolyn Hammer and the Bur Press published in 1947. A friend of mine in Lexington has tried to talk me into doing this for years, so he and I are partnering to do this book, and it's good. His mother had read it to him when he was a child.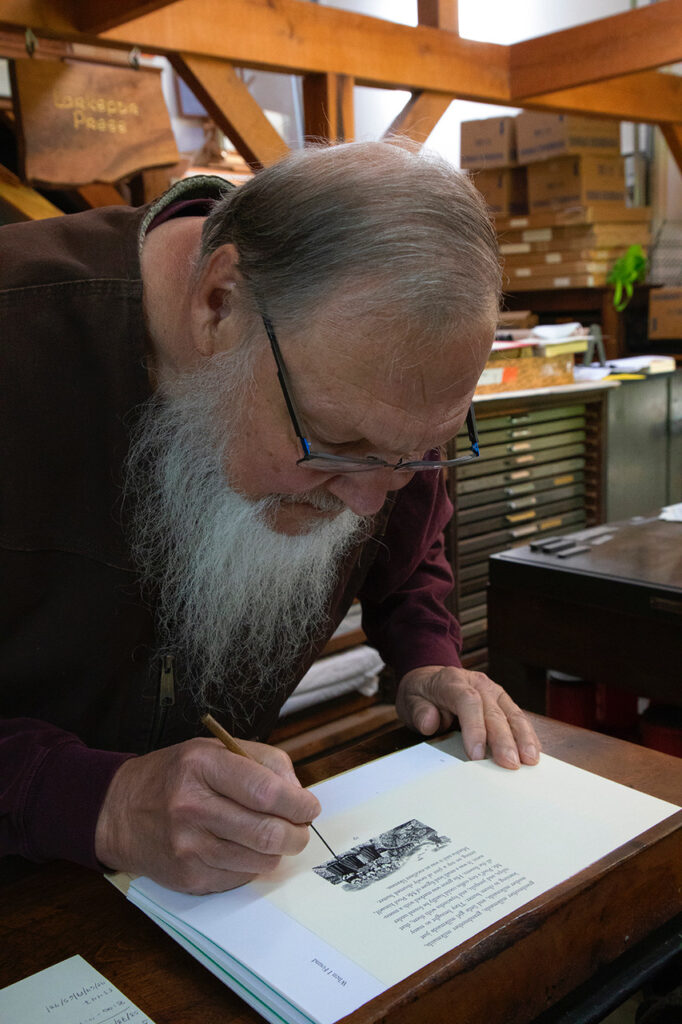 He has been very helpful with the illustrations, what they should be, and the feel they should be. And I am doing another children's book with Sena Jeter Naslund, who is a Louisville writer, and Joan Press is doing nine wood engravings for that."
How many children's books have you done?
"These are the first two."
Are the grandchildren any influence?
"I can't tell you why."
Are you enjoying the children's books?
"Yea, I am. They're fun to do."
Grey was born in Mobile, Alabama, and raised in Elizabethtown, Kentucky. Two years of community college and then onto UK, where he met and discovered letterpress printing under the mentorship of Carolyn Hammer.
Grey is not just a printer of the old letterpress ways. He is also a poet.
Do you feel the poetry or printing is more of your art form?
"I'm a much better printer then I am poet, I think.
A lot of poets write every day, I don't write every day, but I print. But you know poets throw away a lot of poems and photographers throw away a lot of pictures. There is a big argument about whether printing is an art form or a craft and I just don't care!"
­Grey is printing and etching and feeds the paper into the printer. The noise of the press is the loudest sound around; the repetitiveness of the sound is somehow calming. When he finishes, he takes out a small brush dipping it in a spot of ink, and begins hand spotting—filling in any tiny places that the printer might have missed. Letterpress is a time-consuming labor of love. He currently has four books in the works, with no completion date in sight.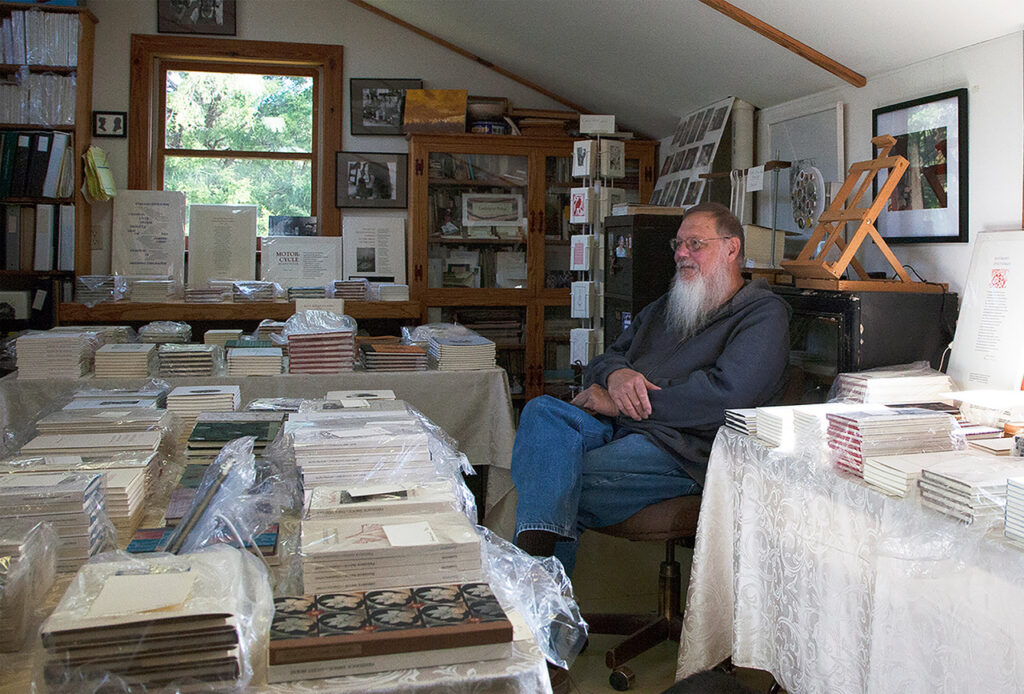 Are there struggles when working with the authors? Are there any battles?
"I've never had a battle! I work with the authors, and the illustrator works with the author, knock on wood, I have never had that kind of experience.
I haven't had any arguments with anyone. Rarely have I had an author ask for something that I didn't really want to do because of the aesthetics of the printing and everything. I've always been able to talk them out of it. I can explain the reasons why I'm doing things.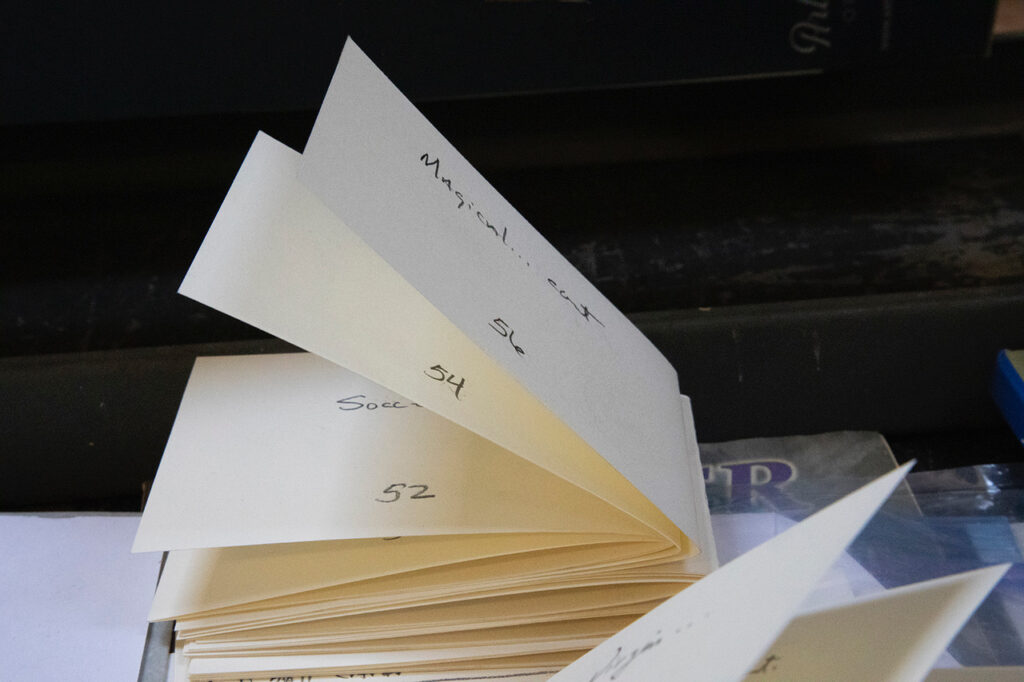 I don't like to put things in the middle of the page; I like starting at the top of the page. I can express my desires of that to the authors. It's a good question. I haven't had any arguments with anyone."
We walk over to look at the letters he uses, small letter-type pieces that will be "set."
Do you have a specific type you like?
"I've got several faces, and sometimes the book says it would be better with this face or that face. We mainly use 14 point. It doesn't matter what font you're setting. They are all set about the same. We also have 10 point and 12 point, and sometimes with the 10 point, I'll need tweezers now, to get them out of the smaller compartments."
"IT'S A LOT EASIER TO READ IT THAN IT IS TO SET IT"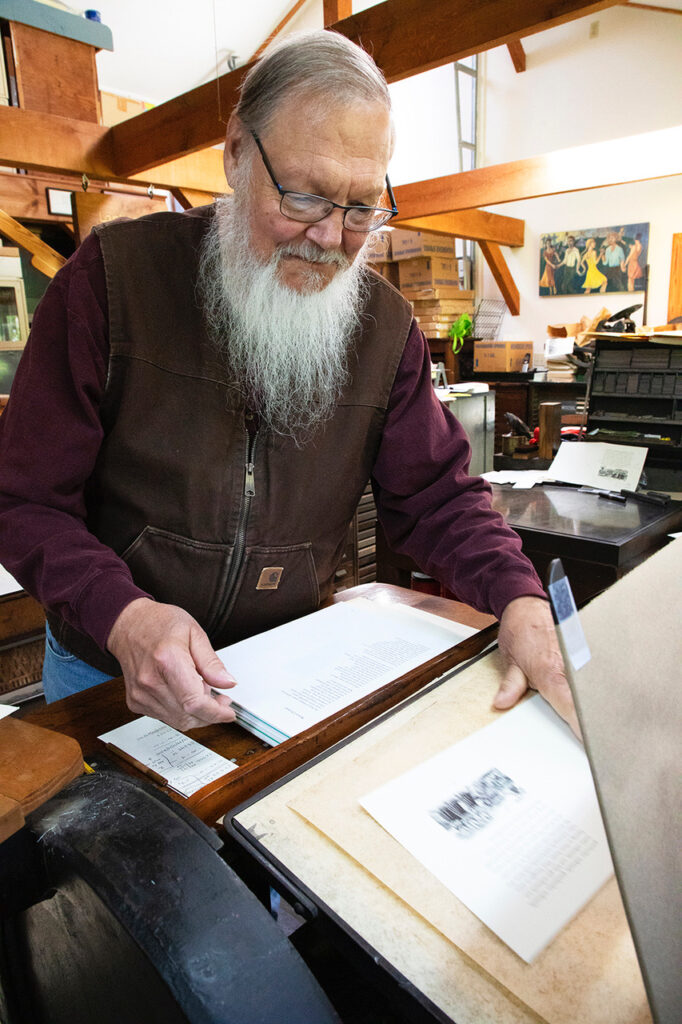 I saw you on television on Sunday Morning. It was an excellent piece.
"I had been interviewed by Noah Adams on NPR, and I didn't know when it would be aired. It had been bumped a few times because of all the breaking news. I had been at my daughter's in Lexington for Thanksgiving, and I was driving home listening to NPR, and I thought WOW, this is going to be a good interesting piece, and they said Monterey, and I said, 'this is it!' (laughing) and it was a good piece!"
"Then before Christmas this lady from CBS calls me up, and she always listens to whatever Noah Adams on NPR does, and so she says let's do a piece."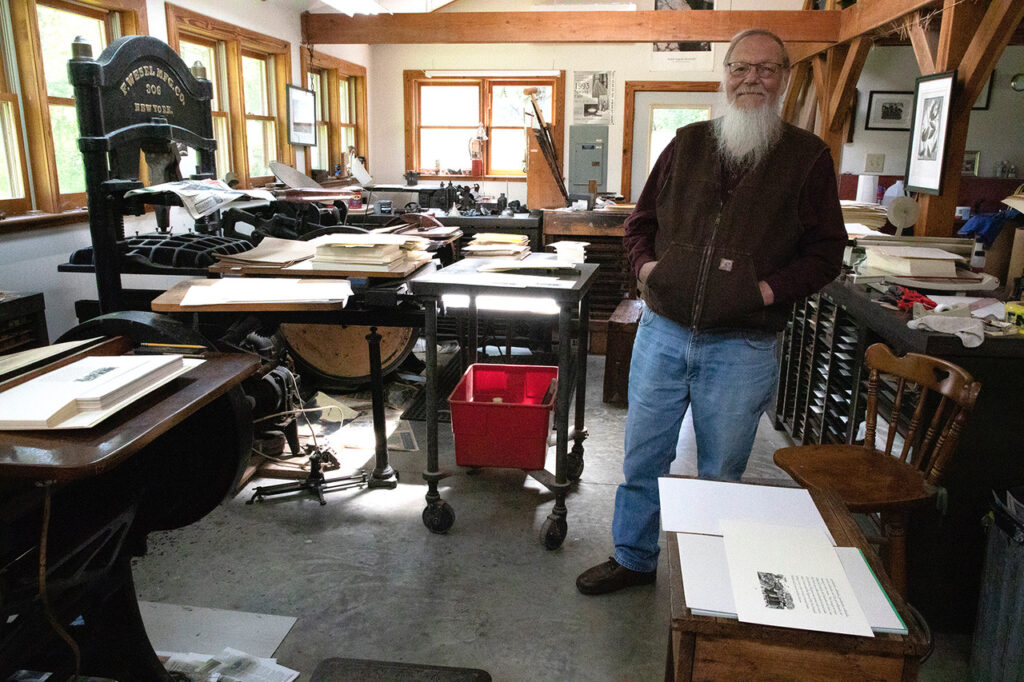 I remind him at the end of our visit to tell me what people should know about him.
"I'm a good guy."
Everyone who meets Grey already knows that. I am handed bookmarks he has made and poems he has written as gifts. I leave with not just mere words on paper. I leave with the art of the letterpress, the dedication of Grey to it, and the artists whose books he makes come alive.
All Photo Credits: Sarah Hoskins