In Danville, Art Center of the Bluegrass' new show Appalachia from the Inside: Celebrating Kentucky's Appalachian Art and Culture takes a wide-angle view of Kentucky's Appalachia region and the impact it has on the state.
The show is comprised of three intersecting exhibits, a format the Center pioneered last year in their Art of Being Black: Conversations & Experiences. The previous show intentionally fostered community conversations, while Appalachia from the Inside looks to the past, present, and future of the region through the art of Appalachians.
While defining who is Appalachian is often geographical, this exhibit notably takes a broader perspective, allowing artists to self-identify as part of the region. Artists hail from Whitesburg, Morehead, and White Oak, but also from Lexington, Danville, and Lancaster. Importantly, it recognizes that cultural identities extend and morph beyond strict geography.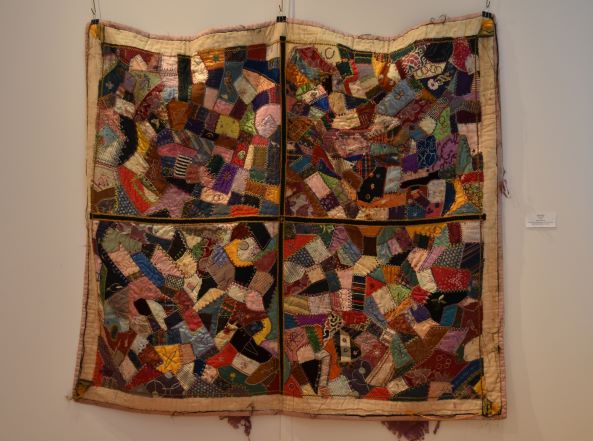 The first exhibit, representing the past, is Folk Yeah!, selected works on loan from the Kentucky Folk Art Center in Morehead. The Center website defines folk art as created by artists who are self-taught. The exhibit has a touch of whimsy, one example being a cartoonish drawing of capitalist competition in a small town on which the artist, Mark Anthony Mulligan, noted it took him "2 whole hours" to draw. The charm makes the hard questions go down easier, questions about the benefits and drawbacks of capitalism.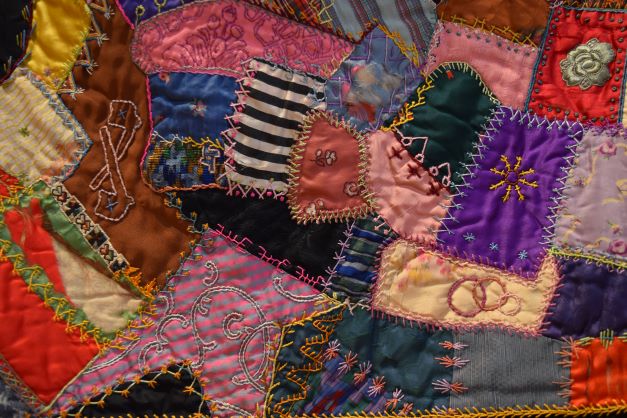 The Folk Art Center website also notes that the whimsy, and beauty, of these crafts often emerge from hard times. One imagines this is the case with the exhibited colorful crazy quilt. Probably constructed from found or worn fabric scraps, the quilt is sized for decoration, not utility. Some of the backing is frayed and worn, and the varied shape pieces are meticulously, uniquely hand-stitched together and embellished with images like an American flag, a painter's palette, and a kaleidoscope of butterflies. Anonymous and dateless, the creator(s) identity and time period have been lost.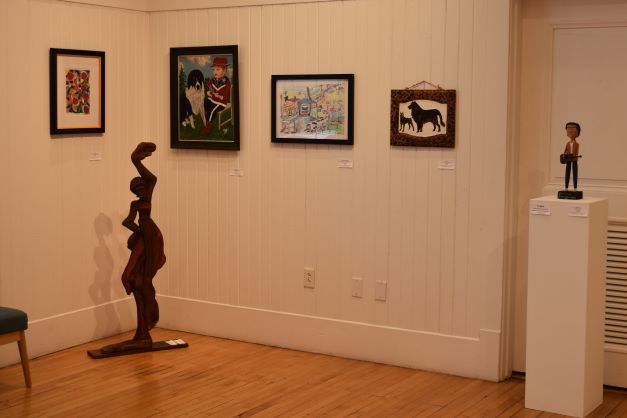 The second exhibit in the trilogy, the present, is Legacy: An Artistic Response to Appalachia's Cultural Heritage. Three artists, Frank X Walker, Lacy Hale, and Stef Ratliff, were commissioned to create original artwork in response to pieces from the Kentucky Folk Art Center. The two are exhibited side by side. The thoughtful works respond to the hope and reality of change in the region.
The largest piece in the entire show is Stef Ratliff's Train to Nowhere. Responding to David Lucas' Coal Silo, Mine 29, it portrays the rapid switch in her lifetime from coal boom to coal bust. Train cars that used to speed through town at all hours are left behind on abandoned tracks, going nowhere. The graffiti on the car is a grim reminder of what else the coal industry left behind: black lung disease.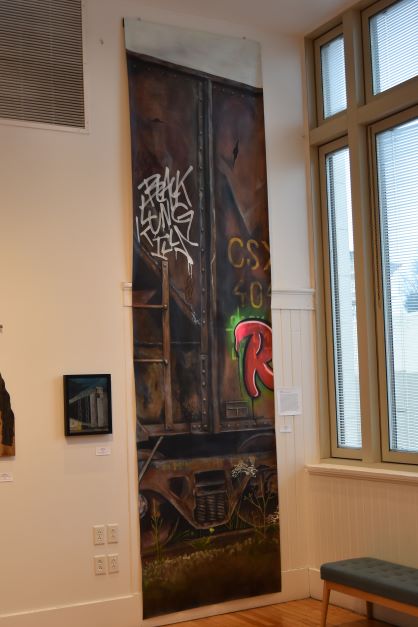 Lacy Hale's Papaw Breakfast responds to Nan Phelps' 1985 work Butchering Hogs. Communal sustenance activities like sorghum stir-offs and hog butcherings are on the wane. Yet the community-building aspects of these gatherings are revived in new ways. Hale's papaw is one of a cadre of older men who gather at fast-food restaurants for breakfast, and here he sits with his portion of hog – in a biscuit – and the modern blood of life, coffee.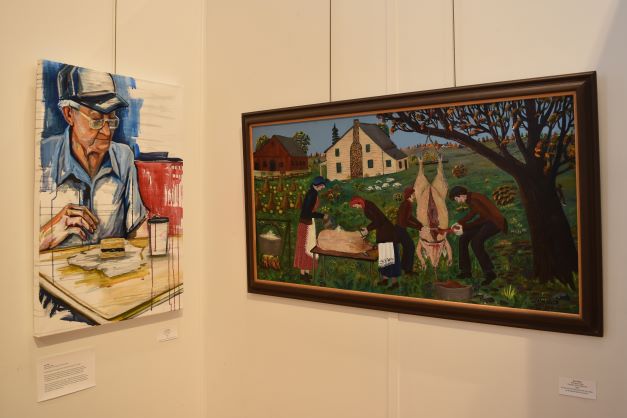 Frank X Walker, responding to Ernest Patton's piece Hospital Birthing, shares a fervent hope for change rather than reality. The original work doesn't exactly evoke warm feelings of an empowered birth (think stirrups and a nurse with a large syringe), and it is unclear whether Patton sculpted, in his view, an experience that caused disconnection or celebrated modern science. But Walker knows that this woman had certain privileges and choices because of the color of her skin. His No Doula? wooden assemblage of a Black woman giving birth is dedicated to those who were forced to undergo gynecological procedures for research and reminds us they continue to have worse health outcomes today.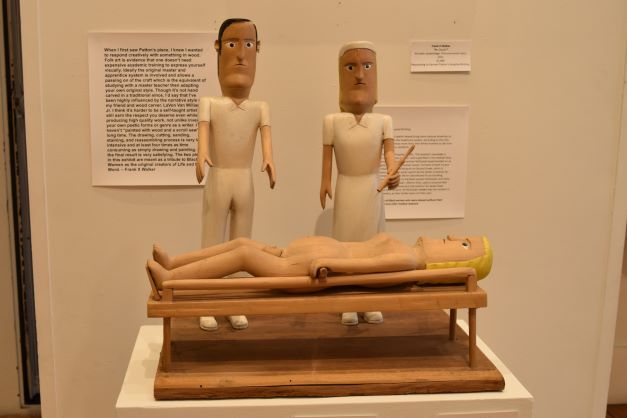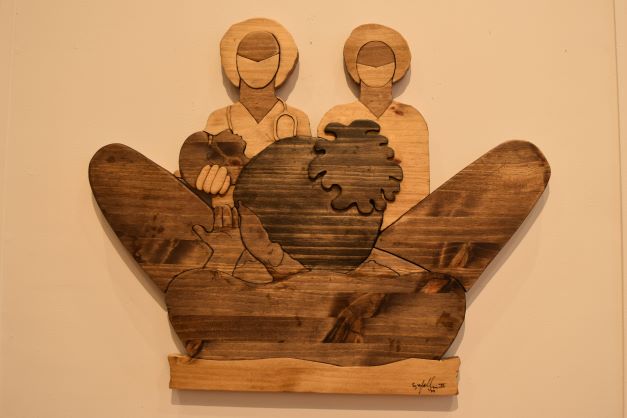 The final exhibit is Imagining the Future of Kentucky's Appalachia, a juried exhibition that offers a diverse vision for the future. Some reveal fervent hopes: for equality and for a wide-scale transition to renewable energy. Others lift up the values and strengths that will support whatever change is on the horizon.
Brandon Long has created three sculptures from reclaimed barn roofs. Aged, imperfect, rusty, yet rich elements, he references the region's agricultural past and, as new things emerge, the potential of creativity to move it forward.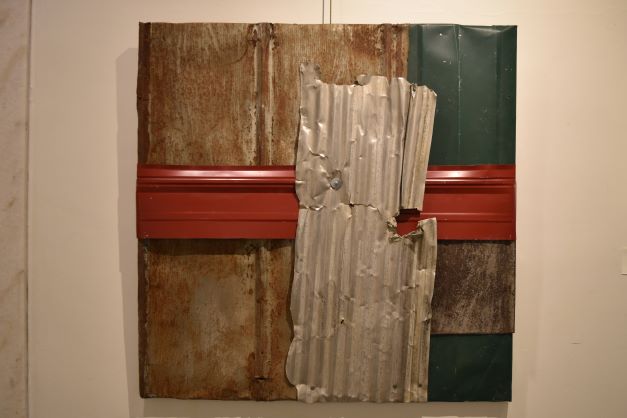 At first, Pam Oldfield Meade's It Was Nothing a Pan of Biscuits Couldn't Fix seems like the kind of quip one would find on a southern tea towel. But it goes deeper, acknowledging the reality of deep wounds from misinformation and greed and the potential for healing with food as a caring bridge.
I left Appalachia from the Inside: Celebrating Kentucky's Appalachian Art and Culture contemplating the inevitability of change. Underlying the exhibit is a wary hopefulness, a weariness springing from a regional history of imposed solutions and simplistic portrayals. But the exhibit also offers tools to navigate that change. Savoring everyday moments of connection. Creating beautiful and whimsical art. And, as demonstrated by the Jack-Tales presented by Maurice Manning and Sue Massek on my visit, the ability to laugh at ourselves.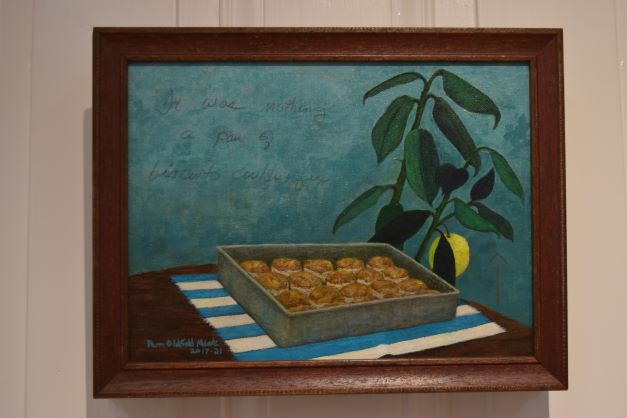 Appalachia From the Inside: Celebrating Kentucky's Appalachian Art and Culture runs January 13 to March 16, 2022, at Art Center of the Bluegrass, located at 401 W. Main Street in Danville, Kentucky. There are a number of opportunities to engage further with the exhibits, including craft workshops, music performances, and weekly luncheon presentations, most notably author Silas House on February 16.
Top image: Mark Anthony Mulligan. "Competition! Everyone Has It! Will You Stay in Business or Closed Down?" 2002, mixed media. A two-dimensional work on paper showing a busy street with various businesses framed in a black frame. Image courtesy of the Art Center of the Bluegrass.