Robert Morgan, one senses, makes art like other people breathe: it is an act that is essential for his very existence. As a boy growing up in Lexington, he'd pick up little treasures, as he calls them, like shells or pebbles or cracked pieces of a bird's egg and arrange them on his bedside table as if it were an altar. Morgan's mother was a self-taught artist from Breathitt County who showed her five children how to make art out of nothing: paper bags, newspapers, rubber bands.
"The most expensive material we had was Scotch tape," Morgan says. "I remember when we got our first box of twenty-four crayons. We thought, 'Oh my God, there are that many colors in the world?!' I can remember making art out of mud and sticks in the backyard all day long. I've never not done art."
As a teenager, Morgan became aware of his homosexuality. One day, he was walking around downtown Lexington and saw the flamboyant artist and poet Henry Faulkner on a park bench with two dogs, painting on a canvas. Faulkner took Morgan under his wing, insisting that they were spiritually connected, and welcomed him into a big house filled with exotic antiques, as well as into a social circle that included such luminaries as Tennessee Williams and William S. Burroughs. Enthralled with Faulkner's paintings and his openly gay lifestyle, Morgan learned how to tell stories through art.
What followed were years of living what Morgan calls a vagabond lifestyle: exploring New York's gay scene, hanging out in Andy Warhol's Factory; joining Faulkner and his pet goat, Alice, in Key West; and hitchhiking to San Francisco to see what was happening in Haight-Ashbury. Then, in his mid-30s, Morgan returned to his artistic practice in earnest.
"When I came back to Lexington and got sober 34 years ago, I had to learn how to make art again," Morgan says. "I had to rediscover my process, and purposefully went back to what I did when I was a little boy, arranging objects together and forming a little bedside altar. And that's the very same process I use today."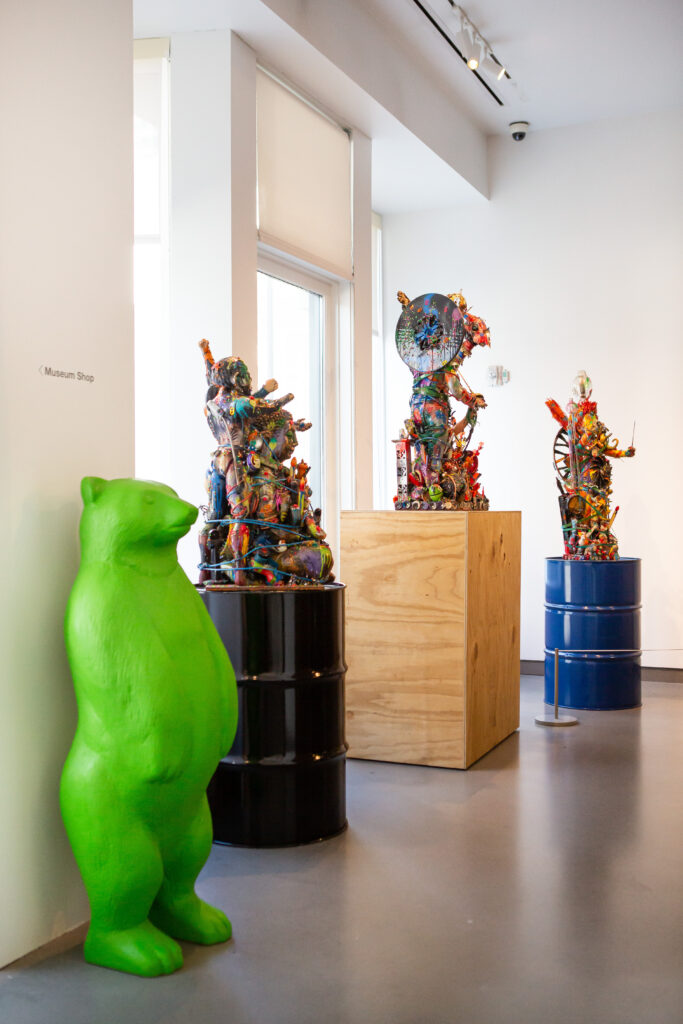 Now in his early seventies, Morgan is the focus of a dazzling survey at 21c Lexington, conceived in collaboration with museum founder and fellow Kentucky native Steve Wilson. Titled Myths and Stories, the exhibition exposes the narrative thread that runs through twenty-five years of Morgan's work, from photography and assemblage to the wildly baroque environments he creates in his own home, two of which are replicated in the gallery.
One of these is his bedroom, a kaleidoscopic den of the playful and the macabre, where plush toys for toddlers cozy up to creepy antique dolls, and plastic skeletons dangle opposite the fleshy forms of naked plastic men (anatomically correct, of course). The walls, painted with graffiti-style comic figures, act as a gallery for more objects: the body of a violin, a model of an oversized beetle, a mounted deer head, a samurai sword, grotesque masks with phallic noses, and more heads from those creepy dolls. "I like sleeping with all my anxieties and fears surrounding me," Morgan quips in a short film that accompanies the show.
After returning to Lexington, Morgan became a father figure to those in the gay and drug-using communities, much as Faulkner had been to him. As the AIDS crisis struck and he watched many of his friends die horrific deaths, he turned to art as a way to purge his grief, creating mixed-media assemblages out of found objects such as beads, buttons, ribbons, electrical wire, and children's toys, and covering them with splashes of neon paint and glitter. In "The Jackal" (1995), the oldest work in the show and one of the pieces to emerge out of Morgan's coffin series, the plastic head of a jackal howls from the glittery void of a wooden box, its body wound in metallic strips of discarded material and surrounded by a small pocket watch, an oversized die, and other miniature mementos.
"Each of these coffins had a half-rotten, half-mummified creature in it," Morgan explains. "The lids were smashed open as if the coffins had been broken into and rifled through, and they had objects that they had been buried with for their next life. But their valuable possessions had been stolen from their lidded coffins."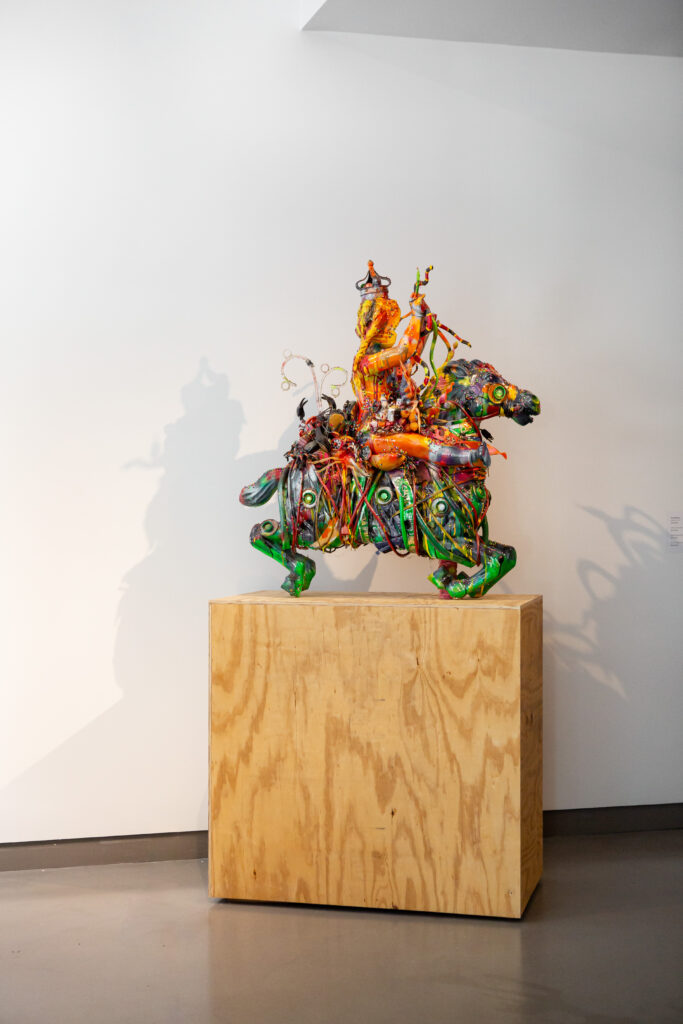 But after the coffin series, Morgan says, he wanted to get even with HIV/AIDS. So he started directing his energy into prevention efforts, meeting young sex trade workers and drug addicts and teaching them how to access sterile syringes, how to safely inject, and how to protect themselves in their line of work. He took his camera with him everywhere.
"It was a natural progression for me," Morgan explains, "to go from people struggling with AIDS, to people who are in risky worlds with the possibility of overdosing or contracting something like HIV. I was in a younger crowd that was not easy to gain the trust of. But I developed relationships with key peers in the group who would tell the others that I was okay. They would show some of the photographs I'd taken to the other guys, and they'd say, 'Oh, that's really cool. Maybe you can introduce me to him.' I gained the trust of people one at a time."
By Morgan's estimate, he's photographed some 400 young men over the years; roughly two dozen of them can be seen in small, chintzy frames gathered on the top of a baby grand piano in the gallery, as if transported from the home of one very proud grandmother. Yet the photos are unapologetically raw: the men, almost exclusively white and shirtless, swig from bourbon bottles or suck on gun barrels as they gaze defiantly at the camera, bear their deeply mangled wrists or exquisitely aroused cocks. Some have died or committed suicide, I learn, while others have gone on to have families and successful careers. There is nothing to indicate which outcomes apply to which models, indicative of Morgan's resistance to any narrative of judgment: all are welcome at this altar, all equally loved and adored, each completely whole.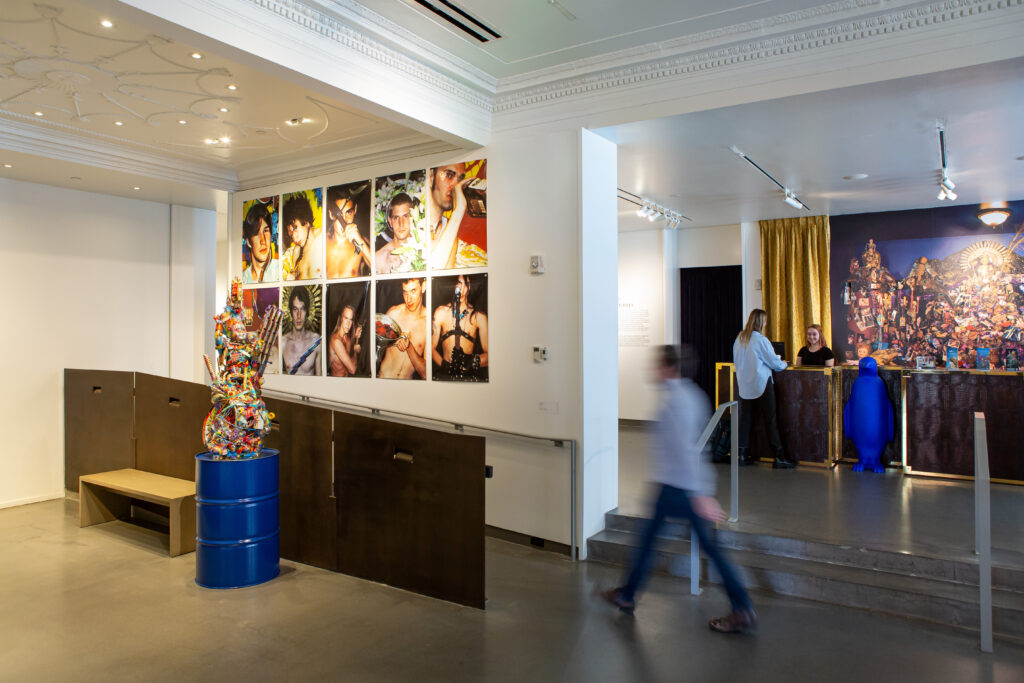 Morgan's photography appears in other forms as well: printed on vertical vinyl banners and strung like prayer flags across the top of the wall or reproduced on what the artist calls his "sweetheart pillows." Fabricated in China, the pillows replicate photographs in a mosaic of sequins that, when brushed with one's hand, "magically" reverse the image into a solid color of sequins. They're advertised as sentimental gifts for more heteronormative subject matter: wedding photos, smiling babies, cheesy family photos. But Morgan's pillows come back from the fabricator with mugshots – the downtrodden yet sparkly visages of friends, former boyfriends, and other men he's known that have found themselves in the police station at one time or another. The juxtaposition of content and material is startling, a dark humor that one suspects is the artist gleefully thumbing his nose at those who would so quickly condemn lifestyles different from their own.
The whole time Morgan was taking photos of this younger generation of LGBTQ+ individuals, sex workers, and injecting drug users, he was also learning their stories: "I would take an 18-year-old kid and say, 'When I look into your eyes and do the math, I can see that you might very well be somebody coming back to me.' It was profound, in some cases. So I started saving their stories and telling the stories of all the people I knew who died, and what had happened."
The way he tells those stories is through assemblage sculptures, a dozen of which are included in the show. (Morgan estimates he has made close to 300 sculptures over the years.) In each work, hundreds if not thousands of his tiny treasures – bottle caps, kitchen utensils, circuit boards, silverware, soda can tabs, analog thermometers, Hindu deities, plastic candles, clocks, plastic figurines, rubber snakes, Buddha heads, and rubber tubing among them – come together to create a fantastical, many-headed creature, cloaked in a spectrum of Day-Glo paint and glitter. It can be horrific stuff, but so, too, are the stories Morgan has heard over the years. And by translating them into sculptures, he is also transmuting the pain into something a little more bearable, wrestling the very real demons of disease, death, and persecution into a physical object smaller than ourselves, that we might begin to believe that these demons can be conquered, like the imaginary beasts of our childhood nightmares.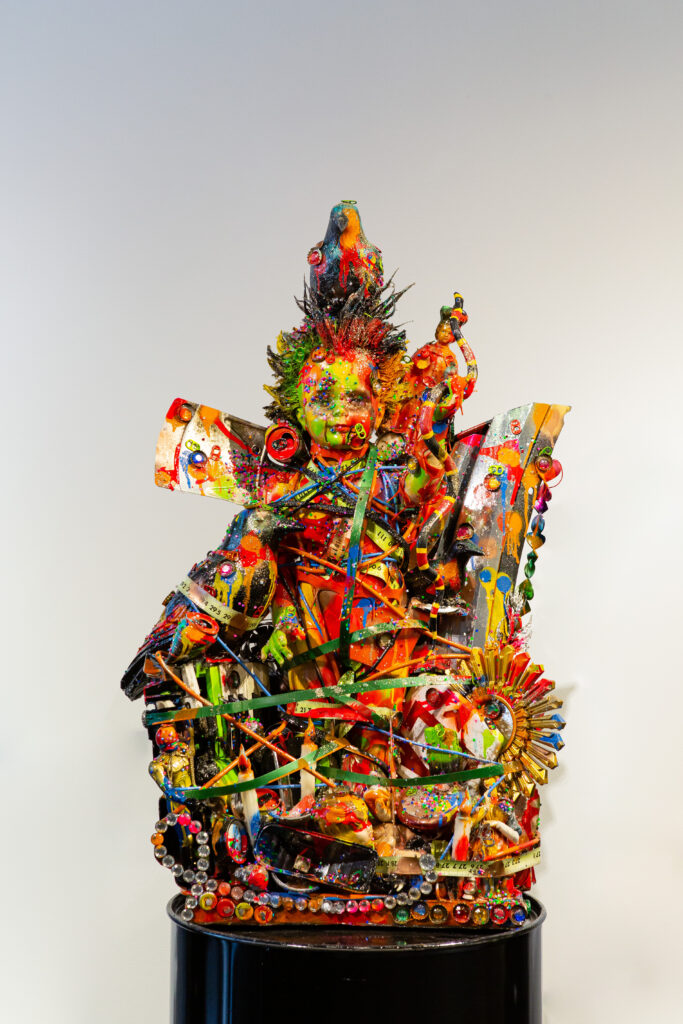 "The ceremony is in the building of the assemblage pieces," Morgan says. "My participation is binding and tying all those symbols and ingredients together to create the magic. That magic is a real delusion of mine, that I can somehow make all of the pain and hurt better, that maybe I could go back in time and undo it ever having happened."
Perhaps the largest ceremonial gesture is represented in the nearly life-size, photographic replica of a wall in Morgan's home, an altar that began thirty-seven years ago as a single photograph and a candle. It is now overwhelming in size and density, a breathtaking offering of photos, skeletons, skulls, saints, and deities, resplendent against a background of black and gold fabric with festive strands of metallic garland, all swept together in a shimmering mass like a single cosmic event, an interstellar nebula of love and devotion.
"There are photographs of people I love and people I know, and people from all different walks of life," Morgan explains. "There are deities from all over the world, from every kind of religion and every kind of voodoo cult. And those photographs of the young men, they're the martyrs and saints of my church. Some by the heroic way in which they plodded through life, even when they had no chance at all. And some by the heroic way in which they died, forgotten and struggling. I bring them up from obscurity in the gutter and crown them as kings and princes.
"These are my gods," he says.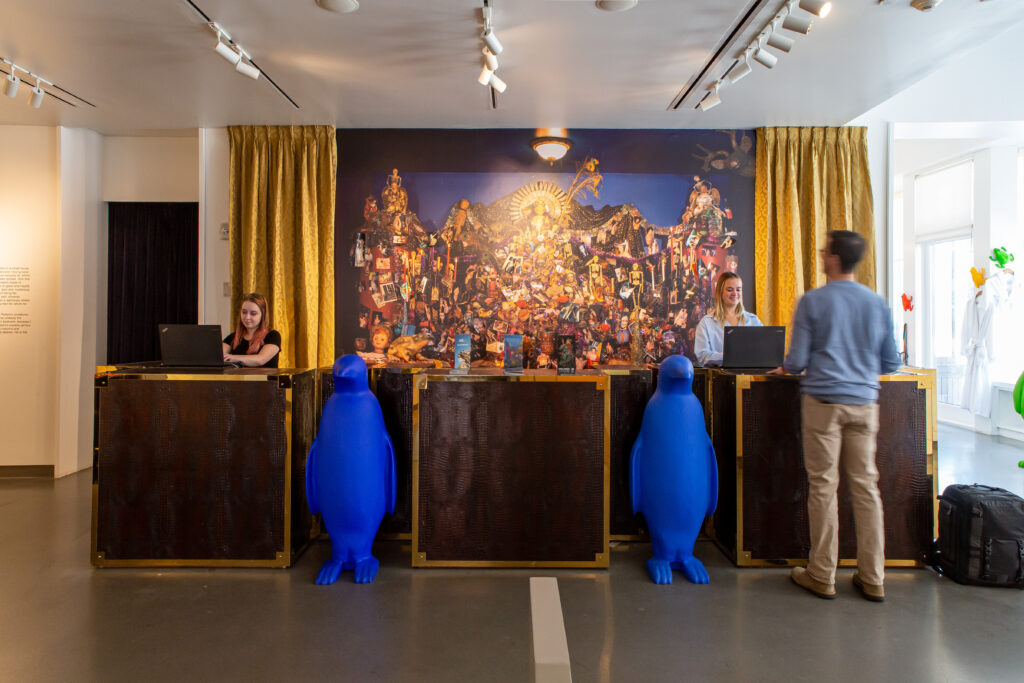 Robert Morgan: Myths and Stories can be seen at 21c Lexington (167 W. Main Street, Lexington, Kentucky) through November 2022. Quotes from the artist are taken from his archives as well as various conversations with the author in July 2022.
To learn more about Robert Morgan's practice, check out UnderMain's previously published studio visit with the artist back in 2017, which includes visual and audio components.
Top image: Robert Morgan, "Recreation of the Artist's Bedroom", at 21c Lexington. A bed with a colorful quilt and a variety of colorful stuffed animals and dolls on it sits in the middle of a room. The room is full of old toys and dolls, masks, quirky lamps, pillows, and art. Image courtesy of 21c Lexington.