"I saw the movie Swiss Family Robinson when I was five or six and loved the treehouse. Never had enough materials, the right tree, or the expertise to really build anything that amounted to much."
How times have changed. Mark Maffett greets me on the front porch of his home/studio; it isn't a treehouse but it feels like one. Surrounded by trees, birds, and nature, it fits perfectly into the natural landscape. The treehouse feeling continues as we walk into his home; a towering Sago Palm plant stands over us and into the skylights. Mark explains that his mother purchased it for him at Kmart for $14.99, 55 years ago. "It has its own room." He says with a bit of a laugh. The room he is referencing, like everything else, he built himself. From the base of the stone fireplace to the skylights in the rafters, it is all his craftsmanship and a work of art in and of itself.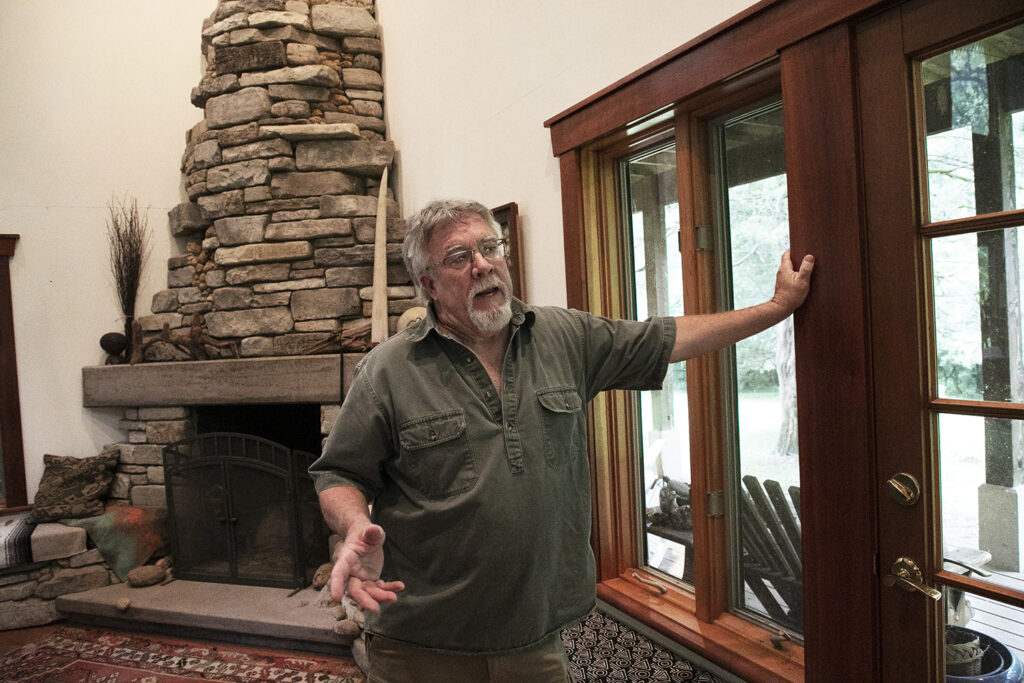 "I started this house in '86; I've been working on it ever since. This house is a labor of love, but the honeymoon is over."
Somehow I don't believe him, especially when he begins to show me around pointing out the house projects that he is currently working on.
Mark grew up in Lexington surrounded by a combination of contractors, tools, and nature.
"I started working in construction at about 20, partly because I wanted to learn how to build my own house. One year at UK, architecture, I didn't apply myself, heavy construction, framing for a few years then worked for just one older guy where I learned finish carpentry, tile, cabinetry, and furniture construction." This for about five years until 1981. Mark and his brother have been working together ever since, until recently when his brother retired. Mark considers himself a woodworker/builder. All along the way, he has taken time out for his personal works of art.
He began his miniatures back in 7th grade. "I could build a miniature tree house and solve all my problems."
He could make the treehouse he wanted without a tree, a Victorian house without land, and so it began. He walks over to a corner and comes back carrying a branch that houses a treehouse. He blows off a bit of dust and shows it to me. "This is my very first one, I built this in 7th grade. I have always been into this kind of stuff. The first pieces were very crude with no scale. Early pieces were rambling open structures made from balsa wood. Then came a few Victorian pieces and a timber-framed Tudor."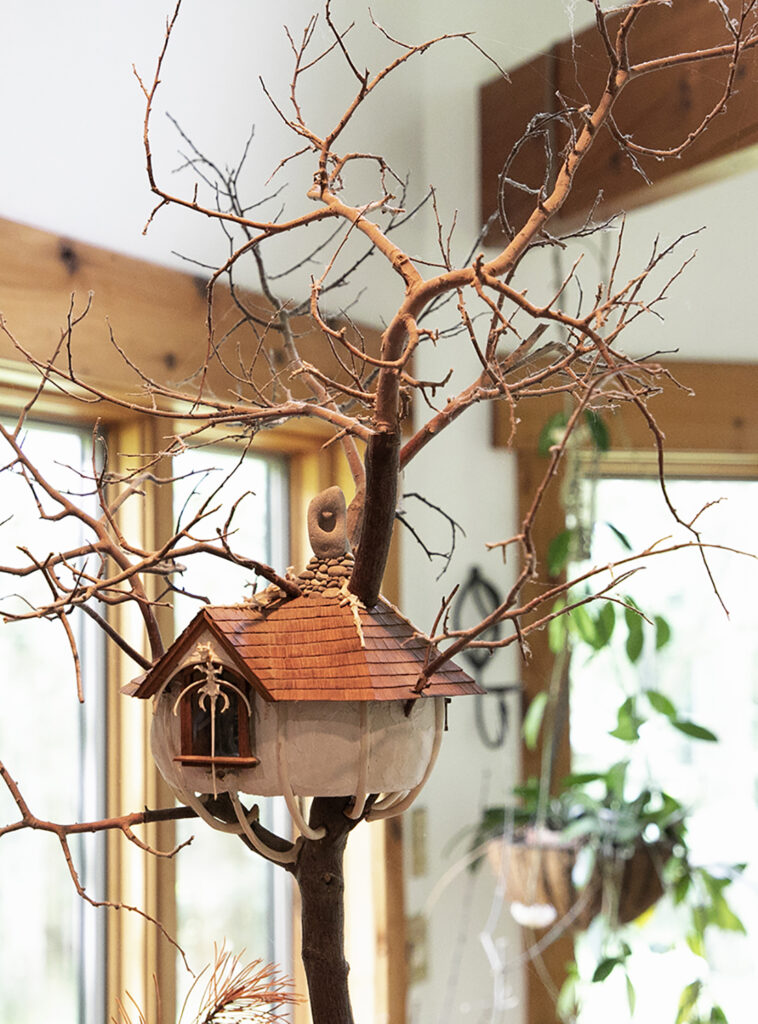 As he shows me this miniature version, I am standing beneath a towering stone fireplace – which, of course, he built using stones he collected. It is hard to imagine anyone going from such a huge project to the miniature one he is holding, but he does.
Is it difficult to go from building and constructing large scale to meticulous miniatures?
"I guess it's really not an issue. Working in miniature can be more relaxing because there may be less at stake. Waterproofing, structural and code issues, for example. The logistics of handling materials is certainly easier, and the physicality. I do approach the construction and design of the miniatures as though they are something I would actually be building life-size."
His home/studio is like a treasure trove of gems, the ones you find along a path. Those magical moments when you see that find. Whether it's a whole sand dollar on the beach or a geode from a backyard creek, or that magical feather that falls from a nest. Or for that matter maybe even the nest itself.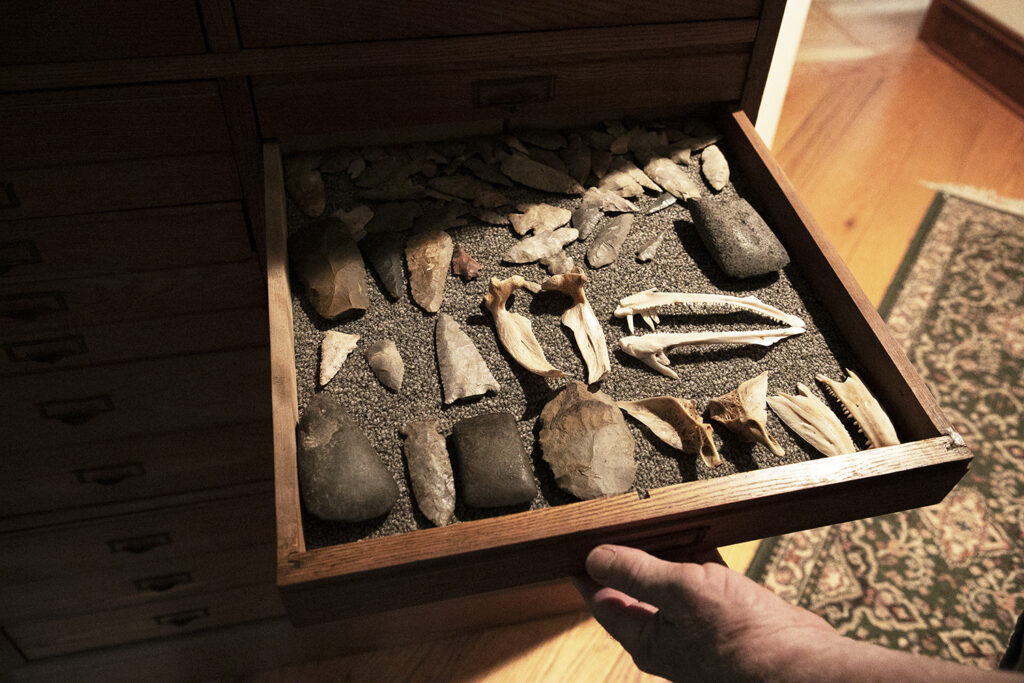 These are the gems that are everywhere in his home. Pieces that Mark often incorporates into his work; that is, except for his favorite find. We walk over to a beautifully crafted wood cabinet, where he opens drawer after drawer of carefully organized pieces, including shells, fossils, and some fish jaws. When I ask what his favorite find is, there is no hesitation. He opens yet another drawer and pulls out the largest shark tooth you have ever seen, which will not go into a piece of his artwork, but back into its special drawer.
His early days began with basic types of treehouses, he tells me, and as time went on his pieces began becoming more and more organic.
"I started using bones, fossils, and shells as architectural elements. I also started making pieces that aren't about treehouses. I have always had the urge to build things. The miniatures allow creativity not available in real projects."
Does the material dictate the piece or do the finds?
"A lot of times I'll find a piece which will kind of dictate the piece, but many times they will change and evolve." On his desk, in his smaller studio, he shows me a work in progress.
"This piece is all designed around this rock." It's a large flat rock with a hole in it. He begins stacking layers of rocks on how it might be, but then he might find a small stone or another natural element to incorporate.
There are cypress knees, Bonsai Trees, shells and fossils spread throughout his home and studios waiting for Mark to work them into his miniatures. "My friend gives me his deceased bonsai trees to work with. They are fantastic for building in because it's a complete tree. Some of the early treehouses I made I just cut off branches." He makes the point of telling me they were not live branches when he cut them.
Mark's two studios are a small space that could be a jeweler's, with small tools and tweezers to work on his miniatures, and a large space with wood and frames and saws.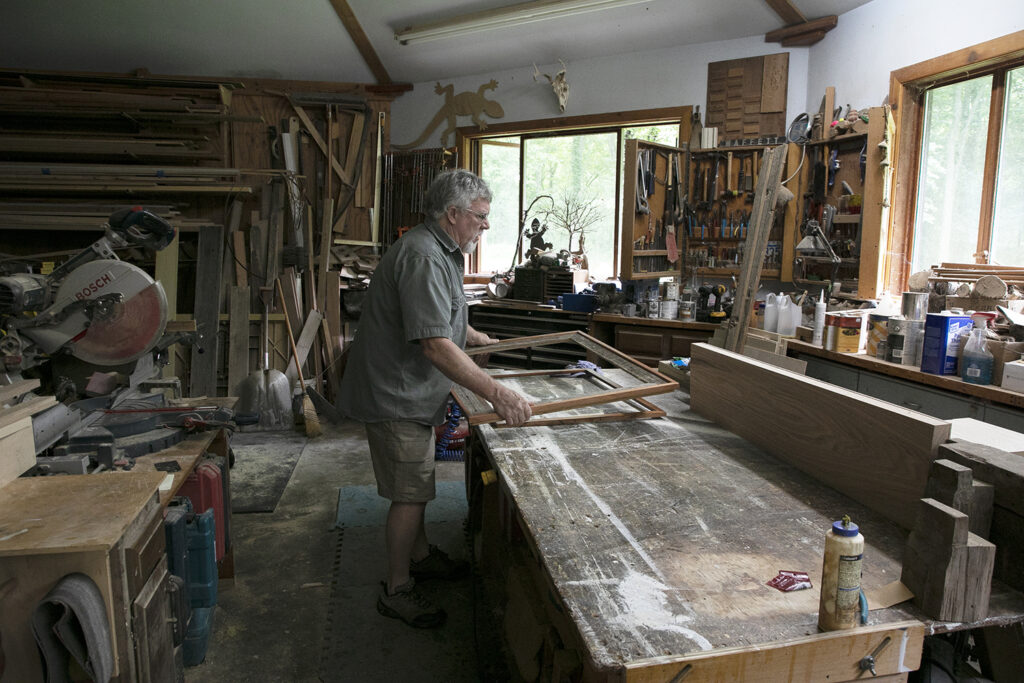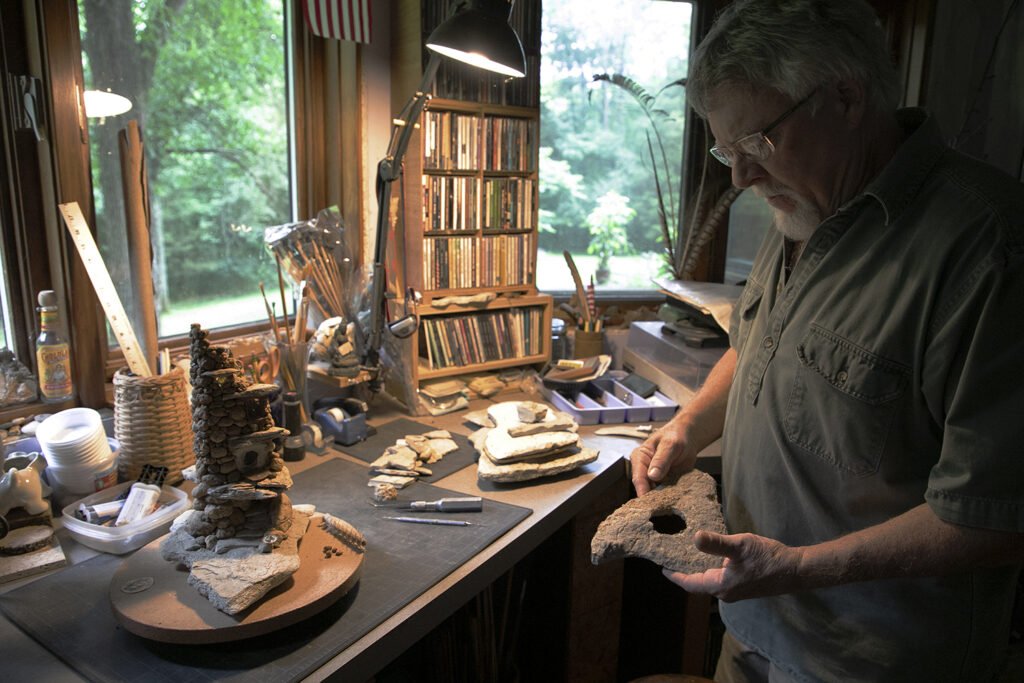 Mark's studio tour is a tale of two different artists who coexist and whose work crosses over from one to another, from his large-scale work as a woodworker and builder to his miniature pieces.
What material do you like working with the most?
"Recently, I have branched out doing stonework. The rocks are all from around here when I'm out hiking and stuff. Another thing I have discovered is shelf fungus from black locust trees."
Do you ever title things?
He walks over to a piece on a pedestal which he spins to show me the details. "Yes, I call this one Windswept. Those are squirrel ribs that form the stairs. I had these perfect bones for the doorway, and I didn't put them on, and I don't know what happened to them. Maybe a mouse got them and chewed them up. "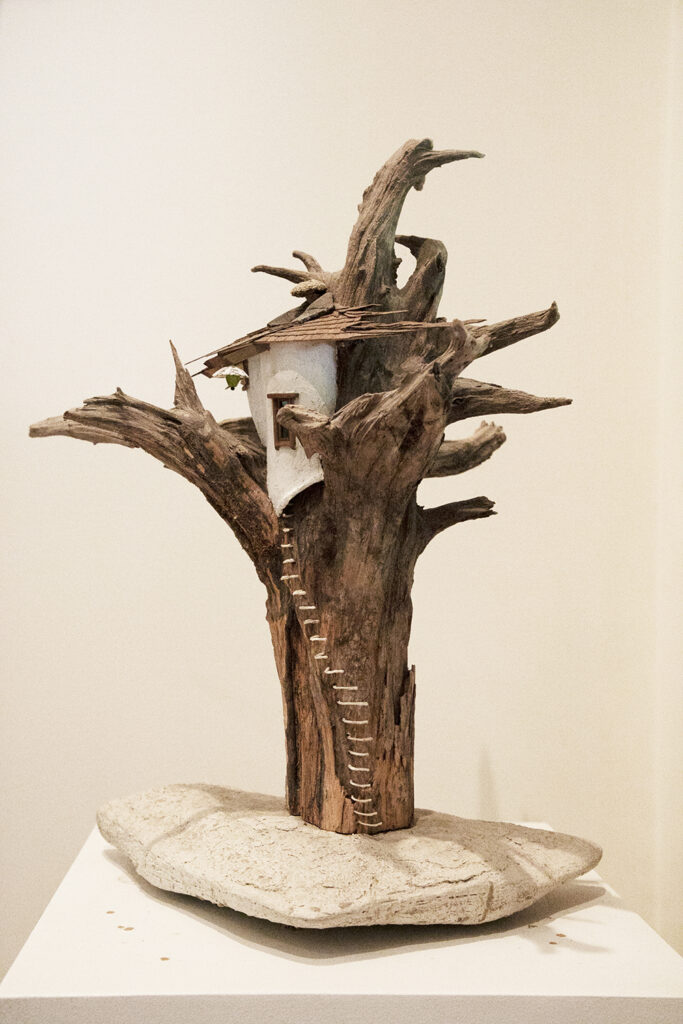 Mark manages to find things in nature that most of us could never envision in a piece of art.
"By using found natural objects, I can combine my love of nature, woodworking, and architecture all into one. They are about being a part of nature and coexisting with nature. Collecting found objects is perhaps the best part, beach combing, creek walking, and hiking in the woods. Imagining what I can use found pieces for."
"I haven't worked on much lately." The answer is a familiar one to most artists.
"Well, I have had to make a living. It's very meticulous work. It's hard to justify spending the time if I don't have the outlet to sell, but it's an outlet for me to be creative. I would love to be able to sell them; I'm 66 years old. I don't want to go up and down ladders and be on my knees forever."
There is no doubt that Mark will continue to walk down nature's path, whether it's picking up a shell on the beach or a geode in his backyard. There is no doubt that those objects will find their way into Mark's miniatures. That is, except for his favorite find of that giant shark's tooth; that will remain tucked away in its special drawer. Besides, it's far too big to find its way into Mark's miniatures. I am grateful to have found my way to Mark's studio among the trees.