A tree-lined driveway led to a private house tucked away in the rural suburbs of Kentucky. Lavish, otherworldly, and remote, artist Carlos Gamez De Francisco's (b. 1987) home-based studio is evocative of Medici-era patronage. Housed in a friend's secondary home, Gamez De Francisco uses the private space to focus exclusively on his art practice.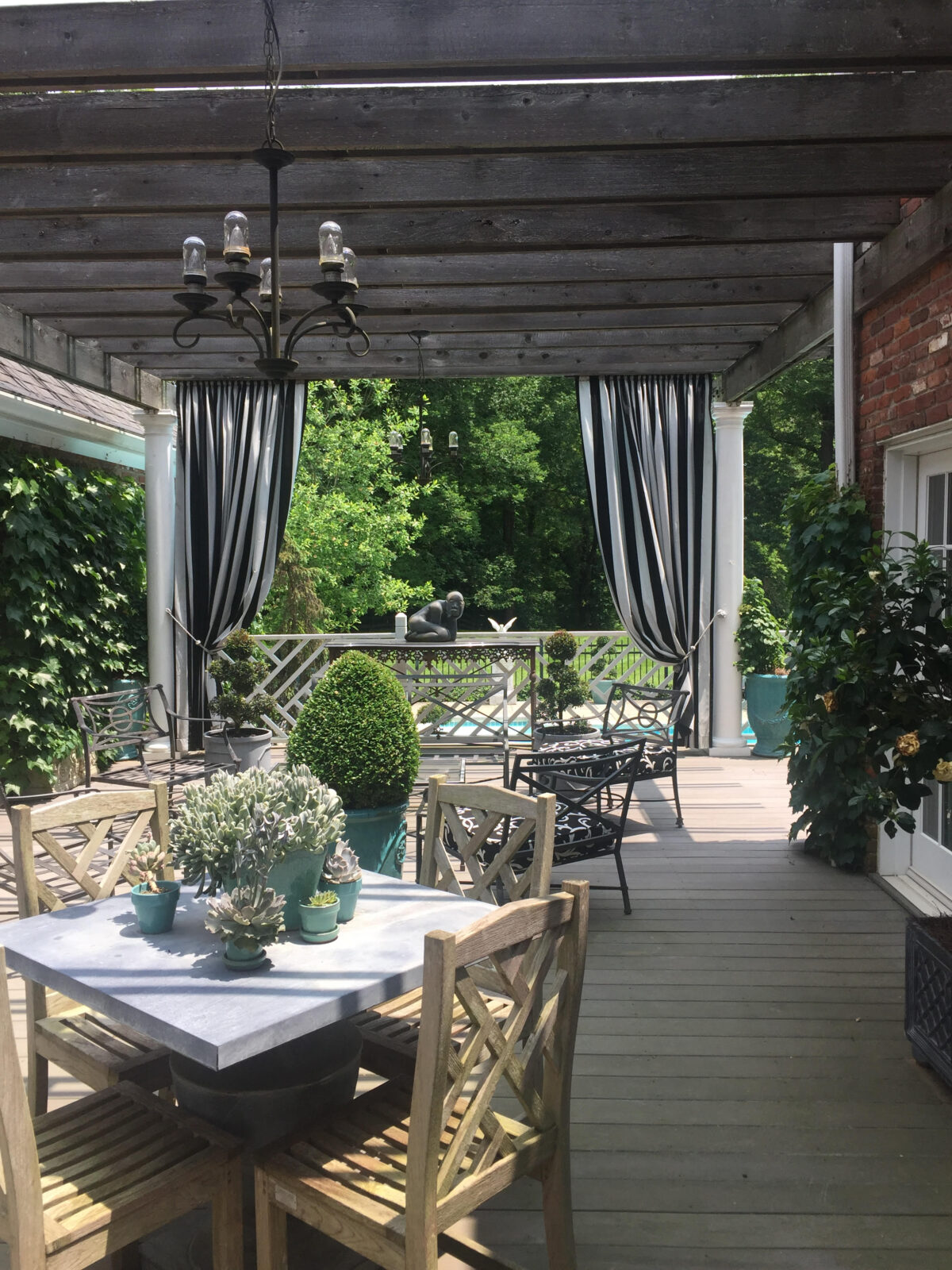 Reminiscent of 17th century Dutch portraiture, a series of young women adorned in pearls, head dresses, and ruffled collars are posed in a manner that is both austere and elegant. The works are visually and tonally seductive as vibrant hues of red, purple, gold, and white stand stark against a black backdrop. There is a frankness in the women's demeanor as they stare directly into the camera, implicating the viewer with their gaze. The subjects are not to be reduced as being simply beautiful. Upon closer examination what initially appears as lavish garments are objects, such as: trash bags, kitchen towels, and bedspreads, to name a few. The objects are specific to each model, carefully scoured and chosen from their homes to be recontextualized and reformed into clothing.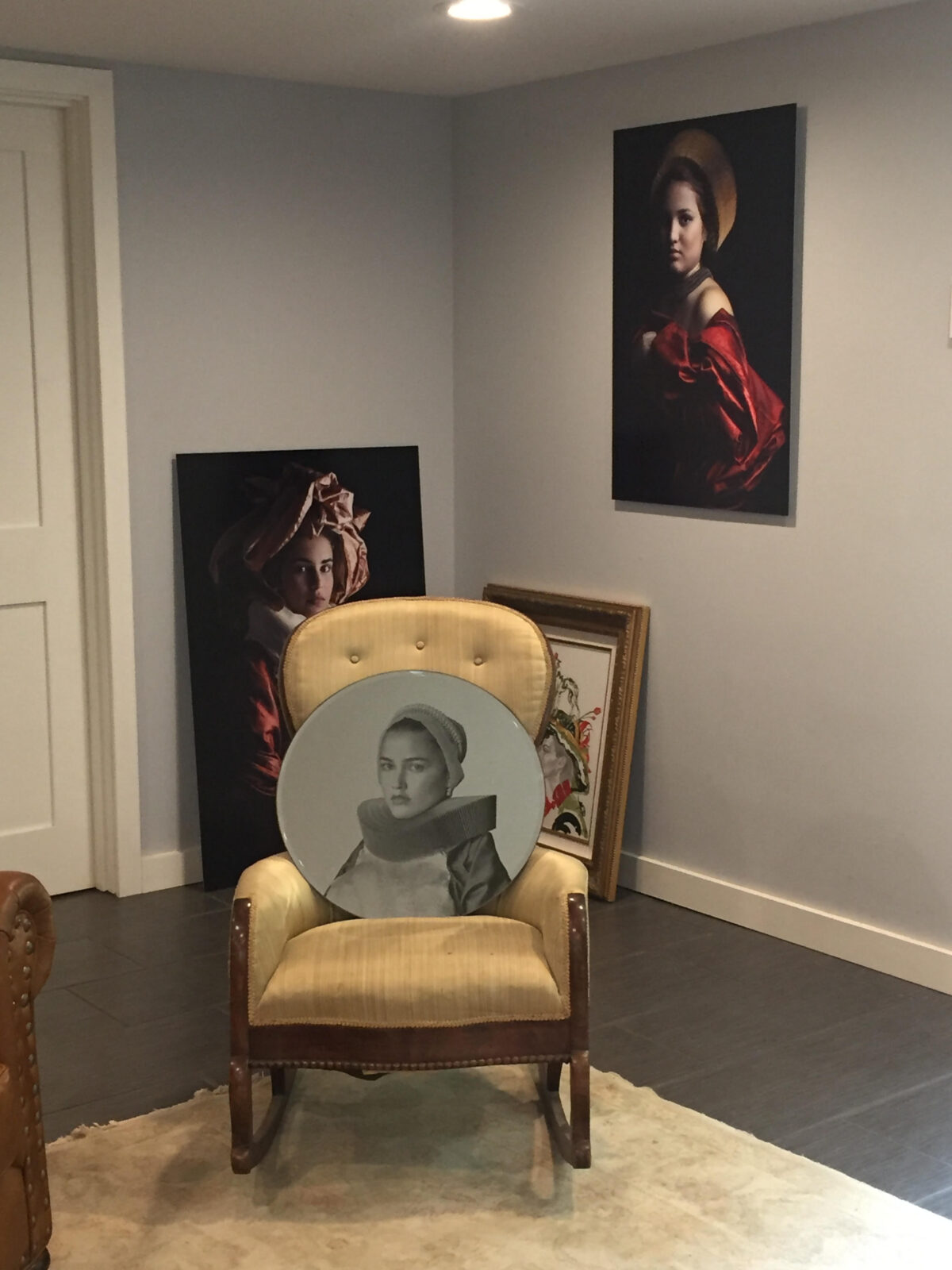 Formally trained as a painter, Gamez De Francisco intentionally references painterly motifs to construct his photographic images. The history of portraiture is fraught with classism as those depicted were often in a position of status and power. Gamez De Francisco utilizes the format of portraitures' to simultaneously empower the depicted models and dismantle portraitures' exclusionary history. Regarding portraiture he states, "I think portraiture is the thing that is depicted the most in the history of art, I like to make portraits for that reason. What I wanted was to depict them in a position of power. I want to do the same with people of color and of different backgrounds, in the same position of power."
The models depicted in the images are what Gamez De Francisco refers to as the "new generation of Cubans." Born and raised in communist Cuba, Gamez De Francisco emphasized the hardships of growing up in a regime where basic everyday needs were scarce and access to the Internet or cell phones was unavailable. At 21 years old, he immigrated to the United States to pursue his career in the arts. In 2018, Gamez De Francisco traveled back to Cuba to document the new generation of Cubans with his series titled, "The Power of the Powerless" and "Specimen Lost in a Tropical Island". Prior to his project, he put out a call in Cuba for people who would be interested in being photographed; 280 people responded. When asked how he chose from 280 people, Gamez De Francisco emphasized, "I want people of different genders, races, backgrounds, and incomes."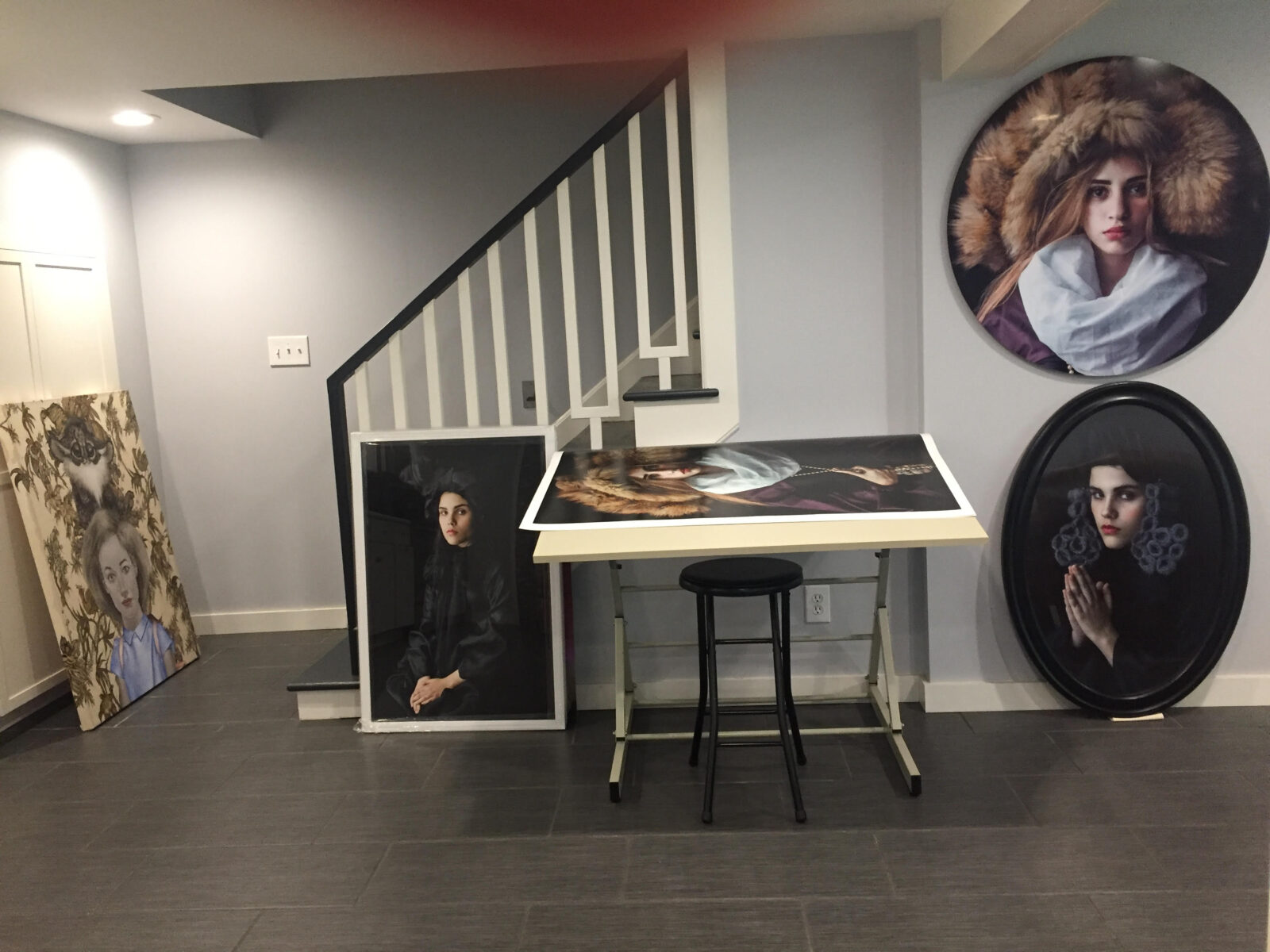 Opulent displays of material wealth paired with aristocratic poses that give an aura of nobility are reimagined through people of various economic classes, races, and backgrounds. Issues of diversity are at the forefront of the images. It is through portraiture that Gamez De Francisco gives the subjects a newfound sense of agency. There is a conceptual component to Gamez De Francisco's photographic process as he goes through each individual model's home to find various objects that can be transformed into a garment or accessory. The quality of objects can range from jewelry to utilitarian items like trash bags, which through the process of manipulation and recontextualization warps the original meaning of the objects and constructs a more powerful narrative through image-making. Regardless of the model's background or quality of items represented in the picture, the motif of portraiture aesthetically eradicates unstable power discrepancies through the visual language associated with bourgeois portrait culture.

Unlike the Dutch photographer Henrik Kersten (b. 1956) who also uses repurposed materials like plastic bags and napkins to recreate a formal likeness to Dutch portraiture, Gamez De Francisco subverts the Eurocentric paradigm of portraiture found in the canon of art history. He does this by not only incorporating people of color but by interviewing each subject which allows the depicted to be an active participant in the construction of their image. Personal narrative is imbued into the subject's personal items which incorporates a level of intimacy and ownership that is not initially apparent but activates the portraits in a way that destabilizes both the colonial and male gaze.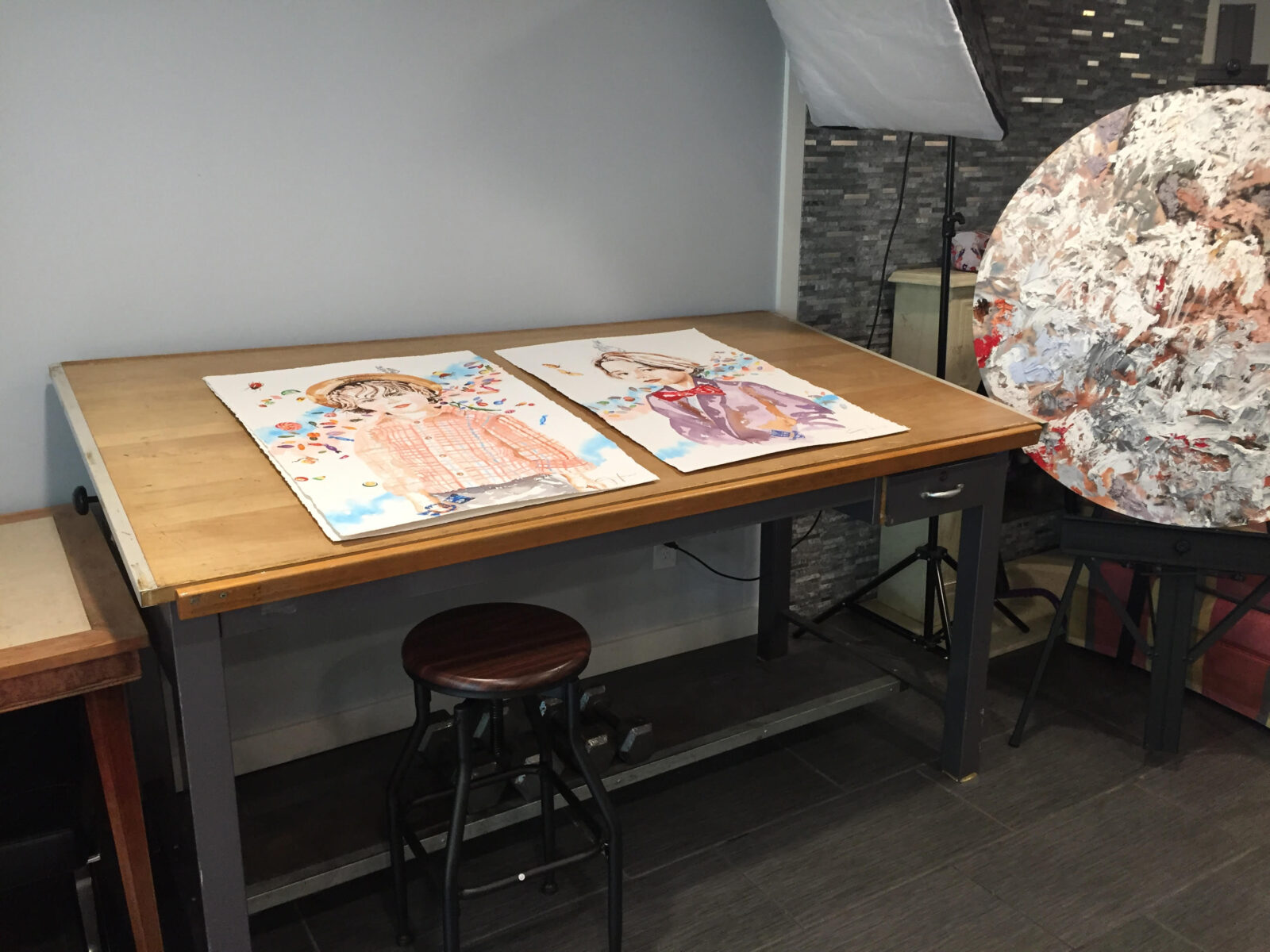 Interested in further expanding his studio practice, Gamez De Francisco likes to challenge himself by working in different styles and media. He is still working within the style of portraiture, however there is a stylistic transition that is centered on exploring the technical aspects of painting. His solo exhibition at Miller Gallery in Cincinnati this year titled, "Modern Nobility, The Art of Carlos Gamez De Francisco" involved painting in front of a live audience, adding a performative quality to the act of painting. Having formally trained as a painter, breaking free of its technical limitations and challenging the parameters of the medium itself are always a points of consideration.
Apart from the painting-based performance, Gamez De Francisco likes to work with watercolor paint because of its unforgiving and spontaneous characteristics. The paint is hard to handle due to its lack of texture, and the loose translucent quality of the pigment tends to spread rather than hold. It appears less calculated yet takes an instinctual precision to ensure the paint moves and applies as directed. Intention is less mediated, as control is viable only up to a certain point as the medium is unable to be tamed completely. Unlike his photographs which are meticulously staged and executed, his watercolor portraits have a gestural ephemerality. The quality is markedly soft in comparison to the polished finish of his Baroque-like photographs.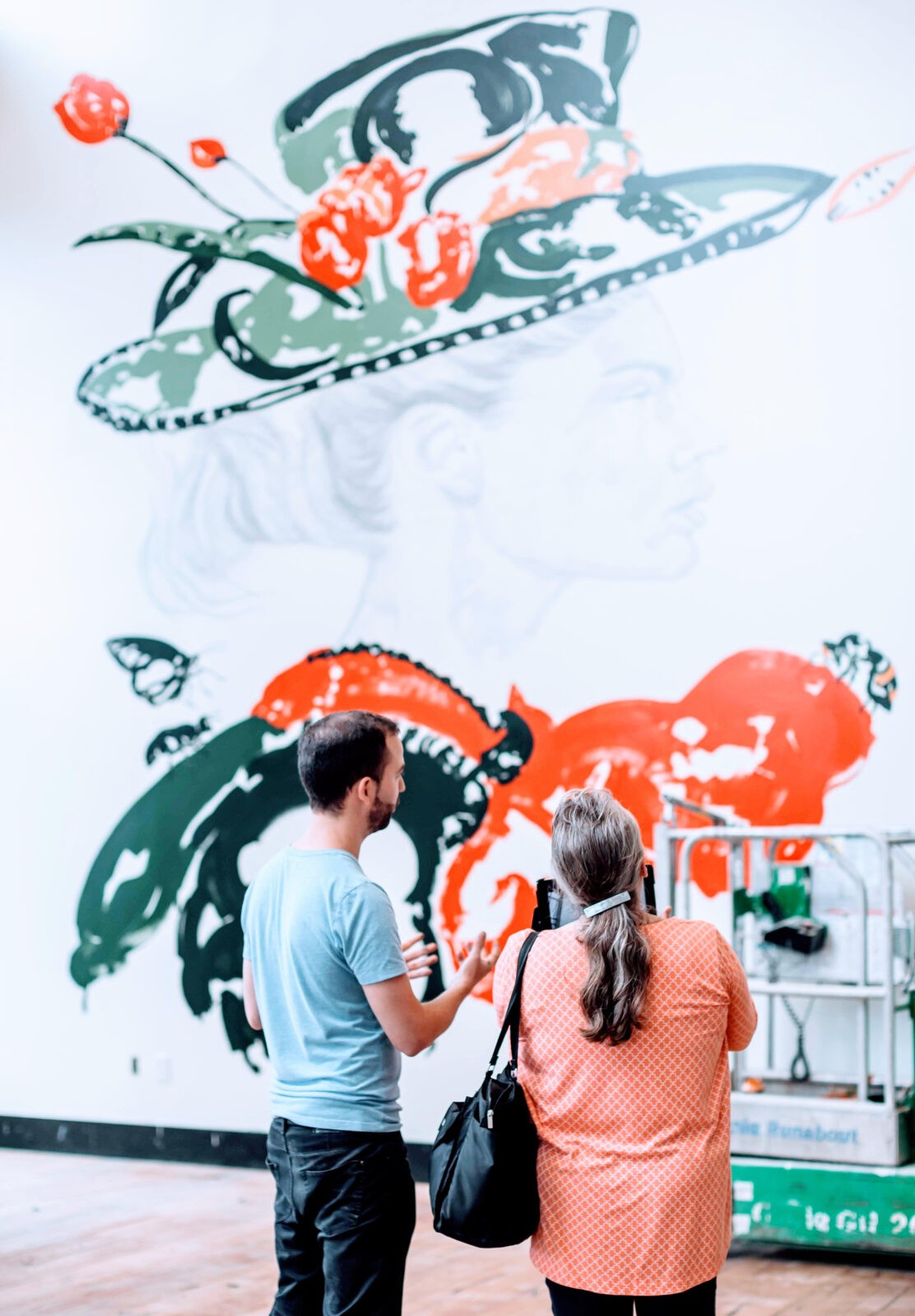 The aesthetic composition of his watercolors with loose calligraphic forms and muddled pops of colors are being challenged on a much larger scale as Gamez De Francisco is currently working on a wall mural for the Origin Hotel in Lexington, Kentucky. The scope of this project is in direct contrast to the temporal constraints of the watercolor portraits seen in his studio, where works are executed in a much more unrehearsed manner with inevitably shorter time and labor constraints.
The most evident stylistic shift that was seen during the studio visit was Gamez De Francisco's blatant effort to deviate from pictorial representation. A circular canvas with textured strokes of oil paint in various patches of light blue, white, red, and pink rests unfinished, a work in-progress. For Gamez De Francisco, Abstract Expressionism is new territory that results in a different type of aesthetic experience. With no recognizable meaning the viewer is forced to contemplate and simply experience the work. Like the viewer, the artist is also confronted with the freedom of non-representational ways of painting. The formlessness of abstraction comes with new sets of decision-making that pose challenges of its own.
Although this stylistic transition is conceptually new, Gamez De Francisco has had a penchant for abstract thinking from a young age. He recalls one of his earliest memories of drawing from when he was six years old. His father was in the kitchen explaining how water comes out of the faucet. Fascinated with the faucet's ability to release water, Gamez De Francisco became enamored with the idea of drawing running water. This was a concern for his mother, as she felt her son's desire to draw moving water warranted a visit to the local psychiatrist. According to Gamez De Francisco this was a seminal moment for him, "At 6 years old I was determined I wanted to be an artist."
This level of decisiveness and determination made Gamez De Francisco resort to savvy tactics in his attempt to paint during a period in his life where resources were limited. It was during this time that the United States of America sanctioned an embargo on exports to Cuba that resulted in Cubans having to get creative within their material constraints. Gamez De Francisco would mix watercolors with toothpaste in an attempt to achieve the quality of oil paint, and used found pieces of cardboard as a substitute for canvas. This single-minded resourcefulness has carried into his art practice today.
Gamez De Francisco is disciplined and methodical in his approach to painting. He emphasized his rigorous daily routine that is fueled with an incessant need to make work that is always contingent on improvement. The secluded environment of the Kentucky countryside in which his studio resides allows for no distractions and enables an almost obsessive focus on making work. The grounds are both scenic and isolating, which recall a pre-Modernist model of an art studio.
However, it is not just the environment that won him over. Gamez De Francisco quite deliberately chose to have his art practice based in Louisville. In 2017, he moved to study at the School of Art Institute of Chicago. However, he recently moved back because of Louisville's art community. He says, "I prefer Louisville because of the people, they love to support art and in an art scene that is not large. There is so many people that love art." There is a culture of support, inclusivity, and passion that resonates with Gamez De Francisco on a deeper level and one he considers to be pertinent to a creative community.
UnderMain would like to thank The Great Meadows Foundation for support of our 2019 programming, which will include twelve in-depth studio visits of Kentucky artists. See our other publications related to this project: 
Emily Elizabeth Goodman visits Melissa Vandenberg
Hunter Kissel visits Harry Sanchez, Jr. 
Jim Fields visits Skylar Smith
Keith Banner visits Michael Goodlett
Miriam Keinle visits Lori Larusso
The Great Meadows Foundation is a grant giving foundation whose mission is to critically strengthen and support visual art in Kentucky by empowering our community's artists and other visual arts professionals to research, connect, and participate more actively in the broader contemporary art world.