WARNING: This posting contains nude images.
by Christine Huskisson
I am not a blogger by nature; I prefer to tell stories. I love a good metaphor and the occasional innuendo as a way of processing what I chose to write about: the world of art. It is a topic that I am now convinced could make you sick, if not mildly insane if it were not for stories and someone to share them with.
Arts Week in New York began in early March this year with events like the Armory Show, which is America's largest fair for the most important art of the 20th and 21st centuries. Art lovers, or should I say carnivores like myself, gorged on everything from paint to profanity, installation to styrofoam sculptures, and enormous photographs of far away places with camel bone bicycles and beautiful bullets.
I arrived early in the morning to see the sixteenth iteration of The Armory Show, which was held on Piers 92 and 94 on the Hudson River. That is where I met Oliver, my guide for the day. We had a good deal in common: those impressions on your upper nose from wearing heavy glasses so that you don't miss a thing and the odd mix of degrees in business and art history.
Together we decided to delve into the tales told by a countless number of artists represented by 200 galleries from 29 countries. The artworks that I share with you here were not chosen because they are the most successful, the top ten, the most notable by academic standards, or the hottest items on the market today. I am sharing these with you for the simple fact that they told us – Oliver and me that is – some kind of story or allowed us to listen in on a conversation that someone else was having in another part of the world. In them, we found plenty to make our day palatable and the entire experience a bit saner.
We began on Pier 94 chatting about what most in the art world know as the 'blue chip' artists, well-established artists with impressive resumes represented by world renown galleries. You have to joke in the midst of this crowd. So we decided that Tony Cragg's Distant Cousin and Georg Baselitz's Leyk dede var were having some fun together. Imagine Baselitz's figures, while hanging upside down in a field of tangerine oil paint whispering to one another: "Hey, how do you suppose that hunk of steel sold for a million dollars this year?" Which it did.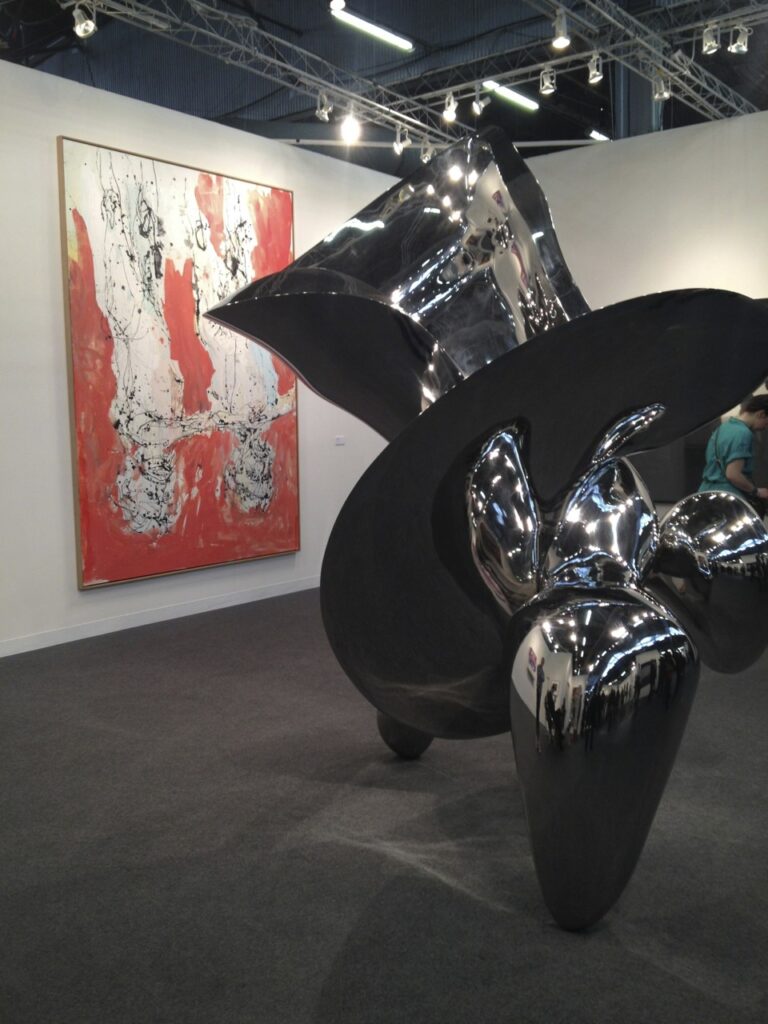 Tony Cragg's Distant Cousin, 2008 and Georg Baselitz's Leyk dede var, 2013
In this same area, we turned to find our images reflected in Robert Longo's enormous photo-realist drawing depicting a Burning Man. Our reflections were standing behind the man in a cowboy hat watching what must have been a gruesome event taking place. Burning Man sold for $380,000 and these are only two of the sales made by the Galerie Thaddaeus Ropac of Paris and Salzburg. It was enough to make us want to move on to a greener crowd.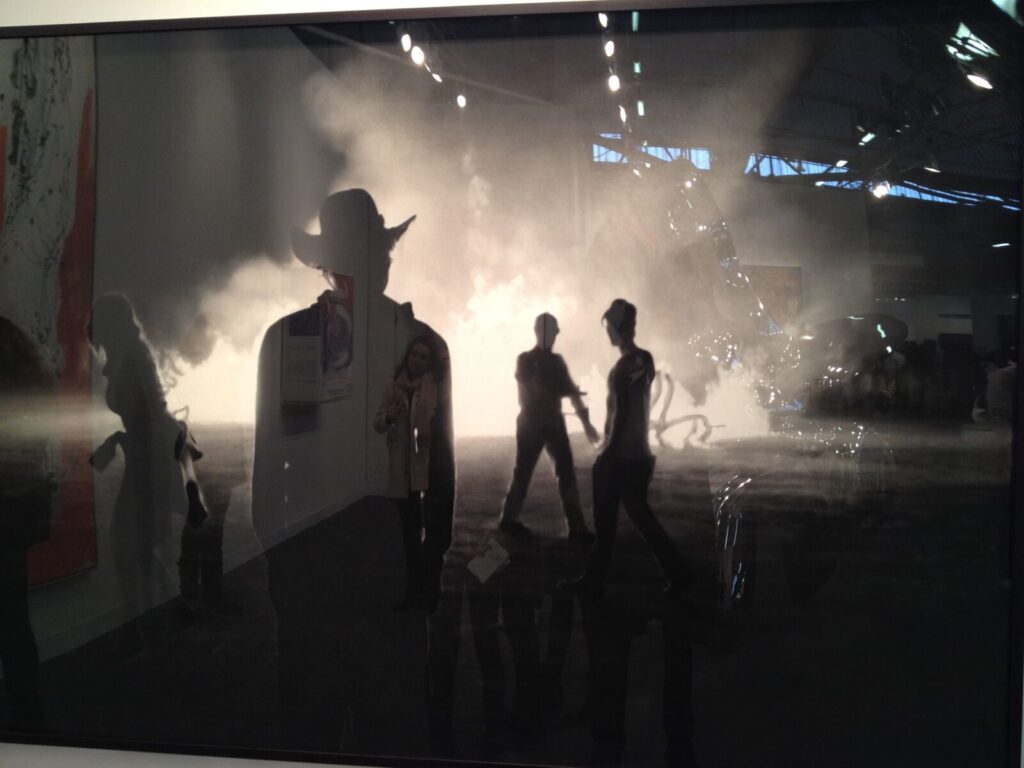 Robert Longo, Burning Man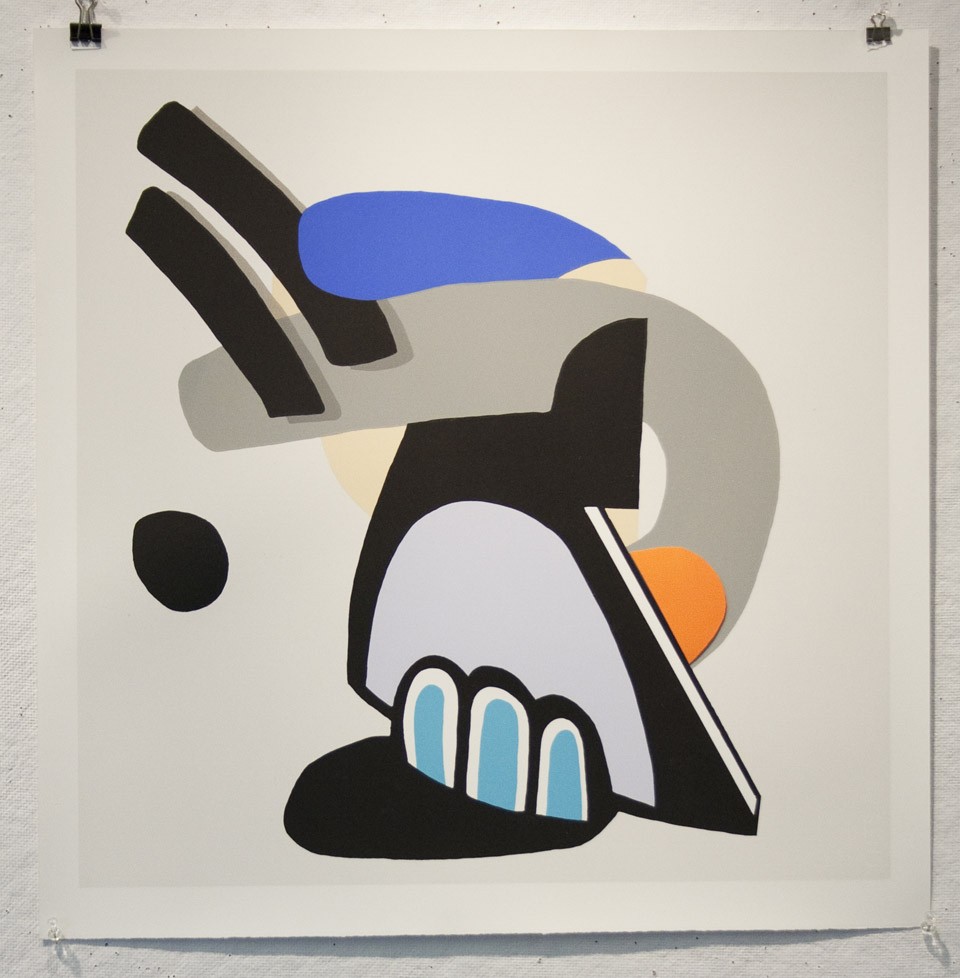 Hayal Pozanti, original print for larger work titled Sacred Canopy, 2014
Among the newer galleries in a section titled 'Armory Presents,' we found the Jessica Silverman Gallery from San Francisco. The works here by Hayal Pozanti, a native of Istanbul, who received her MFA from Yale University in 2011, were imbued with a sense of color, spacial relations, and humor that I found very attractive. I wanted to buy and Oliver and I had our first disagreement. Oliver snapped back at me, "The fact that the artist is so young and working with a young gallery too might end up thwarting a career." Fact is: this young woman's work was big talk at the show.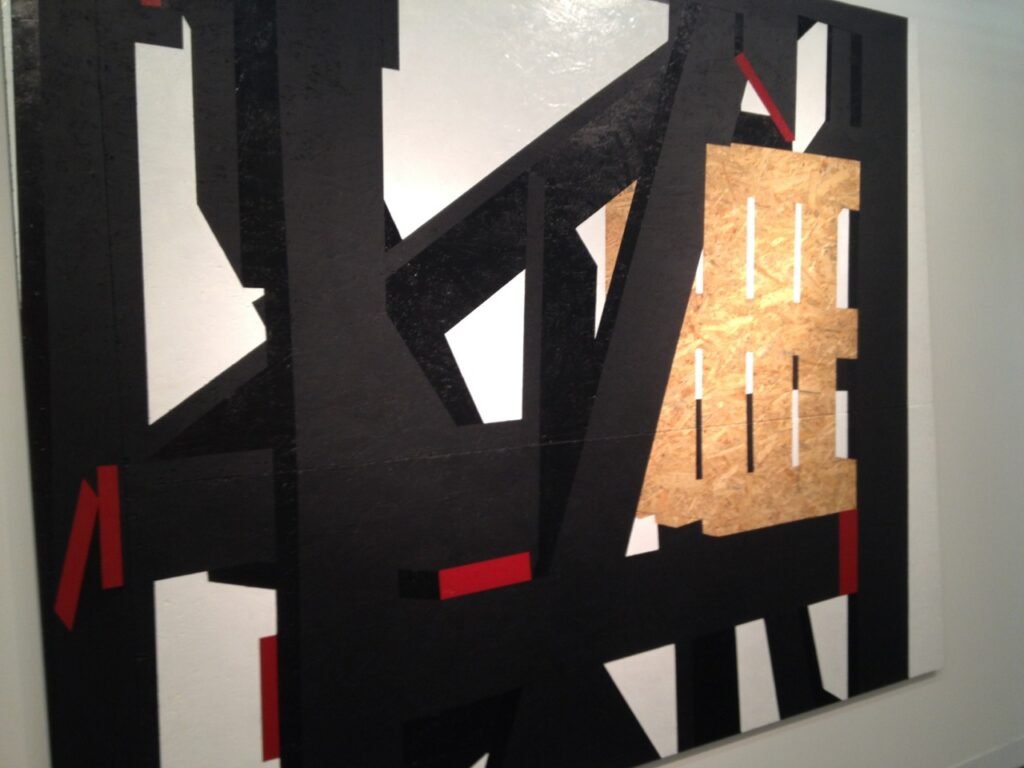 Serge Alain Nitegeka, Fragile Cargo X, 2013
Another biggie was from one of the curated booths in the Contemporary section, the Marianne Boesky Gallery brought us along the journey as told by Serge Alain Nitegeka, a South African-based artist of painting, sculpture, and installations. After hesitating just a bit due to the obvious effort involved in this installation, Oliver took my hand and we wondered into the booth climbing over and ducking under painted two by fours with heavy crates nailed all around, but mostly above our heads.
Once through the small space that felt unbelievably oppressive, we discovered Fragile Cargo X, Exterior, Silence, Tunnel VIII, enormous objects constructed of the same material through which we had to pass, only far more rewarding in their composition and presence. Oliver knew the artist's story and shared it with me in this intimate space removed from the crowd. This was the first time Nitegeka had been shown in the United States and every work in this space sold to museums around the world. There is now a waiting list for his work at the Marianne Boesky Gallery. "This is a find!" he said. "New artist to the markets with solid representation from an established gallery."
Robert Polidori's Enfilade, Salle les princes royales, 2010
Standing in front of another visual wandering, fully set within a frame this time by Robert Polidori and inspired by the Palace of Versailles, I had a chance to share with Oliver a bit about my hometown in Kentucky. He was more interested in making sure I realized that Mr. Polidori is a staff photographer for The New Yorker Magazine.
Historical incident masked by beautiful color and form took us to Bullets Revisted. Moroccan artist Lala Essaydi stacked bullets in different ways to create the imagery in this chromogenic print. Oliver shared with me that the markings all over the woman's body were Islamic calligraphy applied by hand with henna. This work in particular was part of an exhibition at the Museum of Fine Arts in Boston titled She Who Tells A Story: Women Photographers from Iran and the Arab World curated to challenge stereotypes and refute the notion that all Arab and Iranian women are oppressed and powerless. Instead, they are telling their stories and, as with Lalla Essaydi, they are making some of the most significant work in the region today.


Lalla Essaydi, Bullets Revisited #3, 2012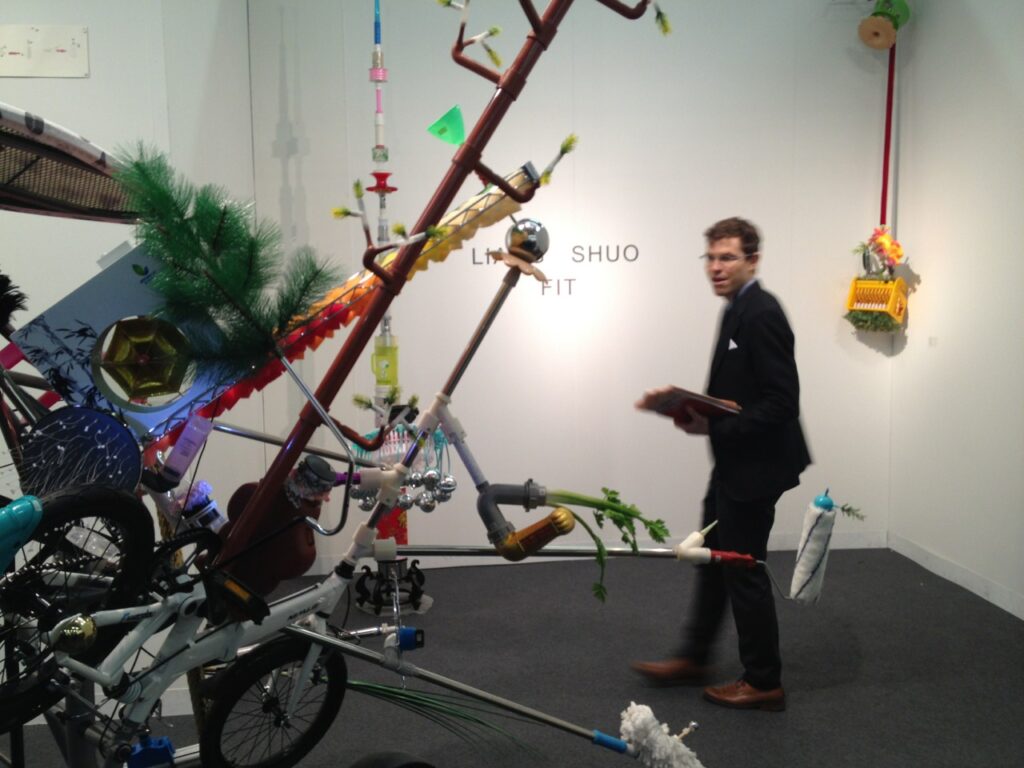 Liang Shuo's, Fit No. 8, 2014

On entering the Focus China section curated by Philip Tinari, Liang Shuo's Fit No. 8 from 2014 represented by Gallery Yang is clearly not a sign or signifier of China – Shuo's China is China. The sculpture is made from mass produced, found objects. The artist did not use any adhesives to assemble this contraption. He worked until he found one piece that fit perfectly into the next, numbering each intersection so that they were clearly mated. He also provides us with a diagram of how to assemble this work.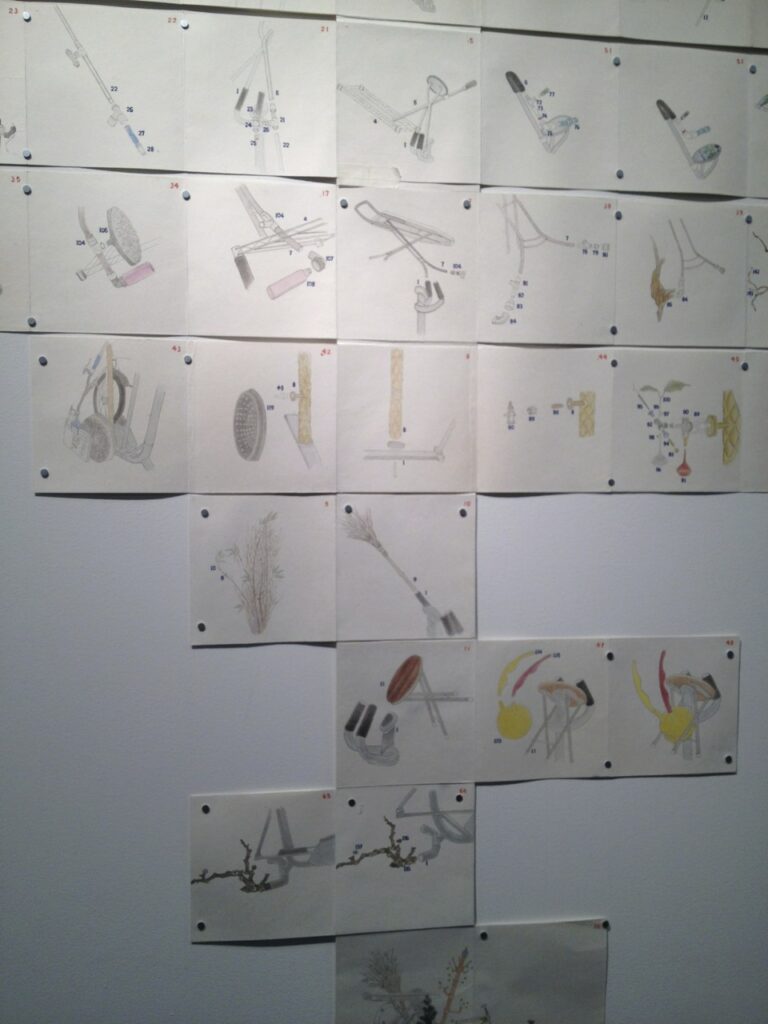 Liang Shuo's, Fit No. 8, How to Assemble, 2014
Oliver and I had too much fun in the Focus China section, there was a good bit of humor there and we found it most refreshing.  Deciding to wrap up our day, we happened on Miguel Angel Rogas' David/Quiebramales. It was so powerful and honest that our conversations turned to a whisper and then nothing really, not knowing what to say about the young Army vet posed as Michelangelo's David. His left leg was missing from the knee down, presumably lost to a land mine.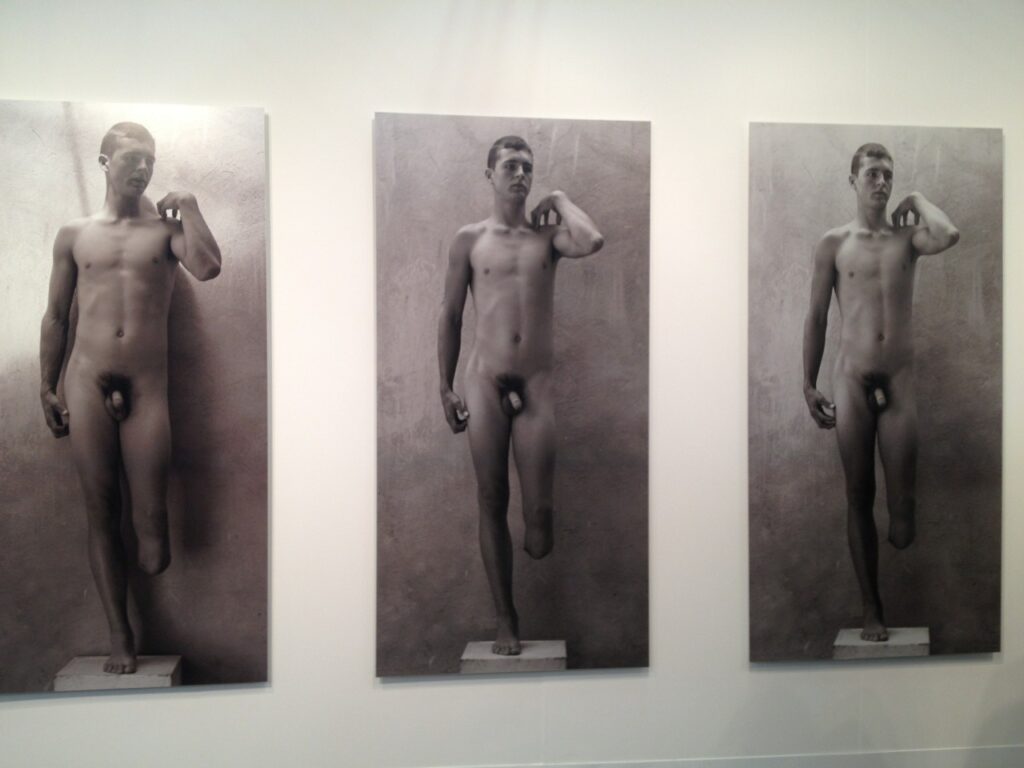 Miguel Angel Rogas, David/Quiebramales, 2008
In our silence, I just stood next to Oliver and realized how much I really liked the time we spent together. I could imagine that if I had been standing in front of the statue of David with him, we might discuss Michelangelo, the Italian Renaissance, a contrapposto pose, the Medici Family or the Florentine Republic. At that precise moment though, all of that seemed vapid, my mind went blank and I could not even find the right words to describe 'hero'.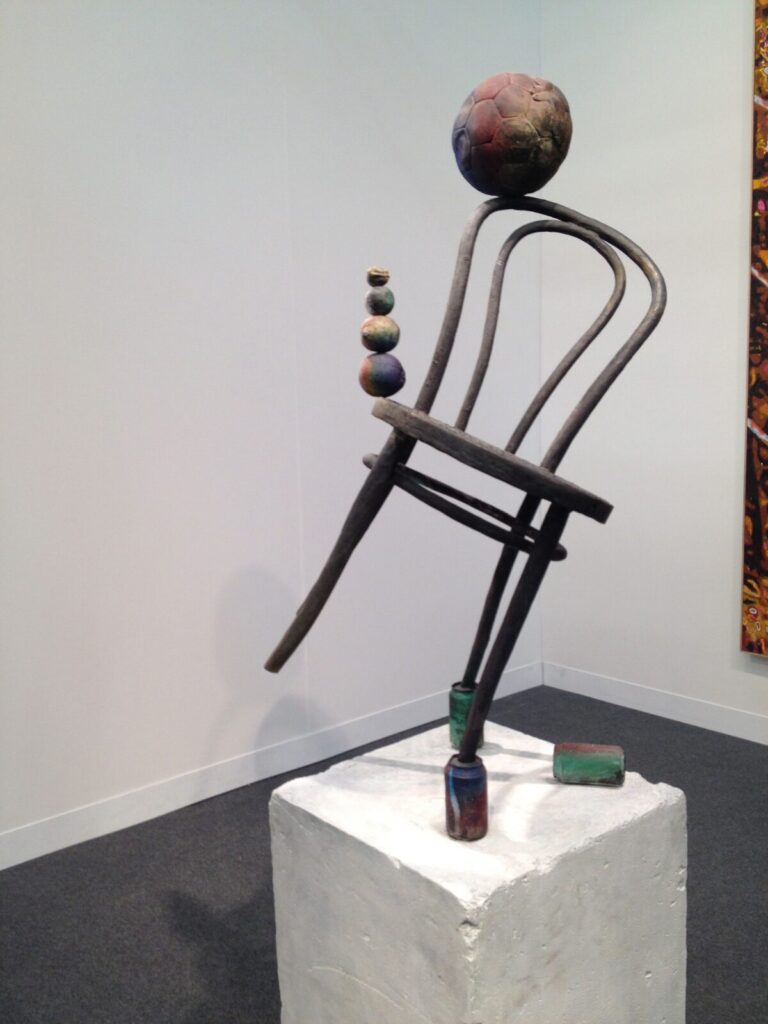 Folkert de Jong, Conference Art, 2013
We wandered off to end our day with a bit of levity and found Folkert de Jong's Conference Art, which was carved from a single piece of styrofoam. All an illusion. It was just the metaphor I needed to end my visit to the Piers 92 and 94. Without the stories told by each of these artists and shared with Oliver, I might not have been able to balance Arts Week in New York with the grace and style that I felt as I left.