We've invited a number of people to write brief reaction pieces to art critic Jerry Saltz's recent piece in Vulture,"The Last Days of the Art World … and Perhaps the First Days of a New One". The writers were also asked to comment about the effects the virus and resulting mitigation steps have had on their work. We will be publishing these pieces over the next several months.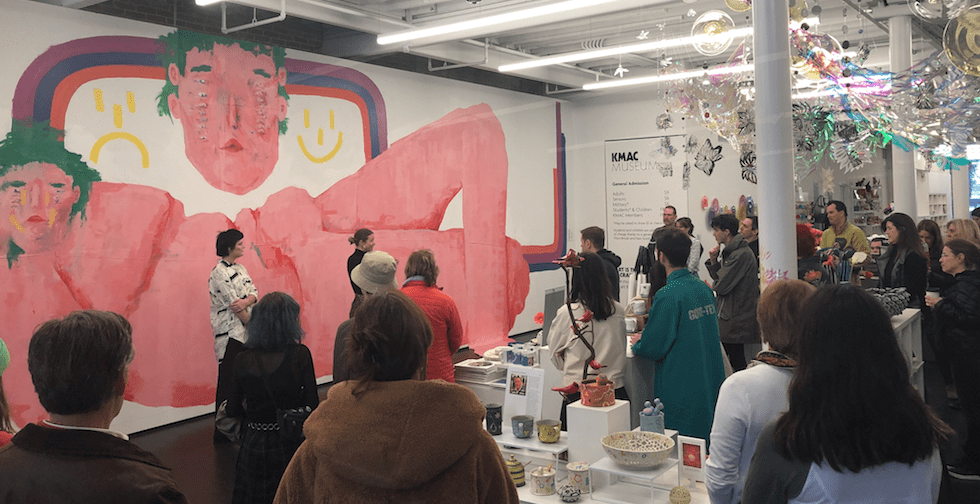 Last December, KMAC Museum opened new exhibitions of work by contemporary artist Summer Wheat, modernist Pablo Picasso, and recent University of Louisville grad Nina Kersey. From mid-December until four weeks ago, these exhibits and related programming were driving a visitorship increase of nearly 300% for the museum. KMAC was earning local and national exposure, and the organization was set to build off this momentum through the summer and into the rest of 2020 with more art, activities, and partnerships.
Then, of course, the pandemic hit. Suddenly, all current and future plans are on hold.
Every arts organization is feeling the impact of the virus. It's devastating, to say the least. Projects have come to a halt, too many people are out of work, and communities are getting minimal aid and relief.
What can the arts offer during this time? How can we be essential? These questions are now engrained in every plan of action.
For the KMAC staff, we're rarely meeting face-to-face. Our intent for the museum, like nearly every other institution, is for it to continue to be public facing. Social media has been a great tool to reach audiences, but it's not the same as offering the physicality of our galleries. Previously, the museum did have some off-site programming, but having to craft every service to be so presents numerous challenges. While the mission remains central, difficulties are abundant.
We're not the only ones trying to keep things going. Everyone seems to be working like crazy to generate content and inspire the masses. Some are very successful, and for different reasons. New territories are being explored in attempts to connect with new audiences. All doesn't seem to be quite lost, as it were.
When it comes to what the world looks like on the other side of this, Saltz is more optimistic than not. He's certainly not the ultimate authority on coping with tragedy (I'm not sure anyone could be), but he recalls that past hardships "shaped, not destroyed, the community that I love." Maybe this is easy for him to say. Still, it's probably the right sentiment to have.
Early panic is settling in as we are now clearly in a changed reality. This is a time for artists, museums, and galleries to ask themselves: What can I contribute? How can I help shape the new way forward? Cross-sector collaboration is likely a given and the need for transparency is at a high.
On top of everything else, the pandemic actually magnified and intensified the already existing inequality, and nonprofits and cultural centers are hurting. The disparity across every social sphere is impossible to ignore. Saltz includes statistics describing the layoffs and budget cuts for some of the nation's cultural behemoths. Smaller museums – and many local museums – are coping with the same problems (and are presumably worse off).
A change in collective consciousness seems inevitable. Saltz would probably say current socioeconomic structures are likely to be our downfall. He makes his political tendencies quite clear in every format he publishes. There's probably a good chance this is true. If the arts, though, can become integral to every facet of culture, then we may see a way through. Not just for the art world, but for everyone. As long as we continue, art will, too. We might as well embrace it.