Wilderness, Rural, Suburban, Urban, and Post-Urban comprises Manifest Gallery's third annual Five Themes Project. The interrelated shows bring together over fifty contemporary artists from across the United States who are exploring our natural and built environments. Through photography, sculpture, and painting, this rich and diverse group of works asks how do we define the places where we live? And, more importantly, how do they define us?
The five themes each occupy their own gallery and are sequenced from wilderness to post-urban. The groupings pose many questions about the way we regard and inhabit land, use resources, and relate to past, memory, and the future. Largely absent from all of the works on view (save for a few) is the figure. The exhibition does not present a vision of the world as populated by people, but the artifacts, buildings, and ideologies we construct. Implicit in many of the works is us and our insatiable appetite to occupy and define space.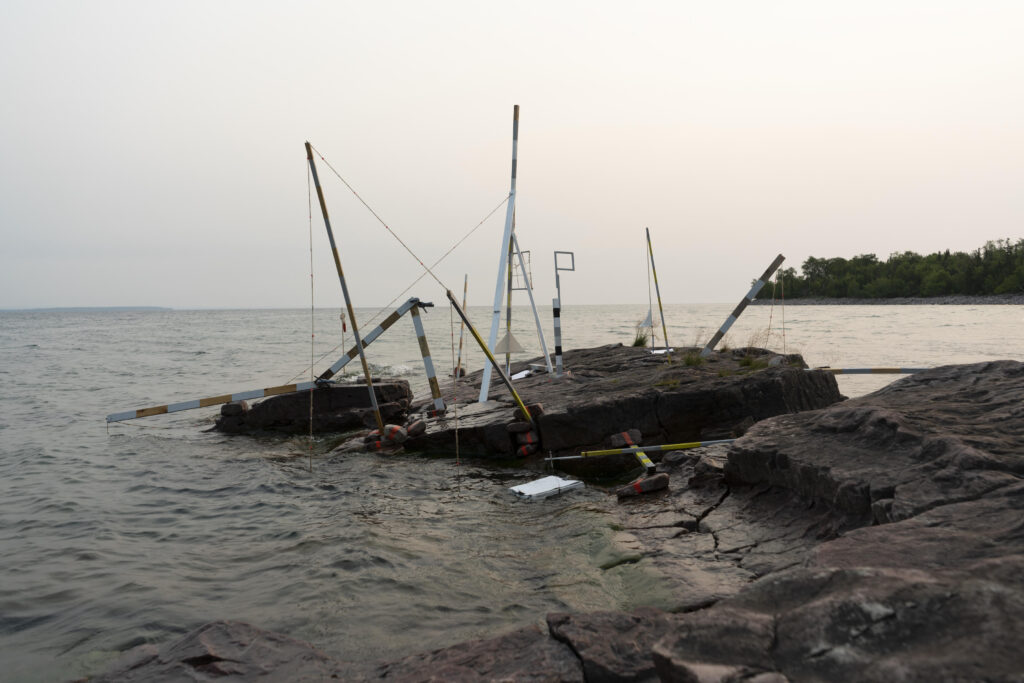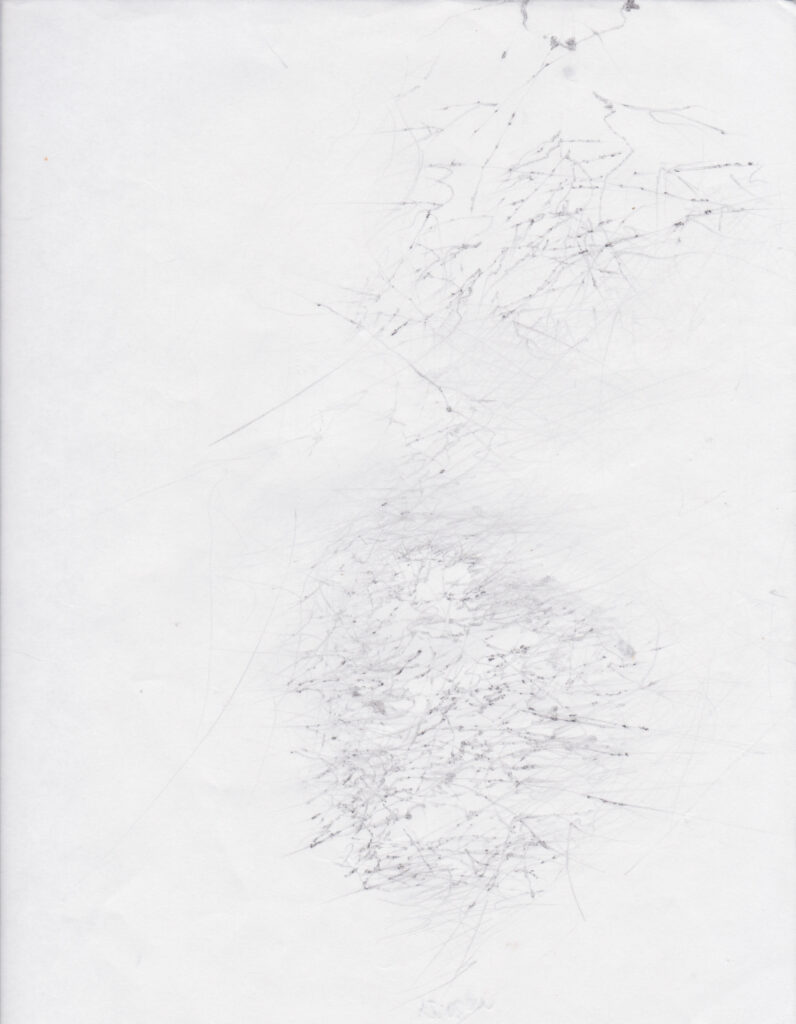 Wilderness touches on nature's ability to overpower and be beyond our full understanding. Works in this gallery show vast, fallow fields, the beat of ocean waves, nests, glaciers, sprites, spirits and broken apart maps. Wildlife nestles in leafy nooks. While many of the works obliquely deal with humans' impact on what is left of "the wilderness," one work confronts it directly. Keweenaw Observing Station is an ongoing collaboration between Claudia O'Steen and Aly Ogasian that consists of site-specific sculptures/instruments that collect and store data about climate changes' effect on the Great Lakes. Grounded in both science and indigenous relationships to the land, the observing stations measure water levels, wind, and temperature. This data is then output to produce drawings and predict future conditions. It's a deeply complex and thoughtful work, and it carries the through-line narrative of the show – that it is necessary to both look back and be wildly grounded in the present, to be able to see the future.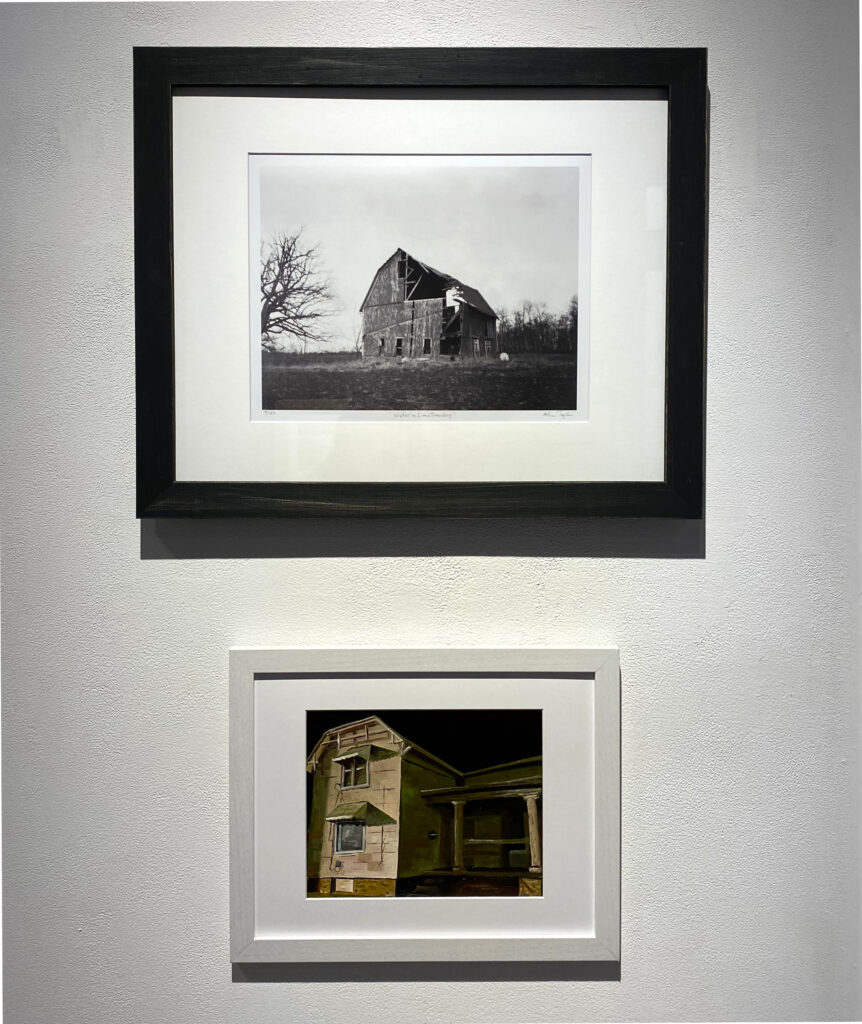 Many of the works in Rural feel melancholy. Living rurally has many connotations – some are romantic, while others are destructive. The artists in this gallery seem preoccupied with the hauntings of the recent past, something we often feel when driving through a small town – the feeling of being stuck in time. Derelict Home by Natalie Pivoney and Lima Township by Glenn Taylor show what happens when rural communities are no longer cared for. Three precise, small-format panorama photographs by Thomas Stoffregen show a bare winter Minnesota landscape, populated by a church, dirt roads, and electrical lines.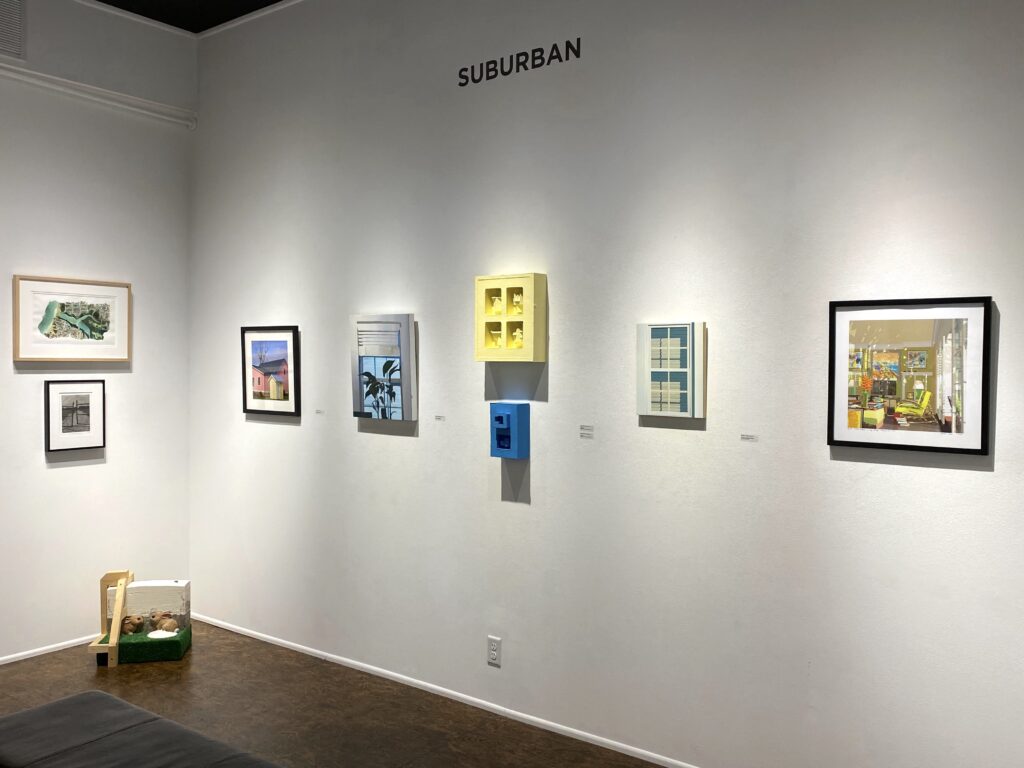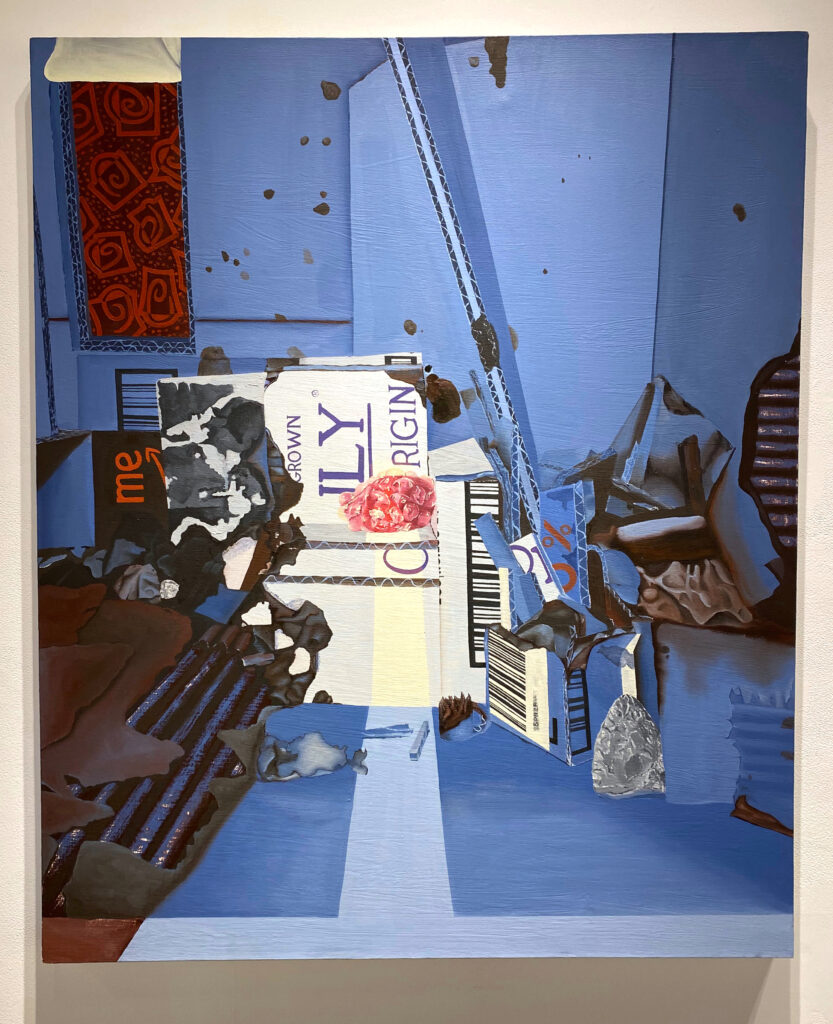 Suburban opens with a splash of pastel and kitsch. There's a wry humor to the works in this gallery and a number of fantastic paintings. In Roscoe Wilson's Front Yard Zoo, two lawn ornament bunnies are encased in concrete, plywood, and AstroTurf. The eerie static silence of suburbia is also felt, as is the exquisite pain of boredom. Many of the works cross the cherished public/private barrier of suburbia and show interiors. Maddie Aunger's Off-White Window (10:30 AM) and Brooks Cashbaugh's Soft White LED Light perfectly capture the strange way time and light suspend themselves in the suburbs. Sitting Inside – Pool Side by Chris Bergeron and the cluttered garage of Shannon Pritchard's Contents May Be Flammable mock the suburbs' sprawling and wasteful use of space. Underpinning these yards, lawns, shutters, pools, garages, and fences is the ideological illusion of suburbia, and its relationship to the "the American Dream."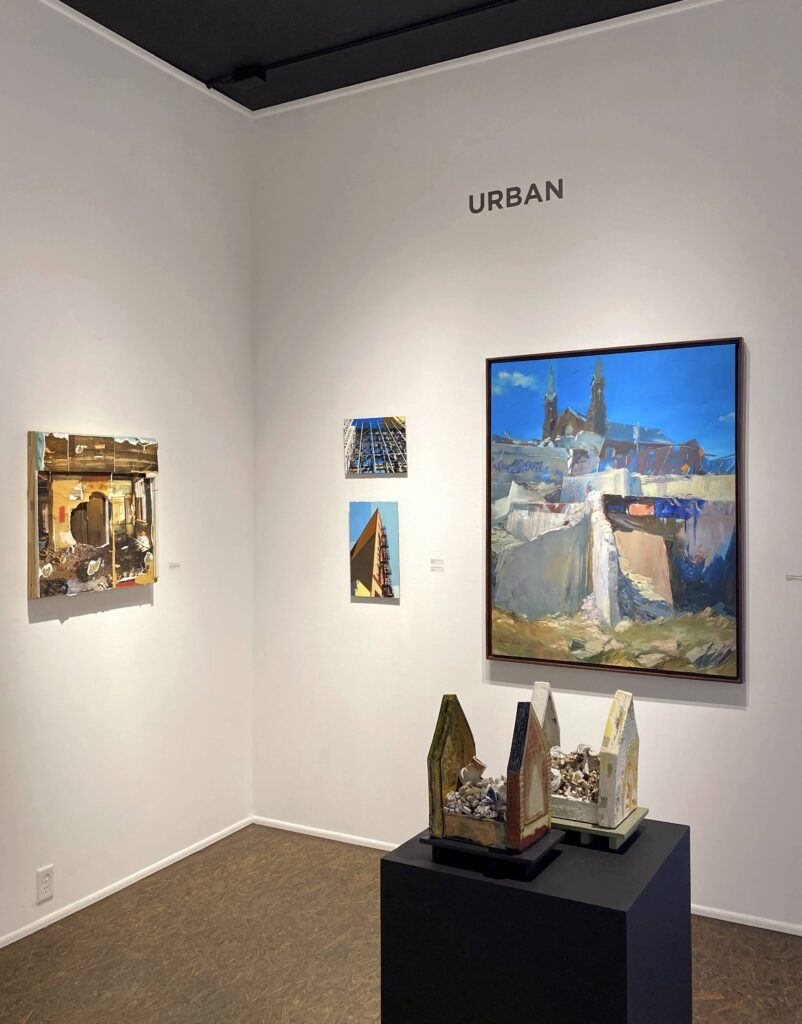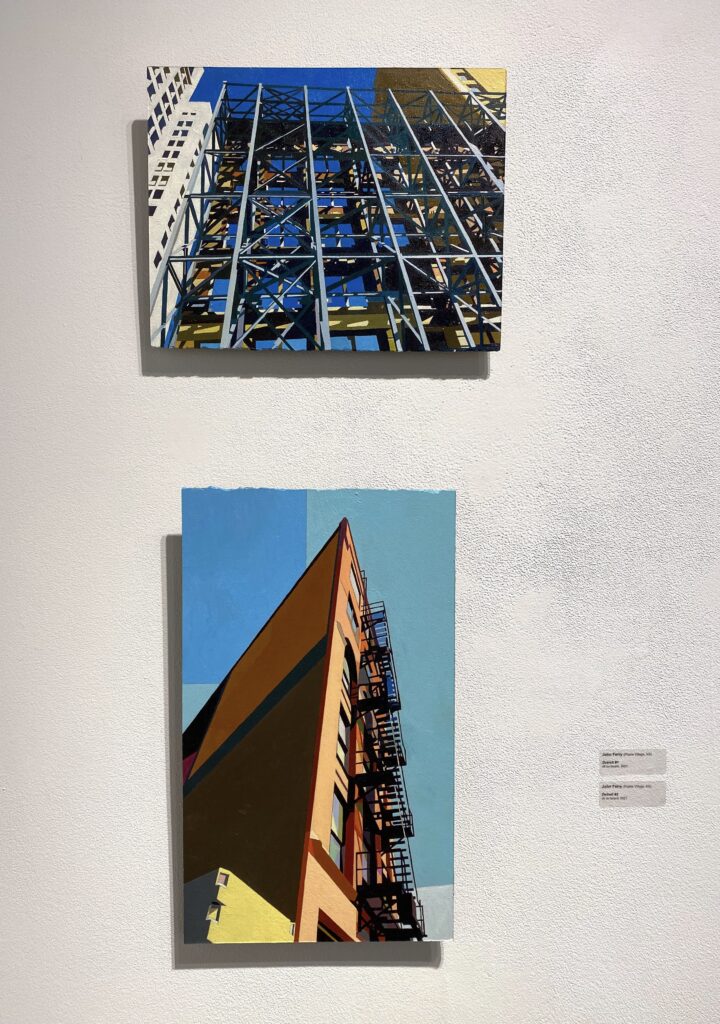 An excellent sound and video work by the collective Music X Habitat X Art beckons you into the Urban gallery. Good Night on Sixth pairs quick-cut animation with the jagged, crystalline piano of Etude VI, by the South Korean composer Unsuk Chin. The work is part of artist Yaoyue Huang's "Ascent of Movements Series" and is a fitting soundtrack for the urban landscape, whose most striking visual construction is its tendency to build up and up. Many of the works in this collection deal with the material and impositions of the city's hulking buildings, such as John Ferry's paintings Detroit #1 and Detroit #2. In the city, buildings come down as quickly as they go up; homes, hospitals, and historical sites are regularly demolished for the campaign called "progress." Dereck Mangus' fantastic assemblage Johns Hopkins Medical Demolition #1 prompts us to think about the lives and memories dwelling in the buildings that are torn down, as well as the material detritus it leaves behind. In Reflections in Ruins, Cincinnati-based painter Marlene Steele shows a disheveled rubble pile, the mark of a city perpetually in the state of becoming and falling apart.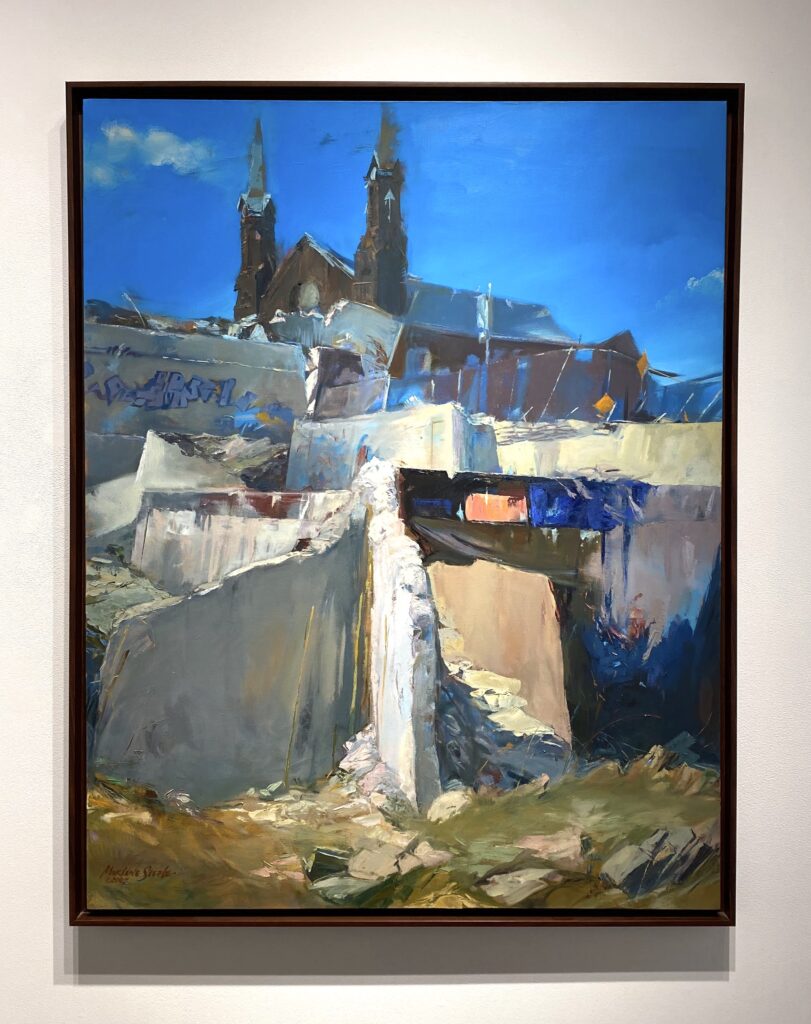 The final gallery focuses on Post-Urban – a topic that feels pressing in our quickly-changing world. What comes next? Where will we live? How will we live? and Can we imagine something better? Like the rest of the themes in this show, Post-Urban is more interested in prompting inquiry than providing answers. We often talk about the future with dread and anxiety. These works don't shirk that reality, but they do approach it with a certain resiliency. Kentucky photographer John Homer shows an abandoned camper, likely to soon be swallowed up by overgrown woods. Two strange, seductive works by Collin Richard suggest an absorption of the natural by the artificial; a traffic cone is covered in camouflage in the sculpture Wayfinder and a sickly skin-pink wall piece, made from resin and Miracle-Gro, confuses the senses. Small colorful sculptures of concrete and porcelain by Dawn Holder act as relics from the future, icons to cling to after the city's been blasted. Sarah Deppe's Persephone & Rhea is comical in its depiction of two pathetic, scrunched Greek columns that have buckled under some invisible weight. Will the weight of our past crush us? Can all the things we've built save us from ourselves?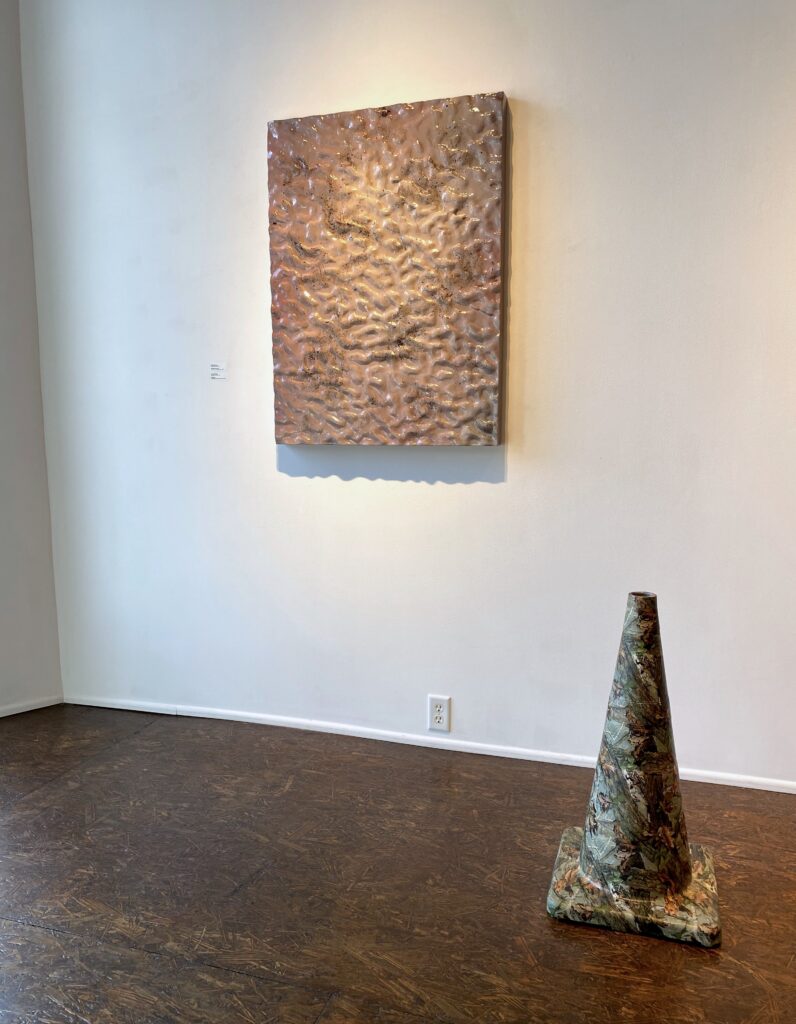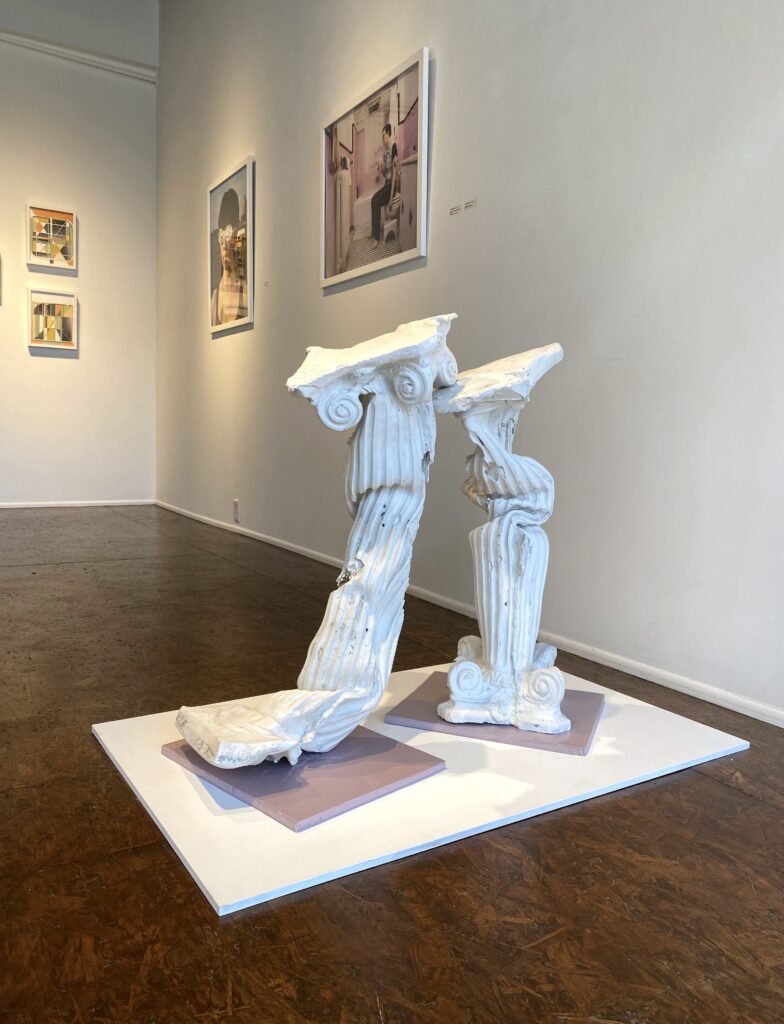 Though an ambitious undertaking, the show never becomes didactic or convoluted. It asks many questions along the way that relate to our everyday interactions with our environments, questions that you can take with you and reflect on. Manifest Gallery has brought together a surprising and satisfying group of artists to think about how we shelter and sustain life together in these five different landscapes.
————–
Wilderness, Rural, Suburban, Urban, and Post-Urban are on view at Manifest Gallery, 2727 Woodburn Avenue, Cincinnati, OH through February 18, 2022. You can also tour the exhibition virtually here. There will be an online Artists Panel Talk on February 17, 6–8 PM EST.
Top image: A view of Rural at Manifest Gallery. Five photographs hang on the gallery wall and one sculpture sits on a pedestal in the foreground. From left to right, artworks are by Thomas Stoffregen, Glenn Taylor, Natalie Pivoney, Chris Young, and Jason Lanegan. Photo by the author.
UnderMain: On the Road sends writers out of Kentucky to explore the visual arts in cities of the Midwest and near South. This program is generously supported by the Great Meadows Foundation.