"Subtle" is the first in-person exhibition Transylvania University's Morlan Gallery has presented since the beginning of 2020. It follows two timely, well-executed online exhibitions and a print exchange that dealt with the ongoing health and political crises in America, with special focus given to the Lexington community. Curated by the gallery's director, Anthony Mead, "Subtle" brings together a concise collection of seven works by six artists that seem to ask: What now?, as we find ourselves wrung out, unable to hold all that has transpired and eager to rest.
The works in "Subtle" are just that – they do not rush to impress, inform, or delight, but instead resolve themselves only in slow, deliberate time spent with them. The "payoff" comes in allowing the works to just be. Mead has created an atmosphere that many of us might be yearning for as we re-encounter the scuttle of our everyday lives in the public sphere – a calm, meditative space that invites self-reflection. The first work you encounter in the theatrical darkness of the gallery is o-Movement by the collaborative duo Annica Leah Cuppetelli and Cristobal Mendoza. Layers of gauzy, pale scrim, hung from ceiling to floor and receding into the depth of a small ante-gallery, show faint, palm-sized projected oooooo's that multiply and move in response to the viewer's movements. o-Movement encourages the sort of silly, exploratory, unselfconscious gestures that we usually excuse from public space: waving your arms in discord, jumping up and down, swaying from side-to-side, lifting one leg and then the other, shimmying your shoulders – all for no reason, except to initiate a palliative dance of glowing oooooo's. This simple but effective work makes the gallery feel more like an exploratorium and loosens you to the rest of the works that follow.
All seven of the works in the show involve some sort of mediated component – light, movement, sound, or screens – but the overall effect never veers into noisy or over-stimulating. Hanna Claus' looped video all this was once covered in water, is a moving, intimate portrait of a sun-dappled stream, filmed close-up and projected at an encompassing scale. The video is accompanied by an ambient soundtrack of birds overhead. While the works in "Subtle" are, unto themselves, unfussy and direct, together they create complex, affective resonances; namely, in the way they suggest an inside or an outside, a confinement or an airiness – a distinction that we have all become preoccupied with during the course of the pandemic. Near to all this was once covered in water is Thin Air by Lisa Walcott – a humble but clever work comprised of two paper-thin, white, translucent curtains. Unraveled threads at the bottom of each curtain are tied to a naive wood and metal construction protruding from the wall. Hidden inside is a small humming motor that spins counterclockwise, pulling at the threads. The artificial "air" billows the curtains and gently lures the viewer into a daydream trance; Thin Air can also read like a playful quip, a joke you don't quite get.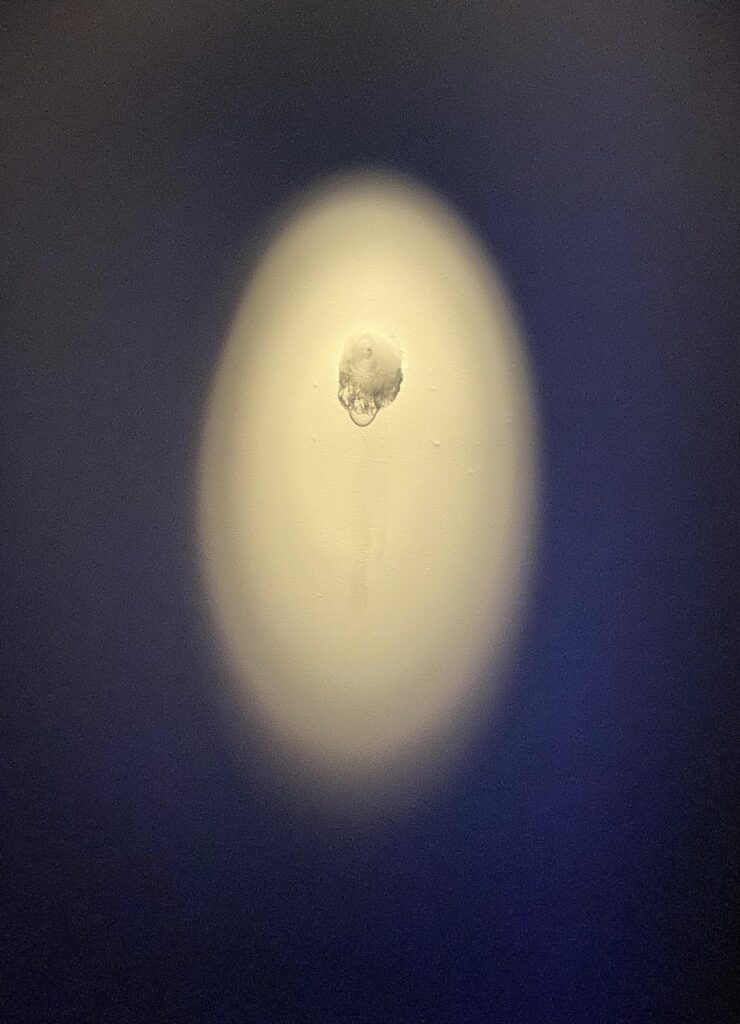 While "understated" is the prevailing mood of the show, one should not take that to mean modest or insignificant. Some of the works can also be mischievous, such as the spot-lit spittle bubbling out from a small hole in the gallery wall in Maybe it's supposed to (also by Walcott). In this work and Thin Air, references to the domestic space – which we have all inhabited ad nauseam for the past year and a half – feel only faintly familiar. Walcott's addition of motorized, rhythmic, and repetitious movement to these domestic images pushes the works into being a bit unhinged. Think: washing the dishes (again), folding the laundry (again), waking up, again and again and again to another strange in-between day, in your home.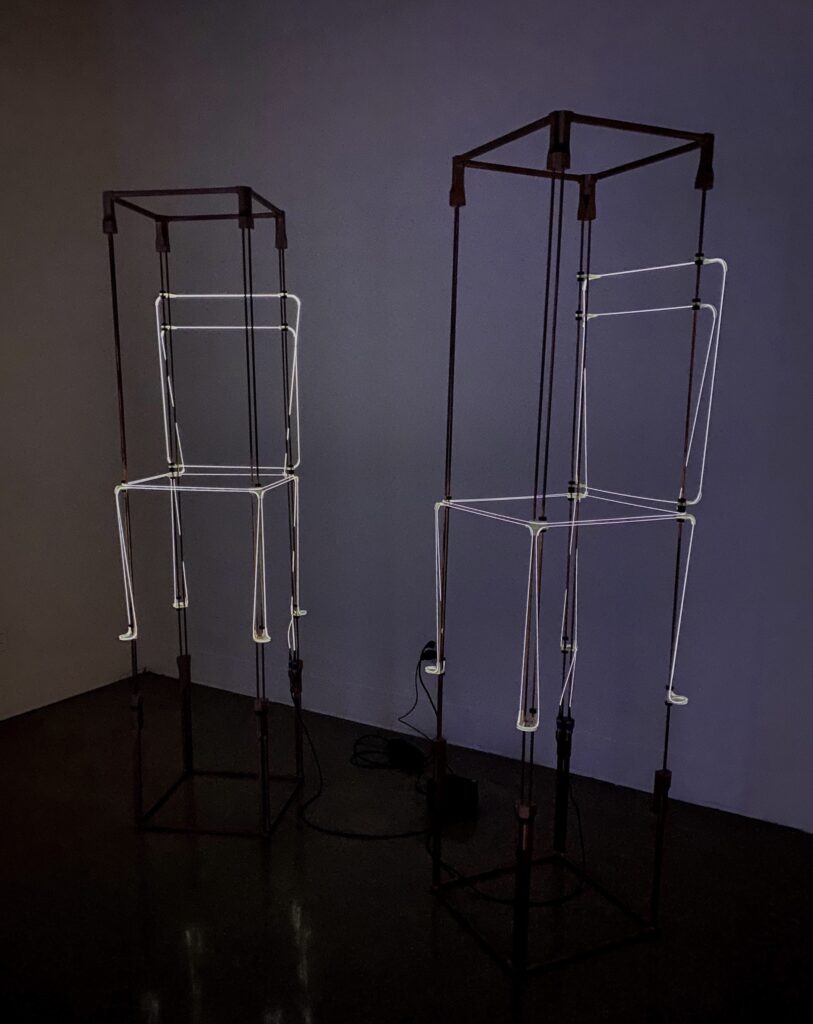 Perhaps the most articulate and poignant work of the show is A chair for both of us, even if you aren't here to sit in yours, by Frank Geiser. It is difficult to deny the collective and individual loss we have experienced. It seems dishonest, in a way, to not integrate that grief into the daily routines and public spaces we are re-entering. The allowance to possess and process this grief feels especially necessary in arts spaces, which don't usually demand the shuffling and impersonal efficiency of a classroom, a gray-carpeted office, or a grocery store checkout line. We need spaces like "Subtle" during this reconciliation phase of pandemic, as we all venture out again to see art, see each other, and piece our lives back together. The works Mead has gathered together in Morlan Gallery and their sensitivity to the present also display one of the great advantages of a small, university gallery: the ability to be nimble, receptive, and quiet in a deafening world.
"Subtle" is on view through October 8 at Morlan Gallery, Transylvania University, 300 N Broadway Mitchell, Lexington, KY, 859-233-8142. www.transy.edu/morlan