What an odd thing a shelf is. A shelf is just a shelf really, right? Put a thing on it, though, and it is immediately transformed into something else. Once we begin to populate our shelves with objects – whether with precious memorabilia, beautiful images, feathers, or found knots – the whole thing becomes something else. We put objects on shelves to somehow honor them or know them better; we may even wonder if time will reveal something more about them. We might also believe that they could withstand the test of time – simply by being placed on a shelf.
On a recent couple of visits to the home and studio of Ron Isaacs and his wife Judy – both avid art collectors – I could not help but wonder if there was some parallel between the object-laden shelves I saw there and the work of the artist himself. Was it the manner in which they were so masterfully composed or something else? Something life-giving? So, I decided to look a little closer and to listen.
The artist Claes Oldenburg once declared that the harder he looked at a thing, the more mysterious it became. "I know the feeling," Ron writes in his artist's statement – quoting the Modern/Pop artist often. "Objects have voiceless, inscrutable physical presences, and memories, as well; these memories are borne on their surfaces as signs of growth or manufacture, use or care, neglect or entropy."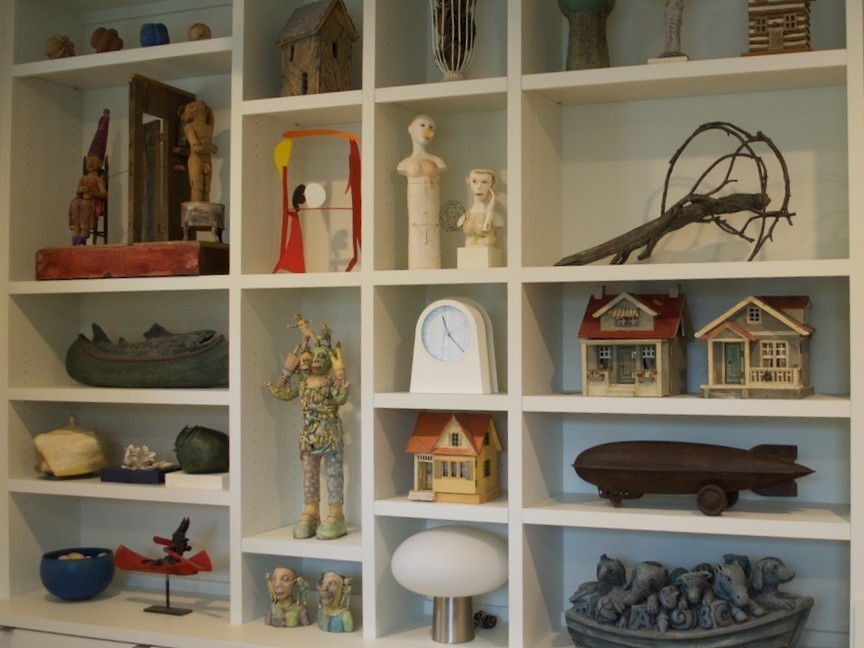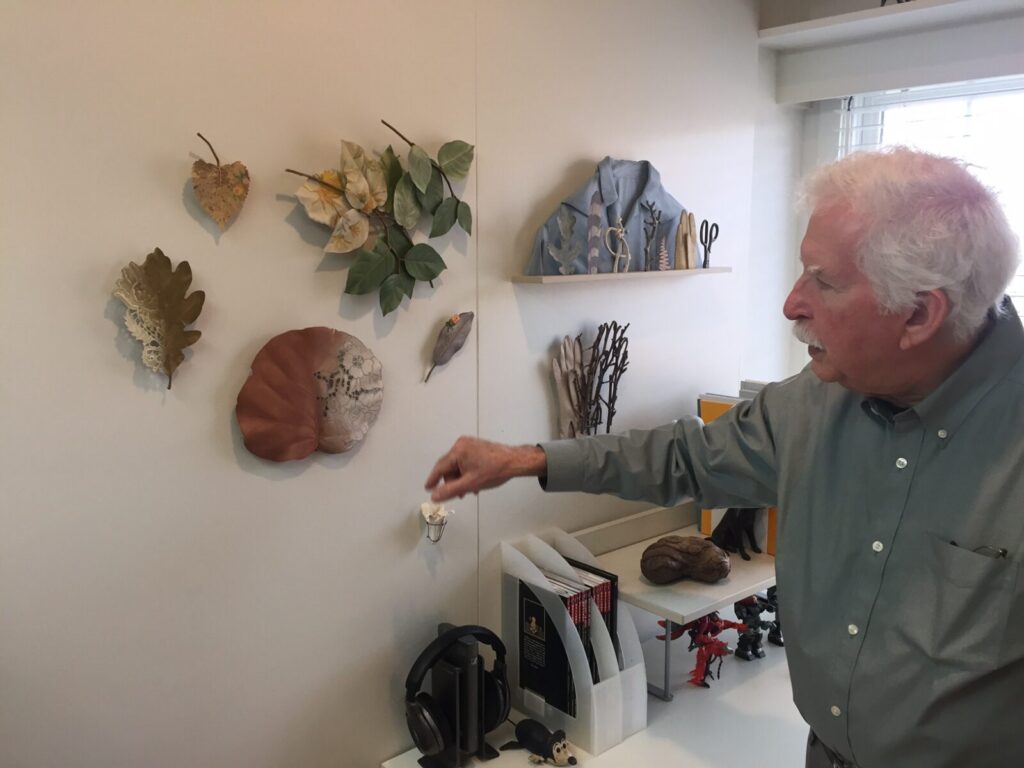 Ron Isaacs was trained as a painter, receiving a bachelor's degree in art from Berea College in 1963 and an M.F.A. in painting from Indiana University in 1965. For many years he worked and taught as a painter, and considers the period from 1969 to 1973 as one of rapid development in his artistic career. In the early 1970s, he began collaging elements, attaching three-dimensional objects to his canvases and then painting this and that to combine. They were, in his words, clunky. Then, after a little experimentation, Ron had an epiphany realizing he could make a painting any shape he wanted. He threw out the canvas and discovered instead Finnish birch plywood constructions, what is now his signature medium. For over 45 years, Ron has created nearly 15 works per year in wood.
Enormously prolific, Ron has found a home for his works in many collections across the nation, including the Racine Art Museum, the Southern Ohio Museum and Cultural Center, the Huntsville Museum of Art, the Kentucky Museum of Art and Craft, the Yeiser Art Center, Berea College, and Chase Manhattan Bank to name only a few.
"My work stakes out a territory almost exactly halfway between painting and sculpture," Ron explained as we examined an old painting and his first plywood construction. The move from Camel Ride, 1970 to Jigsaw No. 1, 1971 (the first wood construction) to Ron's Plywood London Fog Freaks Out, 1973 clearly shows the artist's growth toward his mature style. Where heavy black line once unified disparate elements, considerable finesse and a good deal of sanding are now employed to unite later compositions.
In the end, his goal is to trick the eye, but unlike traditional trompe l'oeil painters, the illusion of real objects is not Ron's primary concern. "The illusion is an interesting and useful byproduct of my attempt to make a strong image that has the authority of direct observation. If the illusion fails, which it always ultimately does either sooner or later, you still have an image to respond to, which is pretty much what you get with any painting or sculpture."
Why would a trompe l'oeil artist want the illusion to fail? This is one of Isaacs' chief strategies: he sets out to render something 'real' and then interrupts our impression with metamorphosis or paradox – turning the final construction to a thing more surreal.
In the series of images below, the process of creating these works is illustrated. Ron moves from the composition of real objects on a grid board, to tracing paper patterns with detailed instructions for the final shapes, to contour line patterns, then transfers these shapes to varying thicknesses of birch plywood, sawing, sanding and the gluing, to compose a final form.
Trained as a formalist, composition is one of Ron's major concerns, as his works take on freer shapes on the wall. He understands that negative space is as important as the form and shape of each of the objects included. This construction was in its beginning phase on my first visit and completed on my second, one week later. It is titled Just a Thought and is just 8 1/2 inches tall by fifteen wide.
[SlideDeck2 id=10233 ress=1]
Juxtaposing man-made garments and natural objects in most of his constructions, Ron delves deeper into the mysteries of both; for him this combination reminds us of our relationship with nature – "either being a part of it or apart from it." Alter Ego (Waterfall), 2008 and Birdies, 2015 bears witness to these dueling realities.
Ron also admits to liking the fact that, "the garment is fixed in time and the leaves are anytime." Although he rarely works on more than one construction at a time, he will, when necessary, turn to a natural object that will eventually fade or die and recreate it for use in a future work.
The vintage garments, on the other hand, have a more stable shelf life and Ron's friends like to joke that he has more dresses hanging around than his wife. For Ron, these garments have rich structures, colors, and shapes which lend themselves to endless design possibilities. "They continue the life of the past into the present, and they function in my work as anthropomorphic presences which become effective stand-ins for the human figure."
"Trompe l'oeil ('fool the eye') could be a gimmick for an artist to show off technical skills, a fairly shallow if entertaining enterprise, but its devices seem an appropriate response to my love of the visual world. I am still enamored with the old simple discovery of resemblance, the first idea of art after tools and shelter: It means that an object or image made of one material can share the outward appearance and therefore some of the 'reality' of another."
Sticks are crucial. In design terms, a stick is basically a line for Ron Isaacs; he frequently uses them to draw forms as in Alter Ego and Metaphor.
Ron does not consider himself a conceptual artist, but I couldn't help but see a bit of ideation playing equal part to the aesthetics in works like Coincidence from 2014. In fact, this composition had more to do with his sense of humor than anything much deeper; he commented, "It was even more fun, when the actual stick – the inspiration for both of my sticks – was still around." Quoting from American writer and poet Joyce Kilmer's short poem titled 'Trees' from 1913, Ron humbly states:
Maybe, 'only God can make a tree', but i can make a pretty good stick.
Ron considers his job is to make things that are evocative and allow viewers to interpret his works as they will. While not all easily accessible, 'simplicity' and 'directness' are two terms used by Rick Snyderman, Principle of Snyderman-Works Galleries in Philadelphia, when describing Ron's works (catalogue essay to accompany Ron Isaacs: A Retrospective in 2 1/2 D). Isaacs connects the viewer in tight constructs, but never requires a specific interpretation. The content is open content.
Muted gray, brown, and off-white are favorites in Isaacs' palette. Just a Thought is a good example. However, given that all of this is to challenge himself, he will work in bolder colors as in Recurring Dream in Red from 2011. If a particular object requires that he push himself, he turns always to his judgment and artistic licensure. Ron does all of this because he must; he cannot really say in words exactly why. His works are visual poems, frequently quoting American realist painter and printmaker Edward Hopper:
If I could say it in words, there would be no reason to paint.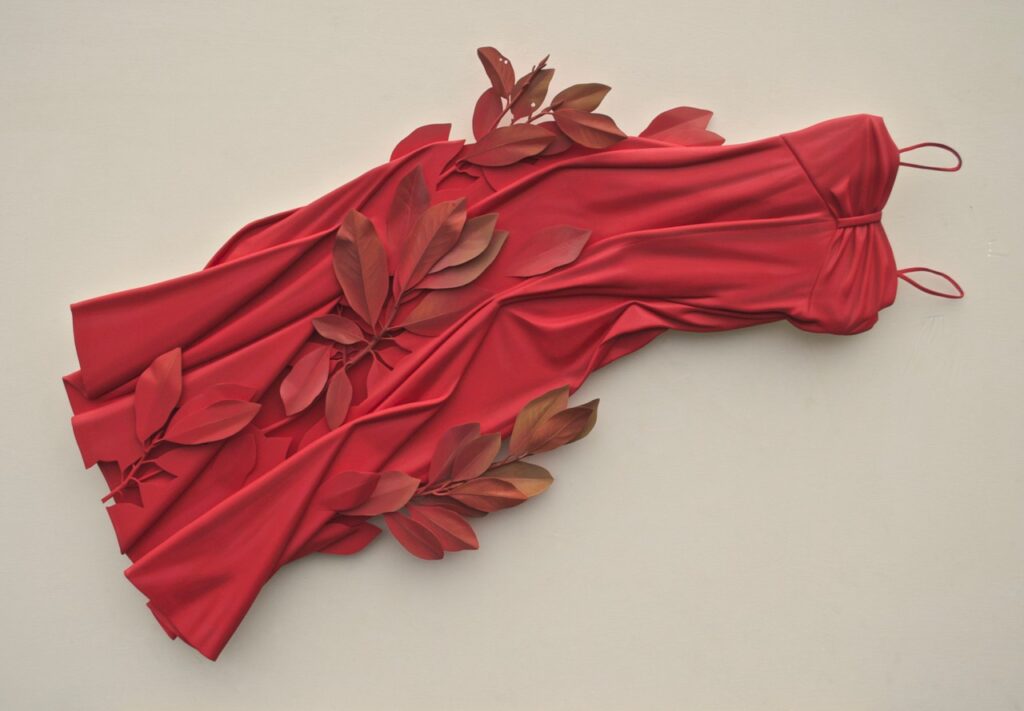 If only you could say it in words. "I combine imagery, often using paradoxical interruptions and metamorphoses, in hopes of creating visual 'poems' of sorts; these suggest metaphors for the relationships of human life and nature, memory, and the passage of time." In fact, the inspiration for Improve Each Shining Hour from 2010 is a poem by Isaac Watts titled How Doth the Little Busy Bee.
Mediating the artistic experience in words is, we all know, a difficult thing to do. So, thank you, Ron for improving each hour by bringing to us these masterful compositions. May they sit forever on our shelves of life.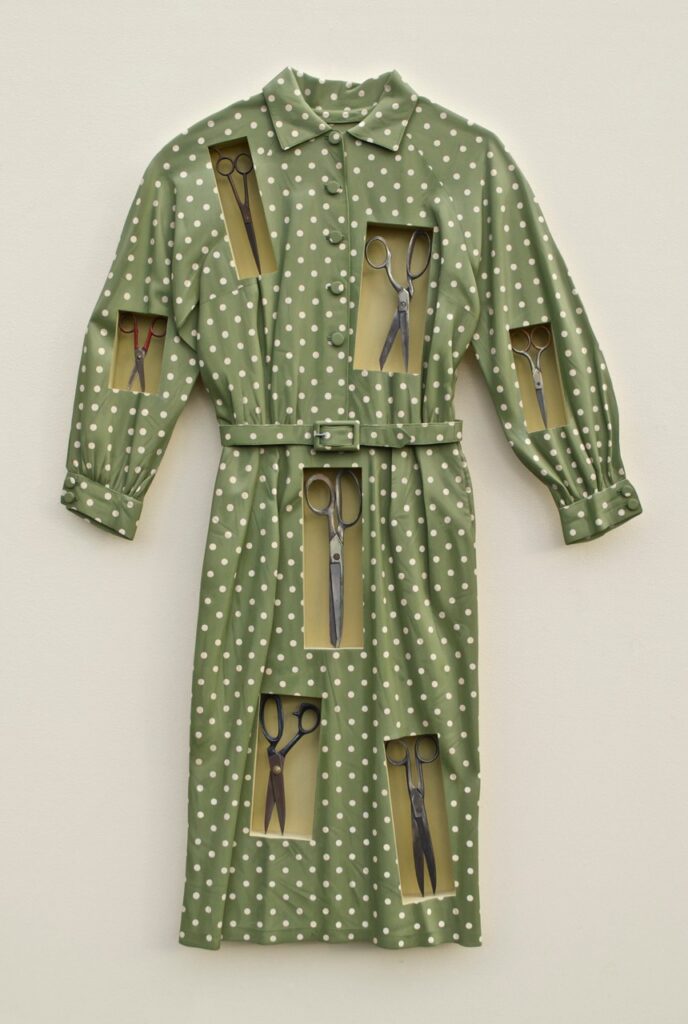 How doth the little busy bee
Improve each shining hour,
And gather honey all the day
From every opening flower! How skillfully she builds her cell!
How neat she spreads the wax!
And labors hard to store it well
With the sweet food she makes.
In works of labor or of skill,
I would be busy too;
For Satan finds some mischief still
For idle hands to do
In books, or work, or healthful play,
Let my first years be passed,
That I may give for every day
Some good account at last.
– Isaac Watts (1674-1748)
Ron is represented in Kentucky by Heike Pickett Gallery in Versailles.
The artist's retrospective Ron Isaacs: A Retrospective in 2 1/2 D was held in the fall of 2011 at the Doris Ulmann Galleries at Berea College.
Related in UnderMain: Other Lexington artists who mix mediums
Patrick McNeese in Scene&Heard